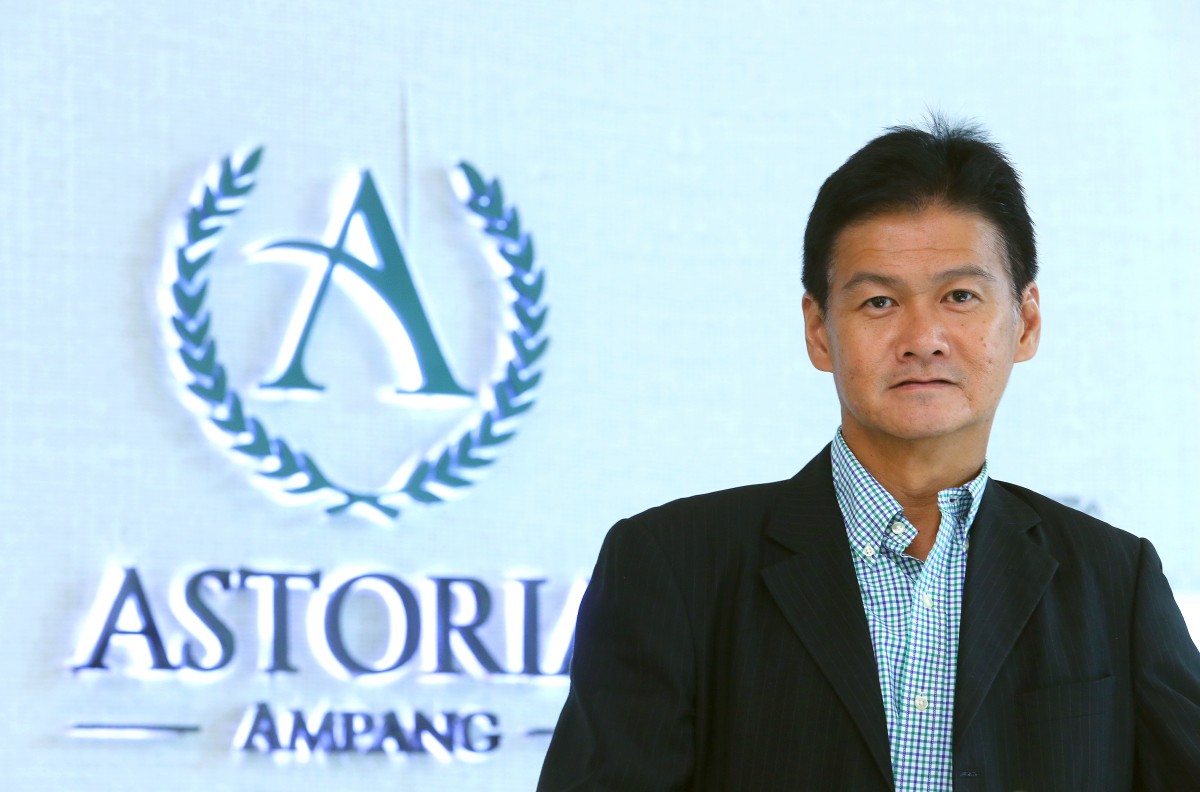 KUALA LUMPUR (April 11): Land & General Bhd (L&G) will introduce a new buyer's package for its serviced apartment project Astoria Ampang here which will be officially launched this weekend.
Astoria Ampang will come up on a 5.7-acre leasehold parcel on Jalan Ampang and is divided into two phases, with each comprising two 43-storey blocks.
The entire development will have a total 1,012 units with built-ups from 560 sq ft to 1,505 sq ft. The average price psf is RM760 while the maintenance fee, including the sinking fund, is 35 sen psf.
Phase one, which comprises blocks A and B, is slated to launch this weekend but has already seen 60% of its 506 units booked.
"Astoria is sitting on a relatively larger piece of land in the area. It has a 3-acre facilities podium, which you will hardly see in the vicinity and at this price," said L&G managing director Low Gay Teck at the pre-launch media briefing.
The development has a gross development value (GDV) of over RM800 million. Construction started nine months ago and is slated for completion in 30 to 36 months.
"As we have more work to do on our 3-acre facilities podium, which includes water features and elevated walkways, we have been granted a 48-month construction period. However, we are confident we can complete the project earlier than that," Low said.
Besides standard facilities, some of the special facilities include cascading waterfalls, wetlands, grasslands and woodlands, cycling path, theatre lounge and aqua kitchen.
In conjunction with the pre-launch media briefing, Low also introduced a new buyer package named the Power Pack.
He explained that besides only paying RM1,000 in booking fees, L&G is also offering rebates of 9% to buyers, hence only 1% down payment is needed upon signing the sale and purchase agreement (SPA).
L&G will also take care of legal fees, and offer an easy upfront payment scheme with zero interest.
"We are not only targeting first-home buyers, but second-home buyers too. We understand their concern about not getting 90% loan margins, which results in a huge upfront payment. We designed this package to help them by not only giving out rebates, but also 24 months instalments [of the remaining down payment, excluding the 1% paid when the SPA is signed and the rebates] without interest," he said.
"For example, if you only get an 80% loan of the total amount, our partner banks will offer you 24 months instalments to pay off the 10% without interest," Low remarked.
Low said the company does not have an end date for this package yet.
"We believe this is a strong package that will help to attract buyers. Once we hit the sales target, of around one to one-and-a-half towers sold, we will stop this package," said Low, adding that this package will unlikely be continued on in phase two.
Low is looking to launch phase two in nine months.
Besides Astoria, L&G will be launching Damansara Foresta phase two at Bandar Sri Damansara (GDV of RM500 million) and Sena Park phase one at Senawang (GDV of RM250 million) this year.
Interested in property investments in Jalan Ampang after reading this article? Click here to check out the properties there.