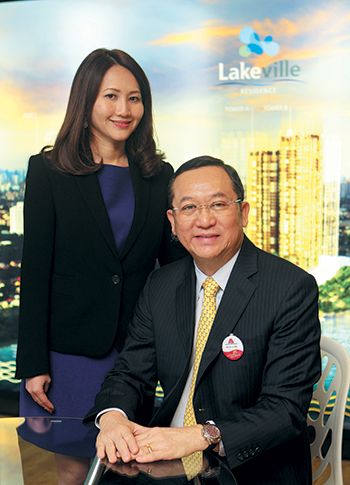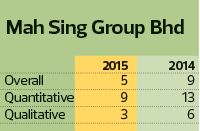 From a plastics trading firm in 1965, Mah Sing Group Bhd has grown into a leading property developer today, creating a portfolio of prime residential and commercial developments across the country in the 20 years since it entered the field.
Mah Sing has ranked among the Top 10 in The Edge Malaysia Top Property Developers' Awards since 2010, and the Top 30 since 2005.
The group currently has 46 projects spread throughout the country's economic nexus and property hotspots like Greater Kuala Lumpur and the Klang Valley, Iskandar Malaysia, Johor, Penang and Kota Kinabalu, Sabah.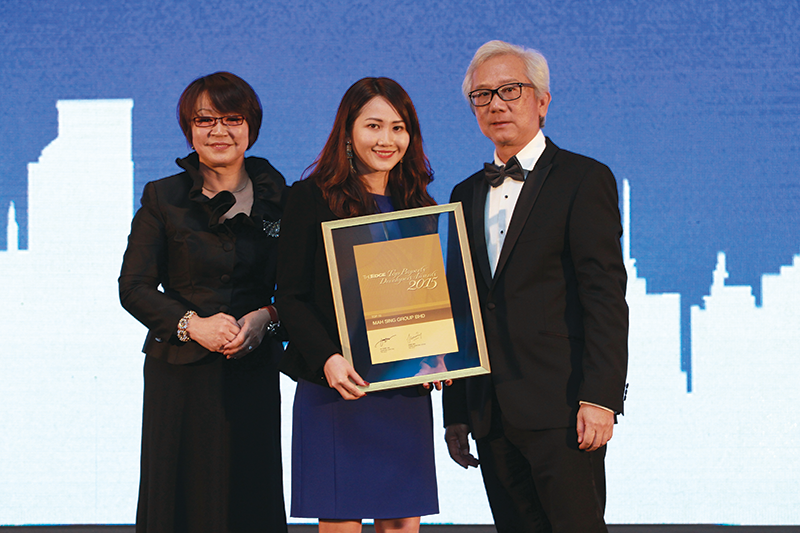 The strong portfolio of projects, with a remaining gross development value of RM26.4 billion, provides growth visibility for the group for the next six to eight years.
Led by group managing director Tan Sri Leong Hoy Kum, Mah Sing is versatile in its ability to cater for diverse buyers and market segments. Also on board with Leong is his daughter, Jane Leong, the group strategy and operations senior general manager.
In addition to residential developments, the group has a strong commercial presence with Grade A buildings, integrated business parks and mixed-use commercial developments as well as being one of the pioneers of en bloc sales of Grade A buildings and corporate offices in Kuala Lumpur.
Mah Sing recorded revenue of about RM1.6 billion and net profit of approximately RM189.4 million for the six months ended June 30, a 16.1% improvement in revenue and 10.8% increase in net profit compared with the corresponding quarter of the preceding year. During the same period, the group accumulated net cash of RM1.54 billion.
The group's strong balance sheet and net cash position make it nimble enough to grab opportunities and deal with unforeseen market challenges, allowing it to maintain a good balance between growth and stability.
In response to the current challenging market conditions, Mah Sing has scaled back launches from RM3.4 billion planned for the year to RM2 billion and reduced its sales target for the year from RM3.4 billion to RM2.3 billion.
Despite that, the group has achieved property sales of RM1.4 billion for the first half ended June 30, faring 18.7% better than the corresponding quarter last year at RM1.2 billion.
The improvement for the six months comes from the progress and sales of the group's ongoing development projects such as Icon City in Petaling Jaya, M City in Jalan Ampang, Kuala Lumpur, and Southville City @ KL South in Selangor.
Mah Sing's strong unbilled sales position of RM4.8 billion and the well spread-out development projects, new and matured, will continue to drive the group's cash flow, liquidity and earnings.
The property developer remains confident of medium and long-term prospects, and believes there is demand for the right products in well-connected locations, supported by a young demographic, healthy employment conditions, and the ongoing infrastructure projects in the country.
Moving forward, the group will focus on strengthening its business fundamentals, operationally and financially, and to continue to deliver a steady and sustainable performance over the long term.
Mah Sing has projects in the pipeline in the northern, southern and central regions for the next six to 12 months — Ferringhi Residence Phase 2 in Penang with a gross development value (GDV) of RM735 million, comprising resort condominiums and town villas; Meridin East in Johor Baru, a 1,352-acre integrated township with a RM5 billion GDV; M Residence 3 in Rawang, Selangor, a RM520 million mass-market township; and Cerrado serviced apartments at the RM8.31 billion GDV integrated development Southville City @ KL South, Bangi.
The group's recent and upcoming launches this year include the Cerrado serviced apartments in Southville City @ KL South; Meridin Bayvue in Johor Bahru; the final two blocks of Lakeville Residence in Taman Wahyu, Kuala Lumpur; and the premium block Tower 3 at D'Sara Sentral in Sungai Buloh.
In their interview with The Edge, Leong and Jane talk about the developer's strategies in the coming months.
The Edge: How do you feel about being ranked in the Top 10 this year?
Tan Sri Leong Hoy Kum: Let me start by thanking The Edge and the other judges for selecting Mah Sing as one of the Top 10 property developers in Malaysia. We would also like to thank all our stakeholders for their support and faith in Mah Sing. I am very proud to say that this win marks the sixth consecutive Top 10 ranking for Mah Sing. Being recognised by notable organisations such as The Edge is truly a great honour. We are humbled by this award, which recognises our contribution to the property industry.
The awards that Mah Sing has received through the years are only possible because of my talented and dedicated team. Together, we look to actively innovate to meet market needs and to continuously add value to the lives of the people we build homes for.
What is the secret of your company's success?
Leong: We are an entrepreneur-led company with a highly professional management. As the world is constantly changing, we are constantly learning and growing as a market-driven developer to stay ahead of the market. We strive to live up to our brand promise to build a premier lifestyle by being highly invested in our human capital. The success of Mah Sing is a team success. It is the strength and effort of my team that makes Mah Sing what it is today.
How have the past 12 months been for the company?
Leong: The past 12 months have been challenging. I'm sure everyone is aware of the market conditions, and many developers have been prudent with launches. In 2014, we achieved our target of RM3.43 billion new sales. This year, in response to the challenging market, we have reduced our sales target for the year from RM3.4 billion to RM2.3 billion. Despite that, we achieved property sales of approximately RM1.4 billion for the first half ended June 30 this year.
With a portfolio of 46 projects, of which 11 are completed and the remaining in various stages of development, we are able to sustain our growth for the next six to eight years. We believe real demand will continue to be strong for property buyers who are buying to own or buying to invest for long-term rental income.
In the meantime, we will focus on our product launches over the next six months.
How has your brand evolved over the years and what can be improved on?
Leong: As a market-driven developer, we need to stay ahead of the market. We have evolved from a developer building houses to building communities. We are committed to build a sustainable mixed-use township development, such as Southville City @ KL South, which aspires to create a cohesive master plan that delivers a conducive and safe environment for living. The township aims to draw both multigenerational living and the working community, and we are also working towards building a vibrant and sustainable business and commercial hub within Southville City that will benefit the surrounding neighbourhoods.
Over the years, we have cultivated a panel of trusted contractors, and we engage good and experienced contractors, architects, consultants and suppliers who can deliver our vision. I am blessed to have a good and loyal team and as the company grows, I believe we should improve on human resources. We are always on the lookout for talent; it is also our commitment to develop and retain our people.
We also place great emphasis on customer service, and we are always working to improve the user experience at each and every point of contact. With our ever-growing workforce, team Mah Sing looks to enhance our value through providing our customers with an uncompromising customer experience, as we ensure the quality of our products is of the highest standard and continuously innovate to make sure we meet market demand.
What is your medium and long term vision for the company?
Leong: For the medium term, apart from property development, we may look into plans to diversify and explore different areas such as real estate investment trusts.
For the long term, we are looking to target Malaysian and international buyers. At present, our base of international buyers is small. Nevertheless, there has been growing interest owing to a prolific rise in interest in Malaysian real estate in neighbouring countries such as China, Hong Kong and Macau, Taiwan, Japan, Singapore and Indonesia.
Why do you believe the upcoming launches will do well?
Leong: We believe there is still a need for well-located, mid-range, mass-market properties for middle-income households. About 84% of our target launches are mass-market products priced at RM1 million and below. Our focus is Greater Kuala Lumpur, which makes up 61% of our landbank.
Jane: We believe that we have planned the right product offerings that cater for individual target groups, with the right pricing at the right location. With our precise planning over the next few months, we believe they will do well.
What do you see are the challenges for the property market in the coming year? Please elaborate on your strategies.
Leong: We are aware of the industry-wide market conditions. The implementation of the Goods and Services Tax has affected market sentiment. The weakening ringgit and difficulty in getting end financing and mortgage approvals due to tighter lending rules further slowed down sales. These are challenges that all of us have to face. However, with a strong team, a comprehensive range of products and a strong financial position, we believe we can weather these challenges.
We always aim to carve out a niche in a crowded market and we do so with a belief in the power of product branding and differentiation. We maintain our market leadership position by rolling out products with relevant price points.
In addition, we always keep in mind that we want all our buyers to have good rental income and capital appreciation because we want repeat buyers.
What are your strategies to grow the property investment segment?
Leong: Property will remain the preferred wealth preservation and investment option in Malaysia.
We will continue to focus on Malaysian first-time homebuyers aged 39 years and below, who make up about 70% of the 30 million population. They will form new households, thereby creating demand for new houses. We believe there is still a large supply-demand gap, with only 70,000 to 90,000 new homes completed each year when more than 200,000 are required annually.
In addition, with the country's current low unemployment rate of 3% and growing urbanisation in places like Kuala Lumpur, Penang, Johor and Sabah, there is healthy demand for the right property products in the right location.
Moreover, the current attractive mortgage rates (at an effective rate of 4.45%) have also created a more conducive interest rate environment.
What is your view on affordable housing in the country?
Leong: Housing remains one of the key needs of an individual and, as a property developer with more than 20 years in the industry, we are proud to be able to contribute to building affordable housing for the mass market.
With the challenging market conditions, Mah Sing will continue to focus on its strategy of providing affordable homes for the mass market, targeting buyers mainly in the Klang Valley. We offer attractive price points, with 84% of planned residential launches in 2015 priced below RM1 million, 71% below RM700,000 and 44% below RM500,000.
What are your strategies for the company in order to stay ahead in the current economy?
Leong: Mah Sing always looks at a fast turnover model. We sell fast and we keep searching for new land. We always ensure we provide the right type of product in different regions based on the market demand in that area.
Secondly, we aim to build products that are correctly priced without compromising on the quality. We strive to offer award-winning properties and are committed to raising the bar to continuously improve our concepts and designs, in addition to creating iconic buildings and developments.
We also strongly believe in good after sales service and our customer service team is the first point of contact for buyers' feedback.
Jane: In good times or challenging times, we always have to look out for areas of improvement to stay ahead and stay relevant in the property industry. While we continue to selectively launch products we believe would enjoy strong take-up in this economy, the current economic climate allows us to take a breather to focus on areas we can improve on to serve our buyers and potential buyers better.
Our main strategy is still to look out for strategic landbank for future growth and always to ensure that we can manage a healthy cash flow and build up our balance sheet while continuing to stay innovative in developing our projects.
In order to be sustainable and remain one of the preferred brands in the property industry, the other important aspect close to my heart is to build a people and customer-centric organisation. We will continue to invest in building our people, to build a strong and conducive Mah Sing culture and to continue to build homes that cater for the needs of the buyers. We are committed to continuously improving our product offerings, product quality and customer service in order to achieve our goal as one of the preferred brands for homeowners. TEPEA 2015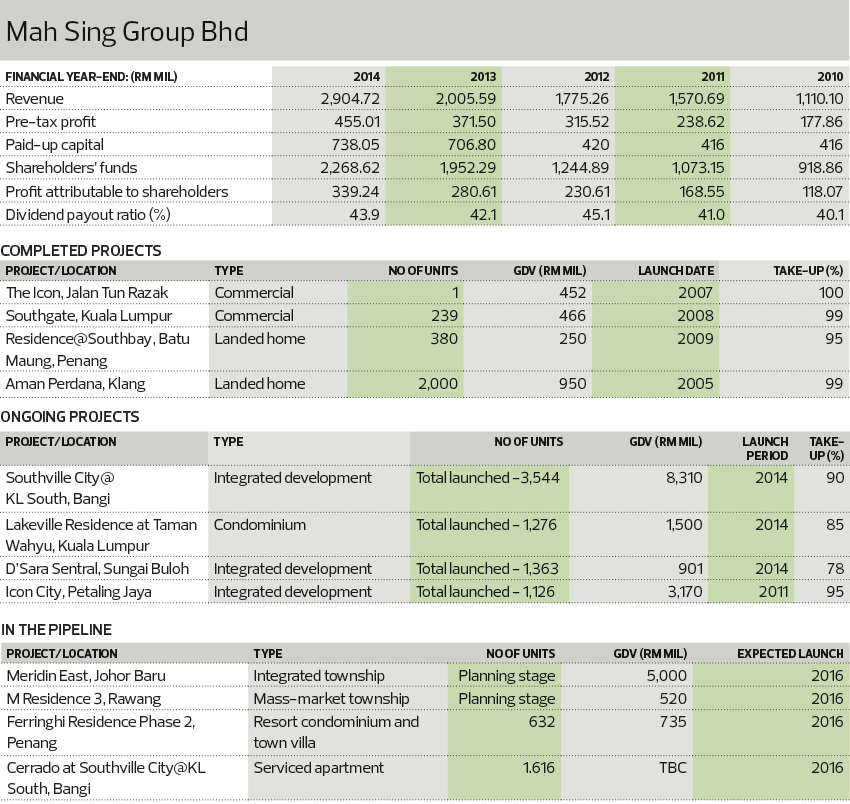 Do not ask your BFF about the value of your home. Click here at The Edge Reference Price to find out.
This article first appeared in City & Country, a pullout of The Edge Malaysia Weekly, on Dec 7, 2015. Subscribe here for your personal copy.