Malaysian Resources Corp Bhd (Nov 13, RM1.43 )
Maintain buy with a higher target price (TP) of RM1.80: Malaysian Resources Corp Bhd (MRCB) had a briefing to clarify the new projects secured over the past two months and its financing plans.
The light rail transit line 3, Kwasa Utama and Cyberjaya City Centre (CCC) projects will generate a project management fee income of RM586 million over the next 12 years. It is exploring to set up private property funds with institutional investors to finance some of its property developments.
MRCB will have to fork out RM269.5 million to take up a 70% stake in a joint venture (JV) for the CCC project by October 2016. The JV will acquire 55.4 acres of (22.42ha) land for CCC Phase 1 at about RM150 per sq ft. This is conditional upon receiving the development approval at five times plot ratio on the land with an estimated gross development value (GDV) of RM5.35 billion. The JV has the option to acquire another 59.9 acres of land for CCC Phase 2 at the same land price.
For the Kuala Lumpur Sports City project in Bukit Jalil, MRCB has to incur RM499.2 million for Phase 1 of the project over the 18-month construction period. Phase 2 costing RM1.1 billion will be decided later. We estimate the RM768.7 million investment over the next 18 months in Phase 1 of both projects will increase its net gearing of 1.1 times as at June 30, 2015, to 1.5 times.
MRCB is exploring options to finance the new projects, but does not plan to issue new equities. A potential option is to set up property development funds with institutional investors to finance the projects. Other plans to reduce its gearing include the potential disposal of its property investment assets such as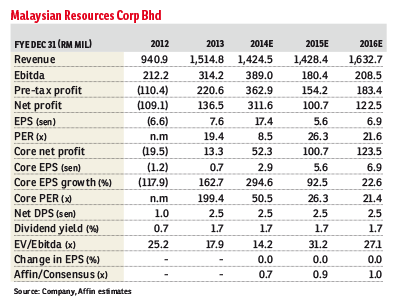 Shell Tower and Ascott Residences (GDV of RM908 million) and its Eastern Dispersal Link toll road concession.
MRCB is expanding its land bank for the long-term growth of its property arm by focusing on urban commercial projects. Key risks are its project execution and rising net gearing.
But the group has the strong support of its majority shareholder, the Employees' Provident Fund. We raise our TP to RM1.80 from RM1.44, based on a reduced discount of 20% to our revised net asset value (40% previously) to reflect the potential upside from the new projects. Maintain "buy". — AffinHwang Capital Research, Nov 13
Interested in buying a property in Bukit Jalil after reading this article? Click here.
This article first appeared in The Edge Financial Daily, on Nov 16, 2015. Subscribe to The Edge Financial Daily here.