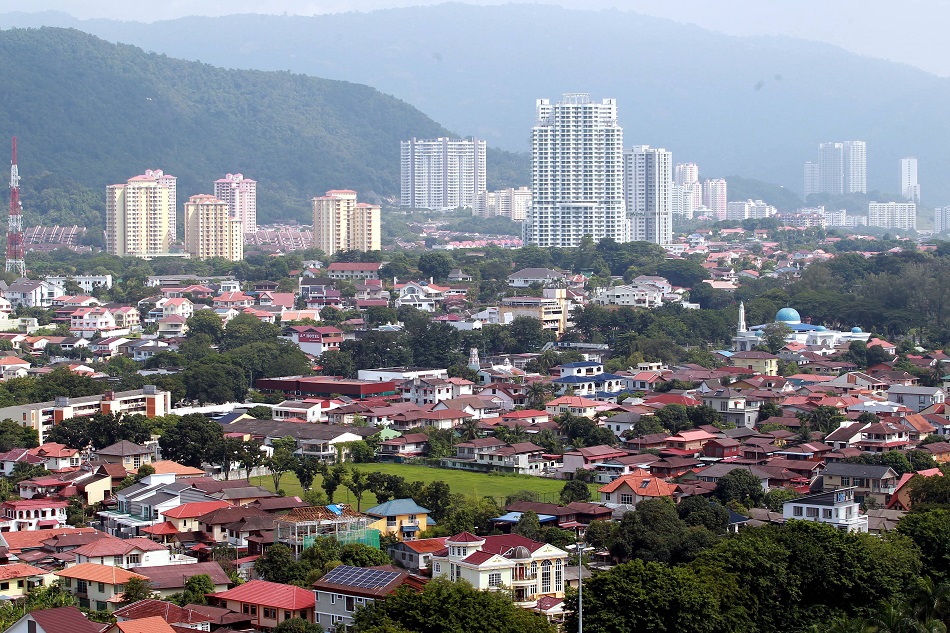 THE Penang housing market will see houses on the secondary market and in new projects priced below RM450,000 hogging the limelight in the coming months, says Raine & Horne International Zaki + Partners director Michael Geh (pictured, below). However, the more pressing issue is the inordinately long delay in getting approval for the Advertising Permit and Development Licence (APDL).
"For the first time in the Penang property market, the APDL is being withheld for about 1½ years. This has caused havoc as developers are not able to launch. This is a taking a very serious toll on the property market," Geh says in presenting The Edge/Raine & Horne Penang Housing Property Monitor 4Q2015. APDL approval usually takes about a month.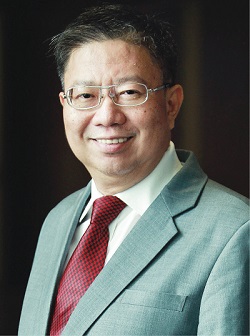 Apart from this, buyers are finding it difficult to obtain housing loans. "The majority are being offered loans of 60% to 75% and many don't have enough money to conclude the purchase," he says.
Despite this, the secondary market continued to see activity in 4Q2015 even as transactions remained flat in the primary market.
Meanwhile, the recent announcement about the island's light rail transit (LRT) project was warmly welcomed.
"The stakeholders in the property business reacted positively to the Penang Transport Master Plan (PTMP) and residents are optimistic about the capital appreciation of their homes," says Geh.
The RM27 billion PTMP is aimed at mitigating traffic congestion in the state by 2030.
But some residents whose houses are close to the proposed LRT stations have voiced their worries about the parking situation. Geh says indiscriminate parking near LRT stations is a concern because of the shortage of parking space, and that more parking facilities are needed to alleviate the problem.
In spite of this, activity in the secondary property market near proposed LRT stations is expected to increase.
"The areas close to the proposed LRT stations along the line from Prangin Canal to the airport are turning hot while other stations from the Prangin Canal hub to the Straits Quay area have also begun to be desirable," Geh says.
Areas such as Macallum Street, Karpal Singh Drive, The Light, Queensbay, World City, SPICE Arena and Bayan Lepas are also to watch.
On the mainland, properties around Batu Kawan in the secondary market will be worth keeping tabs on.
Another notable development was the revocation of Sunway Bhd's planning permission to develop the slopes of Relau Hills following protests by residents. Developers will need to consider carefully plans to develop hillsides, he says.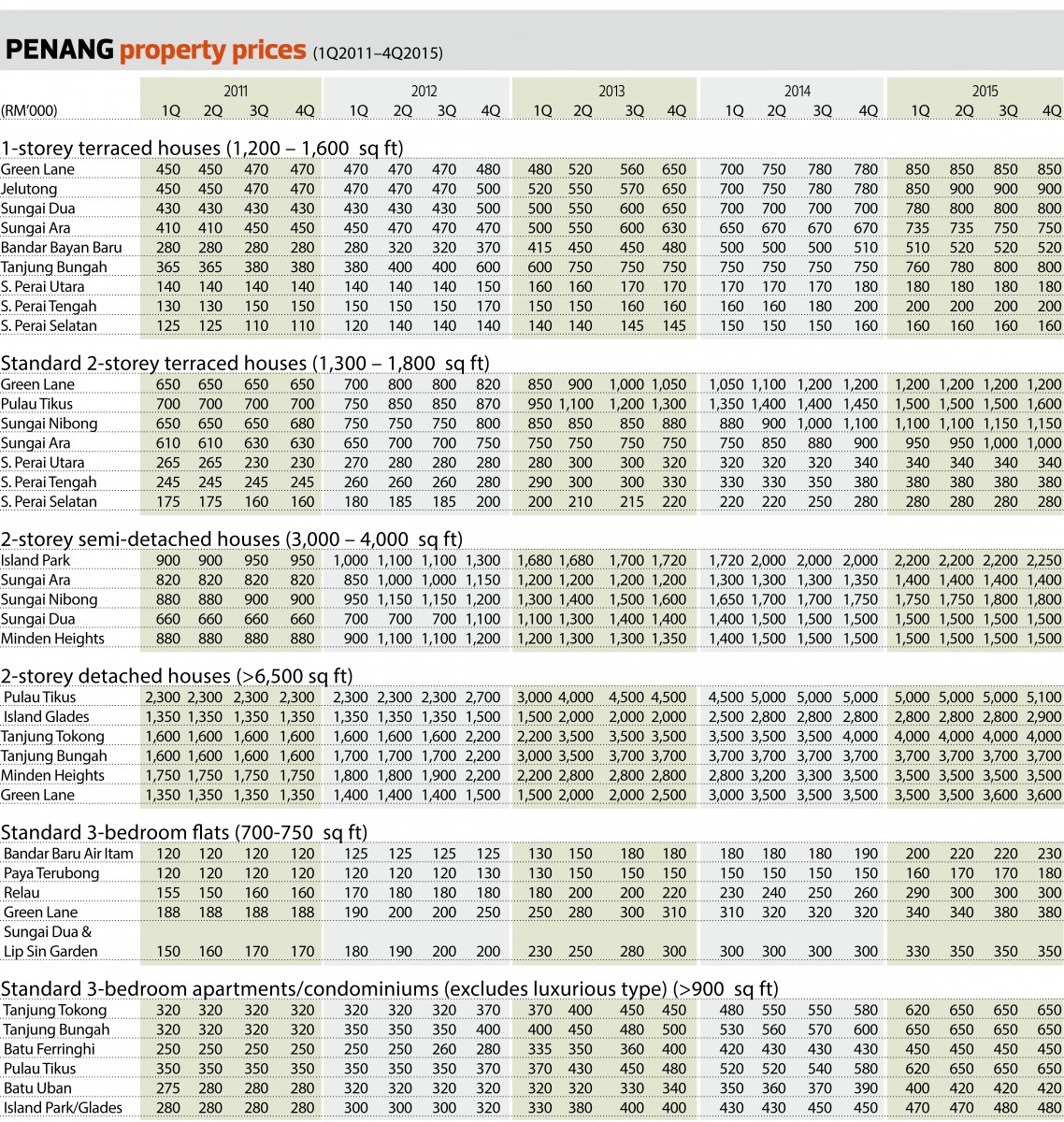 Terraced houses
All single-storey terraced houses on Penang island saw year-on-year price growth while prices remained unchanged on the mainland.
One-storey terraced houses in Jelutong saw the highest price growth, rising 15.38% to RM900,000. This was followed by houses in Sungai Dua (14.29% to RM800,000), Sungai Ara (11.94% to RM750,000) and Green Lane (8.87% to RM850,000). House prices in Tanjung Bungah and Bandar Bayan Baru rose 6.67% and 1.96% respectively.
Quarter-on-quarter growth remained unchanged for all houses surveyed in this category.
For 2-storey terraced houses, most areas on the island surveyed saw price growth while on the mainland, prices were unchanged from a year ago.
The top two areas were Sungai Ara, with an 11.11% increase to RM1 million, and Pulau Tikus, up 10.34% to RM1.6 million from a year ago.
In Sungai Nibong, the price of single-storey houses rose 4.55% to RM1.15 million, but that in Green Lane saw no change.
On a quarterly basis, only houses in Pulau Tikus saw price growth of 6.67% to RM1.6 million.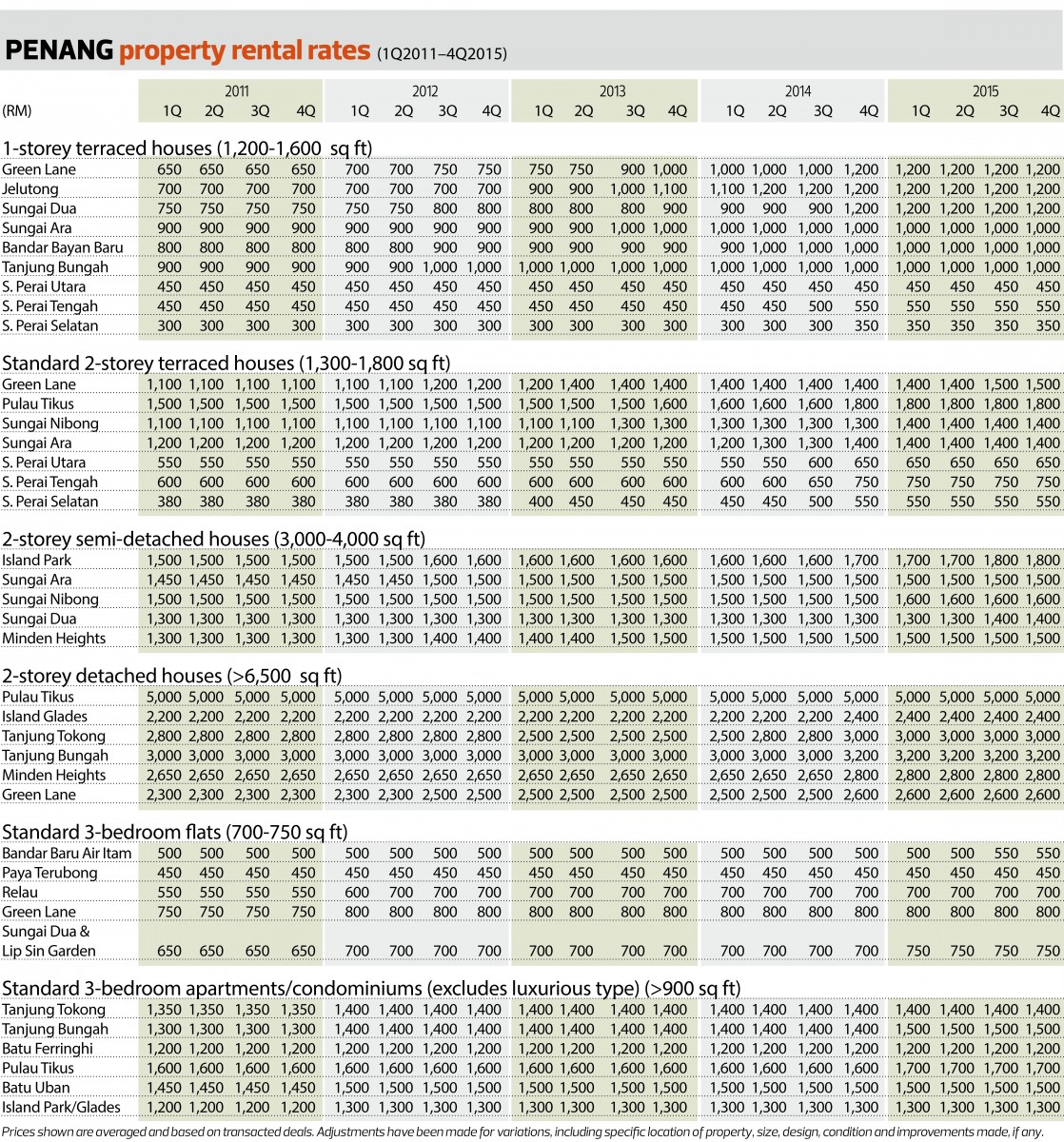 Semi-detached and detached houses
According to the monitor, 2-storey semi-detached houses in Island Park, Sungai Ara and Sungai Nibong saw price growth y-o-y.
Prices rose 12.5% to RM2.25 million in Island Park, 3.7% to RM1.4 million in Sungai Ara and 2.86% to RM1.8 million in Sungai Nibong. Prices were stagnant for semidees in Sungai Dua and Miden Heights.
On a quarterly basis, only houses in Island Park rose 2.27%. The other areas surveyed remained unchanged.
For 2-storey detached houses, price growth was subdued, with only houses in Island Glades, Green Lane and Pulau Tikus showing growth.
In the Island Glade area, prices rose 3.57% to RM2.9 million. Prices in Green Lane gained 2.86% to RM3.6 million while those in Pulau Tikus increased 2% to RM5.1 million.
Only houses in Island Glades showed an increase from the previous quarter of 3.57%.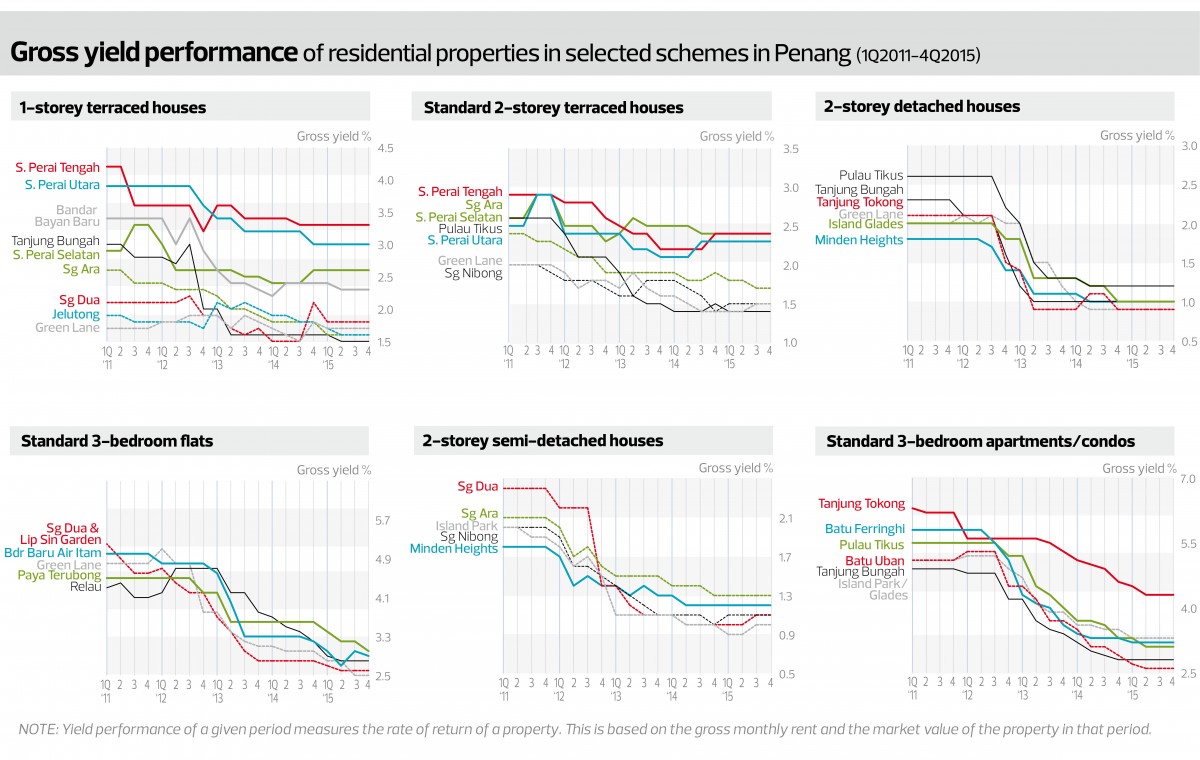 Flats and condominiums
For standard 3-room flats, all areas surveyed saw an increase in price from a year ago, led by Bandar Batu Air Itam (21.05% to RM230,000), followed by Paya Terubong (20% to RM180,000) and Green Lane (18.75% to RM380,000).
Also showing price growth were flats in Sungai Dua and Lip Sin Garden (16.67% to RM350,000) and Relau (15.38% to RM300,000).
Q-o-q, only flats in Bandar Baru Air Itam and Paya Terubong showed an increase, up 4.55% and 5.88% respectively.
All condominiums surveyed showed price growth from the previous year, with units in Pulau Tikus and Tanjung Tokong at the top, both rising 12.07% to RM650,000.
This was followed by units in Tanjung Bungah (8.33% to RM650,000), Batu Uban (7.69% to RM420,000), Island Park/Glades (6.67% to RM480,000) and Batu Ferringhi (4.65% to RM450,000).
On a quarterly basis, all condos showed no price movement.
Interested in property investments in Green Lane, Penang after reading this article? Click here to check out the properties there.
This article first appeared in City & Country, a pullout of The Edge Malaysia Weekly, on April 4, 2016. Subscribe here for your personal copy.