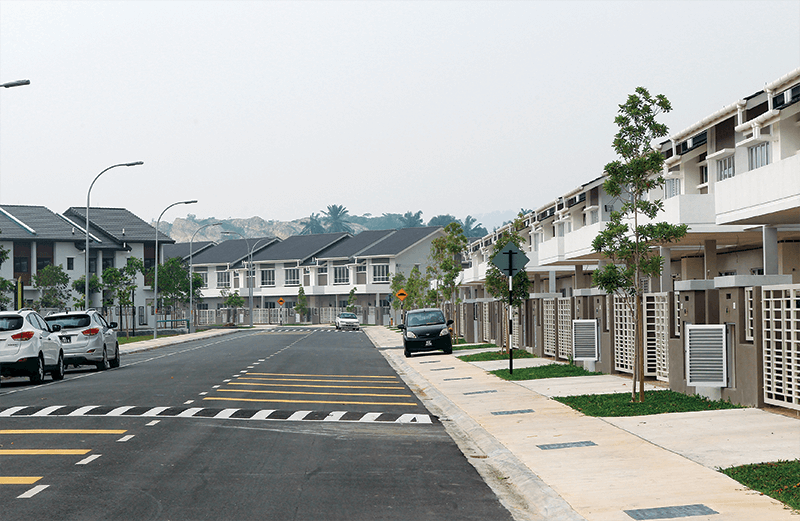 Sime Darby Property Bhd, the property division of conglomerate Sime Darby Bhd, is a household name in builing mega townships, but it has recently decided to contribute to the country's affordable housing agenda. Known for its quality landed homes, the brand's trademark quality and design are seen even in its affordable housing properties, not least at Saron in Bandar Bukit Raja, Klang, a recipient of The Edge Malaysia Affordable Urban Housing Excellence Award 2015.
"The first thing you would notice about Saron is the fact that there is a sense of arrival. The façade plays a major part and the open-space concept gives you a sense of grandeur, which is not typical in affordable housing today," says Mohd Salem Kailany, head of property at Sime Darby Property.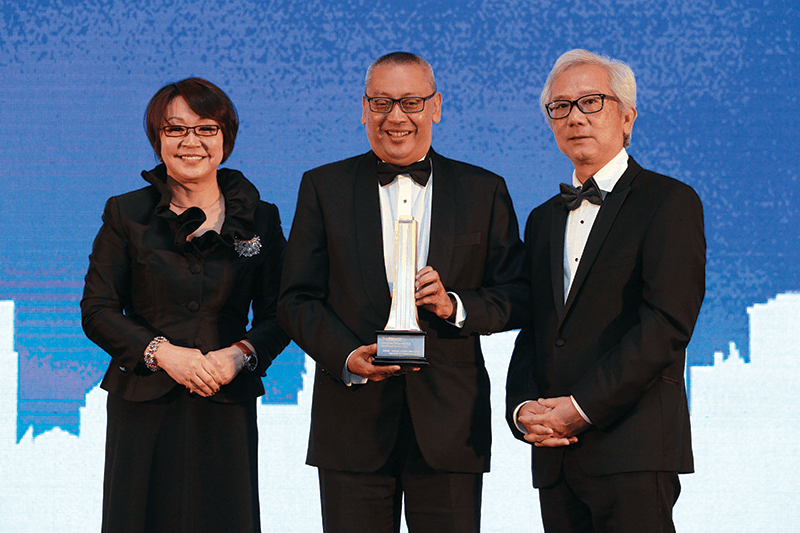 He tells The Edge that the uniqueness of Saron lies in the features conveyed in the development, despite being classified as affordable housing. "It is unique because Saron carries all the brand attributes of Sime Darby Property in its quality and design. Another unique aspect of the project is that Saron is part of Bandar Bukit Raja, a matured township that is close to amenities. All these offered at prices below RM400,000."
Saron blends seamlessly with other houses in the township. The sleek, contemporary design is highly deceptive and almost unheard of in what are usually categorised as affordable homes. Saron houses offer high ceilings, an open-space concept and aluminium frame casement windows. The guarded community also offers plenty of green spaces, a hallmark of a number of Sime Darby Property's housing developments.
Mohd Salem acknowledges Saron's curb appeal and well-thought-out concept.
"It is important to understand that Saron homes are of standard sizes, yet certain features that are more commonly found in our detached and semi-detached homes can be found in this development. Most of the components and spaces are well-integrated and practical."
Saron has a gross development value (GDV) of RM126 million and takes up 21.98 acres of the 4,405-acre township of Bandar Bukit Raja. The estimated RM20 billion GDV township is expected to be completed in 2041. The units at Bandar Bukit Raja that have been launched are 100% taken up. Sime Darby plans to build a total of 2,403 affordable houses within this township by 2020.
With built-ups of 1,310 to 1380 sq ft, and land sizes of 20 x 70 ft, launch prices of the double-storey link homes ranged from RM380,000 for a standard unit to RM528,000 for a corner unit. The current estimated market prices are RM450,000 and RM650,000 respectively.
Saron is the first phase of Sime Darby's Quality Affordable Sime Darby Homes or Qaseh programme, developed in collaboration with the government's Project Perumahan Rakyat 1 Malaysia (PR1MA). Prices for affordable properties under Qaseh are between RM150,000 and RM600,000, with built-ups from 740 to 1,400 sq ft. Malaysia citizens above 21 years old with a monthly household income between RM2,500 and RM9,000 are eligible to apply. All the houses in Saron have a 10-year moratorium period before they can be sold.
According to Mohd Salem, the group achieved this level of affordability without compromising on quality as the developer has a pool of suppliers, contractors and designers whom it works closely with for most of its developments. "We are able to stay consistent, reduce wastage, and negotiate better rates to deliver the same kind of quality that our buyers are accustomed to. This gives us the edge to make it affordable while under the Sime Darby Property badge."
Launched on June 1, 2013, the 321 freehold units were released in two phases. Saron 1 has 160 units and Saron 2 has 161. There are approximately 15 units per acre. All units were sold on launch day using a balloting system for 900 applicants.
Saron mainly attracted young families and first-time homeowners. "Each target market has different value propositions, needs and demands. In the context of Saron, our young homebuyers prefer developments with nearby facilities including schools and shopping malls. Saron offers easy access to these conveniences," says Mohd Salem.
Indeed, one of the main draws is Saron's location. Tucked in the leafy, lush landscape of north Klang, Saron is a mere 10 to 15 minutes from local schools in Klang and neighbouring Setia Alam. Nearby shopping malls include Setia City Mall, Aeon Bukit Raja and Tesco. With easy access to leading highways such as the North Klang Valley Expressway via Setia Alam and Jalan Meru and the Federal Highway via the North Klang Straits Bypass, residents enjoy access to adjacent districts and the Kuala Lumpur city centre.
"Saron is located about 30 to 45 minutes from Kuala Lumpur city centre, which I think is quite an acceptable commute for those who work in the city," says Mohd Salem, adding that the green surroundings of the area provide an escape for city dwellers, making it "a good place to live".
The project has been well-received. "Since the handover in June, feedback from our buyers has been positive. We are quite happy as no issues were encountered in terms of quality."
Sterling features, quality products
Sime Darby Property has spared no expense or thought in making Saron the ideal home for its target market, as Mohd Salem highlights the importance of a starter home and its features. "You want to feel proud of your first home. The houses are designed in a modular fashion, which allows for future expansion and renovation. It also makes it fairly simple to handle interior design and furniture arrangement. The open space concept and double-volume spaces make the house appear spacious. For the fittings, we used the same engineered timber flooring that we would normally use for our other products. We also provided built-in air conditioner points for the upper bedrooms and living areas."
Details such as high ceilings, extensive use of glass screens and massive windows dominate Saron's design. "We have also installed fibre-to-the-home (FTTH) infrastructure for high-speed broadband connectivity," says Mohd Salem.
Needless to say, these features are not typically offered in affordable housing developments. "Saron's modern features are mostly prominent in other Sime Darby properties. But these features are usually not seen in properties in this category. For example, instead of FTTH, most offer copper wiring, which wouldn't have the same kind of bandwidth to support broadband connectivity," says Mohd Salem.
"At Saron, we have harnessed natural lighting and ventilation. The idea is that you would be less reliant on electrical lighting during the day because there is plenty of natural light. Once you allow natural light in, ventilation will also be better, thus improving the overall ambience of the house."
Security is another key component in the development of Saron. "We provided perimeter fencing for the whole development. So far, there has not been any complaint or security breach. For the first year, we will bear the cost. Beyond that, the residents would have to chip in ... the maintenance fee would most probably be about RM50 per month," he says.
As for green spaces, the minimum percentage of green space in a typical Sime Darby property is 10%. "Although that's the minimum percentage, we do try to add more greenery. We believe wider open spaces add more value to the community. At Saron, we have a central park that is big enough for the residents to congregate and hold some gatherings," Mohd Salem says. Other facilities include reflexology paths, basketball and futsal courts, children's playgrounds and landscaped gardens and green areas with natural vegetation.
A continuous process
For the future, the developer hopes to expand its affordable housing segment. "We were one of the pioneers when PR1MA was first established. We provided our input and we are committed to building affordable housing. Our first launch of over 300 units was the 562-acre Bandar Ainsdale in Negeri Sembilan, featuring high-quality fittings such as rainwater harvesting and integrated transport infrastructure. Launched in 2011, Bandar Ainsdale has a gross development value of RM2.3 billion. Following the success of the launch, we then proceeded to Saron. Unlike Saron, most of these affordable homes are strata units," shares Mohd Salem.
The group is less concerned about making a profit when it offers affordable housing projects as it wants to provide for the needs of the lower-income group.
"For affordable housing, profit is not our biggest motivation. Essentially, we are a township developer and we have a mix of products that would create the kind of profit we would expect. For Saron, we look to break even," he says.
Today, the group has three affordable housing schemes; Qaseh, Serasi and Sime Darby Affordable Housing. The Serasi programme has the same conditions as Qaseh except that it is only for Sime Darby employees; has a five-year moratorium and no maximum age limit for applicants.
"Apart from Qaseh and Serasi, we will integrate Rumah Mampu Milik Johor and Rumah Mampu Milik Negeri Sembilan, as part of our agenda for township developments. We would also like to get the buy-in from state authorities to provide certain concessions such as minimum conversion premium, no development charges and reducing contributions so we can break even rather than absorb losses," he says. "As our first landed affordable homes, Saron is part of our journey towards achieving 20,000 to 21,000 units of affordable housing so we intend to upgrade and improve as we go along.
"This project is special to us because we are providing homes for people who really need them. I hope the community will continue to grow. We plan to bring more employment opportunities into Bandar Bukit Raja through a 1,000-acre industrial area."
Mohd Salem reckons the property values at Saron and affordable housing in general will continue to soar. "In terms of value appreciation, it has gone up by 40% to 50% from our selling price. If you compare this with our neighbouring townships — a similar product in the open secondary market would be RM500,000 to RM600,000.
"Buyers of Saron have certainly made the right choice. Suffice to say, if you talk about landed properties in a good location, it would be in the region of 5% to 6% [price appreciation] per annum. At the end of the day, a house is a basic need. Our population grows over time, creating new families that would require new homes." TEPEA 2015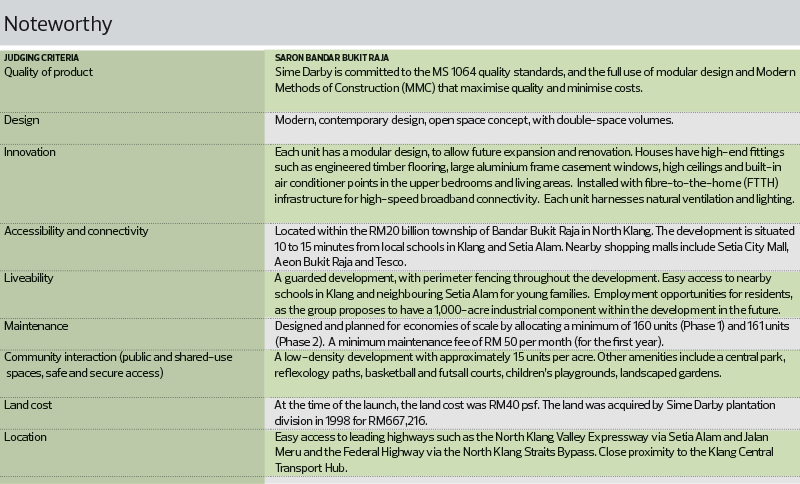 Do not ask your BFF about the value of your home. Click here at The Edge Reference Price to find out.
This article first appeared in City & Country, a pullout of The Edge Malaysia Weekly, on Dec 7, 2015. Subscribe here for your personal copy.