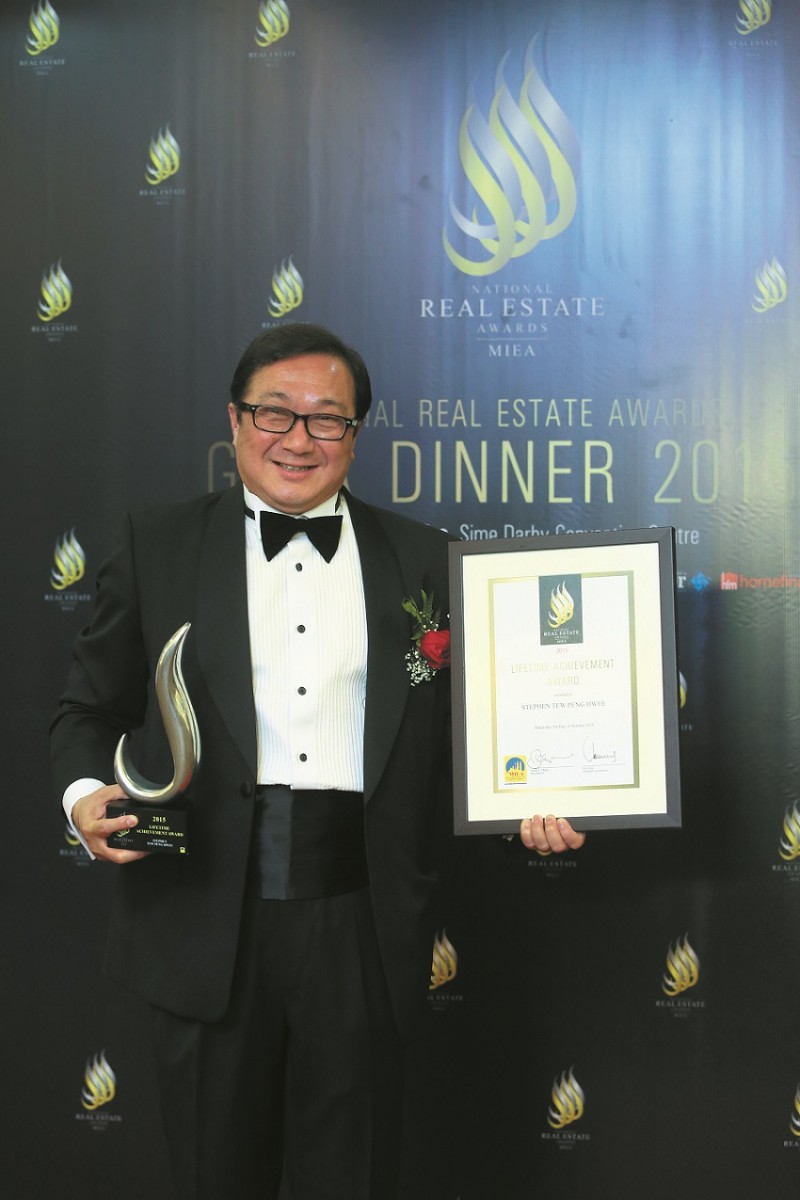 "I'M not the smartest person. I'm the type who has to read a book twice to fully understand it. But the blessing is that I never had problems having extra energy to read the book twice," says Hectares & Stratas Sdn Bhd managing partner, Stephen Tew.
That extra energy has served Tew well in his long and successful career in real estate. Tew, who is also a director of Axis REIT Managers Bhd and founding shareholder, was honoured with a Lifetime Achievement Award at the National Real Estate Awards 2015. The awards are organised by the Malaysian Institute of Estate Agents and was held on Oct 3.
Tew's journey in real estate began with a failure in the 80s, as a 24-year-old small shareholder in an electrical goods company. When the recession came, the business was hit hard and closed down.
Unsure of his next move, Tew bought a book about the 40 richest men in the world and how they got to where they were. He found out that most of the success stories were in the insurance and real estate industries.
"Around the same time, Chivas Regal was running the Top 10 Malaysian Businessmen of the Year Awards. I noticed that while the top 10 businessmen were from various industries, every one of their companies had a property subsidiary.
"It was like these people were showing me the path -- this is the way to go. There's no point reinventing the wheel when it has been proven to be successful. I don't need to be as successful as those top businessmen. If I can just get a tiny percentage of what they have, that's enough for me," says Tew.
Tew soon landed a negotiator position with property consultant Rahim & Co, becoming its top negotiator until he resigned four years later.
"I partnered with two friends and we opened a real estate agency called The Golden Triangle. Four years later, I decided I wanted to be on my own, so I formed Hectares & Stratas. That was 23 years ago," says Tew.
In 1999, Tew persuaded a former colleague from Rahim & Co, Hong Soon Loong, to join Hectares & Stratas as a partner. Tew describes Hectares & Stratas as a boutique agency that focuses on industrial properties, selected commercial and a bit of retail.
"We have a staff of 12. We are very focused on a few segments of the markets that we are interested in," he says.
The highs
Tew began investing in properties in the late-80s with two partners who were also his clients.
"My partners were manufacturers. As an estate negotiator, I would pitch deals to them. At some point, they asked me to invest with them. I was a young negotiator then; what money did I have? So they told me to take 2% to 3% of the commission they were paying me and roll the money back into the investment. They would secure the bank loan for the projects.
"So, we did that. We invested, then we cashed out and distributed the funds and moved on to new projects. We did this so many times that eventually I was able to be an equal partner with them," recalls Tew.
"Around 2003, Tun Dr Mahathir Mohamed, in his last year as prime minister, started encouraging the listing of REITs (real estate investment trusts). We jumped in and made an application to the Securities Commission (SC). We had to prove we were qualified enough. We were approved and have not failed SC since. The listing in 2005 was the highlight of my career," Tew says.
According to him, Axis REIT listed with five properties with a value of RM300 million. They included Crystal Plaza, Axis Business Park, Axis Plaza and Menara Axis.
"In the last 10 years, we acquired about RM1.7 billion worth of real estate and, today, we are managing about RM2 billion of real estate," he says.
First in, last out: formula for success
"Throughout my working career, I'm always the first person in the office and the last one out. I'm the person who takes work home, even today. My day starts at 5.30am. It's difficult to create a momentum, that's why once I have [it], I don't ever want to lose it. I'm also a very hands-on and detailed person," Tew explains.
There's one very important trait he believes makes a successful negotiator or estate agent.
"You need to be a nice person. If you are a nice person, people will naturally want to deal with you. Even if you don't have the property they want, they will give you a chance to look for it. And if they find a property they want on their own, they ask you to approach the owner.
"In a nutshell, be hardworking, nice and stay humble. Then you will have success."
New adventures
Tew admits he's a happy man but he's never been one to stay idle. He's already planning new adventures.
"I travel every 45 days or so and I've been to nearly all the cities I want to go to. I've started preparing to write a book about my travels. I will start drafting in a month or two. I'm giving myself a year-plus to finish the book as I've a few more cities I've yet to visit," he says.
Tew also wants to start a school similar to the Outward Bound School to cater to teenagers aged between 16 to 18 during the holiday months of November and December.
"The objective is talent development. What I want to do is impart knowledge. It will be a good mix of indoor and outdoor activities. I'm already sharing drafts of my plans with a few people to get their opinion and my daughter has agreed to help me. I plan to launch it in November next year," he reveals.
Last but certainly not least, Tew will be opening his first hotel next month on Jalan Ipoh, Kuala Lumpur: a 100-room, two-star hotel.
"This is something I've been wanting to do in the last 10 years and it has come to fruition. I call it the SCC Hotel: 'safe, clean and comfortable' because that's what people want when they stay in a hotel. If it works, I'll want to open a few more in KL."
Further ahead, he hopes to work with his three children to develop high-rise residential projects.
"After that, I'm not sure what else I want to do but I'm sure it will come to me," he says with a hearty laugh. (NRE AWARDS 2015)
This story first appeared in The Edge Property pullout on Oct 9, 2015, which comes with The Edge Financial Daily every Friday. Download The Edge Property here for free.