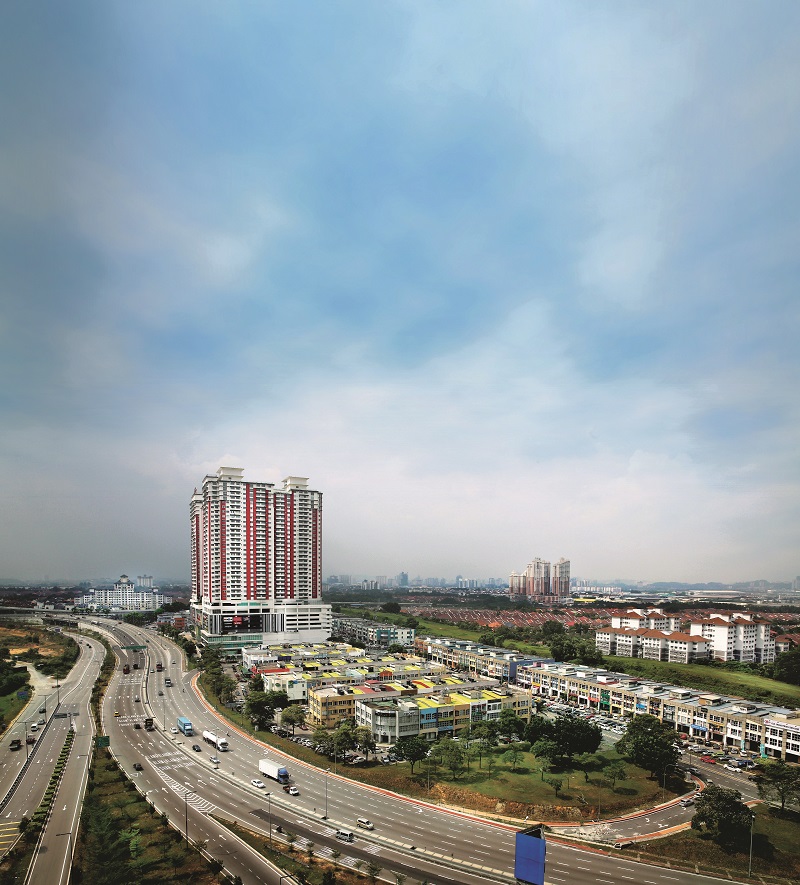 SUBANG JAYA, Selangor, is a well-established neighbourhood with abundant amenities. Developed by the then Sime UEP Properties Bhd in the 1970s from old rubber estates, the Subang Jaya township has become a self-contained urban sanctuary in the Klang Valley.
It offers the perfect combination of city life and suburbia. Shah Alam, Puchong, Putra Heights and Petaling Jaya are its neighbours, and Subang Jaya's centralised location gives it easy access to these well-established areas. Subang Jaya mainly comprises the areas of SS12 to SS19, UEP Subang Jaya (USJ), Taman Wangsa Baiduri, Taman Mutiara Subang and Taman Bukit Pelangi.
Residential supply in Subang Jaya is made up of terraced houses with some condominiums clustered around SS15 and SS16, around Subang Jaya Lake in SS12, as well as along the main thoroughfare of Persiaran Kewajipan in USJ.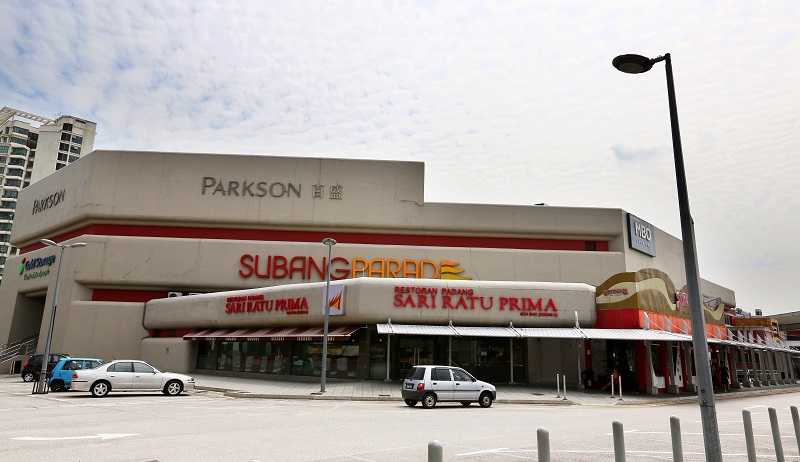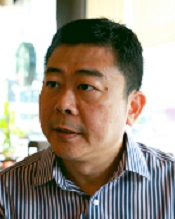 Subang Jaya offers a plethora of amenities including over 30 government and private schools, and tertiary institutions such as Taylor's University, Inti International College and Segi College. Its commercial hub in SS15 offers restaurants and services that cater to locals and the student community. Situated in SS12 is Subang Jaya Medical Centre (SJMC), one of the first private hospitals in Malaysia.
One of the more notable landmarks in Subang Jaya is the iconic Subang Parade, the first shopping mall constructed in area. Located next door is the trendy Empire Shopping Gallery, where patrons from as far as Bangsar and Ampang often stop by for a quick cup of coffee or shopping. The neighbourhood also offers a wide selection of hypermarkets and dining amenities. In neighbouring Bandar Sunway lies a major shopping destination: Sunway Pyramid.
Besides amenities, Subang Jaya offers excellent accessibility. With access to the Federal Highway, New Pantai Expressway (NPE), Lebuhraya Shah Alam (Kesas), Lebuhraya Damansara-Puchong (LDP) and Elite, it is no wonder that Subang Jaya is dubbed one of the busiest suburbs in the Klang Valley.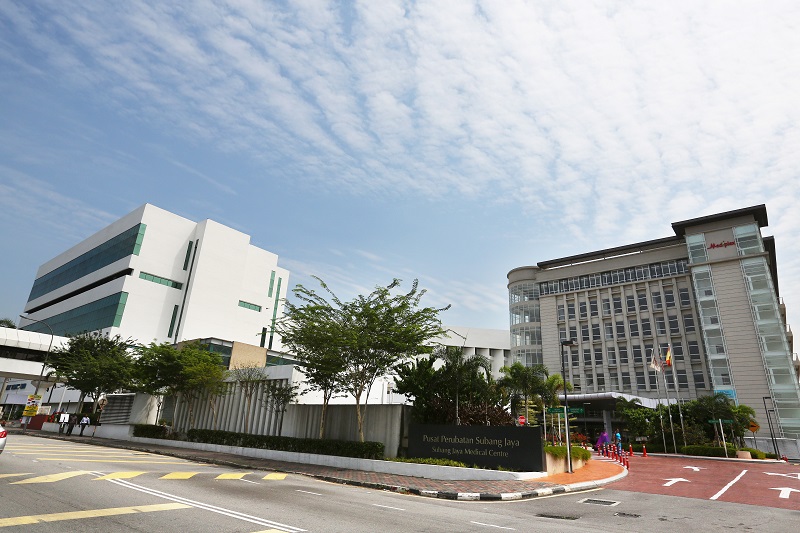 A new catalyst for Subang Jaya's growth would be the Kelana Jaya light rail transit (LRT) extension line due to be completed in 2016. Still under construction, the extended line includes stations in SS15 and SS18 as well as in USJ. The township is also located near the Sultan Abdul Aziz Shah airport.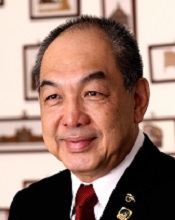 "Generally, housing prices in Subang Jaya have climbed substantially over the last two decades. The township caters mainly to the middle to upper-class income groups. There aren't that many houses or apartments in Subang Jaya that are for the low-income group," says managing director of Landserve Sdn Bhd, Chen King Hoaw.
Existing condominiums in Subang Jaya are fairly recent developments, with many built in the 2000s. Based on theedgeproperty.com's analysis of non-landed residential transactions, the average transacted price psf of non-landed residential properties in Subang Jaya (excluding USJ) was RM581 psf as of the third quarter of 2014 (3Q2014), up 15% from RM506 psf from the previous corresponding period (see Chart 1). Those in the RM400,001 to RM500,000 price range accounted for the largest market share of transactions (17.7%) in the 12 months to 3Q2014. This was followed by those in the RM500,001 to RM 600,000 range (16.7%) and RM300,001 to RM400,000 price range (15.3%). The most expensive development by average transacted price was Saujana Residency, at RM1,145,000, while the most affordable development was a medium-low-cost apartment Taman Bukit Pelangi priced at RM232,000.
Spring & Summer Villa (see Chart 2) recorded the highest average growth psf, up 31% to RM375 psf in the 12 months to 3Q2014. The data also reveals that there were a few undervalued transactions in the preceding year, which led to a lower than usual base, thus the strong growth.
"The current average price psf for condominiums in Subang Jaya (not inclusive of USJ), is about RM672 psf, with an average price of RM1,180,000 for a 1,756 sq ft area. For serviced apartments, the current average price psf is also RM672 psf, with an average price of RM850,000 for a 1,264 sq ft area," says Chen.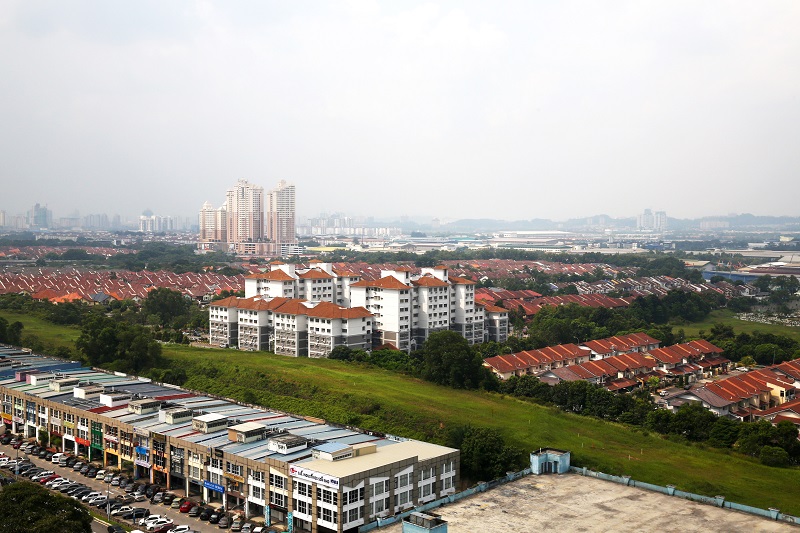 More non-landed residences have come on-stream recently, including Sime Darby's Isola. Located along SS16/1, the luxury condominium sits on a 2.173-acre site and has a gross development value (GDV) of RM220 million. The twin 16-storey tower development will have 216 units in total. These will have a built-up area of between 1,023 and 4,133 sq ft, and a starting price of RM679,888. The development is almost fully taken up, with 75% of its units sold at its public launch in 2011. A more recent launch is Pandora Serviced Residences at Tropicana Metropark, reportedly priced between RM600 and RM800 psf.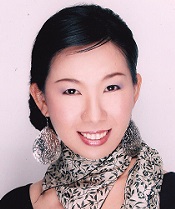 "Demand for non-landed properties in Subang Jaya lies in the apartment and mixed-use development condominium types," says principal of Mapleland Properties, Erick Kho.
According to Chen, buyers of condominiums and serviced apartments are either "young families or young couples". However, Kho maintains that this depends on the location and the budget of these families. "Some may not qualify for a loan, and the properties in Subang are on the steep side. For the higher-end developments, I would say the age group of buyers would be between 40 and 65 years old," adds Kho.
The demand for landed properties in Subang Jaya remains strong. "For landed properties in Subang Jaya, investors look for terraced houses that are gated and guarded," says real estate negotiator of Mapleland Properties, Juliana Teh.
Homebuyers in Subang Jaya are mostly owner-occupiers. "Considering the fact that there are more landed homes in Subang Jaya, the buyers are mostly those with families. For high-rises in the areas of SS14, SS15, SS16, SS17, USJ 1, The 19 USJ City Mall and Main Place at USJ 21, the owners are mainly investors and the residents are mostly working adults, students, young entrepreneurs and bachelors. The tenancy rate in these said areas is significantly higher than in other parts of Subang Jaya," adds Teh.
Meanwhile, the rental yields for non-landed residences in Subang Jaya (excluding USJ) remain strong. According to theedgeproperty.com, condominiums in SS15 and SS16 command higher rental rates than other areas in Subang Jaya, at between RM2.90 to RM3.50 psf. This is because they are located within Subang Jaya's commercial centre, which has shopping malls and amenities, and are typically smaller. Properties such as Saujana Residency and Subang Olives Residence recorded the highest rental rates, with indicative annual returns of 6.5% (see Table 1).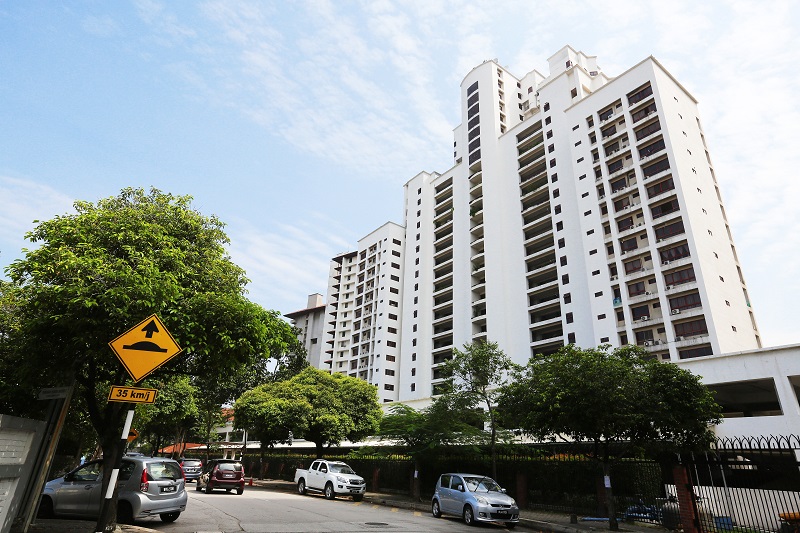 "Generally, the average gross rental yield for condominiums in Subang Jaya is about 3%, with an average floor area of 1,756 sq ft and gross rental of RM3,000 per month, while the average gross rental yield for serviced apartments is around 3.1%, with an average floor area of 1,264 sq ft and gross rental of RM2,200 per month," says Landserve's Chen.
Subang Jaya clearly has a number of factors contributing to its burgeoning market, one of which is its road network. "Good road accessibility, direct from Kesas to USJ 1, Bandar Sunway, Federal Highway, NPE, Elite, NKVE, LDP and others, have raised the values of properties in Subang Jaya. Furthermore, Subang Jaya is located strategically, midway to Kuala Lumpur," says Kho, a long-time Subang Jaya resident.
"Subang Jaya lies smack in the middle of the Kuala Lumpur–Klang belt, which has been the country's main economic lifeline since independence. It is within this thriving corridor where trades and job opportunities are found, which naturally draw people to live here in Subang Jaya. In fact, many who work in neighbouring Shah Alam and Klang, including those who work in multinational companies, choose to live in Subang Jaya," concurs Chen.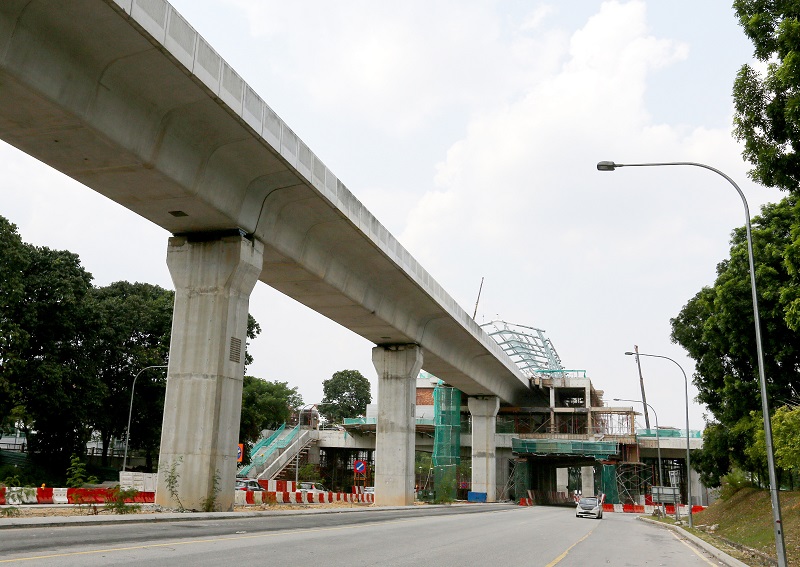 While Subang Jaya is self-contained and sufficient, with shopping malls, hypermarkets, leading medical centres and colleges, the established neighbourhood will soon enjoy better public transport, thanks to the LRT line extension due for completion in 2016.
Resident manager of Property Hub Sdn Bhd, Wan Choy Heng, notes that the LRT line will increase the exposure of Subang Jaya's property market, thanks to the length of the Kelana Jaya LRT line, from Putra Heights to Wangsa Maju in Kuala Lumpur. "The recently introduced bus rapid transit (BRT) service in Subang Jaya and Bandar Sunway have already improved public transport between USJ, Bandar Sunway and Seri Setia KTM Station," says Wan.
A bright outlook
Adding optimism to Subang Jaya's property market outlook is the Sime Darby transit–oriented development, Subang Jaya City Centre (SJCC). "It is one of the most talked-about upcoming developments here. This RM3.96 billion project encompasses the regeneration of the older parts of Subang Jaya's commercial strip in SS16. This mixed-use development will have an integrated transport hub comprising (KTM) commuter train and the LRT, as well as park and ride facilities," says Chen.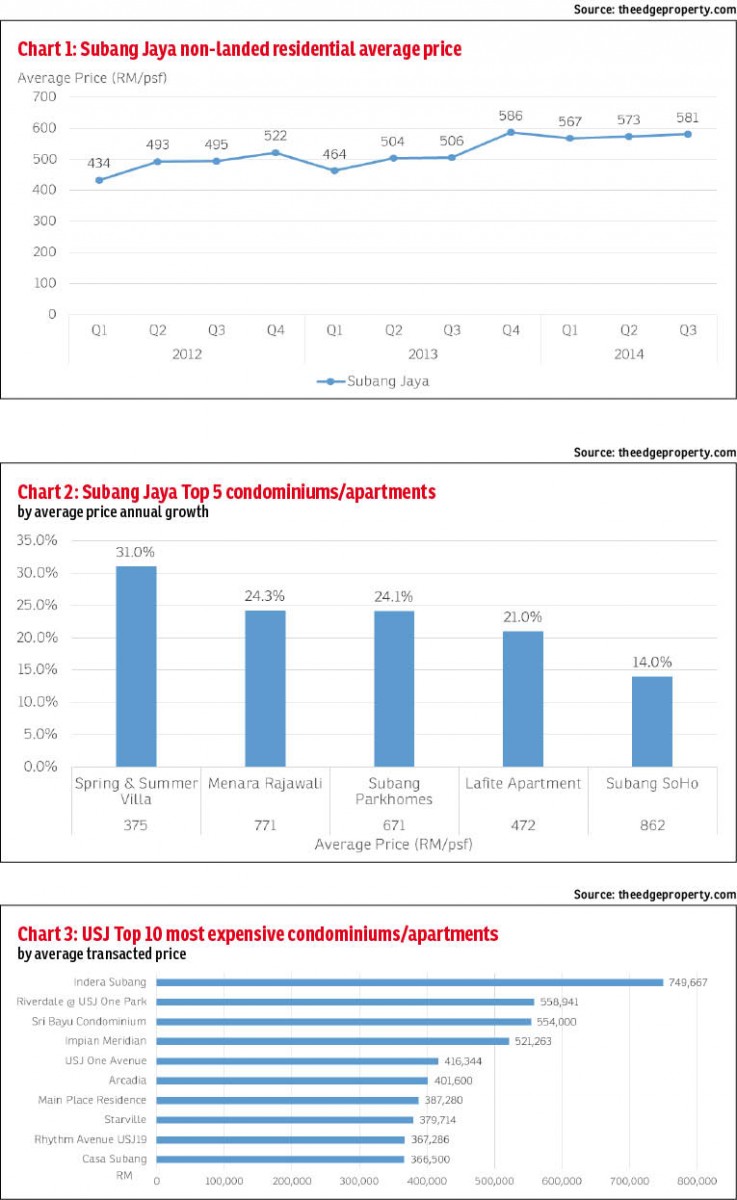 The township has witnessed a slew of new launches in recent years, further strengthening Subang Jaya's position as one of the more attractive townships in the Klang Valley.
"One upcoming launch in USJ is Reo Suites at One City, the RM5 billion development by MCT Bhd. Other launches include the recently completed The Regina Residence at USJ 1 by Regina Development, and Da-Men at USJ 1, adjoining Summit Hotel, due to be completed in 2016," says Wan.
"The good [network of] highways and service roads to neighbouring suburbs makes Subang Jaya a sought-after location for young families looking for a place to settle down or to upgrade," adds Wan.
As a mature township with a high concentration of secondary properties, it is unlikely that Subang Jaya will experience an oversupply of new developments in the near future. "Any new supply will most likely be absorbed as there is a constant demand for properties in Subang Jaya," says Mapleland's Teh.
According to Chen, the values of properties in Subang Jaya will continue to move upwards due to the area's amenities and accessibility. "All in all, there are many advantages to living in Subang Jaya. It's a good area to invest in; to be frank, almost any kind of property here is a worthy investment. I believe the future is bright for Subang Jaya, especially with the added connectivity of the Kelana Jaya LRT line," concludes Chen.
USJ on the roll
DEVELOPED by the then Sime UEP Properties Bhd in the late-1980s as an extension of the Subang Jaya township, UEP Subang Jaya, better known as USJ, is today an affluent neighbourhood comprising USJ 1 to USJ 27, USJ 3A to 3D, Subang Heights and USJ Heights.
"Being a sprawling township, USJ offers a wide range of housing. Generally, landed, linked houses are the best-selling for those who buy for their own occupation and are looking for long-term capital appreciation, while the demand for non-landed homes is mostly driven [by the desire] rental income," says resident manager of Property Hub Sdn Bhd, Wan Choy Heng, who has lived in USJ since 2000.
"Most homebuyers in USJ are owner-occupiers, with investors vying for the non-landed ones. Buyers are generally young families and couples in their 30s and 40s," he says. The majority of the linked houses in USJ are valued around RM600,000 to RM800,000. The apartments, however, are fairly affordable, at between RM200,000 to RM400,000, he adds.
Similar to earlier developments in Subang Jaya, USJ offers a wide range of amenities. "The main commercial hubs in USJ are Taipan at USJ 10 and Subang Business Centre. For shopping and leisure, USJ has shopping malls such as Summit Shopping Centre, The 19 USJ City Mall and Main Place at USJ 21," says Wan. He adds that Subang Jaya has over 30 government, private and international schools. Many of the schools are located in USJ, such as Sekolah Menengah Kebangsaan Seafield 2 and Sekolah Menengah Kebangsaan USJ 23. Among other public schools here is a Sekolah Wawasan, or Vision School.
In terms of rental yields, Wan says the current average for linked houses in USJ is 2% to 3%, while the average rental yield for non-landed homes in USJ such as apartments and condominiums, is 4.5% to 5%.
"The value of landed homes has generally appreciated about 7% to 8% per annum in the last two decades. For non-landed properties, the value generally appreciates at about 5% per annum," says Wan.

Nonetheless, this neighbourhood has had its challenges. "USJ is well-known for its serious traffic congestion. Up until the mid-1990s, there were only two entry points to Subang Jaya and USJ, with a one-way exit from Subang Jaya. One could only access and exit Subang Jaya via the Federal Highway at Persiaran Kewajipan or Persiaran Tujuan. Many shunned properties in Subang Jaya and particularly USJ due to the traffic issue," says Wan.
However, those were the days. The road network in Subang Jaya and USJ has gradually been improved over the years, with the completion of Kesas, NPE, LDP and Elite, not to mention the upcoming Kelana Jaya LRT line extension that will include new stations in USJ 7, Taipan (USJ 10) and USJ 21. "These have spiked demand for properties in Subang Jaya and USJ," notes Wan.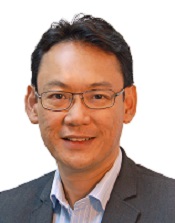 Based on theedgeproperty.com's analysis of transactions in USJ, prices of non-landed homes on the secondary market in USJ grew remarkably over the past two years. The average transacted price psf of non-landed residential properties was RM411 psf in 3Q2014, up 16.8% year-on-year from RM351 psf in 3Q2013. This was on top of an outstanding y-o-y growth of 34.5% in the preceding year.
According to theedgeproperty.com, as of 3Q2014, Indera Subang is the priciest condominium, with an average transacted price of RM750,000, or 30% higher than the next development. Although the development is fairly dated, its prices remain steep due to its generous unit sizes ranging from 1,500 to 2,500 sq ft. Other comparatively pricey developments in USJ include Riverdale @ USJ One Park (RM559,000), Sri Bayu Condominium (RM554,000) and Impian Meridian (RM521,000) (see Chart 3).
For the lower-middle-class segment, Goodyear Court provides a wide range of options for buyers. The average price of units in Goodyear Court ranges from approximately RM167,000 (in Goodyear Court 4) to RM336,000 (Goodyear Court 9), based on data as of 3Q2014 on theedgeproperty.com.
"USJ is quite saturated already, with the exception of USJ 1. Given that the availability of suitable development land is becoming scarce, a rising population and interstate migration to the Klang Valley will only ensure continual demand for housing in USJ. Hence, I believe property values will continue to grow in USJ," says Wan.
This article first appeared in property+, a section of the digitaledge Daily, on Aug 7, 2015. Get the full property+ here and view the video here.
For a quick and brief analysis of the property market in Subang:
PROPERTY SNAPSHOT 1: USJ secondary market takes off
PROPERTY SNAPSHOT 2: What's affordable in USJ?
PROPERTY SNAPSHOT 3: What are developments priced at in USJ?
PROPERTY SNAPSHOT 4: What's hot in USJ?
PROPERTY SNAPSHOT Self-sufficient Subang Jaya
PROPERTY SNAPSHOT What's affordable in Subang Jaya?
PROPERTY SNAPSHOT What are developments priced like in Subang Jaya?
PROPERTY SNAPSHOT What's hot in Subang Jaya?
Like our content? Check out
Narratives
– where we curate stories based on topics to keep you well and broadly informed about Malaysian real estate.
Looking for property? Check out
Location Scan
, where we summarize all available options and facts you need in a few clicks. We have updated the tool to include MRT3 stations too.
Curious how much you can borrow? Use
LoanCheck
to get your maximum loan eligibility from various banks, or
LoanReport
to get a FREE CTOS/CCRIS credit report.