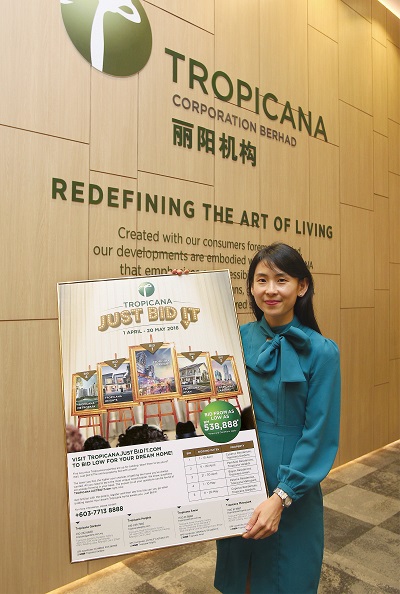 TROPICANA Corp Bhd has launched its property bidding campaign, where the lowest unique bid wins, starting from a floor price of RM538,888 (for a Tropicana Metropark condominium).
Said to be Malaysia's first online property bidding campaign, the Tropicana Just Bid It campaign, which runs from April 1 to May 20, features five Tropicana properties.
"The main objective of the Tropicana Just Bid It campaign is to further understand the needs of our purchasers and engage with them, at the same time allowing everyone the chance to win a Tropicana dream home," senior general manager of marketing and sales Ung Lay Ting (pictured) tells The Edge's City & Country.
The properties up for bid are in projects that will be completed within the next two years. They are two 600 sq ft studio units in Cyperus Residences, Tropicana Gardens in Kota Damansara; a 2-storey 2,203 sq ft terraced house in Parkfield Residences, Tropicana Heights in Kajang; a 2-storey 2,428.77 sq ft linked house in Bayan Residences, Tropicana Aman in Shah Alam; and a 916 sq ft 2-bedroom condominium in Paloma Residences, Tropicana Metropark in Subang Jaya.
Each property will open to bids for 10 days. The first bidding period is from April 1 to 10, followed by the second from April 11 to 20, and so forth. The winner will be announced and notified at the end of each bidding period.
"The properties are hot sellers and are worth buying because they are in good locations within the central region," remarks Ung.
The respective floor prices are about 40% lower than the market prices, she says.
There is, however, no ceiling price. If the lowest unique bid goes above the market value, it will be a good thing for Tropicana, explains Ung, but she does not think that will happen. "A smart bidder would find out how much the property is being sold for before bidding. So, let's say the floor price of a property is RM500,000 with a normal selling price of RM900,000, he would most likely not bid above the latter," she explains.
She adds, "When it comes to buying property, you wouldn't want to buy high, you always want to buy low."
Ung says the campaign is run fully on a digital platform to encourage wider participation. It is open to all but the winner must be able to secure a bank loan to purchase the property. "We will contact the winners and help them to secure the loan as we have bankers lined up to assist. If they are still unable to get a loan, we will move on to the next unique bidder," she explains.
As Tropicana is a local brand, Ung says the campaign is mostly targeted at Malaysians. "In this challenging market, we believe that people will definitely go for properties that are at the right price and in the right location. Our properties are no doubt in good locations. While auction properties are sold to the highest bidder, this campaign is more like a fun bidding campaign."
Interested in property investments in Subang Jaya after reading this article? Click here to check out the properties there.
This story first appeared in TheEdgeProperty.com pullout on April 1, 2016, which comes with The Edge Financial Daily every Friday. Download TheEdgeProperty.com here for free.