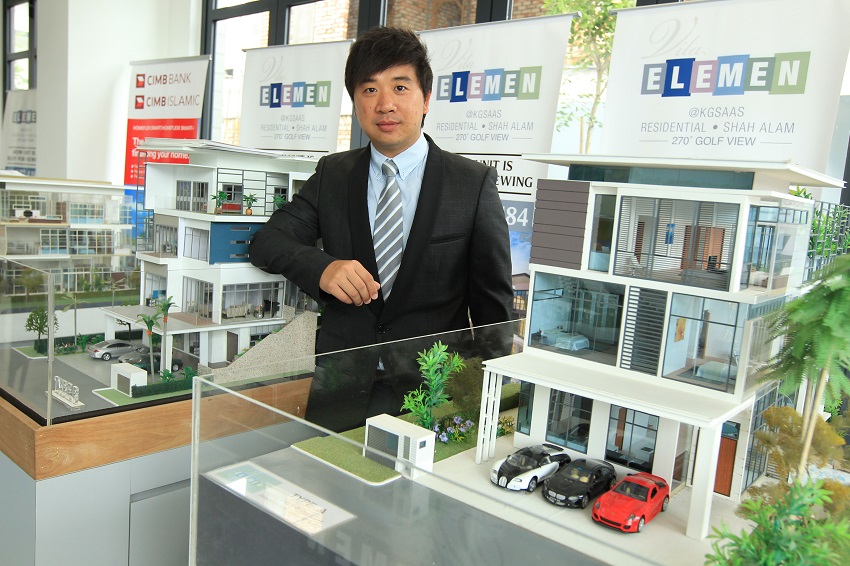 UPON entering the gates of Kelab Golf Sultan Abdul Aziz Shah (KGSAAS) in Shah Alam, Selangor, a long tree-lined and picturesque driveway leads to the courtyards of Vila Elemen. Developed by Tekat Maju Sdn Bhd, the project will comprise semi-detached homes and bungalows, and promises to cater for those who covet exclusivity.
"Our vision is to create a better standard of living for our purchasers. A development like Vila Elemen does not come around often," says executive director Kenneth Lee.
Established in 2007, Tekat Maju has been involved in mid-range, mixed-use projects in Selayang, Kepong, Kajang and Shah Alam. Its noteworthy developments include Ramal Villa in Kajang and One Selayang.
Vila Elemen is the boutique developer's first attempt at building plush homes. Located in next to KGSAAS, the luxury development is surrounded by aspen groves, manicured plantings and hedges, and is only a few steps from the golf course's clubhouse. "Residents of Vila Elemen are entitled to free membership in KGSAAS," says Lee.
Located on an 8.17-acre prime parcel, the project has an indicative gross development value of RM200 million. The low-density, leasehold development will offer 54 semidees and bungalows. The built-ups are 4,192 sq ft for semidees and 3,100 to 6,100 sq ft for bungalows.
"To increase its exclusivity, we have designed six distinctive layouts — five for the bungalows and one for the semi-detached units," Lee explains.
The bungalows will comprise type A (7+1 rooms, 8 bathrooms), type B (7+1 rooms, 8 bathrooms), type C (6+1 rooms, 7 bathrooms), type D (4+1 rooms, 5 bathrooms) and type E (4+1 rooms, 5 bathrooms) while the semidees will have 5+1 rooms and 6 bathrooms.
"The different layouts are meant to cater for different groups of people. Each purchaser may require a different thing, and we do try our best to meet the needs of our purchasers," says Lee.
The first phase of the development, with 33 units, was launched on Nov 20. It has seen a take-up rate of 50% so far. The second phase — estimated to be launched in the first quarter of next year — will see the release of the remaining 21 units. Vila Elemen, which was 45% built as at November, is due for completion by end-2016.
Lee believes its pricing will set a benchmark for landed homes in Shah Alam. "We aim to be the value makers of these types of developments. We believe other developments in the area would soon follow suit and increase the overall value of the area."
The units at Vila Elemen are priced at RM590 to RM650 psf or between RM2.5 million and RM2.9 million for Phase 1. For Phase 2, the units are priced from RM690 to RM750 psf or RM4 million to RM5 million.
"We are targeting upper-class buyers and upgraders who live near the golf club or in the vicinity. Typically, our buyers are locals who wish for their children to settle down in the same housing estate or, in our case [near] the same golf course. We are also targeting buyers with a keen interest in golfing. Most of these buyers are owner-occupiers," says Lee.
"Interestingly, we have had foreign interest too," he reveals, adding that the group is targeting 80% local buyers and 20% foreign investors.
"We are working on establishing more memberships with other golf courses in the region such as those in Singapore, Bangkok and China. We want our residents to enjoy the privilege of not just owning the homes but also being able to play golf, be it in KGSAAS or abroad when they travel. This plan is still in the works."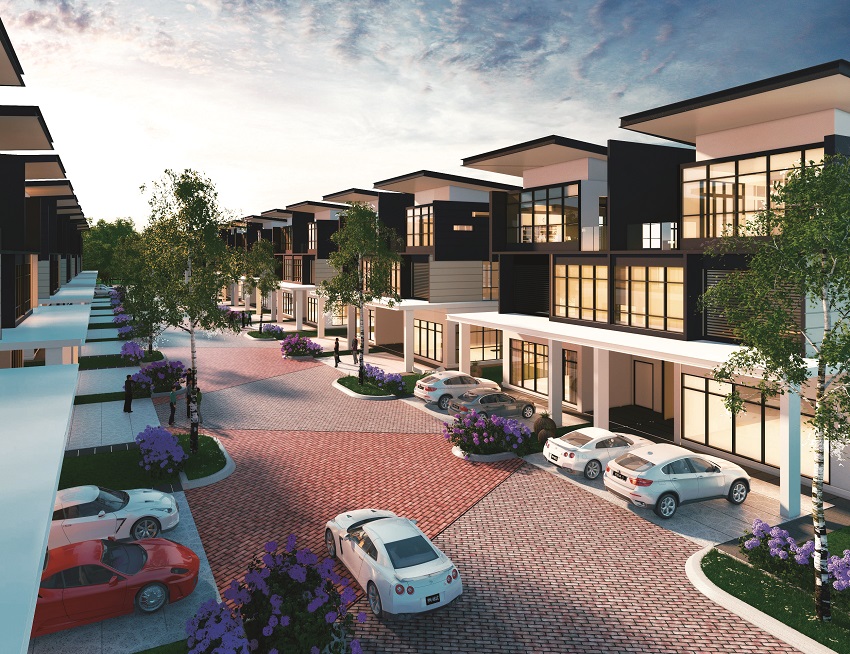 Swanky features
According to Tekat Maju, the units at Vila Elemen will have sumptuous fixtures, with high ceilings and tall windows, anchored by pillars. Each unit is designed to be airy, with ample space and natural lighting.
"We will have a ton of features such as a smart system to control the air conditioning, room temperature and lighting. We will also have facilities such as rainwater harvesting and solar heating systems. Each unit will come with a lift, which would be helpful for families, especially for the elderly and disabled," says Lee.
Selected units will have swimming pools, sky gardens and underground parking lots.
The present-day features will be consistent with the overall feel of the units, which will have clean lines. "In terms of design, our concept is truly modern and contemporary. Due to the different layouts, you can make each unit your own. For example, certain units will have rooms that can be converted into entertainment areas," says Lee.
Vila Elemen will boast green facilities such as fruit gardens, waterfalls and jogging tracks. "About 15% to 20% of the development has been set aside for green areas," Lee says, adding that he believes it is one of the reasons why the development is an ideal and peaceful place to live. Furthermore, it is "low density, with about six units per acre", he points out.
Apart from free membership of the golf club, residents will also enjoy other privileges. "Each unit will have free access to the internet via WiFi, which is great for residents who are not heavy users as well as second-home investors and visitors," says Lee.
"We will also offer free car services to residents, to areas within a 15km radius. For example, residents with relatives arriving at Subang airport may call the management a couple of days ahead to book the service. We have allocated at least two multipurpose vehicles for this service."
The gated-and-guarded community will have 24-hour surveillance, with an intercom system integrated into each home and guardhouse. "All in all, the maintenance fee for Vila Elemen would be about 15 sen psf, which translates into about RM600 for semidees and RM900 for bungalows," Lee reveals.
"One of the most striking things about the development is its location. Vila Elemen is right smack in the middle of everything, not to mention it is on prestigious grounds because the royal family of Sultan
Abdul Aziz Shah has an estate next to our development.
"We are also the nearest development to the KGSAAS clubhouse. Nearby, there are libraries and educational hubs as well as the Management and Science University in Seksyen 13. The golf course is a quiet, peaceful place to live in, but the minute you walk out, you would have access to all these conveniences," says Lee.
Vila Elemen is located in Seksyen 13 and is connected to major highways such as the New Klang Valley Expressway (NKVE) and Guthrie Corridor Expressway (GCE).
"It is easy to travel to other areas such as Kota Damansara — it would take you just 30 minutes to reach your destination. Shah Alam is booming … a lot more people are paying attention to the area because its adjacent neighbours like Subang Jaya and Glenmarie are becoming increasingly saturated, so there is bound to be a spillover effect," says Lee.
Terence Yap, head of agency at One Sunterra Properties Sdn Bhd, agrees with the notion. "Some of the advantages of living in Shah Alam are the fact that it is tranquil, green and low density, and yet has great road connectivity. Vila Elemen would be a good option for those who crave exclusivity and privacy," he says.
Still, living in Shah Alam has its disadvantages. "There is plenty of traffic congestion along the Federal Highway. Considering Vila Elemen's proximity to the Shah Alam stadium, there may be heavy traffic near the area, especially during weekends. Apart from places such as i-City by I-Bhd and Setia City Mall by S P Setia Bhd, there is a lack of retail, leisure and entertainment outlets in Shah Alam," he adds.
A changing demographic
There are a few key conveniences that would drive prices and values in Shah Alam. "For shopping and retail, there are two hypermarkets nearby — Tesco and Giant. The upcoming AEON Mall will add to the variety of shopping places for residents. Apart from that, Shah Alam is highly accessible. To travel in and out of the area is easy as it is well-connected to Kuala Lumpur and Petaling Jaya via major highways, for example the ELITE Highway, NKVE and Federal Highway," says Yap.
"The proposed light rail transit (Line 3) for Shah Alam will enhance connectivity with the wider Klang Valley. The proposed Damansara-Shah Alam Highway (DASH) is also anticipated to improve the link between Damansara and North Shah Alam."
In Shah Alam, demand for landed residences is stronger than for high-rise residences, according to Yap. "This can be attributed to its demographic — mainly families instead of young professionals and young couples. Of late, we have noticed that there is a changing trend in the development of new projects, which may alter the future demographic of the area. More high-rise residential and mixed-use projects are scheduled to be developed such as TTDI Adina, Emira Residences, i-Residence, Utropolis Glenmarie and V-Residensi."
Yap puts the current price range of landed homes in Shah Alam at RM300 to RM350 psf for terraced houses, RM400 to RM450 psf for semidees, and RM500 to RM550 psf for bungalows.
"In terms of average rental yields for landed homes in Shah Alam, they range from 2.5% to 3.5%. Newer properties command lower yields compared with older houses due to the steeper pricing of the newer properties. The rental market for landed homes in Shah Alam is not as active as the subsale market as most units are held by owner-occupiers, especially semi-detached homes and bungalows," he says.
Yap acknowledges that Shah Alam, particularly Seksyen 13, mostly attracts upgraders within the neighbourhood and surrounding areas.
"These upgraders are mostly owner-occupiers with families. We also reckon that there are more first-time homeowners in Shah Alam, as the prices are still affordable compared with other locations such as Damansara, Petaling Jaya and Subang."
The future for Shah Alam looks bright. "The outlook is favourable, thanks to the proposed DASH and LRT together with the opening of KDU University College in Utropolis Glenmarie and mixed-use developments. These projects are anticipated to draw more young population to the area," Yap remarks.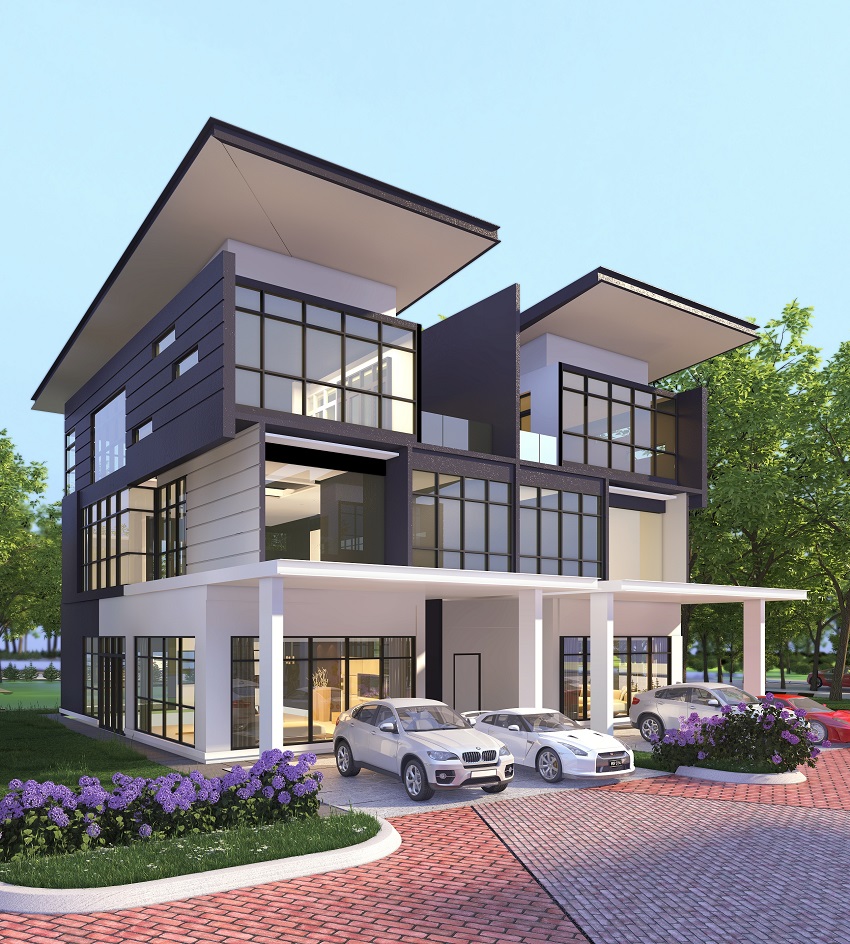 Future prospects
Tekat Maju's Lee is optimistic Vila Elemen will do well. "Our buyers understand the potential of the development and they can see themselves living here. We believe the market downturn will not affect our sales, and we are confident that the area will see much growth in the second and third quarter of next year, when the market starts to recover."
The group's mixed-use development, One Selayang, was built by its subsidiary SE Bina Sdn Bhd and launched in 2007. Completed in 2009, the project is worth RM80 million and has been fully taken up.
Meanwhile, Ramal Villa consists of 71 semi-detached and cluster homes. It is being developed by the group's subsidiary, Family Crest Development Sdn Bhd, and is due to be completed in the first quarter of next year. Launched in 2014, the project is 90% taken up.
Moving forward, Tekat Maju wishes to expand its brand. "For the first five years, we focused on diversifying our products — we targeted mid-range apartments and commercial projects. In the last two years, we have been working hard to establish our Tekat Maju Sdn Bhd brand and venture into our first luxury development, Vila Elemen. We want to continue to build our brand and develop upmarket projects," asserts Lee.
"At Tekat Maju, we tend to play safe with our choice of developments and land. We focus on creating demand in less saturated areas. Our goal is to create something that buyers and investors would want to buy. We tend not to undertake projects in overdeveloped areas. We also favour land that is seven to eight acres that would have good master plans."
Meanwhile, the group hopes to develop in Puchong. "For now, we have seven to eight acres of undeveloped land in Puchong. We have allocated about RM200 million for a proposed mixed-use development there. It is currently in the submission stage and we hope to start working on it next year," Lee reveals.
"For the time being, we are actively looking for more land in Kuala Lumpur. We are also looking at the possibility of entering into joint ventures with other companies for future projects. In fact, we are looking to collaborate with a Chinese company to work on a resort in Sepang, Selangor, although details have not been finalised."
Lee envisions Vila Elemen as a vibrant community. "This development appeals to a rather niche market. My hope is that it would become a lively community of families and golfers, and due to its low density, that the façade and services of Vila Elemen would be beautifully maintained," he concludes.
Interested in investing in properties in Shah Alam after reading this article? Click here.
This article first appeared in City & Country, a pullout of The Edge Malaysia Weekly, on Dec 14, 2015. Subscribe here for your personal copy.