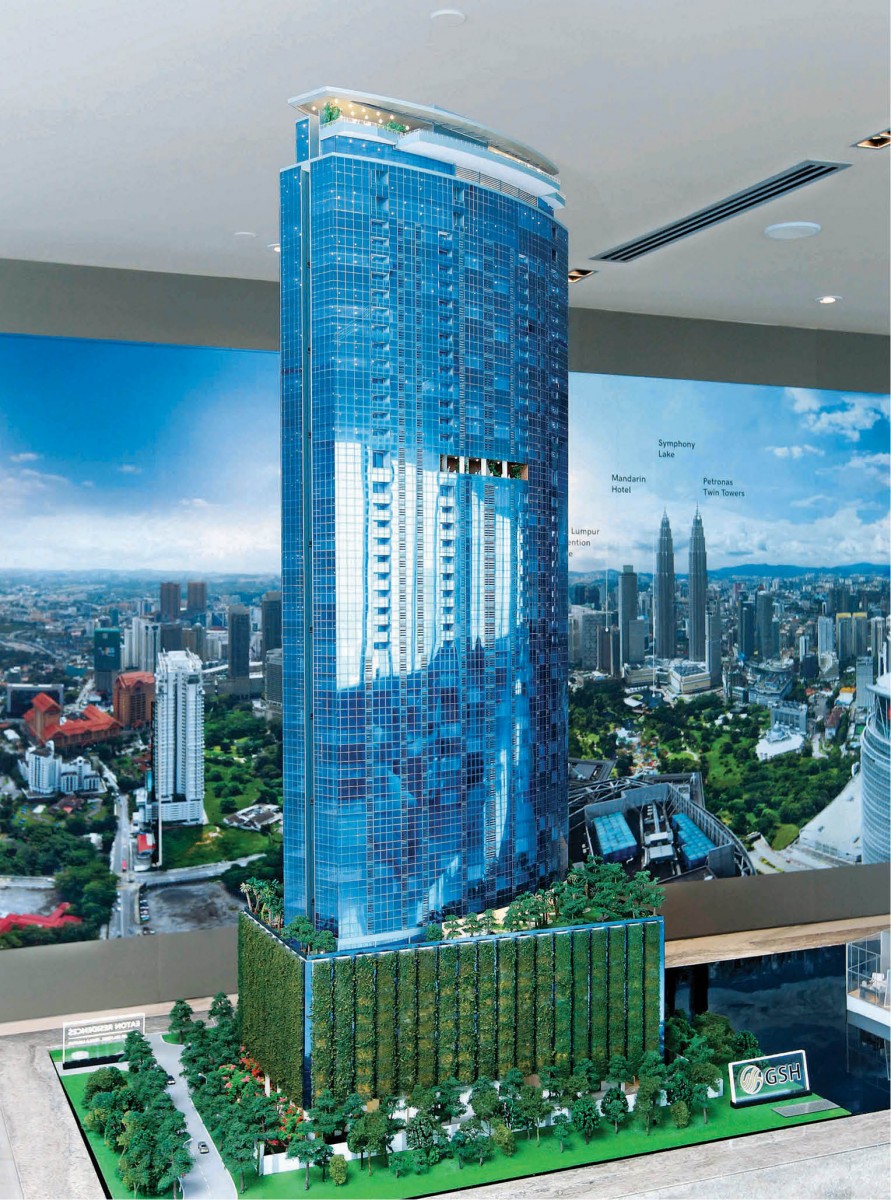 ON the weekend of Nov 19 and 20, GSH Corp launched in Singapore its maiden residential development, Eaton Residences, a high-end condominium in Jalan Kia Peng in Kuala Lumpur City Centre (KLCC). The property exhibition was held at Fairmont Singapore in Raffles City. So far, 180 units have been booked, says GSH. The figure includes the 150 units taken up when the first phase of 280 units was launched in KL on Sept 20, and the units sold subsequently.
"These days, it's hard to achieve double-digit sales in any overseas property launch," observes Donald Han, managing director of Chesterton Singapore. "With the Singapore economy in the doldrums, people are conserving cash. Meanwhile, companies are trying to cut costs. So, in the current environment, if you can achieve such sales at an overseas project launch, that's excellent."
Over the weekend, more than 20 groups were said to have visited the exhibition. "For a standalone overseas project exhibition, it's quite a good turnout," says Sunny Wong, division director at ERA Realty, the exclusive marketing agent for the project. "These are serious buyers. Some are interested in buying a unit as a second home and others are looking at an investment opportunity."
Riding on the momentum, Eaton Residences was showcased for a second consecutive weekend in Singapore at ERA's office and sales gallery in Mountbatten Square on Nov 26 and 27.
Palatable absolute prices
With the ringgit tumbling to a new low of 3.1 against the Singapore dollar, "the exchange rate is looking favourable for Singaporeans, and in terms of absolute prices, it's equivalent to a 30% to 40% discount", says Gilbert Ee, CEO of GSH.
To make absolute prices palatable to price-sensitive buyers, one-bedroom and one-bedroom-plus-study units make up 394 (62%) of a total of 632 units at Eaton Residences. These are sized from 635 to 872 sq ft. Two-bedroom-plus-study units measuring 1,098 to 1,464 sq ft and three- and four-bedroom-plus-study units measuring 1,550 to 2,874 sq ft account for 36% of the units. There are also 12 penthouses of 2,271 to 2,982 sq ft.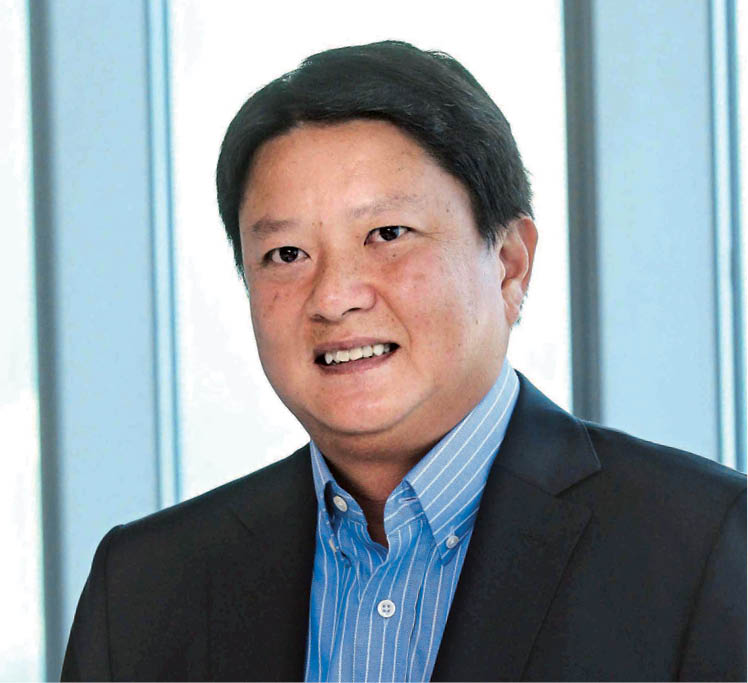 The one-bedroom units at Eaton Residences are priced from RM1.14 million and one-bedroom-plus-study units start from RM1.45 million. Therefore, these units have been the most appealing to investors because of the affordability of their absolute prices. For the same price, you cannot even buy a shoebox apartment in Singapore today, says a property agent.
At that price range, you can probably buy a brand-new BMW 6 Series convertible, a Jaguar F-Type, a Mercedes CLS-Class or a Porsche Boxster in Singapore. "But if you buy a property, you can rent it out and earn a return," says Ee.
Rental yields
Contrary to popular belief, it is easier to find tenants in KL than in Singapore, says Bruce Lye, managing partner of realtor SRI. Lye, a Singaporean, has been marketing projects in KL and investing there for the past six years. Today, he and his wife jointly own seven condo units in KL — three in the Mont'Kiara area, a popular suburb with expatriates; two at Sentral Residences near the KL Sentral train station, which is due for completion within the next few months; one in KLCC; and one in Bukit Bintang.
"Based on my experience with the properties that I own there, I realise that the big units in the KLCC area do not perform as well in terms of rentability compared with those in Mont'Kiara," says Lye. "The big units in Mont'Kiara tend to be rented out quickly because they are popular with families, as there are international schools in the neighbourhood."
In the KLCC area, one- and two-bedroom units are sought after because of the profile of the tenants, says Lye. "They tend to be young singles or couples with no children. In fact, rents of the larger units are quite close to the one- and two-bedroom units in the KLCC area."
According to Lye, gross rental yields in the Mont'Kiara and KLCC area are about 6%. If one were to take financing cost into consideration, however, then net yield would be 2% to 3%, which is on a par with yields in Singapore, he says. "Without a mortgage, however, yields will be around 6%."
Reinvesting, dollar cost averaging
While Lye's portfolio of properties have seen capital gains, he will incur a loss based on the current exchange rate. This is because many of his purchases were made five to six years ago when the ringgit was 2.2 against the Singa­pore dollar, says Lye.
One way to avoid a currency exchange loss is to reinvest his gains in Malaysia, he says. Thus, he intends to buy another small one- or two-bedroom unit in the KLCC area within the next six months.
Another bonus of having multiple proper­ties in KL is that it can also be a second or holiday home. "I travel up to KL at least once a month," says Lye. "If one of my properties is available between tenants, I will stay in it."
While Singaporeans account for about 20% of buyers at Eaton Residences, mainland Chinese form the majority. Other international buyers include those from Hong Kong, Indonesia and Taiwan, says GSH's Ee.
In early November, the Hong Kong government doubled stamp duty for foreign buyers from 15% to 30%, and for second and subsequent Hong Kong resident buyers from 8.5% to 15%. Anticipating that property investors will now look elsewhere, Singapore developers have been quick to seize the opportunity by bringing their projects to Hong Kong on roadshows.
Like the other Singapore developers, GSH also launched Eaton Residences at a weekend roadshow in Hong Kong on Nov 26 and 27. "If the overseas and local investors in Hong Kong are deterred by the higher stamp duty, money will flow out and look to invest elsewhere," says Ee. "KL may be at the receiving end of some of that outflow."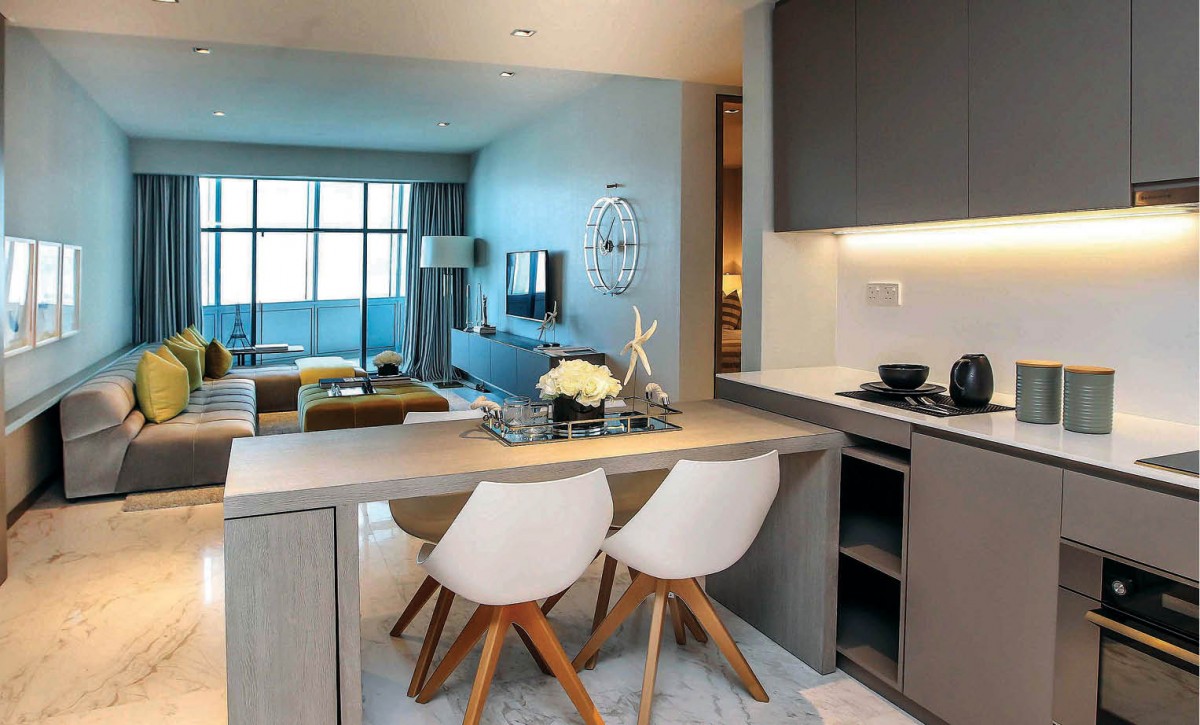 The downward trend of the ringgit is a double-edged sword for many overseas investors. "I remember 25 years ago when the exchange rate between the ringgit and Singapore dollar was 1.5 to 1," recounts Chesterton's Han. "And now it's hovering at 3.1 to 1. So, it's been on a downward trend. And in the short term and even the medium term, it's hard to foresee the ringgit strengthening, especially with oil prices still depressed and the current political uncertainty in Malaysia."
Priced at RM1,550 to RM1,800 psf, Eaton Residences looks particularly compelling, especially in the face of a falling ringgit, concedes Han. "In the KLCC area, ultra luxury condos priced at RM2,500 to RM3,000 psf are finding it difficult to move units, especially if they are large and the absolute prices are high."
He reckons that GSH's Eaton Residences could have hit the sweet spot with foreign buyers with the exclusivity of the project, and by capitalising on its location and the views.
Capitalising on views, location
Eaton Residences is located within KL's Embassy Row and near the Petronas Twin Towers and Jalan Bukit Bintang shopping belt. It is within walking distance of the KLCC LRT station and within 150m of a future MRT station at Jalan Conlay. The project is also near the Prince Court Medical Centre.
The 51-storey tower offers unobstructed panoramic views of the Petronas Twin Towers on one side and the Royal Selangor Golf Club on the other. GSH had purchased the prime 62,726.4 sq ft site from Tropicana Kia Peng for RM132.4 million in December 2013.
The 99-year lease on the project is not a concern, says Ee. Unlike in Singapore, owners of private property in Malaysia are able to renew their 99-year lease at a prescribed amount. And buyers only need to pay to renew the lease when there are only 30 years left, he says.
GSH has appointed Singapore's most established architectural firm, Swan & Maclaren, to design Eaton Residences in collaboration with Patty Mak (formerly of Suying Metropolitan Studio) as interior design consultant.
Eaton Residences will have an entrance driveway and lobby designed with the "grandeur of a luxury hotel", says Lim Chai Boon, Swan & Maclaren's group director. There are three levels of basement parking below an eight-storey car-park podium. Ample parking is provided, as the one-bedroom units are desig­nated one parking space each, but most of the other units have two parking spaces each and the penthouses have up to four.
On the rooftop of the car-park podium, there is a facilities deck with a children's playground, barbecue pods, fitness stations and multi-use spaces. The 33rd level has a sky garden and lounge. The 51st level has a 40m cantilevered infinity swimming pool that allows residents to enjoy the view, says Lim. There are also spa pools and a leisure pool on this level.
"The view from the 51st floor will be as spectacular as being at the SkyPark of Marina Bay Sands," says GSH's Ee. "This is what's going to set the project apart from the rest."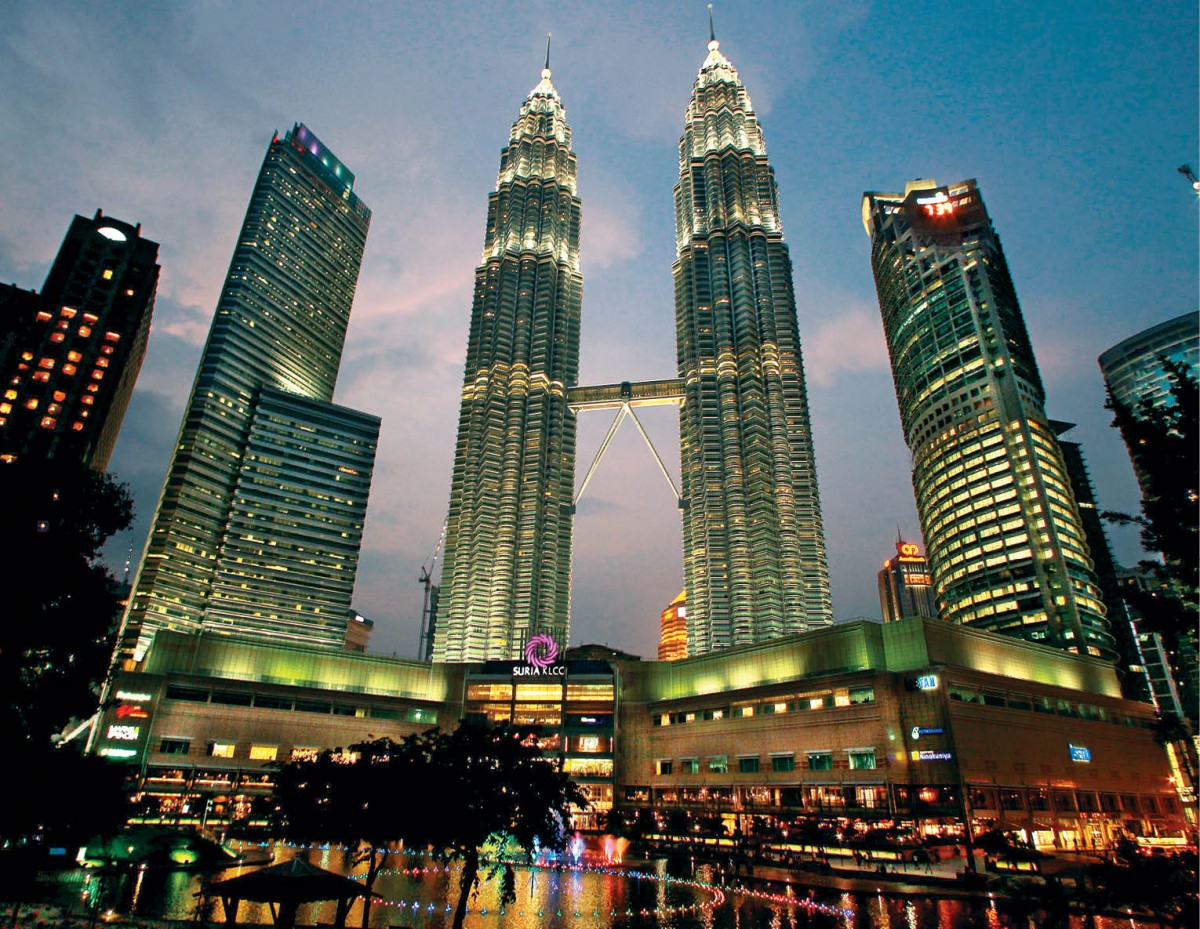 And there are many upcoming developments in the vicinity. According to Property Talk & Lifestyle Malaysia's PTML Research in a September 2015 report, more than 120 sites in the KL city area are under construction, being proposed for development or being planned for future development.
"KL is a city of skyscrapers, and that's no different from other cities such as Shanghai or Manhattan," notes interior design doyenne Mak. "I felt it was important to create an identity for Eaton Residences. We wanted to create city living, and that means embracing the skyline — so, every room in every unit must have a view."
All units have an open-concept kitchen, says Mak. "This allows residents to interact with other members of the family even while cooking, and enjoy the view at the same time."
At Eaton Residences, Mak also chose a muted palette for the units, with the same white marble carried throughout the unit and in the bathrooms, and white timber flooring for the bedrooms. Kitchen cabinets and wardrobes, which are custom-designed, are also in white or grey tones. "The idea is to create a canvas for the owner to fill in the colours to complete their dream home against the backdrop of a blue sky," she says.
Luxury quality for a steal
The quality of the materials used at Eaton Resi­dences is equivalent to those of luxury condos in the prime districts of Singapore. Mak has designed the interiors of many high-end condos in Singapore, including the 462-unit OUE Twin Peaks on Leonie Hill Road, where she even handpicked the furniture for each unit; Allgreen Properties' 360-unit SkySuites @ Anson on Enggor Street; Sing Holdings' 134-unit Robin Residences; and the 97-unit Centennia Suites, where action star Jackie Chan is said to have purchased three units.
With Swan & Maclaren and Mak behind the design of Eaton Residences, "the response to our project has been very good", says Ee. "Despite the challenging environment, we swung quite a few buyers from neighbouring projects because of our price point, product quality and uniqueness."
The construction cost of Eaton Residences is estimated at RM450 million, and the condo is expected to be completed in 2020. "I don't think I can construct a 51-storey condo project of this quality in Singapore for S$150 million," says Ee.
"Even if the ringgit collapses further, property prices in Malaysia will have to go up because developers can no longer build properties at these prices," he adds.
"The cost of labour and construction materials will only go up, and that means property prices will also rise. So, if you're buying a unit at below RM2,000 psf in KLCC today, there will be upside potential."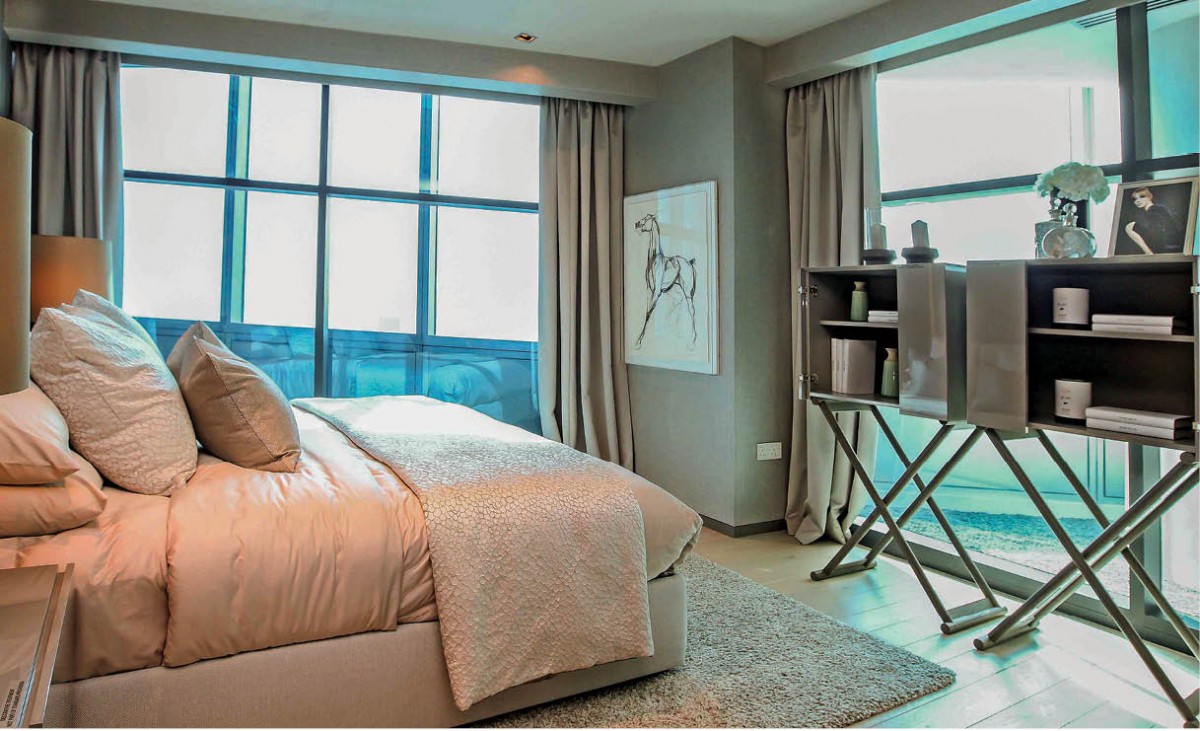 Cecilia Chow is section editor of The Edge Property Singapore.
This article first appeared in The Edge Property Singapore, a pullout of The Edge Singapore, on Nov 28, 2016.