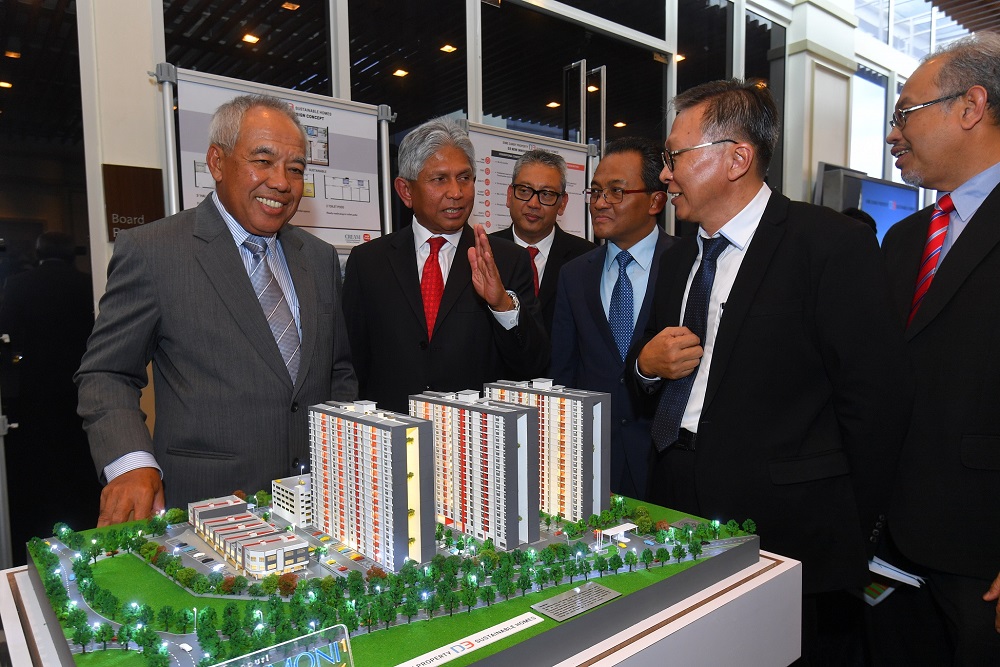 KUALA LUMPUR (Jan 26): Sime Darby Property and the Construction Research Institute of Malaysia (CREAM) today signed an agreement to commercialise the Divergent Dwelling Design (D3) design concept.
"D3 is a wholesome concept that uses Industrial Building System. It covers not only the building material and methodology but also the overall design and master planning," said Sime Darby Property managing director Datuk Jauhari Hamidi at a press conference after the signing ceremony here today.
An innovation developed by CREAM and G&A Architects, D3 presents a scientific plan which maximises usable space, provides distinctive zones for effective space planning, allocation of areas for urban farming to promote sustainability, and optimises natural ventilation.
The use of modular construction components safeguards product quality and eliminates leaking problems. Mass production of modular components reduces production cost and promotes more savings.
Jauhari also announced that the D3 concept will be applied at its upcoming affordable housing project, Harmoni 1 in Elmina West, City of Elmina, Shah Alam.
Harmoni 1 will be the first statutory affordable housing project in the country to adopt the D3 concept. The three-block apartment project consists of 562 units with built-up sizes of 900 sq ft and 1,000 sq ft. It has an estimated gross development value of RM155 million.
"We are still waiting for the approval. If everything goes smooth, this first D3 pilot project will start construction by end of this year," Jauhari revealed.
He added that the selling price of the 900 sq ft unit is RM200,000, while the 1,000 sq ft unit would be at RM250,000.
For those interested, they can register their interest with the Selangor Housing and Property Board," Jauhari said.
He added that if the D3 concept is successful, "we will explore its use for other projects. In fact, we are quite certain it will be a success."
"Affordable housing is part of our corporate social responsibility. To be very frank, we are building this [affordable project] at a loss. By using D3, we are hoping to cut down the loss, or even better to break even," Jauhari said.
He explained that conventional affordable housing projects require about 36 to 42 months of construction time while a D3 project has the potential to be completed within 24 to 30 months, or 28% to 33% faster than the traditional method.
"Savings in time mean savings in constructing cost," he said.
The developer also plans to build a D3 prototype gallery at the Elmina West Township in the City of Elmina. The gallery will feature two affordable home show units which will be completed by the middle of this year.
Meanwhile, CREAM chairman Tan Sri Ahmad Tajuddin Ali said Sime Darby Property has the exclusive use of the D3 concept for the time being.