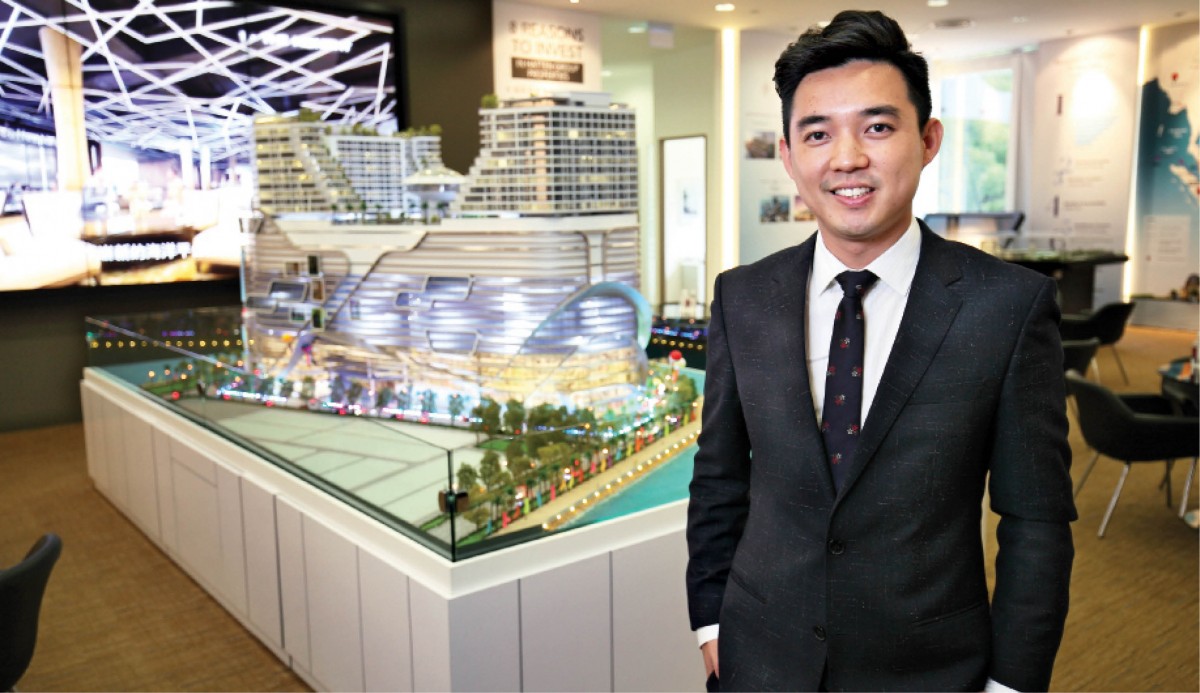 WHEN Colin Tan took over a company called Lianbang Ventures in 2005 in order to revive an abandoned shopping mall project in Melaka, his friends used to tease him about the firm's name. That was when Tan decided to choose a company name that will endure.
"I've always liked the name 'Hilton', and I'm also an admirer of Japanese culture," says the 33-year-old. It was fortuitous that the word "hatten" means growth and development in Japanese. He therefore decided to name the company he co-founded with his brother, 34-year-old Edwin, Hatten Group.
Over the past decade, Hatten Group has become a leading property player in Melaka, where it is headquartered. Hatten Group's core businesses range from property development and investment to hospitality, retail and education. The group has a landbank of 215 acres, mainly in Melaka, with some parcels in Cyberjaya, Selangor and Seremban.
As the developments became increasingly large-scale and mixed-use, the Tan ­brothers decided to spin off their development arm into a separate Singapore-listed entity called Hatten Land. "We are seeking to expand through mergers and acquisitions, joint ventures or strategic alliances with international business partners as we want to grow at a faster pace," says Tan.
This was done via a reverse takeover of the Singapore Exchange-listed VGO Corp. The RTO process was kick-started when VGO Corp, formerly known as sporting goods chain World of Sports, acquired privately held Sky Win Management Consultancy in June last year.
Sky Win Management Consultancy was in turn a company controlled by the Tans and owned a portfolio of four development projects in Melaka. The acquisition cost of Sky Win Management Consultancy totalled $386 million, and would be made via the issue of close to 1.188 billion consideration shares at 32.5 cents a share.
SGX listing
On completion of the acquisition of Sky Win Management, VGO Corp was renamed Hatten Land on Jan 26. Assuming the 123.1 million new shares are fully placed out, the indicative market capitalisation for Hatten Land will be $393 million.
Trading of Hatten Land shares on the Catalist board of the SGX will start on Feb 28. Tan has been appointed executive chairman and managing director of Hatten Land, while Edwin is executive director and deputy managing director.
Hatten Land's initial portfolio of four development projects in Melaka are three mixed-use projects (Hatten City Phases 1 and 2 and Harbour City on Pulau Melaka) and the Vedro by the River mall.
Hatten City Phases 1 and 2 are located in the city centre fronting the Malacca Straits. The RM628 million ($200 million) Phase 1 was completed in March 2016. Within the complex are Elements Mall, with 1,530 strata shops; the 745-unit SilverScape Residences; Hatten Suites, with 589 serviced apartments; and the 277-room DoubleTree by Hilton, which is managed by Hilton Worldwide. As at end-June last year, 34% of the strata shops at Elements Mall were sold, while 85% of units at SilverScape Residences and 93% of Hatten Suites were taken up.
Hatten City Phase 2 is scheduled for completion in 2H2017. The project was valued at RM363 million last June, and is made up of Imperio Mall, with 786 shops; and the 950-unit Imperio Residences. The building has a stepped façade, with the cascading terraces providing a jogging path with views of the coast and the city. Imperio Residences is said to feature 10 cabana villas, each spanning three levels, with a floor area of 3,930 sq ft, private swimming pool, private lift lobby and private parking space for two cars. As at June 2016, about half of the residences were sold, while 60% of the shops were taken up.
Under development is Harbour City on the reclaimed island of Pulau Melaka, fronting the Malacca Straits. The RM849 million mixed-use development sits on a six-acre site and comprises the Harbour City Mall, with 1,831 shops; a water-theme park; and three hotel blocks — the 648-unit Harbour City Suites, the 637-unit Harbour City Resort and a 325-room luxury hotel. The development is targeted for completion in phases from 2H2019 to 1H2020.
The fourth development, Vedro by the River, was last valued at RM65 million. The mall sits on two acres of land and will have a gross floor area of 213,547 sq ft when completed in 1H2017. So far, 65% of the 736 shops in the mall have been snapped up.
Development land pipeline
Hatten Land has the right of first refusal when it comes to acquiring development parcels from the privately held Hatten Group, which is also controlled by the Tans. On Feb 10, Hatten Land announced that it had signed a memorandum of understanding with the Tans to exercise the call option for the acquisition of five development sites, of which four are 99-year leasehold sites in Daerah Melaka Tengah. The fifth is a freehold site in Cyberjaya.
One of the leasehold sites in Melaka is a 2.05-acre land parcel with a plot ratio of 5.8. It is slated for the development of an integrated project with a hotel and serviced apartment block called Thea Wellness. The second site is a 9.34-acre parcel at Kawasan Bandar I that will be used for a mixed-use project called MICC. The project will comprise a mall, cineplex, convention hall and auditorium, meeting rooms, a hotel block and a serviced apartment block, with a plot ratio of 4.0. Both Thea Wellness and MICC have obtained development approval.
The third site is a 66-acre land parcel with a plot ratio of 6.0 located on six parcels of land at Kawasan Bandar XL. The land parcel is still at the reclamation stage. The fourth site — also at Kawasan Bandar XL — is made up of three leasehold sites totalling 17.69 acres with a plot ratio of 6.0, which can be amalgamated and developed into a mixed-use project with a "Movie Town" theme, comprising retail, residential and hospitality components. Concept planning is still underway.
The fifth site at Cyberjaya is a 25.55-acre freehold land parcel with a plot ratio of 5.2. It will be developed in three phases, with a mix of retail, office, residential, hospitality units and a hospital. The project's concept plan is still in progress. The acquisition will be made through the purchase of the entire issued and paid-up capital of Admiral Merger Sdn Bhd, which owns the development rights to the land.
Large-scale, distinctive projects
Each project has a distinctive theme, says Tan. The developer is able to secure relatively high plot ratios for its large-scale, mixed-use projects. "We have an established track record," he adds. "As a developer, we want to create quality and iconic projects. And people don't just want a property — they want quality amenities with healthcare, wellness or lifestyle facilities."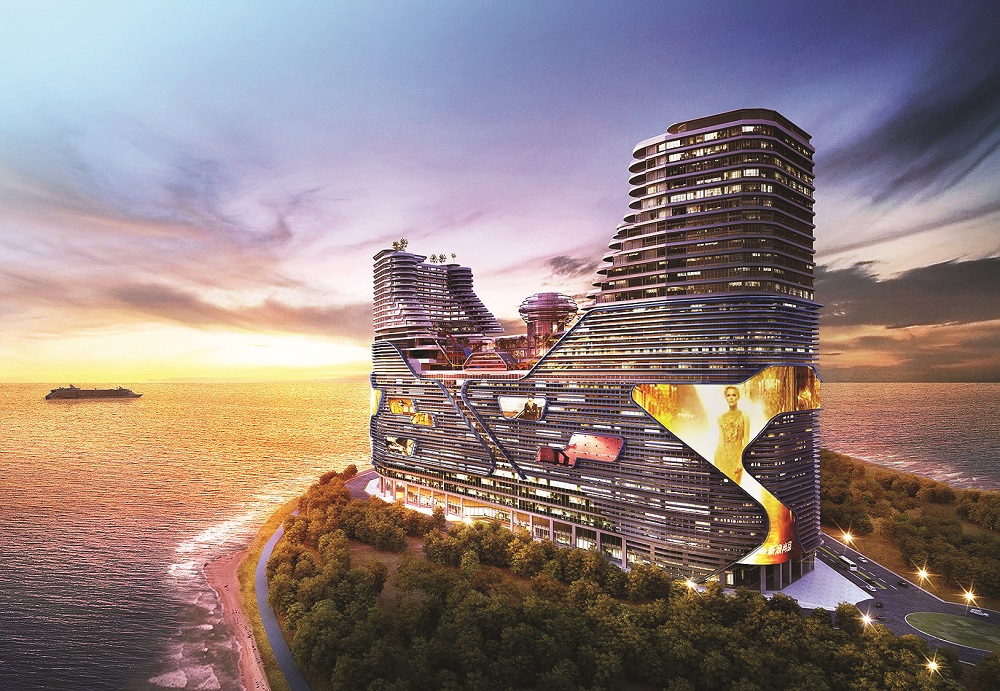 In hindsight, his foray as a developer into Melaka was an opportune one as being a developer in the state is not as capital-intensive as it is in Singapore, says Tan, who is a Singapore citizen. "There was also very little competition then."
According to Tan, the main guiding force behind the brothers' venture into the property business is their father, Eric Tan Eng Huat, who remains an adviser and mentor at Hatten Group. Eric Tan shot to fame in Singapore in the mid-1990s when he acquired more than 30 properties and sites in Geylang, earning him the moniker "Geylang king".
When Hatten Group first started developing projects in Melaka, the population was around 750,000, recounts Tan. Melaka is a small state and its population was estimated to be around 900,000 as at 2016.
Tourist arrivals in Melaka increased significantly following its inclusion in the list of Unesco's World Heritage Sites in 2008. Tourist arrivals hit a new high of 15.7 million in 2015, with tourism receipts up 39.5% y-o-y, the highest annual growth since 2010.
According to Tan, the developer is developing iconic projects that will put the state on the international tourist map. He sees the target audience for Hatten Land's developments being wider than just the residents in Melaka. "If you look at a 200km radius, that includes Indonesia, Kuala Lumpur and Singapore, which means a population of 15 million," he estimates.
The current buyer profile for Hatten Land's properties is 69% Malaysians, with Singaporeans making up 15%, while Chinese and Taiwanese make up 3% each.
Retail supply
The retail scene in Melaka had been relatively stagnant, hovering between 3.7 million and 3.9 million sq ft between 2010 and 2013. It was only in 2014 that several new malls opened, including The Shore Shopping Gallery in Melaka city centre and Freeport A'Famosa Outlet in Alor Gajah. Today, Melaka is said to have 19 shopping centres and eight hypermarkets, with total retail space of 4.7 million sq ft.
Of the 19 shopping centres, 14 are located within the city. The increase in retail space, coupled with sluggish sales, however, has contributed to a decline in average occupancy rate, from 83% in 2014 to 80% in 2015. Nevertheless, major malls in Melaka, such as Dataran Pahlawan Melaka Megamall and Aeon Mall, continue to have an occupancy rate of 90% to 100%.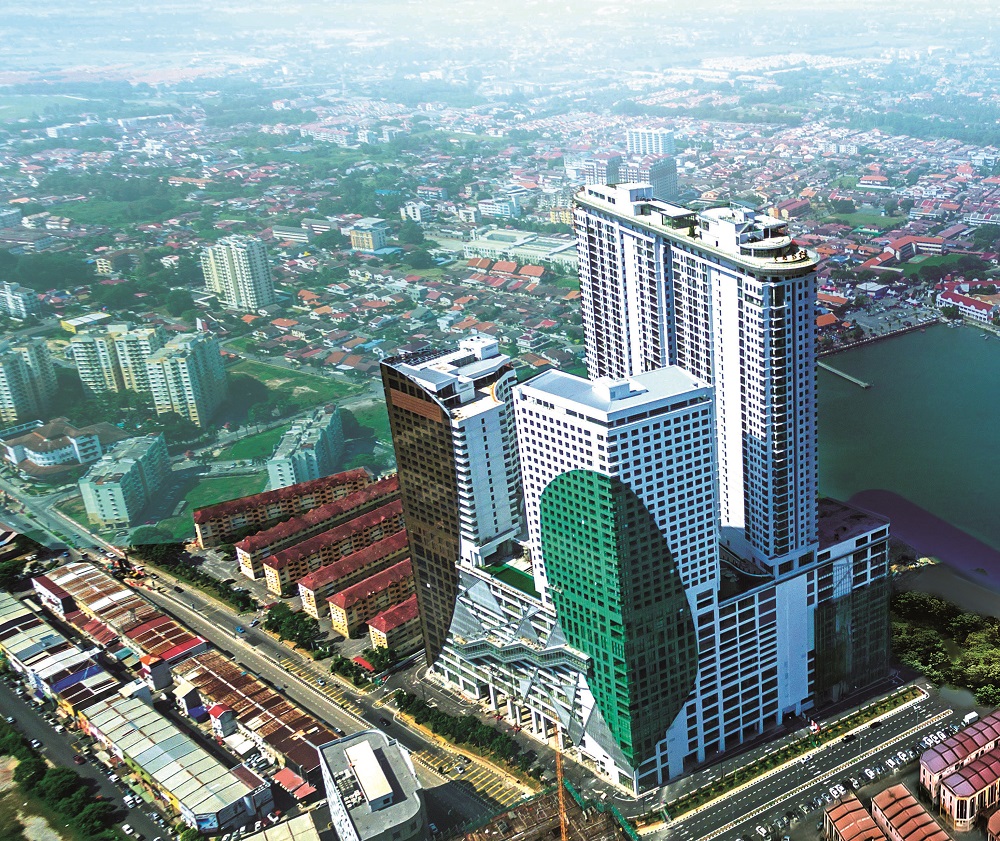 Dataran Pahlawan Melaka Megamall, which was the abandoned mall that the Tans revived when they first took over Lianbang Ventures 12 years ago, is still the biggest and most visited mall in Melaka today. Those who purchased the strata shop units at RM1,800 psf in 2006 were able to sell them for about RM3,000 psf in the resale market, according to Tan. Most of the upcoming malls developed by Hatten Group are also strata malls. Generally, the selling prices of these strata retail units in Melaka range from RM1,500 to RM3,500 psf.
Residential supply and demand
Besides the retail segment, Tan believes that the other real-estate sectors, ranging from residential to serviced apartments and hotels, have also benefited from Melaka's elevated profile following its inclusion on the list of Unesco World Heritage Sites.
Based on the latest figures from the National Property Information Centre, as at 3Q2016, Melaka had an existing housing stock of 167,676 units, of which condominiums and apartments accounted for 10,060 units (6%). However, in terms of residences under construction, the total number of units was 30,326, with condos and apartments making up 1,980 units (6.5%).
In the planning stage are another 13,542 units, of which 2,329 units are condos and apartments (17.2%). Notable upcoming developments include Impression City, Melaka Gateway, Cheng Ho City and Eco Marine Theme Park.
For the first nine months of 2016, about 6,720 residential units were sold in Melaka, just 1.5% lower than the 6,824 units recorded over the same period in 2015. The whole of 2015 saw total transactions of 8,914 residential units, 3% fewer than the 9,187 units in 2014.
Despite the contraction in home sales in 2015, total transacted value saw a moderate increase of 1.7%, from RM1.94 billion in 2014 to RM1.97 billion in 2015. This reflects the 8.4% y-o-y increase in the House Price Index in 4Q2015.
Future growth
With the upcoming Kuala Lumpur-Singapore High Speed Rail having a stop at Ayer Keroh, Melaka, sites in the area are likely to benefit from their proximity to the train station, says Tan. Incidentally, Hatten Group's landbank includes several prime sites in Ayer Keroh.
The expansion of the Malacca International Airport and the introduction of weekly scheduled flights between Guangzhou and Melaka are likely to boost the number of Chinese tourists. In fact, mainland China is already the top contributor of foreign tourists to Melaka, with 29.3%, followed by Singapore (26.7%), Indonesia (14.8%), Taiwan (3.2%) and Japan (2.8%), based on 2015 tourist arrival figures.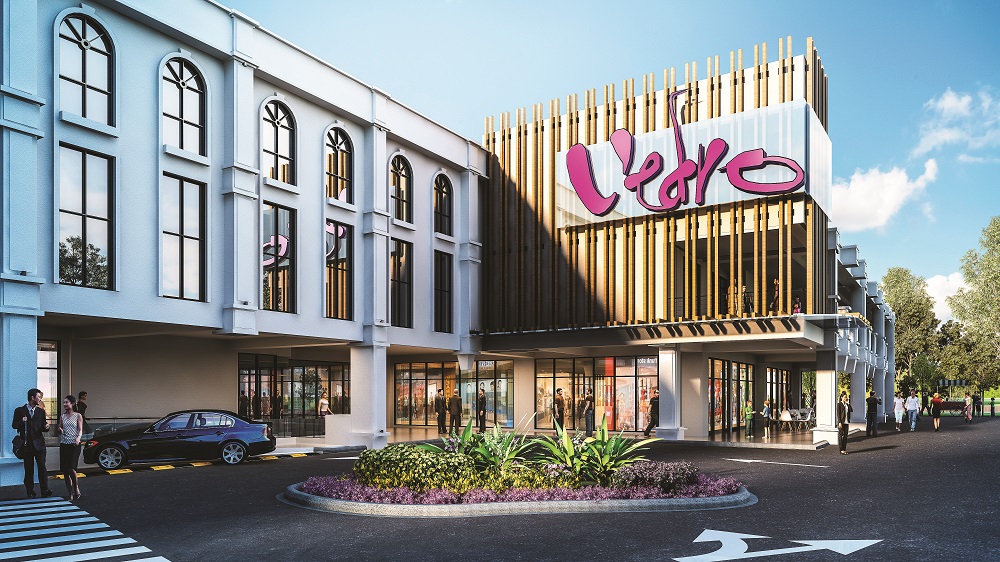 However, what has really grabbed everyone's attention is the announcement last September of the RM30 billion Melaka Gateway project. The land reclamation project is a joint venture between Malaysian master developer KAJ Development, which will hold a 51% stake, and Powerchina International, which will take the lead in bringing in investors and handling the construction of the project. Construction is reportedly underway, and slated for completion by 2025.
Melaka Gateway is a mixed-use development off the coast of the city centre, with three reclaimed islands and one natural island occupying a total area of 5.52 sq km. The first three islands will be used for tourism, commercial, property and maritime developments.
The fourth island, Pulau Melaka, has been earmarked for a maritime activities centre with a container and bulk terminal, shipbuilding and ship-repair services, as well as a maritime industrial park to be developed by KAJ Development, China's Guangdong state government and Chief Minister Incorporated (CMI), an entity wholly-owned by the state.
Expansion plans
Pulau Melaka is where Hatten Land will be developing its 99-year leasehold Harbour City project.
Tan is also open to partnerships and joint ventures with other developers for his upcoming projects. "We have had Chinese developers with similar interests coming to discuss with us," he says. "And that is why we want to list Hatten Land, as it will give us a greater platform to collaborate with more international business partners in our future developments."
While Melaka remains Hatten Land's main focus for now, Tan is also interested in expanding the company's presence in Southeast Asia.
This article first appeared in The Edge Property Singapore, a pullout of The Edge Singapore, on Feb 27, 2017.
For more stories, download TheEdgeproperty.com pullout here for free.