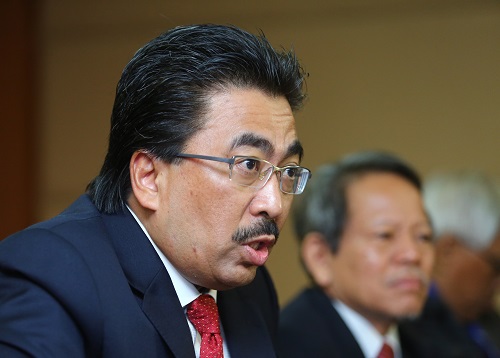 PUTRAJAYA (March 31): Malaysians should change their mindset and rent houses for a longer period instead of buying them at a young age so as to avoid being trapped in a huge long-term debt, says Second Finance Minister Datuk Seri Johari Abdul Ghani (pictured).
"Opening our mindset is not easy. Why? It is in our culture … we don't believe in renting [the property] for 20 to 30 years," said Johari at a dialogue session on the "Transformasi Nasional 2050" (TN2050) vision at the finance ministry.
He was responding to a question from a member of the audience on how the government could provide quality education and housing at an affordable price that will lead to a debt-free society.
Johari said the general trend in countries like Australia and the UK was for families to rent homes, and only purchase them after they have saved enough money.
Malaysians, on the other hand, are prepared to commit themselves to 30-year loans when they are as young as 28, he observed.
"As a result, we are scared to change a job or become an entrepreneur because we are scared of the liabilities that we have.
"So, the only way to resolve that part is that we have to change our culture, and to do that, the government is providing affordable houses to rent, not affordable houses to buy," he said, adding that "no one wants to incur debts forever, throughout their life".
Johari said most Malaysians choose to take hire-purchase loans and mortgage loans soon after they start working.
"This is why the government is investing in public transport. We need this so that the next generation, when they go to work, they don't have to buy a car anymore," he said, "because everywhere is well-connected."
"These [car and mortgage loans] are all long-term commitments, and we waste our youth because of this. How then, do we become an entrepreneur if we commit to all of these? If you want to be an entrepreneur, then you have to take risks," Johari said.
The government, via the 1Malaysia People's Housing Programme initiative, in 2014 introduced a rent-to-own housing scheme, where successful applicants get to rent affordable homes before deciding to buy them at the end of the fifth or 10th year at a pre-determined price.
Meanwhile, Johari said the TN2050 initiative bridges the Vision 2020 gap. The Vision 2020 concept is the brainchild of former premier Tun Dr Mahathir Mohamad.
"Vision 2020 complements the TN2050 aspirations, which are more inclusive and detailed in nature," Johari also said.
The chief aim of the TN2050 initiative, he added, is to elevate Malaysia to be among the top 20 developed countries in the world, as measured by gross domestic product.
This article first appeared in The Edge Financial Daily, on March 31, 2017.
For more stories, download TheEdgeProperty.com pullout here for free.