STRATA MIXED CATEGORY — SILVER
SOLARIS MONT'KIARA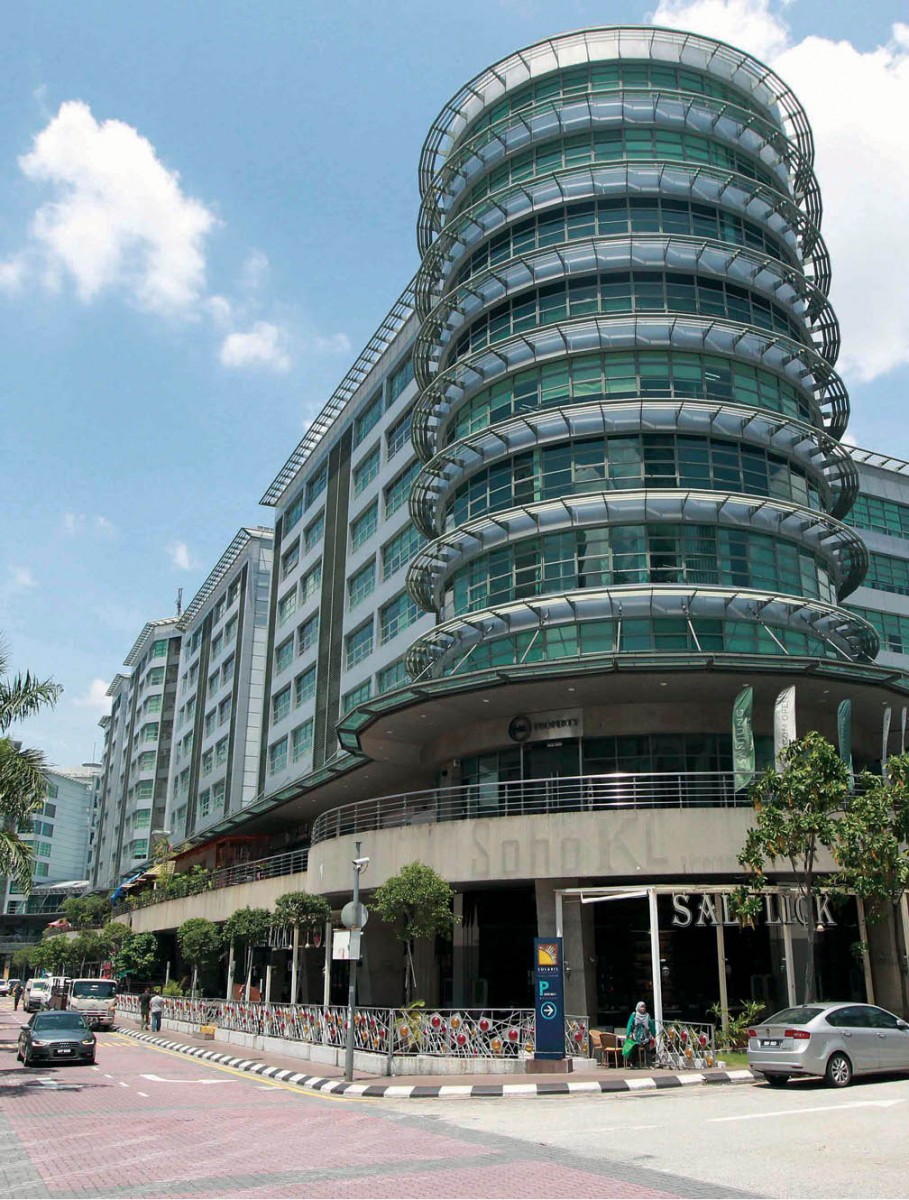 IT was a sunny Monday afternoon when Henry Butcher Malaysia (Mont'Kiara) Sdn Bhd executive director Low Hon Keong and Solaris Mont'Kiara's Management Corporation (MC) chairman Sivam Kandiah met up with TheEdgeProperty.com at Dal.Komm Coffee outlet at Solaris Mont'Kiara, Kuala Lumpur.
"We suggested meeting up here for a few reasons — to show support for our tenants. We always host meetings with business partners at our tenants' shops to let them feel the vibrant environment and atmosphere we have here at Solaris Mont'Kiara. It is also a chance for us to check if everything is in order and to see if the tenants have any complaints or anything to tell us but are too busy to pop-in at the management office," says Sivam.
Solaris Mont'Kiara won the Silver at the TheEdgeProperty.com Malaysia's Best Managed Property Awards 2017 in the strata mixed development category.
Developed by UEM Sunrise Bhd and delivered in December 2007, Solaris Mont'Kiara is a commercial development along Jalan Duta Kiara in Mont'Kiara.
Developed in two phases, phase 1 consists of rows of 3- to 5-storey shopoffices while phase 2 is an L-shaped business hub that comprises three blocks of 8- to 10-floor office suites (274 units), a 2-storey retail podium (72 units) and a 4-storey basement car park with 1,600 parking bays.
Henry Butcher took over the property management of the business hub (phase 2) in July 2016 when it was appointed by the MC, to replace the previous one.
"Our greatest challenge is that Solaris Mont'Kiara is well-known so we have to make sure it runs well because it will have a direct impact on the reputation of Henry Butcher otherwise," says Low.
"It is never an easy move to change the property management company because the committee will need to go through a long process to find the right one and the transition process is often long and complicated," says Sivam.
However, the management committee concluded that Solaris Mont'Kiara deserves to be managed better and many things need to be improved. At its annual general meeting (AGM) held in July last year, the resolution to terminate the previous property management company was passed smoothly. "The new team has proven that it was the correct decision. They have achieved a lot over the past eight months," says Sivam.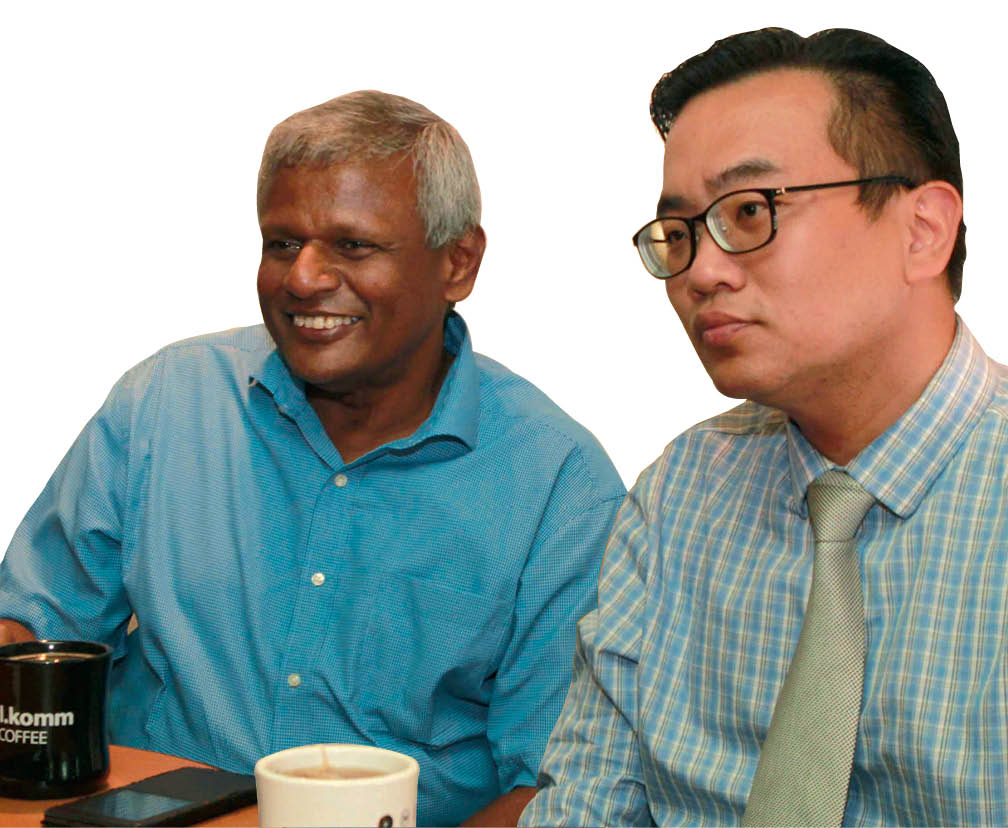 Henry Butcher conducted a comprehensive building audit to pinpoint upgrading works that were needed, including upgrading the CCTV system as well as freshening up the façade of its buildings, part of a RM1.6 million façade revamp project.
"If you notice, there is no proper covered drop off point in this L-shaped building. To provide convenience to customers while giving a lift to the look of this mature development, the team and the MC hired an architect to put in the new drop off point. It will roughly cost us RM1.6 million. This revamp project will be discussed this coming AGM in June," offers Low.
The safety issue
Solaris Mont'Kiara is a vibrant nightspot and safety is often the main concern of its tenants.
"We will not deny that we do have a handful of club and pub tenants. I must say they are one of the nicest tenants who give us very good cooperation. What is beyond our control are the customers," Low shares. It therefore works closely with the police through the Mont'Kiara Consultative Council (MKCC). MKCC is a body comprising residents' associations, management corporations and joint management bodies in the Mont'Kiara vicinity. It has established a relationship with Dewan Bandaraya Kuala Lumpur (DBKL) as well as the police in maintaining the safety inMont'Kiara area.
Besides that, the management team is also trying to find a solution to the traffic congestion during peak hours at Solaris Mont'Kiara.
"We may decide to enlist the help of the traffic police to ease traffic flow during peak hours but for a long-term solution, we will have to review the traffic system of the entire Mont'Kiara," Low says.
Indeed the MC and Henry Butcher aim to make Solaris Mont'Kiara a pleasant place to work and play. The MC has even taken the effort to paint the road kerbs on Jalan Solaris and assign cleaners to maintain the surroundings just so visitors feel welcomed even before they reach Solaris Mont'Kiara. "To be honest, this is not part of our job but we do not mind doing more than what we should because we want visitors to Solaris Mont'Kiara to feel welcomed once they turn into Jalan Solaris," Sivam says.
Low likens property management to "a housewife's job".
"As the property manager, you have to take care of every single little thing in the development. From the brand of the toilet paper to advice on legal issues, the property management team is the one who solves the problem," he says. However, he adds, it is also a job that one derives a lot of satisfaction from.
In conclusion, Sivam says: "Property management plays an important role in the upkeep of a place so that it continues to create value for owners, tenants, as well as the area in which it is located".

Sustainability — the hallmark of a good development
UEM Sunrise Bhd developed Solaris Mont'Kiara as a mixed-strata development in the prestigious Mont'Kiara enclave to cater to the needs of those living in the vicinity.
"The development boasts a comprehensive and diverse offering of office and retail spaces targeted at urban city dwellers. Formerly marketed and known as SohoKL, UEM Sunrise is proud to have built an award-winning project that has become essential in supporting a community of working professionals and residents in the area," says UEM Sunrise managing director and CEO Anwar Syahrin Abdul Ajib when asked to comment on Solaris Mont'Kiara's success as the Silver winner in the strata mixed development category at TheEdgeProperty.com Malaysia's Best Managed Property Awards 2017.
Even though UEM Sunrise is only responsible for the maintenance until a Joint Management Body (JMB) or Management Corporation (MC) has been established, the developer continues to look for ways to add value and to improve the quality of life of the residents living within its developments.
"As a developer whose core value is sustainability, we are committed to supporting the community of residents within each of our developments by providing them with an array of lifestyle amenities, commercial opportunities and others, even after a property development has been completed or after the project has been passed to the JMB/MC," Anwar notes.
Elaborating on the 10-year-old Solaris Mont'Kiara's success at the first of its kind Awards in Malaysia, Anwar says a good property development is more than a well-designed building.
"For us, the hallmarks of a good development include the development's ability to stand the test of time. We hope that this award will continue to inspire the industry to grow towards developing global best practices together".
TEPBMA2017
For more stories on the Awards, click here.
This story first appeared in TheEdgeProperty.com pullout on April 7, 2017. Download TheEdgeProperty.com pullout here for free.