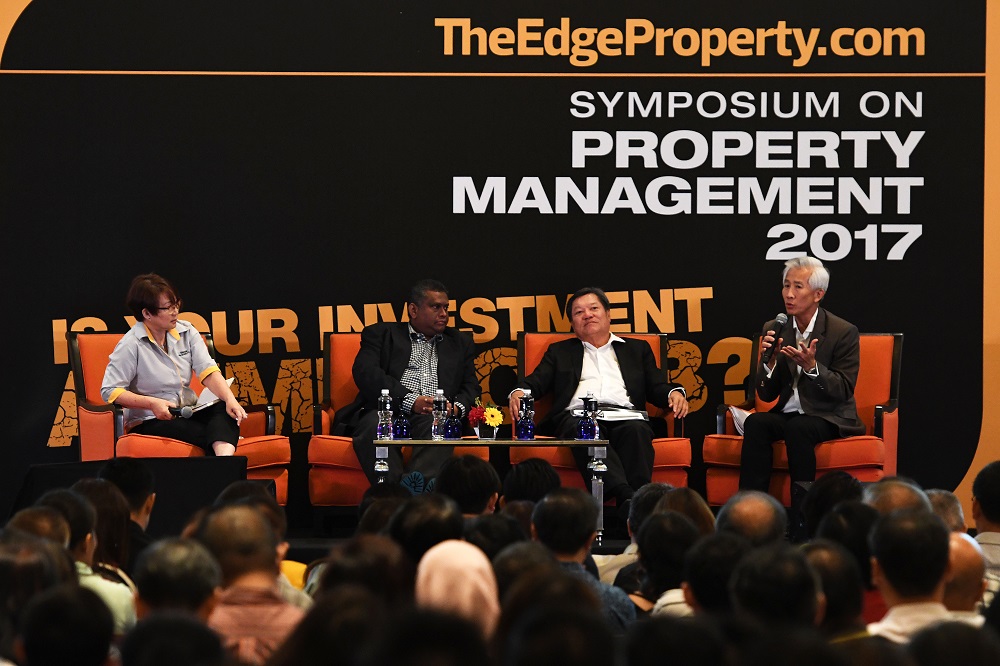 PETALING JAYA (April 8): Property owners shouldn't neglect their responsibility in the management of a property considering the fact that it is one of their most valuable investments in their lifetime.
This was the key advice given by the panellists at a panel discussion entitled "An investor's nightmare" at at TheEdgeProperty.com Symposium on Property Management 2017.
The panellists were Building Management Association Malaysia (BMAM) president Tan Sri Eddy Chen, Architect Centre accredited building inspector and trainer Anthony Lee Tee and Malaysian Institute of Professional Property Managers (MIPPM) president Sarkunan Subramaniam.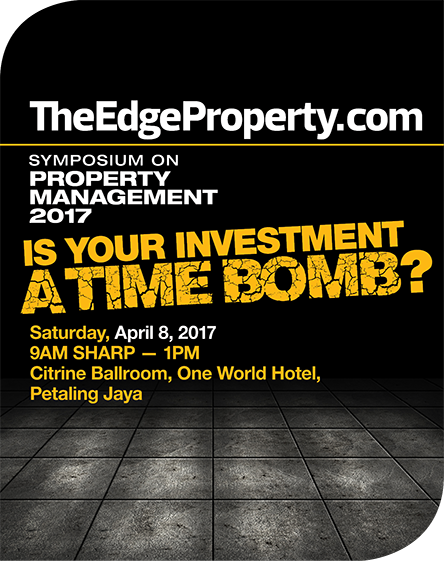 The panel discussion was moderated by TheEdgeProperty.com managing director and editor-in-chief Au Foong Yee.
The half-day symposium themed "Is your investment a time bomb?" organised by TheEdgeProperty.com, with partners Nippon Paint Malaysia and Panasonic Malaysia, is supported by The Edge Malaysia while the supporting sponsor is Gamuda Land.
Lee noted one out of five buildings is not safe in Malaysia. The unsafe defects could be caused by the building's construction or due to the owner's renovations after handover.
"Knowledge [of the safety] is important and owners should take initiatives to understand what the hidden risks are in their homes, such as the type of electrical switches they are using," he added.
For the upkeep of the entire building, Sarkunan said it's important to engage with professional property managers who could provide specialist services to the owners to enhance and prolong the life cycle of the building.
"From my observation, there are some developers who at the design stage are engaging property management companies to look at issues that might be overlooked by the architects, this is a good beginning," he noted.
Chen concurred that a well-designed building is the key to value enhancement which also guarantees capital appreciation (or rental yield) for investors.
However, he also noted that there is no design template where "one size suits all". Therefore, developers need to take into consideration the location, needs of the local buyers as well as the type of products they want to develop.
Meanwhile, on the success of a good property management, all the panellists agreed that the service charges collection is a major factor.
Sarkunan said with a realistic budget and high collection rate, property managers could perform their tasks well.
Lee also noted that participation of the owners is equally important as the owners have the power to correct the problems.
"Be aware of the safety of the building, never be absent at joint management body meetings and pay the service charge on time as these will set a good foundation for a good property management," he concluded.
The full report on TheEdgeProperty.com Symposium on Property Management 2017 will be published in the April 14 issue of TheEdgeProperty.com pullout which is available free for download at www.theedgeproperty.com.