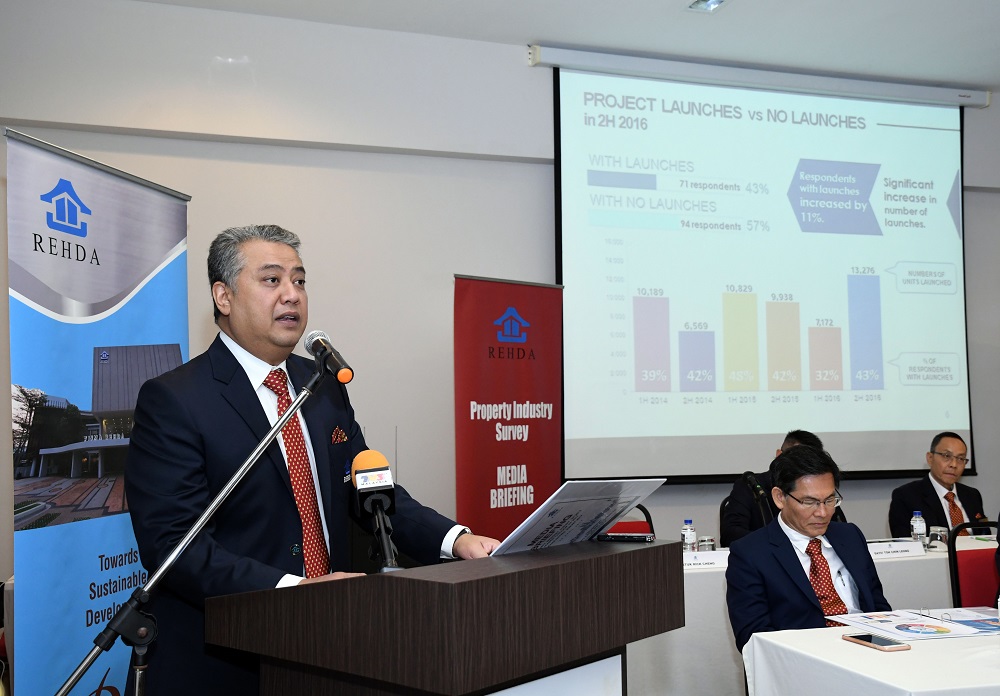 PETALING JAYA (April 19): The number of properties launched in the second half of 2016 (2H2016) almost doubled from 1H2016. Sales in the second half also improved by more than 100% from 1H2016, according to a survey among members of the Real Estate and Housing Developers' Association Malaysia (Rehda).
Highlighting the results of Rehda's Property Industry Survey 2H2016 and Market Outlook 1H2017, president Datuk Seri FD Iskandar Mohamed Mansor said 13,276 residential and commercial units were launched in 2H2016, which is an about 85% increase from the 7,172 units launched in 1H2016. Notably, property sales had improved to 5,973 units in 2H2016 from 2,829 units in 1H2016.
The total number of units launched in 2016 was lower by 1.5% at 20,448 units from 20,767 units in 2015. The number of units sold in 2H2016 had also improved by 6% from the number of units sold in 2H2015. The survey covered 165 respondents.
Moving forward, 55% of the survey respondents planned to launch projects in 1H2017. However, about 75% anticipated sales of below 50% from 1H2017. Overall, the respondents, made up of property developers, were more optimistic about the outlook for the second half of the year.
"Interestingly, properties priced at RM1 million have seen more launches in 2H2016," said FD Iskandar, who also pointed out that 15% of new launches in 2H2016 were priced at RM1 million and above compared with 7% in 1H2016.
"This possibly reflected the improved market sentiment and outlook. However, we must not ignore the slow take-up rate," FD Iskandar explained.
He highlighted that strata residential property launches have overtaken landed residential property launches for the first time in 2H2016 as strata properties made up 59% of new launches during the period.
He also noted that some 43% of buyers in 2H2016 were first-time homebuyers, an increase of 9% from 1H2016.
"I admit there were some speculative activities three to four years ago but in the past two years, about half of the buyers were first-time homebuyers who really need a house. According to our survey, 83% bought for self-dwelling, 13% were upgraders, 3% bought for family members while only 1% were investing for rental yield," he said.
Although the survey showed that first-time homebuyers were the biggest buyers, they mostly aimed for "affordable" housing. However, properties priced between RM100,000 to RM700,000 were the biggest segment (56%) that received rejections from banks for end-financing in 2H2016.
As for developers' unsold units, some 72% of residential and commercial units remained unsold in 2H2016 compared with 71% in 1H2016 and 62% in 2H2015. While 1H2015 had recorded 78%.
The majority (72%) of unsold units were in the price range of RM250,000 to RM1 million.
"The No 1 reason for this is (difficulties with) end financing and high loan rejection rate," said FD Iskandar.
Other top reasons for unsold units in 2H2016 were low demand/interest from consumers and unreleased Bumiputera units.