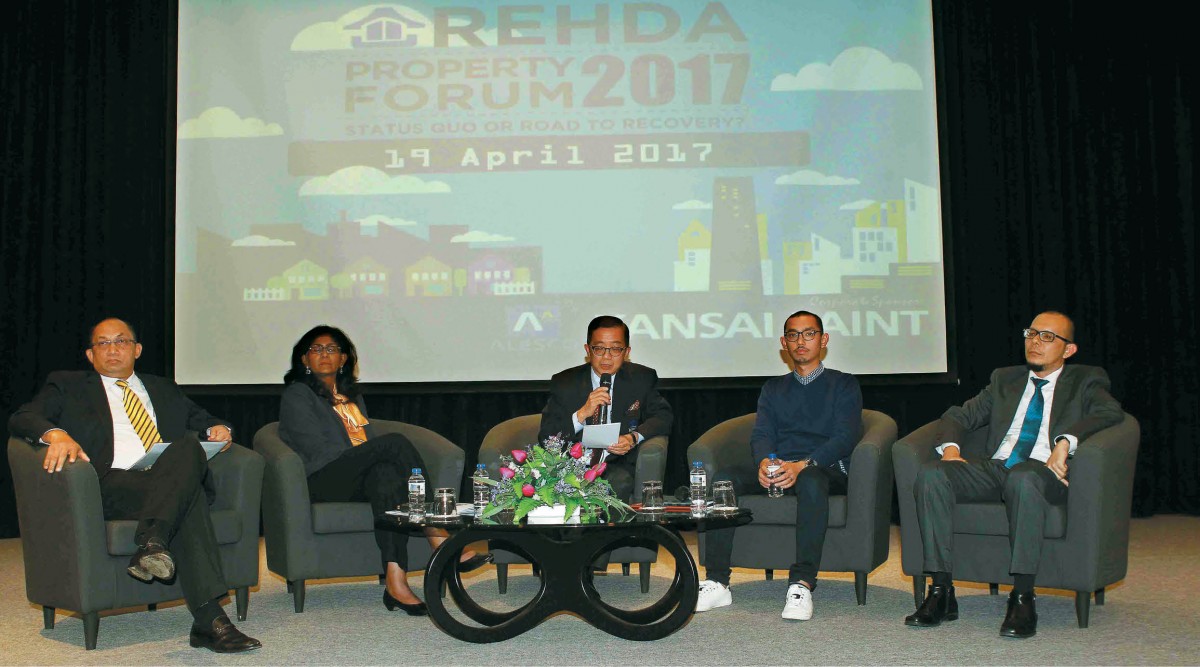 KELANA JAYA: The most crucial factor in securing a housing loan with the desired financing margin is to have a high debt service ratio, according to Malayan Banking Bhd (Maybank) head of consumer finance Abdul Razak Mohd Nordin.
Speaking as a panellist at the Real Estate and Housing Developers' Association Malaysia (Rehda) Property Forum 2017 titled "Status quo or road to recovery?" held on April 19, Abdul Razak said one thing is to have a good credit record and the other is to have a strong debt service ratio.
"For single [loan] applicants, you can consider having a joint application with your significant other or family members to increase your debt service ratio.
"Applicants can also choose affordable homes such as those priced RM500,000 and below. For us [bankers], when we realise you are unable to service the loan based on your debt service ratio, we will reject you.
"And if you are living in an urban area with a monthly household income of less than RM5,000, you're under the vulnerable segment," he said.
He added that for the vulnerable segment, the debt service ratio that banks consider ranges around 40% to 50%.
"For the higher income earners, we go as high as 70%."
The general trend among Malaysians when they start working is to get a new phone and then a car, he said.
"All these will eventually affect your ability to repay the housing loan. We also have to look at your Central Credit Reference Information System (CCRIS) report.
"It all boils down to responsible lending. Banks would love to take the risk but we are regulated by Bank Negara Malaysia," added Abdul Razak.
The other panellists at the forum were Malaysian Industrial Development Finance Bhd (MIDF) chief economist Dr Kamaruddin Mohd Nor, Jones Lang Wootton executive director Malathi Thevendran and property investor Ahyat Ishak. The forum was moderated by Rehda deputy president Datuk Soam Heng Choon. The forum was held following the launch of Rehda's Property Industry Survey 1H2016 and Market Outlook 1H2017.
The panel members had mixed views on when the property market would recover from the current slowdown.
According to MIDF's Kamaruddin, from a macro and global perspective, "things have hit rock bottom in 2H2016" hence he expects a recovery of the general economy from here onwards.
"As far as the domestic market is concerned, we expect 4.9% or 5% growth in terms of gross domestic product (GDP). Looking at the property sector, it will recover but perhaps not in 2017," he said, adding that the property market may rebound in 2018.
Ahyat, however, said the Malaysian market "has yet to see the worst".
"For me, the market cycle is experiencing a long flat," he said.
For Jones Lang Wootton's Malathi, there will be "nothing much" to show for 2017.
"There will still be launches going on as there will be upgraders and a limited number of investors. And if you really market it properly, the foreign market will also see opportunities.
"With our climate and other factors, we are a haven for Malaysia My Second Home (MM2H) but we are not marketing our country well enough," she said.
Maybank's Abdul Razak said the property market will mostly bottom out by the end of this year.
This story first appeared in TheEdgeProperty.com pullout on April 21, 2017. Download TheEdgeProperty.com pullout here for free.