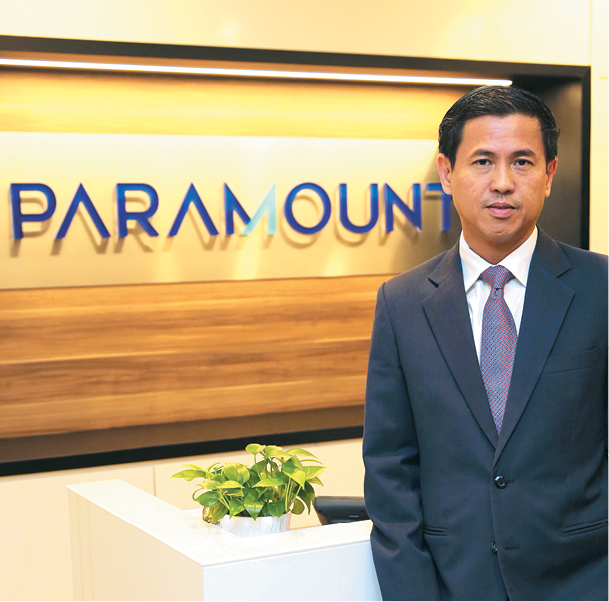 KUALA LUMPUR (Aug 28): At first glance, Paramount Corp Bhd has not had a good start to 2017. Net profit fell 32% year-on-year (y-o-y) to RM23 million in the first half ended June 30, 2017 (1HFY17), despite a 27% increase in revenue.
But a combination of one-offs has disguised a sharp rebound in the group's property sales, which will translate into strong earnings in coming quarters.
"It has been a strong first two quarters for Paramount, with our completed sales standing at about RM420 million for the first half of the year," its group chief executive officer Jeffrey Chew told The Edge Financial Daily.
This is in stark contrast to the RM403 million in sales that the group managed for the full 12 months in 2016.
As of June 2017, Paramount's unbilled sales stood at a respectable RM534 million. This is a 50% increase from the RM356 million in unbilled sales a year earlier.
The stronger sales have already been reflected by a 25% y-o-y increase in the group's property revenue to RM227.8 million in 1HFY17. Unfortunately, that has not translated into a stronger bottom line due to a mix of recurring and non-recurring items.
Firstly, Paramount booked an exceptional gain of RM8.8 million for the disposal of apartments under its education arm in the same period last year.
Secondly, the group this year began to incur losses on its 120,000-sq ft retail mall in Utropolis Marketplace in Glenmarie, Shah Alam, of about RM4 million in 1HFY17. Given the soft retail market, Chew acknowledged that the mall is unlikely to break even over the next two years. This would translate into about RM8 million in losses per year.
That said, this should be offset by stronger recognition of unbilled sales going forward.
Chew pinned the strong performance of the group's sales on a rebound in the overall property market this year.
"We saw a sharp slowdown in 2015 and 2016. Due to growing uncertainty at the time, many buyers chose to defer their purchases. But now, they are returning to the market," he explained.
Over the past three quarters, Chew noted that Paramount has booked in RM630 million in property sales — a record for the group.
That said, he stressed that the recovery in the property market has been largely confined to the sub-RM600,000 portion of the market. High-end properties priced RM800,000 and above will not enjoy the rebound, he added.
"There is still strong demand for property, but it has to be affordable," he explained.
While the group does have some high-end properties for sale, Chew pointed out that Paramount has always priced the bulk of its property projects in the RM400,000 to RM600,000 range. Thus, the company has not had to overhaul its pricing strategy significantly. Paramount's property projects consist of Sejati Residences, Utropolis Glenmarie, Bukit Banyan, Greenwoods Salak Perdana and Utropolis Batu Kawan (Penang).
In contrast, developers that have previously focused on high-end products might have to suffer some margin compression as they rejig their offerings.
"In the past, some developers might have misjudged what the market could afford, especially if they had looked at [the] average household income, which is much higher than the median household income," said Chew.
According to the statistics department, the median household income is about RM4,600 per month. Assuming a loan service ratio of 30%, Chew pointed out that most households would only be able to afford a 30-year loan of RM300,000.
Against this backdrop, Chew said that there continues to be a shortage of properties in major urban cities such as Selangor and Kuala Lumpur. The shortage is in part due to the mismatch in the price of properties supplied compared with what most buyers can afford.
Based on 2016 National Property Information Centre data, Chew pointed out that there should be 7.67 million households in Malaysia based on the average household size of 4.31 and the population of 33.06 million. However, there are only 4.95 million units of property. This means there is a shortage of 36% or 2.72 million units.
Interestingly, the bulk of the shortage comes from states such as Kelantan, Sabah and Sarawak with 304,391 units, 476,009 units and 384,985 units respectively.
Selangor's 6.3 million residents should require 1.6 million homes based on the state's average household size of 3.9 people. But with only 1.39 million units of property available, there is a shortage of 13% or approximately 213,426 units.
Note that there are 257,633 units in future supply. However, this supply will only be delivered over the next five years, said Chew.
In the meantime, Selangor is the state with the fastest growing population, due in part to urban migration. Each year, Chew estimated, demand for homes in the state will grow by approximately 51,000 units.
On a side note, the same statistics reveal Negeri Sembilan as the state with the least shortage and the largest oversupply of new property.
It is this supply and demand dynamic that keeps Chew bullish on prospects for the property market. Thus, the group continues to look for more land bank, especially in Selangor.
Against this backdrop, Paramount still has one more catalyst in the pipeline.
The group is expected to book a gain on disposal of RM70 million when it completes the sale and leaseback agreement of the Sri KDU Campus with Alpha Real Estate Investment Trust in the fourth quarter.
According to Chew, the group will look to reward shareholders with a special dividend to the tune of some RM30 million. This works out to about seven sen per share. For perspective, the group paid out a dividend of 8.5 sen in FY16.
This article first appeared in The Edge Financial Daily, on Aug 28, 2017.
For more stories, download TheEdgeProperty.com pullout here for free.