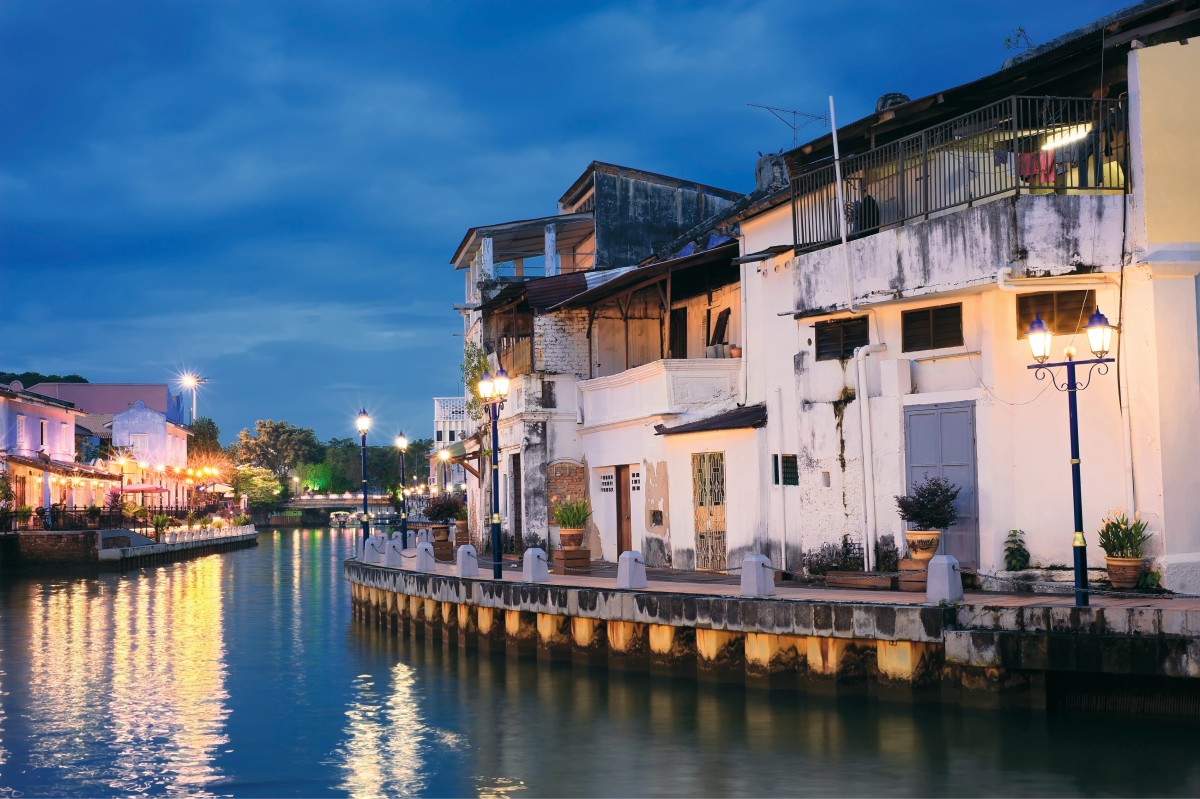 Recognised for its emblematic historical edifices and favoured for its array of delicacies and cuisines, Melaka is a popular destination for visitors near and far.
This is evident from the rising number of tourists over the years. According to Tourism Melaka, about 16.28 million tourists visited Melaka in 2016, of whom 68.93% were locals.
It is the highest ever tourist arrivals recorded by the state and 3.5% higher than the 15.74 million tourists registered in 2015. The target tourist arrival for 2017 is 16.75 million, an increase of about 2.87% compared to last year, the tourism office tells TheEdgeProperty.com.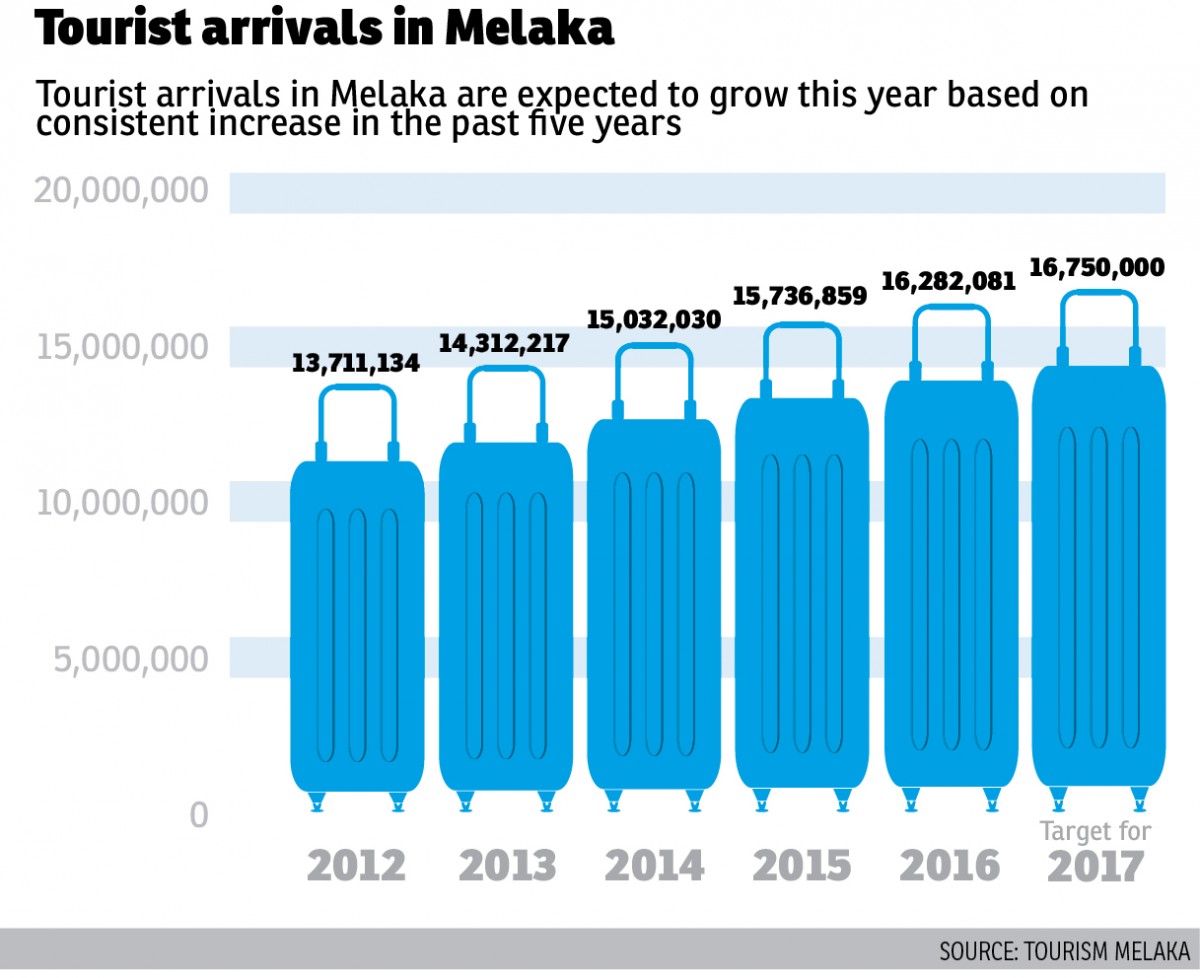 In tandem with the positive tourist arrivals, shophouses have been mushrooming in Melaka city as more businesses emerge to cater to the growing tourist market.
However, the rise in the number of shophouses has not turned out to be good news for this commercial property market segment in the historical city.
Oversupply
According to Jordan Lee & Jaafar Sdn Bhd Melaka branch manager Lee Thiam Sing, there is an oversupply of shophouses in Melaka. And because of that, he adds, "the vacancy rate [for shophouses] in Melaka is higher now".
Most of the vacant shop units are located in Pulau Melaka, Taman Kota Syahbandar, Taman Kota Laksamana Jaya and some areas close to Pulau Melaka in Melaka Raya.
He says the mismatch in supply and demand is the reason behind the oversupply situation. "Outsiders would think that it is always crowded in Melaka city because they visit the state during the peak periods, but it is actually a false impression. There are not as many occupied properties in town as many would perceive."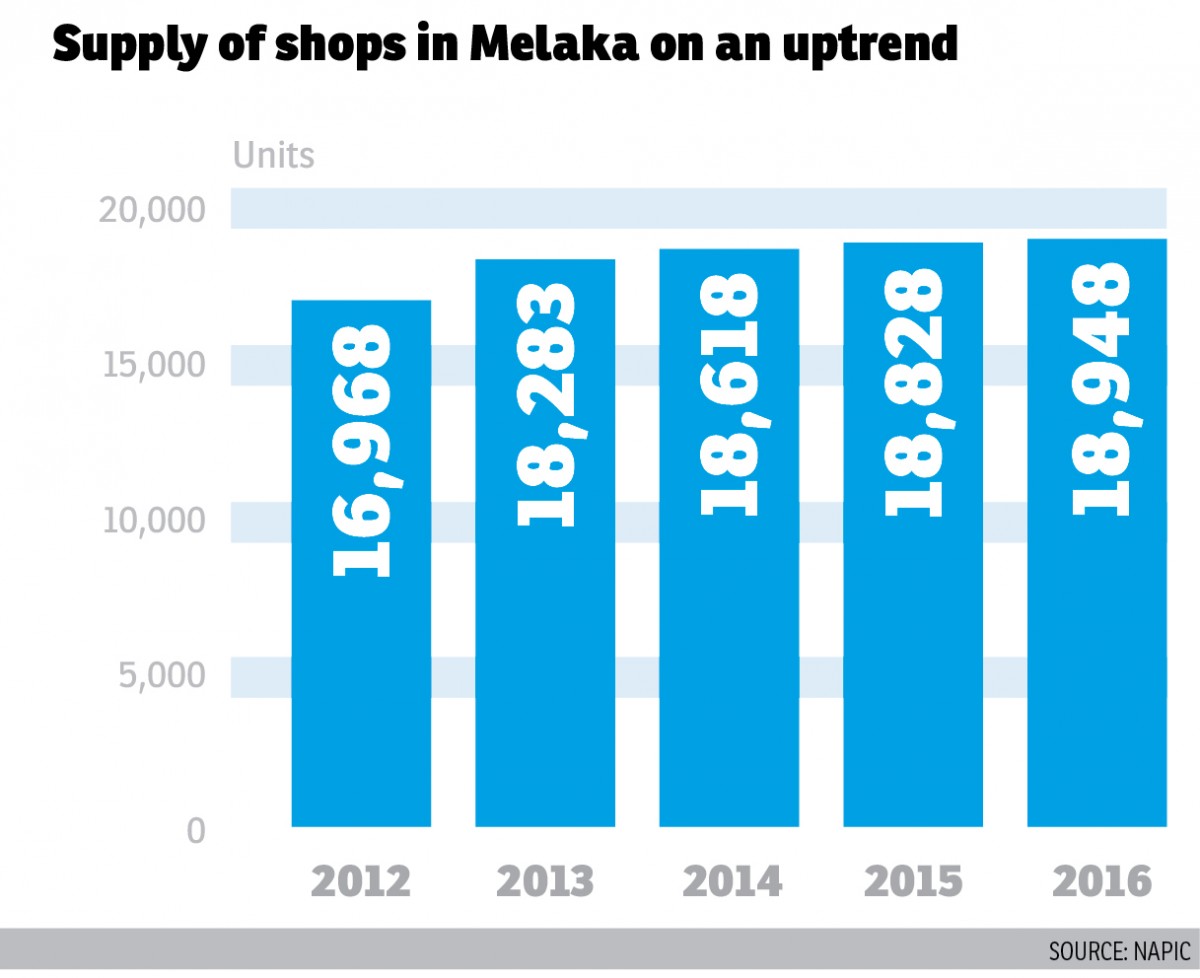 The problem, says Lee, has caused the retail shop units market in some locations to soften and vacancy rates are creeping up. "We actually do not need that many shophouses in Melaka," he opines.
Data from the National Property Information Centre (Napic) showed that the supply of shophouses in Melaka has been gradually increasing over the past few years. There were 18,948 shops as at end-2016 and the first quarter of this year (1Q2017) — an addition of 1,980 units or 11.67% from end-2012 and an increase of 120 units or 0.64% from end-2015.
Looking ahead, the future supply of shophouses in the state stood at 7,358 units as at 1Q2017.
A Melaka-based real estate agent concurs with Lee. He says the oversupply of shops started about two to three years ago.
"The tourism industry in Melaka is doing quite well, but overall the population is still not big enough to support and absorb the supply of shop units," says the agent, who does not want to be named.
He draws attention to the shophouses situated along Jalan Limbongan to Kota Laksamana area, which are only 30% to 40% occupied. Completed about five years ago, some of shophouses are still vacant.
"Even some unit owners in a shopping mall have approached us to market their units, which shows that there is not enough demand here, so I'm a bit worried looking at the future supply of some 7,000 units," he adds.
Twincrest Properties real estate negotiator Choo Yu Fong, who specialises in Melaka properties, says that it is a tenant's and buyer's market in the state now due to the slowdown in the Melaka property market.
The lack of human traffic during off-peak seasons in the state has resulted in a challenging business environment. "When there are not enough people, businesses are very hard to sustain and forced to close down. This has caused the rents for shophouses to weaken this year," she says.
Where are the hotspots?
Despite the lacklustre property market, CBRE|WTW Melaka branch manager Teh Hong Chua points out that the commercial investments in Melaka continue to be attractive as rental yields of 5% to 6% are still achievable in some of the tourism hotspots, such as the areas in Melaka Raya nearby Dataran Pahlawan Melaka Megamall at Jalan Merdeka and Melaka City, which was listed as a Unesco World Heritage Site in 2008.
He cites the 3-storey shopoffices with built-ups of 1,540 sq ft in Melaka Raya as an example. The shopoffices' asking monthly rentals range from RM5,300 to RM6,500 while the average transacted price was at RM1.4 million last year. This translates into indicative rental yields of 5% to 6%.
"In Melaka Raya, the prevailing rental for a 3-storey shophouse is about RM5,500 per month. Below RM5,000 would be considered a bargain and above RM6,000 would be expensive.
"In terms of selling prices, we estimate current shopoffice prices in Melaka Raya to range from RM1.5 million to RM1.8 million. Prices below RM1.4 million would be cheap and above RM1.8 million would be expensive," Teh elaborates.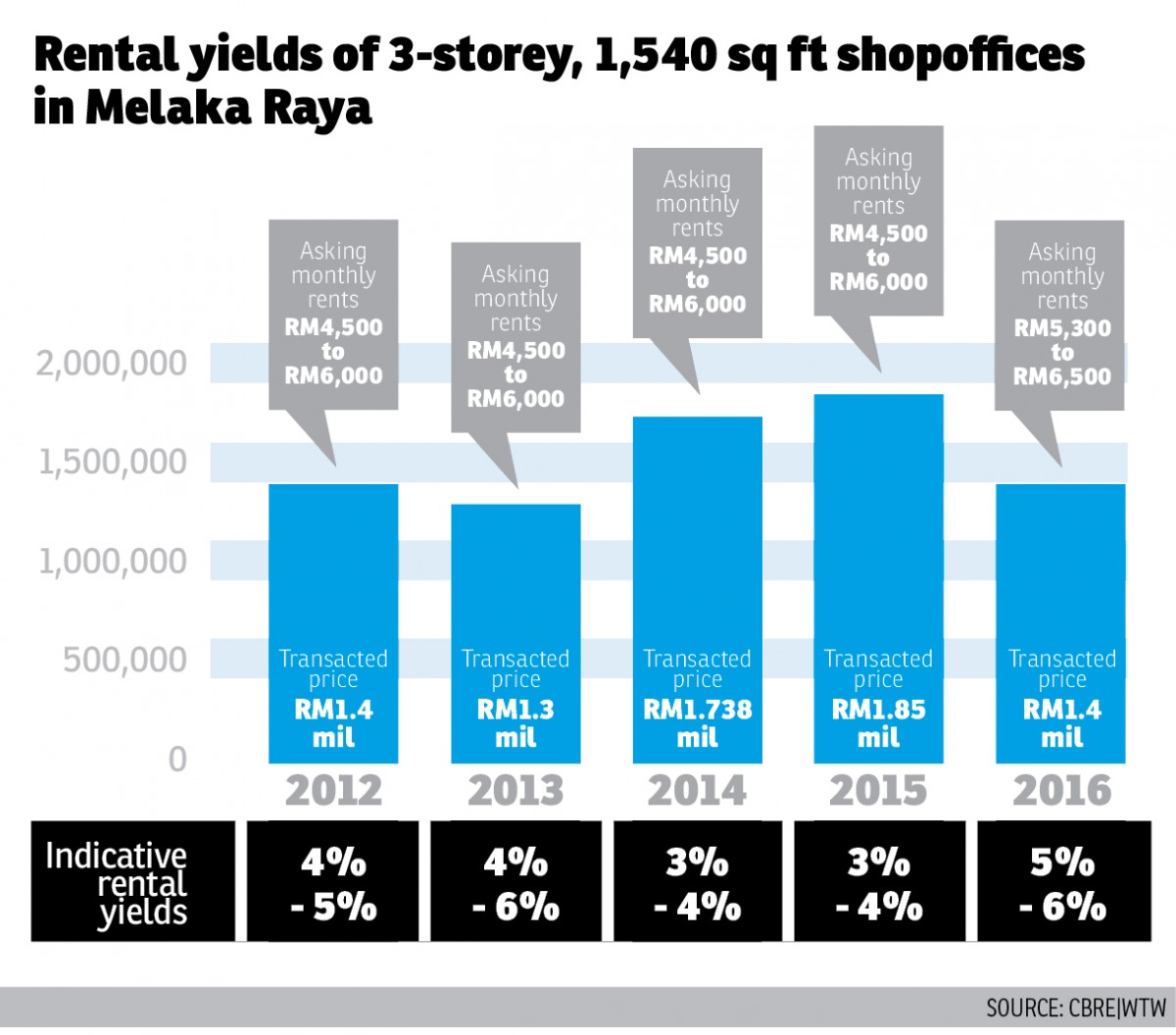 He shares that Melaka Raya and Kota Laksamana are among the most popular areas for shophouses in Melaka. Hence, investors should keep an eye on these areas as they are located in the town centre and near to tourism hotspots in Melaka.
He adds that the pre-war shophouses at Jonker Street and Heeren Street are also very popular as they are located in the tourism hotspot.
"I suppose these pre-war shophouses are good for corporate investment, such as chain shops, franchises, big retailers and wealthy hobbies, but not for new business owners or business starters as they have to handle slow business during weekdays and busy peak days during weekends," he says.
As tourism is the underlying factor driving the business sentiment in Melaka, the primary target of retailers as well as food and beverage (F&B) outlets is tourists, hence shophouses that are located near proposed new tourist attractions such as Impression City and Malacca International Cruise Terminal in Melaka Gateway would also offer the best opportunities for investors, Teh adds.
Sitting on a 138-acre site in Kota Laksamana, Impression City is a RM7.7 billion mixed development project featuring the first-of-its-kind Impression Melaka — an iconic tourist landmark that showcases large-scale live cultural music performances.
With a gross development value of some RM40 billion, Melaka Gateway spans 1,366 acres on three artificial islands and one natural island on the Straits of Malacca. The first phase of the mixed development consists of Malacca International Cruise Terminal, theme park, shopping mall, education centre and ferry terminal.
Besides the two projects, Teh notes that another catalytic project poised to give a boost to the Melaka property market in the medium to long term is the proposed Kuala Lumpur-Singapore high-speed rail (HSR).
The HSR is expected to have one intermediate station in Ayer Keroh, Melaka, while the remaining seven stations will be located in Bandar Malaysia (Kuala Lumpur), Putrajaya, Seremban, Muar, Batu Pahat, Iskandar Puteri and Singapore.
Targeted to be operational by 2026, the HSR expects to call for its first tender in 4Q2017, Land Public Transport Commission chairman Tan Sri Syed Hamid Albar told reporters on the sidelines of the third HSR Symposium in Malaysia.
Positive growth
Going forward, Teh anticipates prices and rents of shophouses in Melaka Raya to continue gradually rising as the medium-term outlook and growth for the tourism industry remains very positive.
However, he warns that it would not be wise for investors to expect rental and price growths to remain constantly high, as one can't tell the future and negative events such as the MH370 tragedy and global economic crisis may occur occasionally and impact business confidence and the tourism industry.
He notes that shophouse prices in Melaka Raya weakened from RM1.4 million in 2012 to RM1.3 million in 2013 before they moved into an uptrend in 2014. On the other hand, rentals had remained stagnant for three years from 2013 to 2015 before increasing strongly in 2016.
According to data from Napic, 11 housing schemes in the state saw their ground floor shops record a year-on-year double-digit growth in monthly rents in 2016, namely Taman Melaka Raya, Prime Square in Bandar Hilir, Taman Kota Laksamana, Taman Pertam Jaya, Taman Peringgit Jaya, Taman Malim Jaya, Taman Ayer Keroh Heights, Taman Teknologi Cheng, Taman Cheng Permai, Taman Rambai Jaya and Taman Angkasa Nuri.
With annual growth rates of between 11% and 25%, all the projects are located in Melaka Tengah, with the exception of Taman Angkasa Nuri, which is in Alor Gajah.
Commenting on the strong double-digit growth, Teh believes it is due to the rental revision of lease renewals every three years, which translates into an annual compounded growth rate of 3.5% to 4.5%.
"Looking at the growth in tourism-related commercial activities over the past three years, we are not surprised with this growth rate. Primarily, the strong shopoffice demand and rental growth is being driven by the consistently above-average growth of tourism-related businesses such as F&B, accommodation, tour operators, souvenirs, novelties and gifts.
"However, the growth rate at Taman Ayer Keroh Heights and Taman Peringgit Jaya is surprisingly much higher, although they are located much further from the city centre," he says.
This story first appeared in TheEdgeProperty.com pullout on Sept 8, 2017. Download TheEdgeProperty.com pullout here for free.