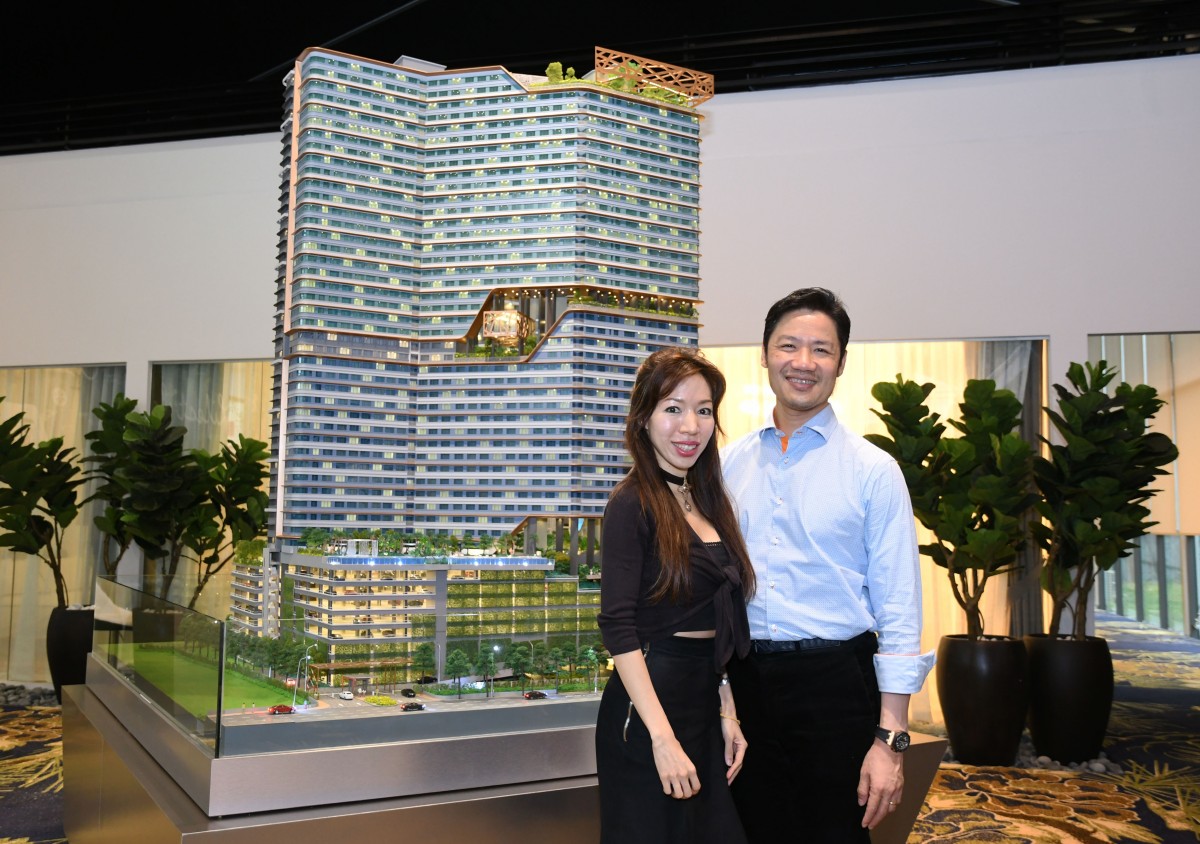 KUALA LUMPUR (Sept 12): Kedah-based Eupe Corp Bhd has its third Klang Valley project in the pipeline and is looking to launch it by end-2018 or 1Q2019.
The serviced apartment project — dubbed Vivus, which means "life" in Latin — is located on a 3.22-acre leasehold plot in Seputeh next to The Japan Club of Kuala Lumpur. The land was acquired by Eupe in December 2016 from Datuk Bandar KL for RM45.4 million.
"We have to study the practical needs of buyers and what are the proper benchmarks [for us to work on] before we start a project. For the Seputeh area where Vivus is, the traffic is horrendous. So we are looking at how to work around the traffic flow.
"Thus, from a design point of view, we explore multiple levels and ultimately we called the project 'life' because we want a lot of integration in terms of green space and building. This is our most challenging project so far," said Eupe group managing director Datuk Beh Huck Lee.
Beh told EdgeProp.my that Vivus has an estimated gross development value (GDV) of RM720 million. Tentatively, Vivus will have 872 homes altogether, including 17 units of 2-storey villas. Prices and built-ups are yet to be finalised.
Parc 3, an affordable luxury design
On the other hand, Eupe is all set to launch Parc 3 in Taman Pudu Ulu on Oct 21. With a GDV of RM490 million, the 2.73-acre leasehold project will house 793 service apartments within a 46-storey tower.
The units will have built-ups between 592 sq ft and 1,470 sq ft, with indicative prices from RM393,000 or an average price of RM700 psf.
"We are trying to provide homebuyers an affordable luxury product where we go beyond [the profit margins] and give them luxurious facilities paired with an affordable price tag.
"Among the facilities that we have is a floating gym that comes with a treehouse lattice glass structure and a moonlight deck for residents to unwind and stargaze. These are some of the things that we elevated to give homebuyers a different experience," said head of marketing and design Datin Michelle Gan Eileen.
Other facilities at Parc 3 include a 50m lap pool and wading pool, playground, celebrity kitchen, Jacuzzi, barbecue and picnic area.
The project was named after the three internal parks within the development. Upon completion, Parc 3 will face the 33-acre Pudu Ulu Recreational Park.
Noting the entrance of major developers coming into the Cheras vicinity, Beh said it is even more important for Eupe to differentiate itself through its core principles via Sustainability Plus, which will be launched along with Parc 3.
Sustainability Plus is Eupe's blueprint for sustainability, with four frameworks for sustainable eco-design, namely healthy air, iconic design, green community and smart connectivity.
"In the future, we will not be short of houses to live in but we will be short of clean air and water as well as recreational places. For our Sky Residences in Sungai Petani that was awarded the LEED (Leadership in Energy and Environmental Design) certification, you can feel how vibrant and how much cooler the air is in the development.
"Building a development is not just about looking nice. It has to be different and address the practical needs. Also, as we progress from one iconic project to another, it forces us to think and work harder, in terms of layout, design and others — which translates into improvements for us.
"Smart connectivity is the physical and digital connectivity with our New Digital Life App for all of our developments' Joint Management Body, starting with Novum. The app also makes property management workflow easier and more efficient," said Beh.
Eupe entered the Klang Valley property landscape with Novum @ Bangsar South back in March 2016. The serviced apartment project is slated for completion by November 2019 and is jointly developed by Eupe and Asthetik Property Group Sdn Bhd.
With a GDV of RM568 million, Novum houses 729 units across three towers on a 3-acre freehold parcel and selling prices range from RM720,000 to RM1.73 million.