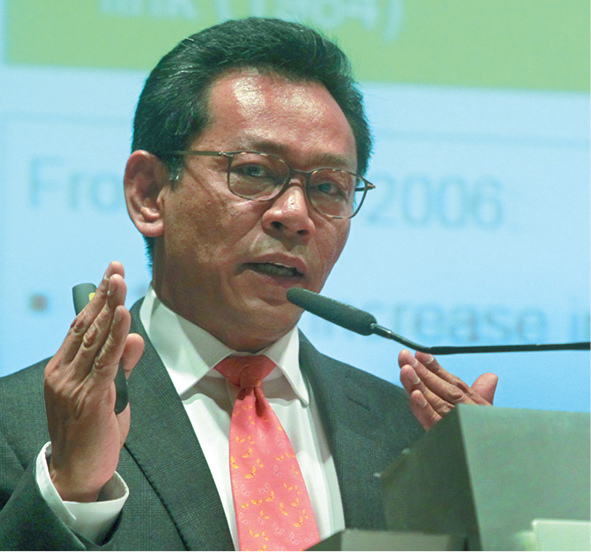 KUALA LUMPUR (Sept 13): The Kuala Lumpur-Singapore high-speed rail (HSR) project is "wide open" to all and both countries will choose the builder based on merit from a tender expected to be opened in December, said MyHSR Corp Sdn Bhd CEO Mohd Nur Ismal Mohamed Kamal (pic), according to a Bloomberg report.
Mohd Nur Ismal was also reported as saying that it was not true when some countries claimed the project is already in the bag.
The news agency said both Malaysia and Singapore will hold a second industry briefing in London on Sept 26 to share more information on the HSR project.
The briefing, it said, is aimed at sharing updates and is scheduled in response to the industry's queries following the first such briefing held in July.
"Forty per cent of participants at the July briefing were from Europe, 20% from Malaysia, 10% from North America, 15% from Singapore, 10% from Asia, and 5% from Australia," the report stated.
MyHSR is the Malaysian government's project delivery vehicle for the Kuala Lumpur-Singapore HSR project.
Meanwhile, Bernama reported that the project is expected to contribute RM21 billion growth in GDP to Malaysia and Singapore and create some 111,000 jobs by 2060.
According to the report, Land Public Transport Commission (SPAD) CEO Mohd Azharuddin Mat Sah said the HSR was expected to deliver significant socio-economic benefits to both countries through a comprehensively inclusive plan.
"The KL-Singapore HSR is a game changer and it will pull isolated regions closer, spur growth and development and help several towns along the way and unleash their hidden potentials by making them highly accessible, not just to tourists, but also to workers and investors," he reportedly said in his opening keynote address at the 4th International Summit of the HSR Asia 2017 here yesterday.
He said the HSR project was expected to not only transform the transportation landscape but also create long-term economic and social benefits to Malaysia.
He said there was much pent-up demand for travel between Kuala Lumpur and Singapore, as seen by the number of cross-border buses and flights between the two cities.
"Introducing the rail into the equation will offer a competitive option that promises to save not just time but will lead to many other opportunities," he said.
Mohd Azharuddin said that together with its counterpart, the Land Transport Authority of Singapore, SPAD would ensure that safety remained the key consideration in the design and operation of the HSR.
He said Malaysia and Singapore were expected to sign a bilateral agreement for the Johor Baru-Woodlands Rapid Transit System Link project this December.
The two-day summit, beginning yesterday, discusses the challenges and opportunities in HSR and rail construction in Asia based on the success of other countries.
This article first appeared in The Edge Financial Daily, on Sept 13, 2017.
For more stories, download TheEdgeProperty.com pullout here for free.