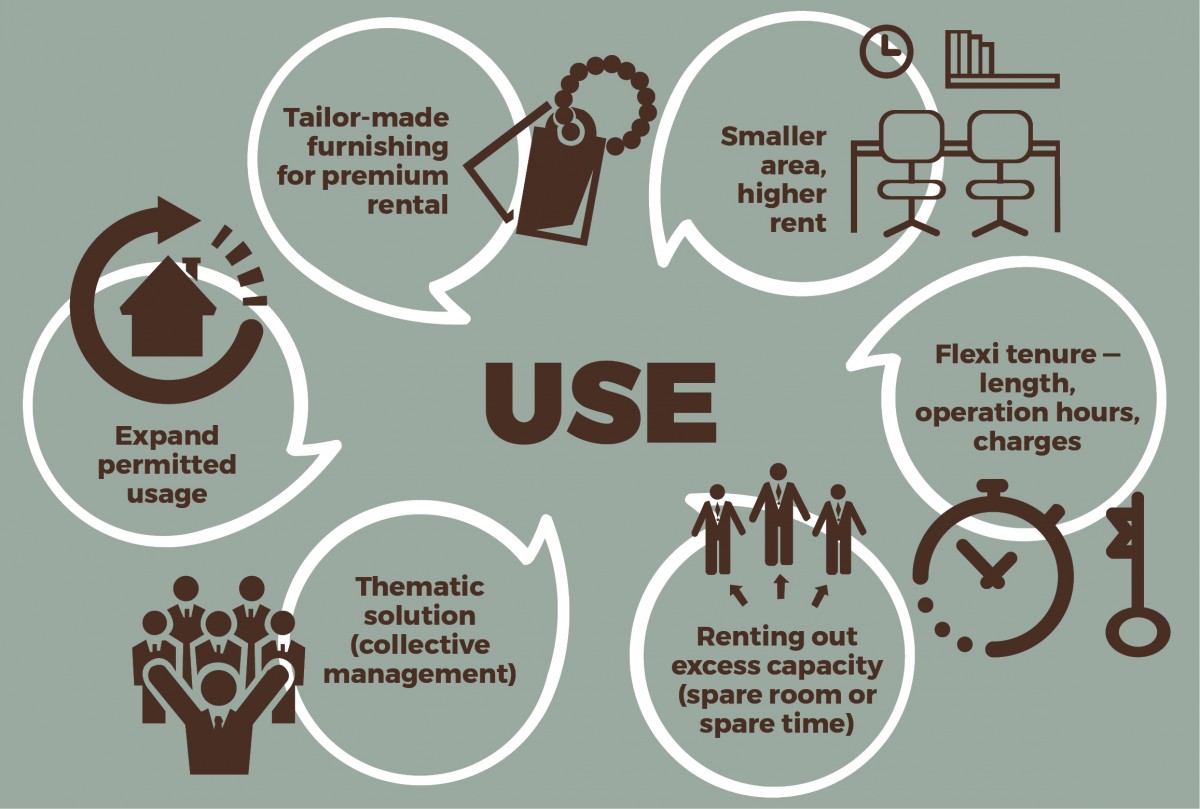 This is Part 3 of the 4-part series on my Property Investment Quadrant (PIQ) which examines the four actions you can take with your property investment, namely Buy, Sell, Use (Rent) and Borrow.
In Parts 1 and 2, we discovered how we could "buy" and "sell". We will now examine the "use" in the PIQ. The PIQ is all about what you can effectively do with property as an investment that drives your desired financial goals — whether it is through value appreciation or the yield in terms of sustainable cash flow.
Having learnt about the many new suggestions in buying and selling in the first half of this series, how you use the property that you have invested in is the key to reaching your ultimate and eventual financial return. You are the master in determining the destiny of your property investment. Besides the common concept of rent and lease, here are another six suggestions on how you can use your property in a more profitable way:
1. Smaller space, higher rent
The growth of the "co-working space" trend in the market right now is a testament to the workability and demand for this concept. There is a premium in the renting of a table space compared with a proper office space. While the rate is higher on a psf basis, it is still cheaper in terms of the absolute price, hence making it more attractive to the prospective tenant.
This also explains the mushrooming of the shoebox-sized Small-office Home-office (SoHo)-type residence being offered in urban Malaysia as opposed to the conventional house size. The more "affordable" absolute price would reduce the pressure on the buyer's borrowing capability.
In other words, a property with three rooms will get better financial returns if you individually rent out the three rooms compared with renting out the entire property as a whole. Your skills, time and effort in managing three separate tenants will be rewarded in the form of higher accumulative returns.
2. Flexi tenure
While it is a norm in Malaysia that rental is charged on a monthly basis, whether in advance or in accrual, this remains a commercial practice and not regulated by any hard and fast rule under the law. Therefore, there is absolutely no prohibition in negotiating your property rental from a monthly basis to a quarterly or even an annual basis, to even a weekly or daily basis.
One could consider charging per night like a hotel as it would certainly attract more returns, or to offer student accommodation by the week or by the length of the academic semester, which would be a preferred option for tenants too.
Actual collection of the rental is another matter. You can also offer incentives or rewards to collect a lump sum rental in advance to ease your need to monitor periodic payments from time to time.
3. Renting out the excess capacity
The sharing economy is no longer an emerging model but has become part of the mainstream economic model today. Learning from the start-up unicorns such as Uber, Grab and obviously Airbnb, investors can take advantage of the excess space or capacity in their properties.
Spaces that are not used effectively can easily be used to attract new income instead of being left idle. It is common knowledge that brick and mortar age faster if not put into proper use.
Taking it up a notch further, what about the "idle time" of the property? Let's say your office tenant is not using your premises beyond the normal working hours. With a little innovation, you can actually have two tenants using the same business premises. Malaysia, being a popular business processing outsourcing centre, would have ready tenants looking to use business premises after hours to cater to the markets in different time zones. It is a win-win solution for all parties with tenants paying only a part of the original rent for the exclusive usage while the total rental yield from the two tenants is now higher than the original rental. It is also a valid risk mitigation for the landlord with the rental spread across two tenants instead of one.
Start thinking along these lines if you are a restaurant operator offering only either breakfast or lunch, so you can get another operator that only opens for dinner. This will help you get another source of return from the otherwise idle time of your business premises.
4. Thematic solution for collective management
This is a different take on the classic Malaysian concept of "Rukun Tetangga". There are many things that neighbours can "self-help" among each other within the neighbourhood, besides security issues.
They can even consider a collective management of tenants including offering a diversity of usage of their properties but with a common thematic solution to address a specific need. All you need is a leader to gather the wisdom, network and resources of all the neighbours and pull them together for execution.
Some suggestions would be controlled student-housing that are friendly to both colleges and parents alike for collective negotiation, pooling of rentals and sharing them to spread the risks of vacancy; hiring a professional property management to execute the unique theme; offering multiple strata office units to a single organisation with multiple departments or diverse stand-alone business units; or even uniform furnishing to attract like-minded tenants to rent the premises collectively.
5. Expanding the permitted usage
Buildings are not necessarily used according to their original intention due to changing circumstances coupled with the enabling of new technologies. You can expand within the express permitted usage of the property such as changing a warehouse into an office or a co-working space, or turning a SoHo unit into an Airbnb. If it is within the permitted usage under the title, you are allowed to do anything within.
Local council zoning and rezoning could also offer new opportunities for property investors. Some main roads fronting residential properties are now permitted for commercial usage. A commercial showroom would definitely attract better rental than a residential unit.
6. Tailor-made furnishing
This is a simple strategy in marketing to stand out from your competition especially when there are many similar units in the offering at the same time.
Customised furnishing to a theme would attract a different crowd who would pay more for the effort and ready-made convenience. Joint ventures with popular interior designers and even renowned Feng Shui masters in dressing up the house can also increase the value of the property. In fact, make it an award-winning one too if possible and get it featured in the media.
The points above show that there are many ways you can use the property to enhance the value of your investment. Property usage can be seen in many different perspectives, across all the verticals and horizontals. You are encouraged to do more homework to know what you can or cannot do and work within the legally permitted limits. Of course, make it a point to consult the professionals.
If you have any property-related legal questions for Tan, please go to the Tips section of TheEdgeProperty.com.
Chris Tan is a lawyer, author, speaker and keen observer of real estate locally and abroad. Mainly, he is the founder and now managing partner of Chur Associates.
Disclaimer: The information here does not constitute legal advice. Please seek professional legal advice for your specific needs.
This story first appeared in EdgeProp.my pullout on Nov 3, 2017. Download EdgeProp.my pullout here for free.