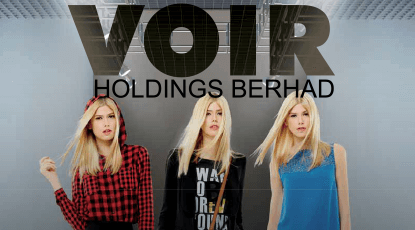 KUALA LUMPUR (Nov 21): Apparel retailer Voir Holdings Bhd, which is turning to construction to diversify its earnings by taking up a stake in Consortium Zenith Construction Sdn Bhd, the special purpose vehicle (SPV) that is executing the RM6.3 billion Penang integrated infrastructure project, is touting construction as a "game changer" for the company.
The move has already piqued investor interest. After hinting at making such a move in February when it reported its results for the financial year ended Dec 31, 2016 (FY16), the company's share price has trended upwards.
From 65 sen in mid-February, Voir's share price spiked between July and August — right before it announced on Aug 30 that it was taking up a 13.21% stake in Consortium Zenith for RM9.86 million — and climbed to a high of RM1.19 on Oct 26. Voir chairman and controlling shareholder Datuk Zarul Ahmad Mohd Zulkifli also controls Consortium Zenith.
The stock closed at RM1.14 yesterday, giving Voir a market capitalisation of RM162.6 million.
The diversification is seen as timely for the group as Malaysia's construction segment has been riding high on mega infrastructure projects, while Voir's retail and consumer businesses have been dragged by low consumer sentiment in recent years.
It suffered two consecutive years of losses in FY14 and FY15 before returning to the black in FY16 on higher revenue and lower amortisation and depreciation.
However, its first six months of FY17 didn't look too good. It incurred a net loss of RM1.6 million from a revenue of RM103 million, as its apparel retail business continued to face stiff competition and margin compression.
"The current apparel business is no longer rosy. The cost of goods has gone up because we are importing … the ringgit is weak, and there is the goods and services tax (GST). If we increase our price, sales would be affected. So we try to maintain the price at the expense of our margins," Zarul Ahmad told The Edge Financial Daily in a recent interview.
To stem further losses, Voir is planning to sell its loss-making Applemints Apparels Sdn Bhd, which owns brands like Applemints, Soda, Soda Kids and Diadora, to TDST Sdn Bhd (licensee of the TANGS brand) for RM21 million.
Meanwhile, its construction debut has been marked by two subcontracts, a RM25.04 million job last year and a more recent RM80.42 million one secured earlier this month to build office blocks, shoplots, a recreational centre and a carpark in Sunway Semenyih, Selangor.
"There will be more construction projects coming in next year. Construction is going to be a game changer for Voir. A lot of things are expected to happen in 2018," Zarul Ahmad said.
His private vehicle, Vista Lestari Sdn Bhd, owns 41.7% of Zenith Construction Bhd, which in turn owns 99.1% of Consortium Zenith, formerly known as Consortium Zenith BUCG Sdn Bhd.
Consortium Zenith's integrated infrastructure project in Penang comprises the 4.2km bypass from Gurney Drive to Lebuhraya Tun Dr Lim Chong Eu, the 4.6km bypass between Lebuhraya Tun Dr Lim Chong Eu and Bandar Baru Air Itam, the 12km paired road from Jalan Tanjung Bungah to Teluk Bahang, and the 6.5km undersea tunnel between Penang island and Butterworth.
Zarul Ahmad said the retail apparel business, under which its flagship brands like Voir and South China Sea remain, will still be Voir's core until revenue from the "major road 2", the bypass connecting Lebuhraya Tun Dr Lim Chong Eu and Bandar Baru Air Itam, kicks in from Consortium Zenith.
Though Mudajaya Group Bhd pulled out of the RM810 million "major road 2" contract on Nov 10 after revealing it was difficult to proceed with the job due to uncertainties over the project, Zarul Ahmad maintained that the "major road 2" is on schedule to meet its June 2018 start date despite Mudajaya's withdrawal.
"Consortium Zenith is evaluating bidders now following a tender that was called immediately after Mudajaya's withdrawal," he added.
Meanwhile, he said works on the RM1.11 billion "major road 1" (paired road from Tanjung Bungah to Teluk Bahang) will start in June 2019, while the RM1.1 billion "major road 3" (bypass involving an underground tunnel from Gurney Drive to Lebuhraya Tun Dr Lim Chong Eu) will begin in June 2020.
Zarul Ahmad also dismissed talks that Voir's diversification with the buying of a stake in Consortium Zenith is a prelude to a reverse take over (RTO) or backdoor listing for Consortium Zenith. "We will only see once Consortium Zenith's contribution kicks in, whether to raise Voir's stake in Consortium Zenith," he said.
Zarul Ahmad used to hold a 50.71% indirect stake in Voir via Vista Lestari, and a direct 1.68% stake, as at March 29. As at Nov 14, his indirect stake had fallen to 33.25%, while his direct stake is now 0.86%.
He acknowledged that he has been trimming his stake in Voir by placing out some shares to strategic partners. Though he declined to elaborate, he gave assurance that he will retain control of the group.
He also gave assurance that Voir's financials were still "okay". "We expect a flat performance for FY17, but from next year, we will see some colour because of our construction business, and the sale of Applemints. When the 'major road 2' project starts in June, there will be more colour in 2HFY18."
Meanwhile, he said the Department of Environment (DoE) is evaluating the detailed environmental impact assessment (Deia) study for the roads that Consortium Zenith will construct. "We expect DoE to approve the Deia anytime now. We are anxious to start," he said.
He is also confident that the Penang Appeals Board case brought by 12 residents against the RM800 million City of Dreams residential project in Bandar Tanjung Pinang on Penang island will be settled soon. The project sits on a 3.67-acre (1.49ha) plot Consortium Zenith secured from the Penang government as part payment for the feasibility studies and detailed designs it had done for the state's integrated infrastructure project.
The City of Dreams is being developed by Consortium Zenith's 40%-owned joint-venture company with Ewein Bhd, Ewein Zenith Sdn Bhd. In 2015, Seri Tanjung Pinang residents brought an action against Ewein Zenith over concerns about the density and height of the housing project comprising two blocks of 39-storey buildings totalling 572 units.
"That (project) is going to kick off very soon, so there are some profits we can derive from there. The Penang Island City Council's appeals board placed an injunction [on construction] earlier but we reckon it can be settled soon," he said.
As such, he dismisses the notion that Consortium Zenith's business is not moving. "We won't say we are stuck. There are a lot of things to prepare before we embark on the road constructions."
This article first appeared in The Edge Financial Daily, on Nov 21, 2017.
For more stories, download EdgeProp.my pullout here for free.