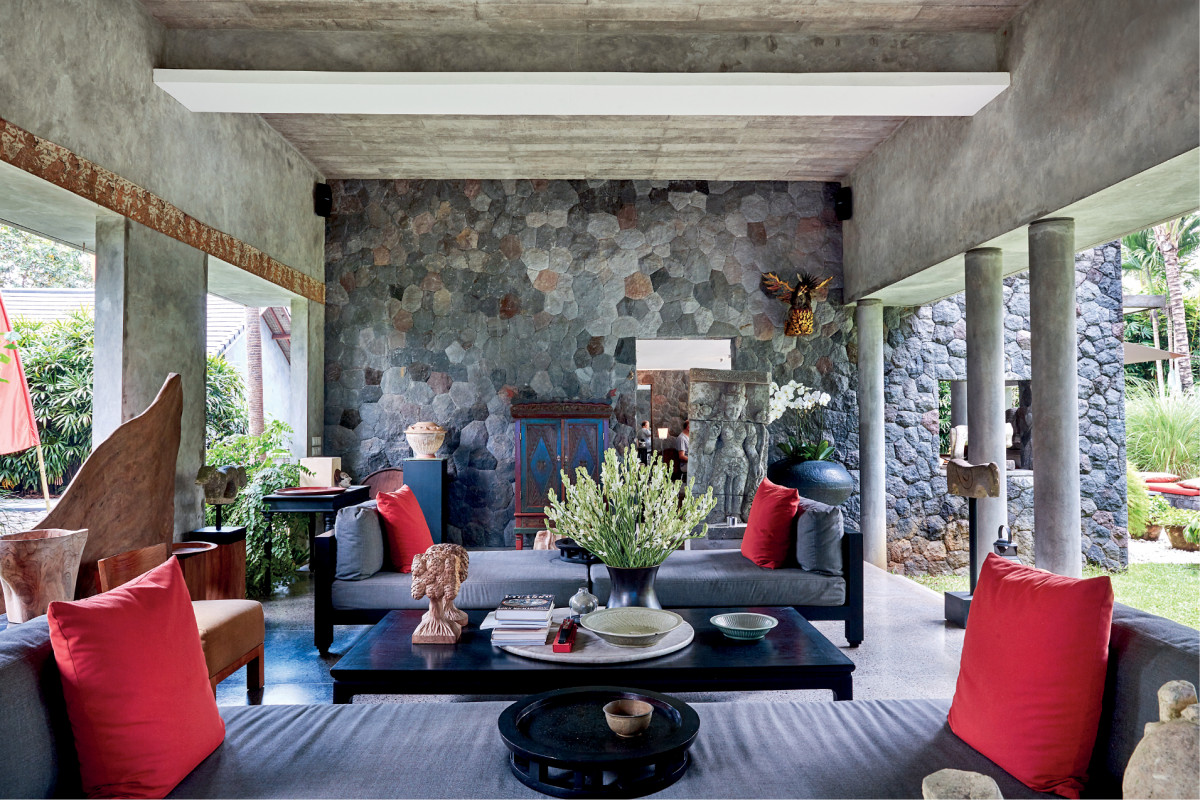 Somehow, it seems particularly apt that acclaimed Bali-based architect Joost van Grieken's home takes its name from the humble breadfruit tree or "pokok sukun". With its high yields and propensity to thrive in tropical climes, the breadfruit tree is much-loved wherever it grows, from Southeast Asia to Polynesia and Hawaii, ensuring nourishment and shade for all who live in its shadow. It is in tribute to the tree's generous, bountiful nature that Joost built his sprawling home in Bali's cultural heart. "I was living not too far away, in Sayan, near Ubud, and I moved into Villa Sukun in 2009 after a full year of construction," he says. "My previous home, which was along the Ayung River, was a rented one and, of course, an architect always wants to build his own house. And as this home is also located on the banks of the Ayung, you could say, yes, I do follow the path of the sacred river."
Having lived in Indonesia for close to three decades, Joost spent the first eight years working in Jakarta before finally being lured by the gods to share their mystical island home. When asked what initially drew the Delft-trained architect to the archipelago, his reply is succinct but telling: "Adventure," he says, eyes twinkling. "I left Jakarta to come to Bali after the Asian financial crisis hit, thinking I'd give myself a sabbatical but, bit by bit, the projects came."
Now one of the island's foremost architects, Joost's aesthetic touch can be seen in many iconic Balinese villas and commercial spaces while on Malaysian soil, he is known for creating the garden-like haven that local dance legend Datuk Ramli Ibrahim calls home.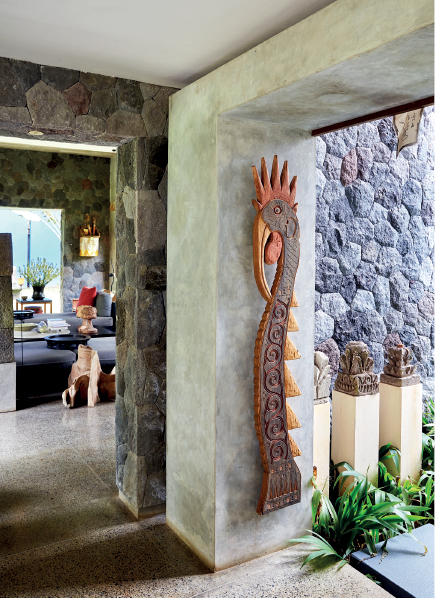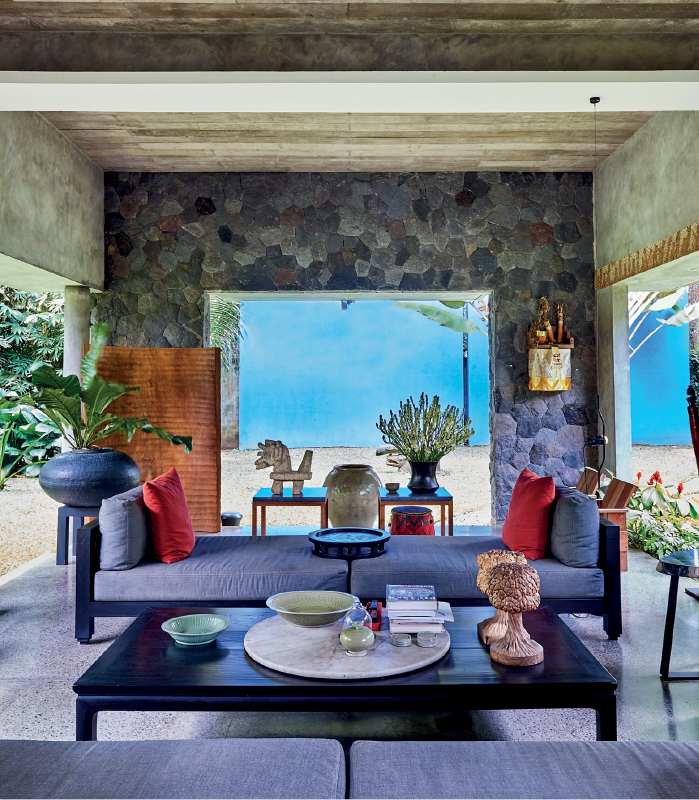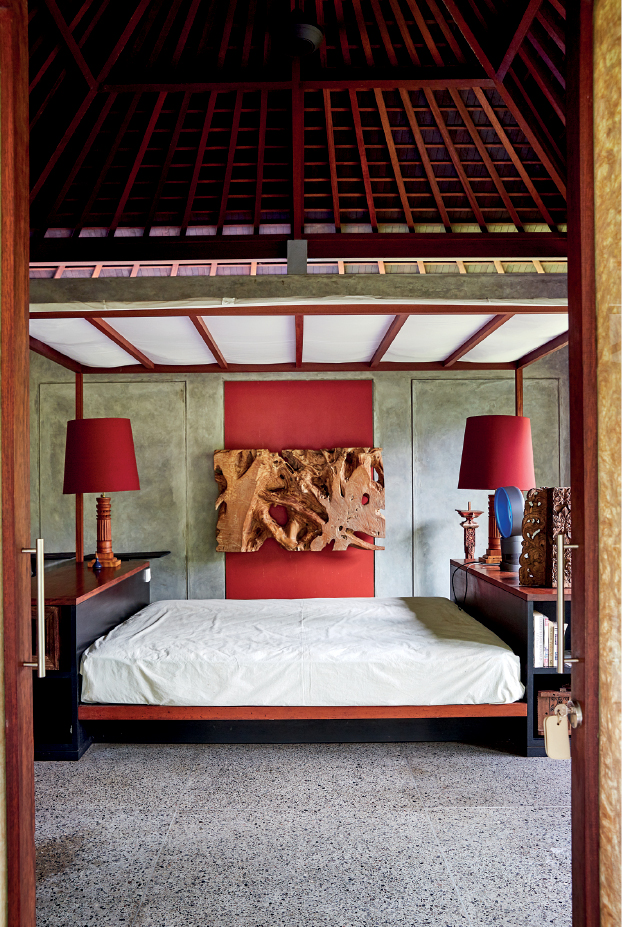 Standing on what was once a breadfruit grove in Mambal, Joost's 4,000 sq m estate is still studded with a number of breadfruit trees. The far end of the garden slowly tapers off into the Ayung and, on a clear day, you can just about make out the profile of Bali's mother mountain, Gunung Agung, in the distance. "The built-up of Villa Sukun is probably just around 10%," Joost observes. "And that includes the main house, guest pavilion and staff quarters. It's nice to have a big garden and, besides, I like to live in nature."
An effusive host, he graciously beckons us to sit down for a bit, accompanied by cups of wonderful tea – a gift from an appreciative client in China – paired with delicious strawberry and chocolate tarts bought from Monsieur Spoon, a charming patisserie that's located next to Ubud's famous Bebek Bengil ("dirty duck") restaurant.
Exploring the main house, it is clear that Joost subscribes very much to the Bawa-esque philosophy of letting the outdoors in and vice versa. Tropical breeze wafts through the entire home and natural, unobtrusive materials make up the villa's backbone, although, every so often, a pop of colour – in the form of a painted wall, perhaps – breaks the earth-inspired palette. Walking the estate, it's easy to come across several, in deep Chinese red or Klein blue, or to be more precise, the same shade of blue that adorns Penang's famous Cheong Fatt Tze mansion. "It is to compensate for the predominantly grey palette and the rocks and the overwhelmingly green landscape," Joost muses.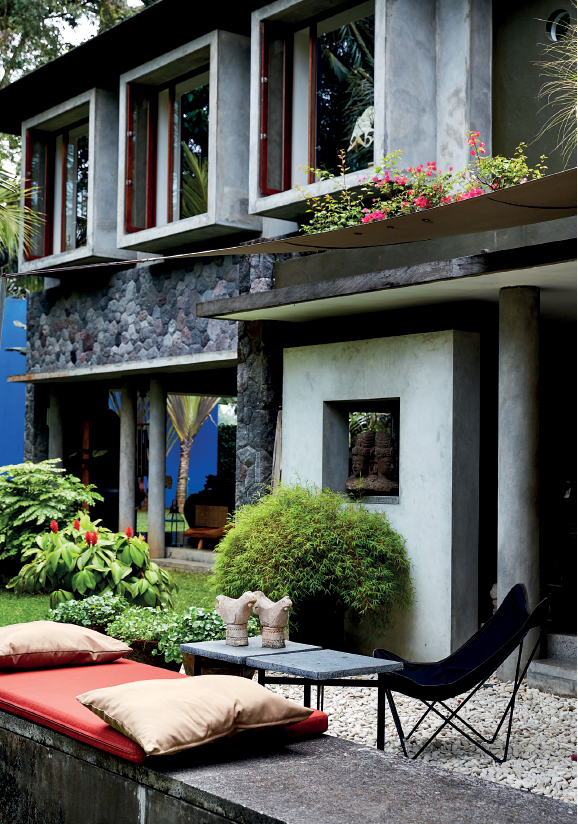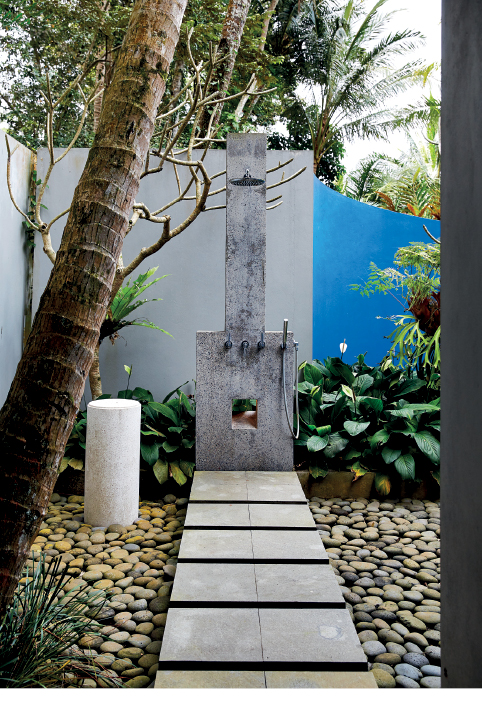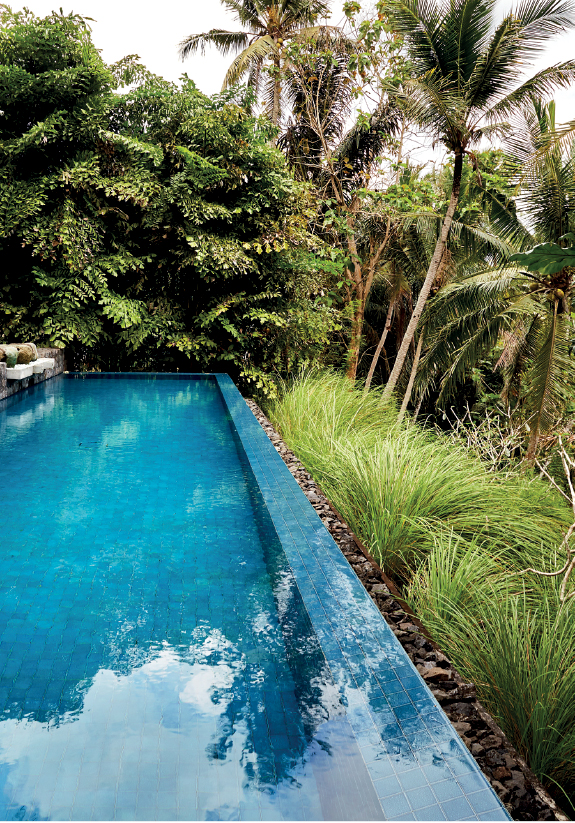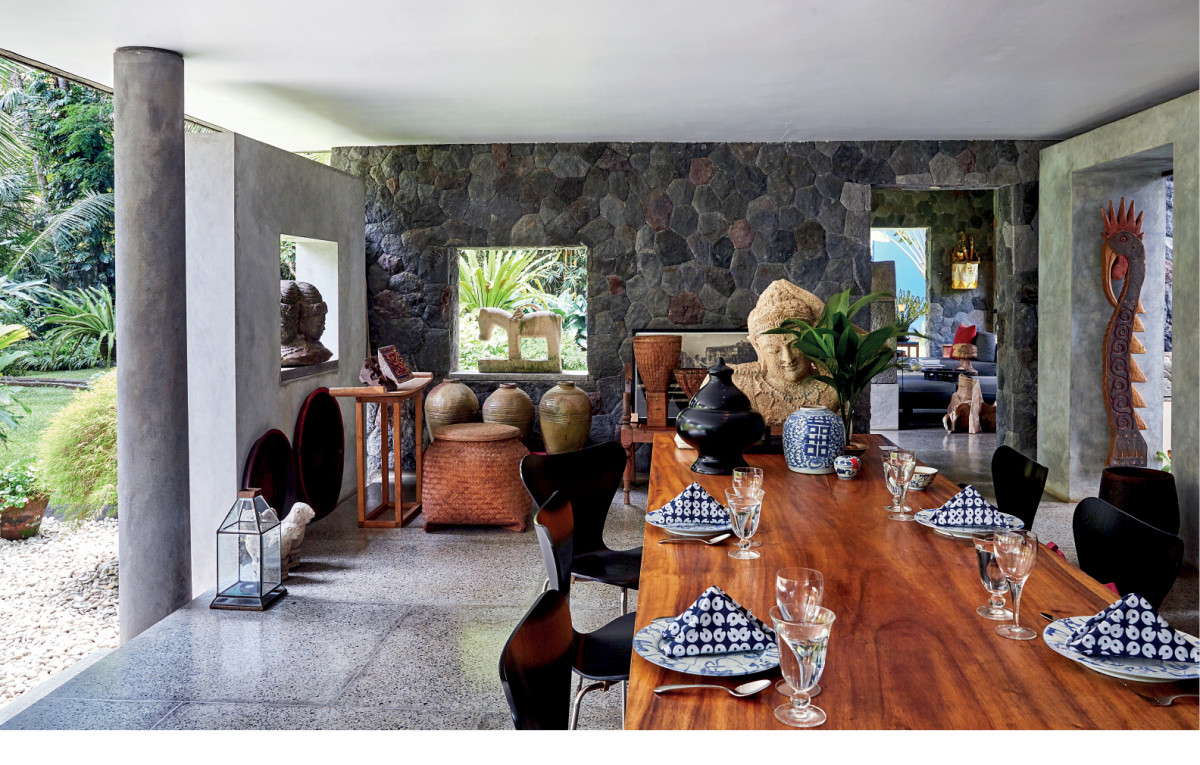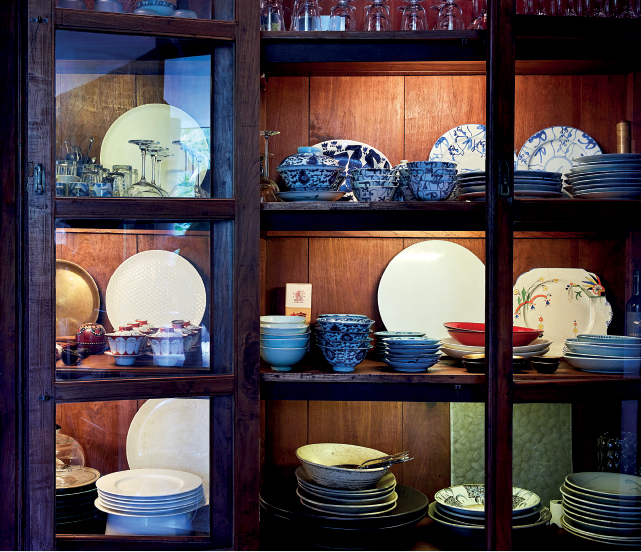 The floor on the ground level is cool, polished concrete and is matched with exposed concrete ceilings while several walls are clad in river stones sourced from Karangasem in East Bali. Upstairs, meanwhile, offers solid merbau wood floors to step on. "It's very low maintenance," Joost points out. "I don't live big and all I need is a simple budget. The merbau is strong, the concrete equally so … it's practical but it's also beautiful."
Daily life at Villa Sukun is also inextricably connected to the garden, which, Joost acknowledges, "is absolutely perfect … for 11 months of the year, except during the rainy season when the winds blow the rain in and I have to hide upstairs!" Both the ground and first level of Villa Sukun also have little decks that make wonderful hideaways for reading. "If I practised yoga, it would be perfect too, overlooking the palms and coconut trees," he winks.
Cane grass is cleverly planted all around the slopes of the property to keep snakes away. "The grass blades are sharp and can cut," says Joost. "Only the monkeys are a real nuisance." And if you wander to the fringes of the garden, chances are you will hear the happy screams and yells of rafters far below who sail the Ayung in search of white-water adventure. And although guests hardly need reminding that they are in magical Bali, umbul-umbul stand proudly in the garden, the colourful pole-festooned pennants fluttering in the wind, and are changed every time the sun bleaches all their colour away.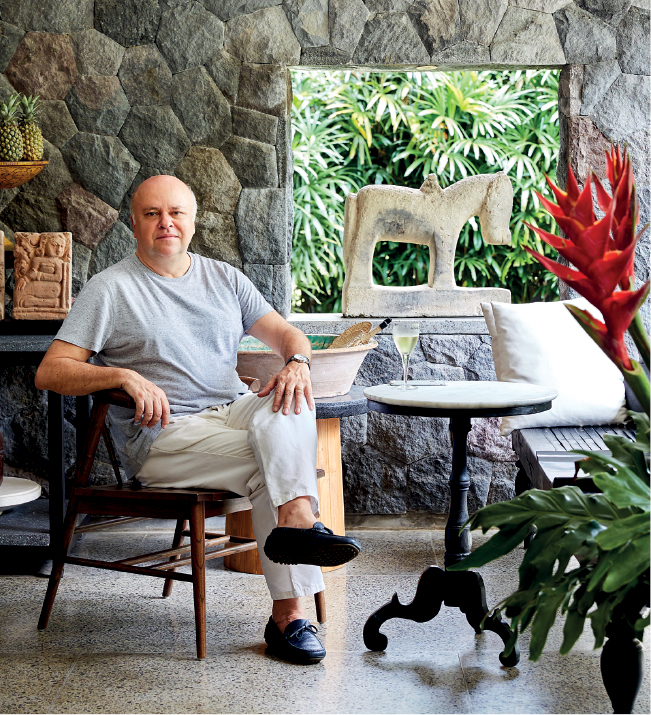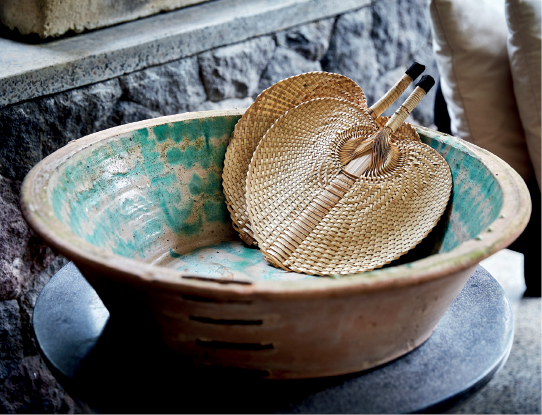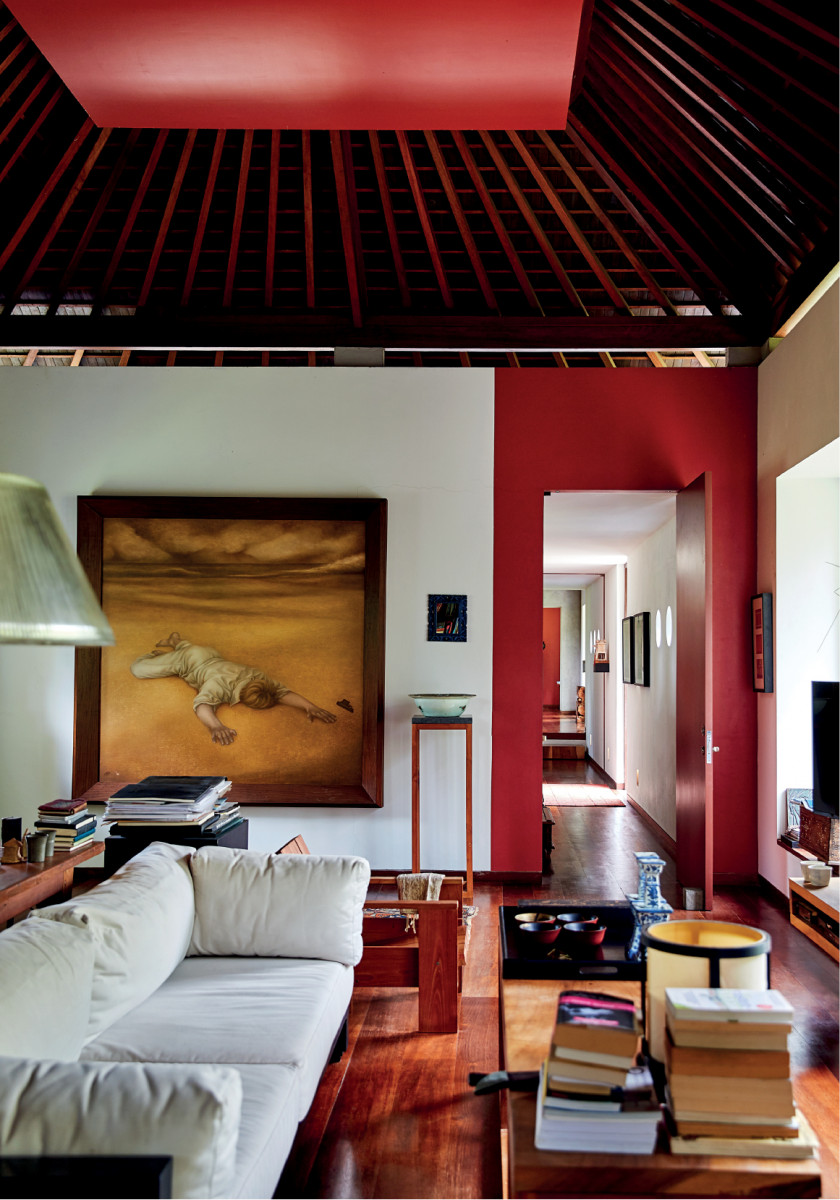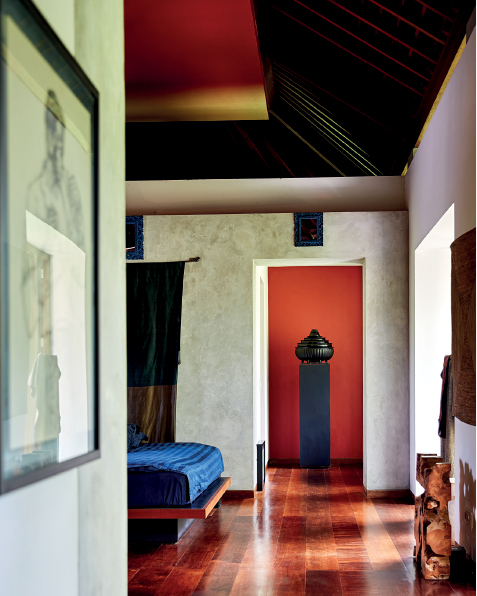 The only thing that draws Joost away from his idyllic retreat these days is work – and there is plenty of it, from projects in Amed on Bali's east to Lombok, where he did the Qunci Villas, and, of course, his own base of Ubud where he has done the entirety of the world-renowned Locavore group, including the flagship restaurant, Locavore To Go, and Nusantara, chefs Eelke Plasmeijer and Ray Adriansyah's latest dining room dedicated to the region's cuisines and flavours.
"My style is, I guess, modern tropical," says the architect with a modest shrug. "Of course, I must have a Western layout and functionality but I love local materials and techniques." A fact that is evident simply by looking around our immediate surroundings. Local decorative elements and artistic souvenirs brought home from working "adventures" include shrine houses from Sumba, standing at attention on the patio next to a massive Sumbawa stone meeting table that weighs at least a ton. A particularly striking ider-ider, a ceremonial wall hanging, gifted by a friend and measuring 10m in length, adorns one wall of the living room. A feature wall in the dining room is made from sanded palem pakis (fern palm) trunks. "It's a plant that loves shade and the hills," says Joost. "We tried to plant a few in the garden but it's too hot for it." Still celebrating the culture and heritage of Indonesia, an eye-catching rooster roof finial from Tanah Toraja adorns a doorway while numerous carvings of Hanuman and Dewi, as well as terracotta pieces from Majapahit, Java, jostle for the attention of guests.
Taking pride of place on the home's first level is Joost's beautiful study, which overlooks surrounding rice fields, adorned with traditional Balinese Kamasan art and ikat from Timor, as well as framed Kalimantan tikar (woven mats). One of the few things that immediately give away the homeowner's provenance is a Gerrit Rietveld-inspired chair, made from teak. "The original pieces are worth a fortune now and they used to be made from orange crates," volunteers Joost. "Today, it is a design icon and all the big museums have them as part of their collections." Another Dutch touch, albeit intangible, would be the beautiful music of pianist Rian de Waal that plays from hidden Bose speakers.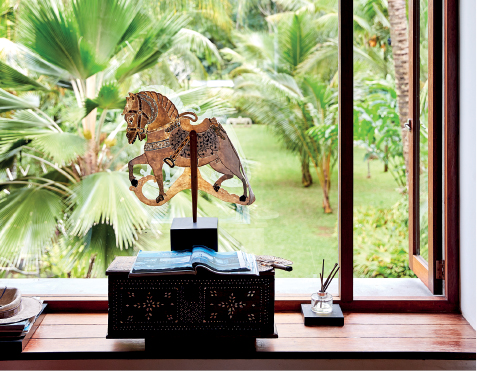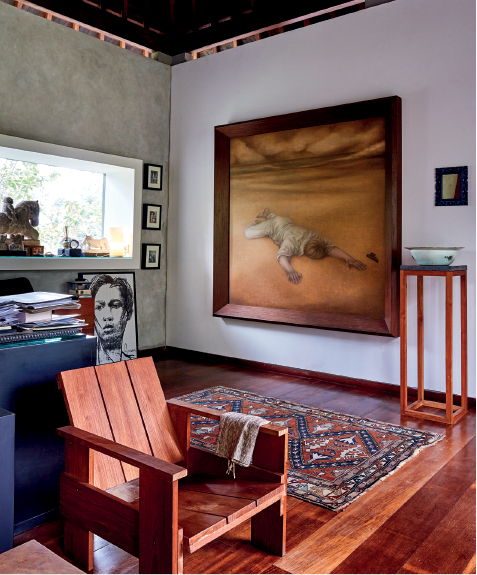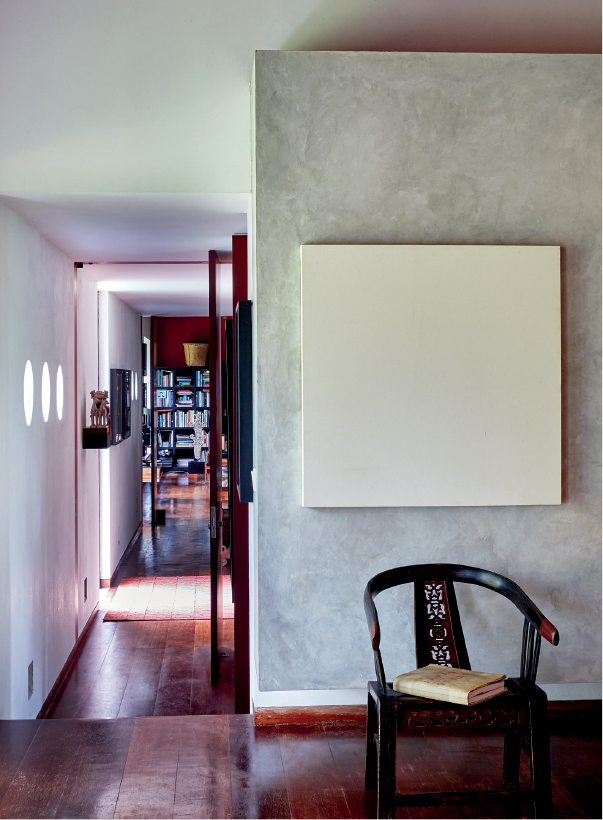 The few other Western pieces in Villa Sukun include an antique bowl used for mixing dough from Spain's Valencia region, although Joost's cupboards are primarily filled with fine and delicately beautiful Chinese porcelain, particularly from the acclaimed ceramic city of Jingdezhen. We then proceed to lunch, which features home-cooked Balinese dishes like bakwan jagung and sambal matah, accompanied by fragrant white rice, eaten off a suar wood table. "I love cooking and entertaining," Joost smiles. And although potted orchids are abundant around the villa, what catches the eye at lunch are sprouted pinang tree seeds, which Joost has cleverly bunched together to create an artistically verdant arrangement. "When I first came to Indonesia, all I had were two suitcases filled with clothes, books and CDs," he muses. "Everything you see has been collected along the way." It looks like life has indeed been a rich and fulfilling adventure.  
This article first appeared in the Winter 2017 issue of Haven, which comes complimentary with The Edge Malaysia Weekly.
For more stories, download EdgeProp.my pullout here for free.