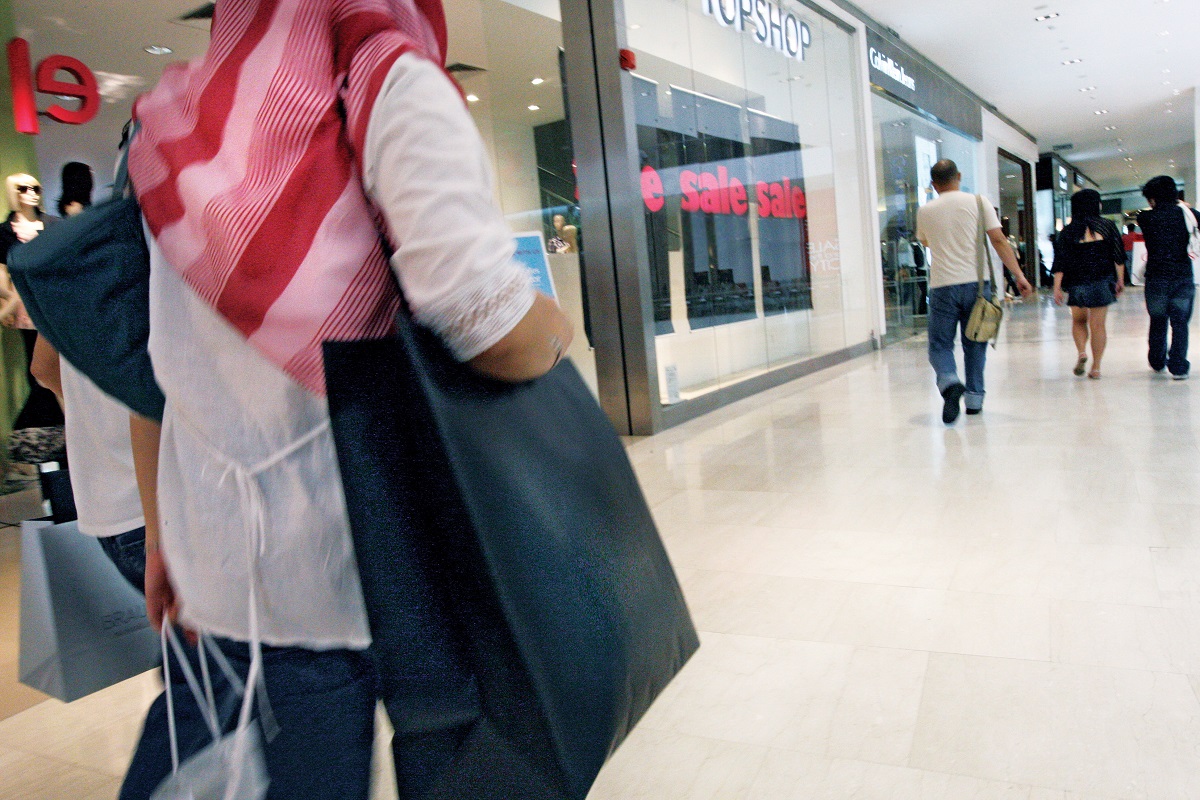 KUALA LUMPUR (Dec 8): The strong 6.2% gross domestic product (GDP) growth in the third quarter of 2017 (3Q17) did not seem to have translated into robust consumer spending. Retail Group Malaysia (RGM) has once again revised downward its retail sales growth for 2017 to 2.2% from an earlier estimate of 3.7% in August, wiping out RM1.4 billion in sales that retailers had hoped to ring in for the year.
This follows a worse-than-expected retail sales performance in 3Q17, which contracted by 1.1%, said RGM.
The downward adjustment will now see retailers in the country, ranging from jewellery to furniture and clothing to daily essentials, clock in sales to the tune of RM100 billion instead of RM101.4 billion.
"This is the third revision since the end of last year," RGM managing director Tan Hai Hsin said in the latest Malaysia Retail Industry Report for November 2017.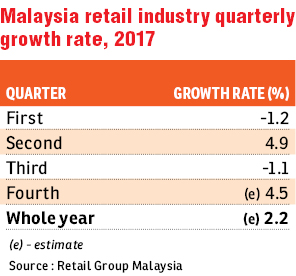 At end-2016, retail sales was targeted to grow at 5% for this year. The forecast was cut to 3.9% in March and then again to 3.7% in August.
RGM tabulates retail data on behalf of Malaysia Retailers Association (MRA) members who are in the hypermarket, supermarket, department store, fashion and fashion accessories, and specialty retail business.
The data does not include the sale of big-ticket items such as cars and houses.
RGM also revised down its retail sales growth numbers for 4Q17 to 4.5% from an earlier estimate of 5.5% in August. This comes as retailers are no longer optimistic about the performance in the final quarter of this year.
According to Tan, MRA members are expecting growth to come in at 3.8% in 4Q17.
The October to December period is traditionally the retailers' strongest quarter of the year due to the holiday season, festive celebrations and back-to-school shopping.
However, retailers from the supermarket and hypermarket category are expecting sales to contract by 1.2% in 4Q17.
"Supermarket and hypermarket operators do not anticipate their businesses to return to the black anytime soon," Tan said. The department store cum supermarket sub-sector is expecting to grow moderately at 1.8% in 4Q17.
Sub-sectors which are more positive about their performances are fashion and fashion accessories (5.4%), pharmacy and personal care (7.1%), other specialty retail stores (7.3%) and department store (9.3%).
On a positive note, RGM expects retail sales to grow by 6% in 2018 but cautions that the performance is highly dependent on the elections, external economic demand and the performance of the ringgit.
Meanwhile, Malaysian retailers were caught by surprise by the 1.1% contraction in retail sales for 3Q17 as consumers had less money to shop, saying it was way below their expectations and against the positive 4.9% growth in 2Q17.
In August, MRA members projected retail sales to rise 2.9%, while RGM forecast a better 4% growth for 3Q17.
The retail sales contraction was also a sharp contrast from the third-quarter gross domestic GDP growth of 6.2%, but it was in line with the decline in the Consumer Sentiment Index (CSI) to 77.1 from 80.7 in the previous quarter. Retail growth had in the past tracked GDP growth.
"For 3Q17, Malaysia's retail industry reported another set of disappointing results," Tan said. "After a short recovery during 2Q17, retail sales slid into the red again in the latest quarter."
Retail sales grew by 1.9% in 3Q16.
"Despite the strong economic performance during the third quarter, the majority of consumers did not receive higher take-home pay. The propensity to spend was not high as reflected in the decline in the CSI," he said.
Tan added that the rising cost of living which had hampered the purchasing power of consumers and the early Hari Raya festival celebration this year, also contributed to the lower sales. Retail sales in the first nine months of the year grew 1.9% compared with the year-ago period.
Four retail sub-sectors posted negative growth in 3Q17. The department store cum supermarket subsector contracted by 3.5% after posting a 4.1% growth in 2Q17; department store category contracted by 4.4% (15.1% growth in 2Q17), the supermarket and hypermarket subsector was down 5.2% (0.8% increase in 2Q17), and fashion and fashion accessories contracted by 4.8% (2.5% improvement in 2Q17).
The pharmacy and personal care subsector registered the strongest growth in 3Q17 compared with the other categories at 6%, while other specialty retail stores (including photo shop, toy shops, second-hand goods shops and TV shopping channels) grew by 6.3%.
This article first appeared in The Edge Financial Daily, on Dec 8, 2017.
For more stories, download EdgeProp.my pullout here for free.