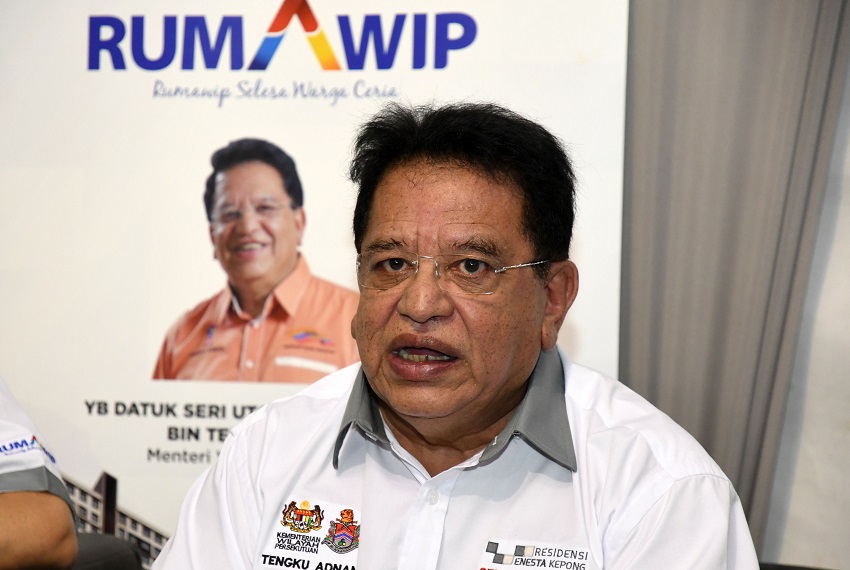 PETALING JAYA (Dec 14): Federal Territories (FT) Minister Datuk Seri Utama Tengku Adnan Tengku Mansor has slammed Cheras MP Tan Kok Wai over his claims that DBKL had sold land without open tender, as well as over affordable housing development matters in Kuala Lumpur.
In a Bernama report, he said of the total land sold, 43 were signed with 28 plots of land for the construction of Federal Territory Affordable Housing (Rumawip) while the rest were earmarked for the development of the 1Malaysia Civil Servants Housing (PPA1M) and 1Malaysia People's Housing (PR1MA).
"Areas sold for this development involve non-feasible hawker centre reserves, squatter settlements, public housing spaces, reserved open spaces and staff quarters," he said in a statement today.
He said the number of Rumawip units developed is over 50,000 units.
He added that the selling price of the homes was based on current prices, with some priced at a discount through cross-subsidisation, where developers are forced to sell the units at RM42,000, RM188,000, RM198,000, and RM230,000.
"The value gives benefits to the people as buyers who can enjoy lower house prices than the real market value," he said.
He added that Tan should appreciate the government's efforts to ensure the urban poor own their own homes.
Tengku Adnan also said if Tan is of the opinion that the land sales were for personal gain or for bribes, the MP should make his allegations clear so that he can take legal action, or make a report to the Malaysian Anti-Corruption Commission regarding abuse of power.
Tan had recently claimed that Dewan Bandaraya Kuala Lumpur had sold 45 parcels of land without open tender since Tengku Adnan became FT Minister.
The DAP lawmaker had claimed that the sales took place from 2013 to July 14 this year.
Tengku Adnan had become FT Minister in May 2013.