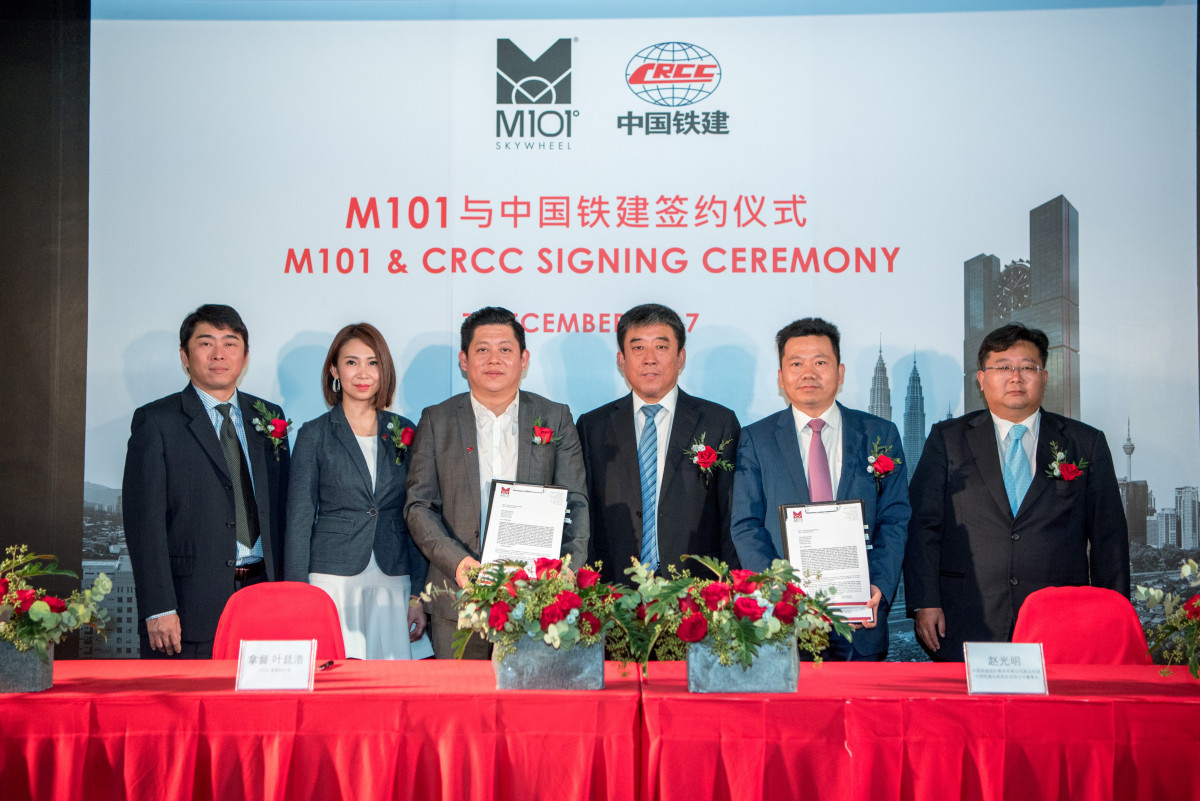 PETALING JAYA (Dec 19): M101 Holdings Sdn Bhd (M101) has appointed China Railway Construction Corp Malaysia Bhd (CRCC Malaysia) as the main contractor for its RM2.2 billion M101 Skywheel development on Jalan Raja Muda Abdul Aziz, Kuala Lumpur.
CRCC Malaysia is a subsidiary of China Railway Construction Corp Ltd, which was recently ranked No. 80 among the world's Fortune 500 companies.
With over 65 years of experience, CRCC is supervised by the State Council of China.
In a statement following a signing ceremony today, M101 CEO Datuk Seth Yap said the developer is pleased to appoint CRCC Malaysia as the main contractor for M101 Skywheel, given CRCC's diverse and close to seven decades of experience.
He added that the freehold development has been well received in Hong Kong, Taiwan, Indonesia, Singapore, China, Japan, Korea, the Philippines, Brunei, Sri Lanka and Bangladesh.
Expected to be completed in 2021, M101 Skywheel consists of two 78-storey towers that will house about 1,200 Small-office Flexible-office (SoFo) units, 94 Designer Suites designed by Studio F. A. Porsche, the world's highest shopping mall that extends from the 50th to 52nd level with over 200,000 sq ft of retail space, the first Planet Hollywood Hotel in Asia and a mass rapid transit station at the basement.
The development will also see the world's highest ferris wheel — Sky Ferries Wheel — built on the 52nd level, which has a vantage point of 220m above the ground.
In his speech at the signing ceremony today, China Railway Construction Corp (International) Ltd chairman Zhuo Lei said the company is proud to be given the opportunity to build this iconic landmark.
"We believe that M101 Skywheel is a fantastic addition to our portfolio and building this project will raise the standards of the construction industry. We will do our best to plan and execute the construction of M101 Skywheel with the highest efficiency possible while ensuring the quality of built and the safety at site," he said.
He added that CRCC Malaysia has a wealth of experience in the design, construction and management of high-rise buildings of more than 300m tall. Recently, it has successfully constructed the Four Seasons Hotel with a total height of 342.5m.
Also present at the signing ceremony were China Railway Construction Corp (International) vice-president and CRCC Malaysia chairman Andy Zhao. The signing was witnessed by Zhuo and CRCC Malaysia managing director Huang Zheng.