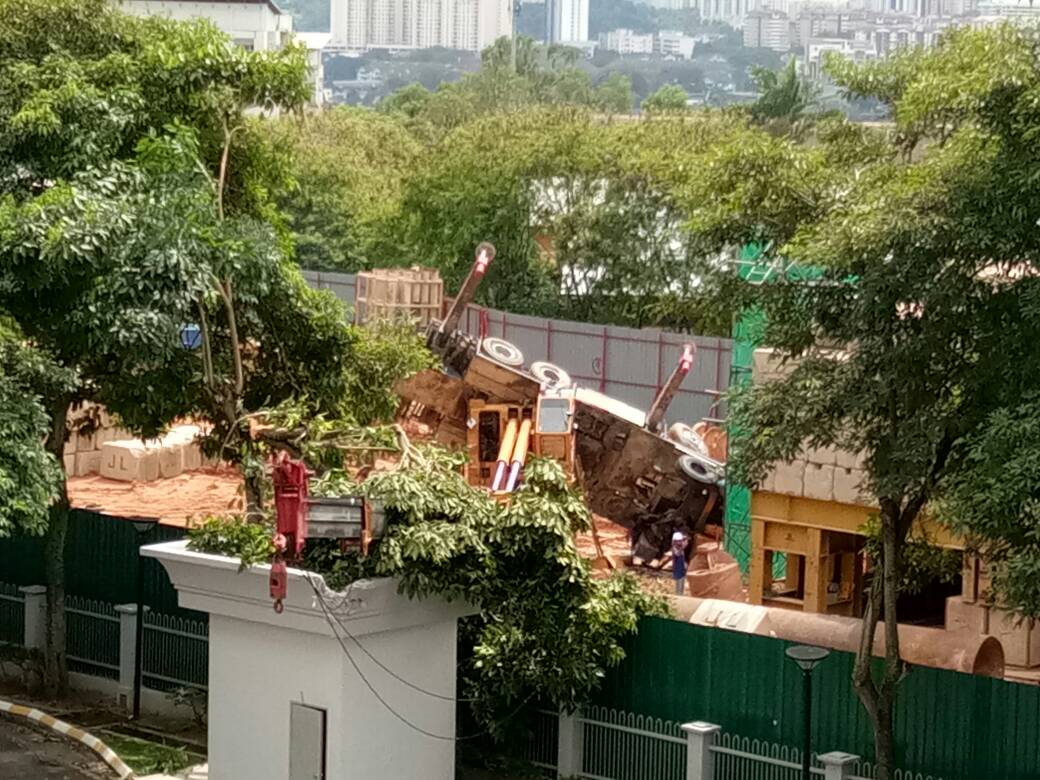 More photos below
PETALING JAYA (Jan 23): A crane at the site of a contentious high-rise development in Taman Desa had fallen into the compound of the adjacent Tiara Faber Condominium.
In a statement, Protect Taman Desa Coalition said during the 2.13pm incident today, the crane had missed "the cars and people underneath it by inches".
"The developer of The Address is rushing to complete the project without taking into consideration the safety and wellbeing of the residents, school students and the general public."
"What is DBKL's (Dewan Bandaraya Kuala Lumpur) say in this? Numerous complaints, objections and protest have been done against this development project but to date, the authorities are keeping quiet about it," said the group.
"Are the authorities waiting for something major to happen before taking any action?" they asked.
The Address, which comprises three towers of over 30 storeys, will come up on a 132-ft-wide parcel originally earmarked as a Tenaga Nasional Bhd reserve.
Besides Tiara Faber Condominium, the site is also surrounded by two low-rise condos, namely Desa 8 (12 storeys) and Desa 1 Residences (13 storeys), as well as two primary schools and one secondary school.
Residents have been up in arms over the development, which has received approval from DBKL to increase the area's density from 60 persons per acre to over 650 persons per acre.
Local residents have banded together to file a judicial review against DBKL for allowing the development, and have also lodged a report with the Malaysian Anti-Corruption Commission to investigate the conversion and subsequent sale of land to a private developer.