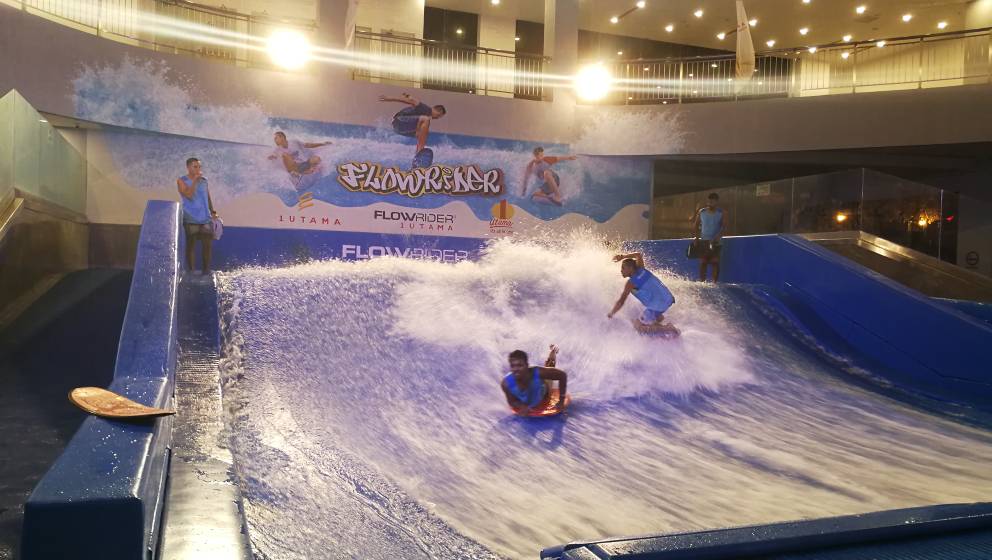 PETALING JAYA (Jan 24): 1 Utama Shopping Centre has officially opened and launched the first phase of 1 Utama E, the newest extension to the mall which adds an additional 592,015 sq ft of gross built-up area (164,687 sq ft net lettable area) to the mall's existing 5 million sq ft.
In conjunction with the launch, it concurrently opened two sports tourism centres – FlowRider (a simulated wave generator featuring sheet wave technology designed in the US for flowboarding, bodyboarding and surfing) and AirRider (an indoor skydiving wind tunnel for simulated sky diving from the Czech Republic and Australia) – that are the first of their kind in Malaysia.
"1 Utama E aims to develop our mall as a multisport and entertainment venue in Malaysia by opening up a tremendous range of tourism opportunities to attract both local and foreign visitors. Its name referenced by an E, stands for excite, entertain and exhilarate – which is how you will feel when trying out our two new exclusive sports tourism centres," said 1 Utama Shopping Centre director Tan Sri Teo Chiang Kok at the launch today.
"Throughout this year, more shops and services will be unveiled under phase 2 of 1 Utama E which we target to complete by mid-2019. Aside from FlowRider, the level on the lower ground floor will be styled as an alfresco street of trendy restaurants, cafes, chic bars and bistros.
"One floor up will be more F&B outlets alongside new-to-market curated retail and specialty lifestyle shops. On the ground floor, we will feature a unique collective living space. As you venture up to levels one and two, there will be a family entertainment centre, AirRider, and a third sports tourism facility to be revealed in the future," Teo added.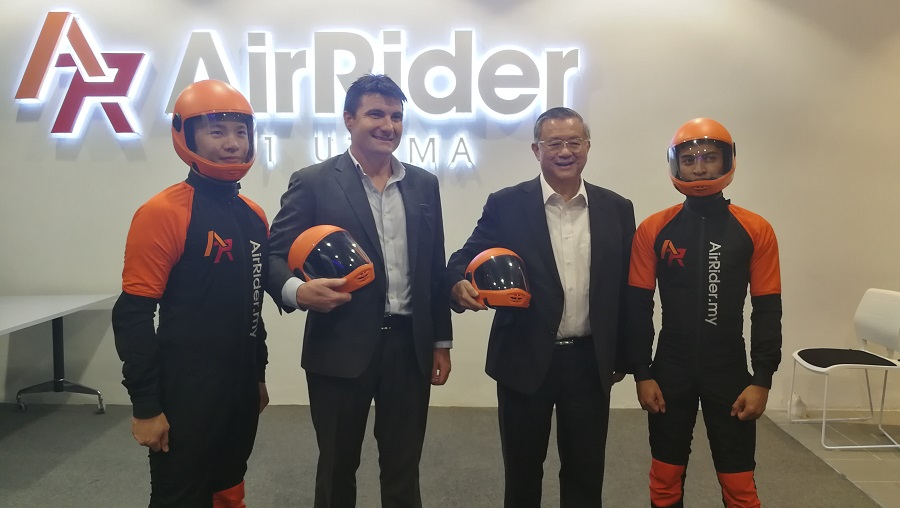 In total, 1 Utama E will have three levels of basement carparks (500 bays) with direct access ramp off Lebuh Bandar Utama as well as via Dataran Bandar Utama and Persiaran Bandar Utama. It will also be directly connected to Gate B of the Bandar Utama MRT station integrated into 1 Utama E.
Several connecting links will be available on all floors will allow shoppers to seamlessly transition between 1 Utama and 1 Utama E.
Teo also pointed out that the response to 1 Utama E has been very positive and has attracted a lot of interest from both locally and overseas visitors.
"Our vision for AirRider and FlowRider is nothing short of ambitious. We are expecting to see a large influx of professional athletes, enthusiasts and tourists from all around the world coming to Malaysia to join events, regional championships and international competitions hosted in l Utama E.
"We hope that this in turn will make a significant contribution to the sports and tourism development for Malaysia and at the same time create employment opportunities and knowledge transfer for our fellow Malaysians who can learn from world-class instructors residing here," said Teo.
1 Utama E has a total development cost of RM150 million and is expected to add additional foot traffic of 2.63 million on top of the average 32.5 million annually.