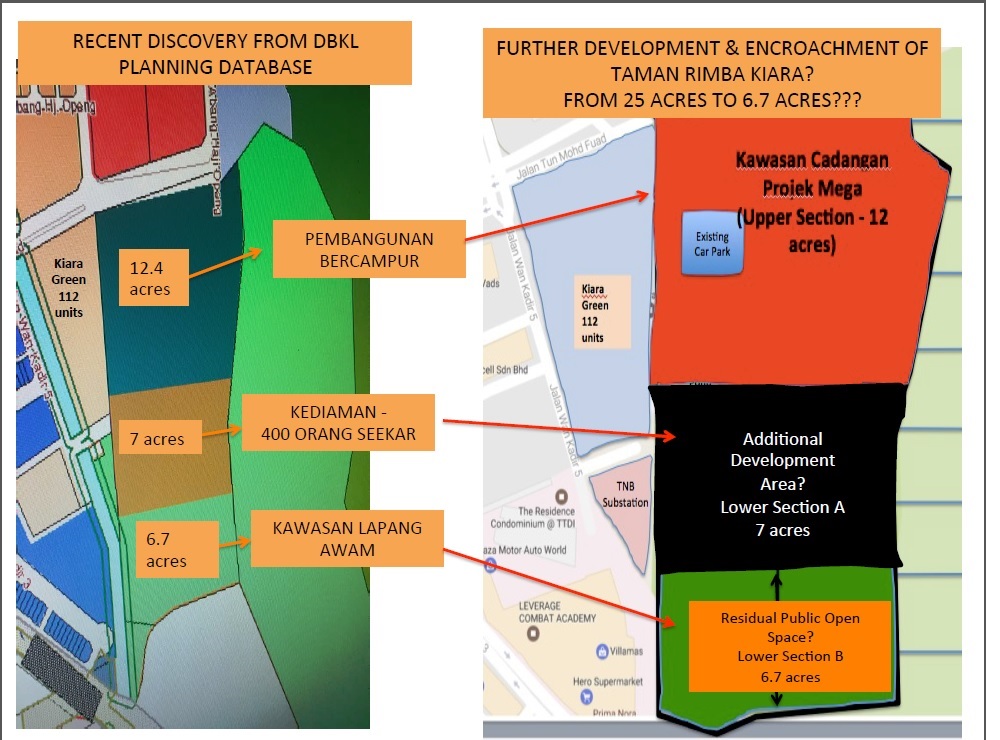 KUALA LUMPUR (Feb 26): Save Taman Rimba Kiara has discovered that further developments on the park in Taman Tun Dr Ismail have been proposed, according to Dewan Bandaraya Kuala Lumpur's (DBKL) planning database.
This new proposed residential development — which is separate from the current proposed high-rise, high-density residential project that is the subject of a court battle — would reduce the park to a mere six acres, from its original 25 acres, said the group's lead strategist and coordinator Leon Koay.
* TTDI RA to submit 1,400 objection letters against redevelopment of kindergarten site
"Some of our residents went to the DBKL office and found this information at the DBKL office, which is not available online. Based on our current understanding of the proposed development [in Taman Rimba Kiara], we have the upper section of 12 acres [for the mixed development] and the lower section of 13.3 acres [for the park]," he said at a press conference today.
"But apparently, it not just contains 12 acres [of mixed development], but there is also another proposal to develop another seven acres [of the park] into residences, leaving only 6.7 acres for the park," explained Koay, adding that there is no further information about the seven-acre future development yet.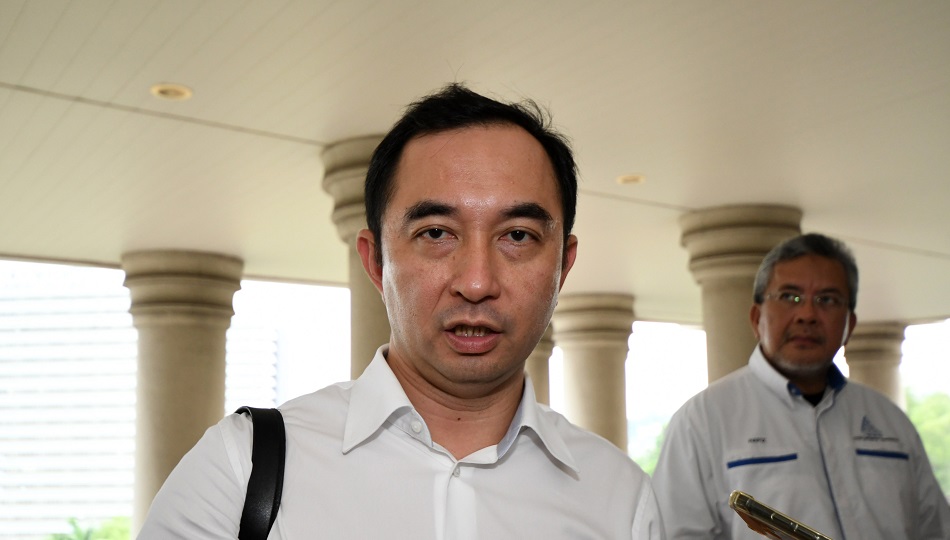 The proposed development on the 12-acre site is for 2,116 units of homes within eight high-rise blocks of 29, 42, and 52 storeys, which would increase the population density in the area from 74 persons per acre to 979.
It also involves the construction of a six- to eight-lane highway.
Taman Rimba Kiara, also known as Lot 55118, has been divided into three sections, according to Koay, citing information from DBKL.
The three sections are section A (upper and lower parts), and section B.
The upper part of section A – which is 12 acres – has been earmarked for the proposed high-rise residential development, while the lower part of section A – which is seven acres – is where the new proposed residential development, which has a density of 400 persons per acre, will be built.
"Interestingly, the name of the area for both upper section and lower section A is Taman Rimba, even the "Catatan" [note] also says "sebahagian Lot 55118 yang dipinda dari OS1" [Part of Lot 55118 moved from OS1]," Koay noted.
The remaining 6.7 acres of the park, called section B, is denoted as "OS1" — "Kawasan Lapang Awam" (public park). The name of the area is also "Taman Rimba".
"There are three points we want to highlight: It appears there may be a larger, quiet plan in place to develop even more of Taman Rimba Kiara and may eventually leaving only six acres from the original 25 acres.
"Secondly, there does not appear to be any serious commitment to protect Taman Rimba Kiara, even using DBKL's claimed park area of the 13.3-acre footprint.
"And finally, it does appear that the whole of Taman Rimba Kiara is under threat of eventually being taken over for development," Koay concluded.
He also said the above plans are evidence that go against the commitment made by Federal Territories Minister Datuk Seri Tengku Adnan Tengku Mansor, who said "I will never touch Taman Rimba Kiara" at a dialogue with residents in November last year.
Koay also pointed out that even if the new residential development does not take place, the current 13.3 acres of park land that is currently untouched will be encroached upon for new roadworks and car parks.
"The FT Minister had alluded to this [the proposed access roadworks to the development] in his Dec 19 press statement but we now have a clear copy from the Traffic Flow Map that has been disclosed in the Datuk Bandar's affidavit.
"DBKL proposes to create access into the proposed development area by building an elevated ramp from Jalan Wan Kadir that enters via the 13.3 acre footprint of Taman Rimba Kiara and connects into the proposed development area. Instead of building an access road on the development area, DBKL is allowing the access road to be built on the balance 13.3-acre park area, which will eat up almost 10% land of the park," Koay stressed.
Besides the new access road, DBKL is also stipulating that the new park lots, which is now located in the 12-acre development site, be relocated to the lower section of the park, which will eat up another 2% of the park area.
"A 60-bay parking lot typically takes up 0.250.3 acres, depending on configuration. This is approximates to another 2 to 2.25 acres eating up the park area," Koay shared.
To recap, on Aug 23, 2017, the TTDI residents were granted leave by the KL High Court to pursue a judicial review against DBKL and the KL mayor.
The judicial review seeks to quash the conditional planning permission and development order granted by DBKL to property developer Memang Perkasa Sdn Bhd, which Malton Bhd holds a 51% stake in, on Feb 28, 2017 and July 13, 2017, respectively.
On Dec 14, 2017, the KL High Court had dismissed the stay application by residents pending a judicial review of the development order granted by DBKL to Memang Perkasa Sdn Bhd. The residents have been ordered to pay RM40,000 in legal fees incurred in the stay application.
As at today, the ongoing judicial review for the proposed development in Taman Rimba Kiara has its case management set on April 18, 2018.
Like our content? Check out
Narratives
– where we curate stories based on topics to keep you well and broadly informed about Malaysian real estate.
Looking for property? Check out
Location Scan
, where we summarize all available options and facts you need in a few clicks. We have updated the tool to include MRT3 stations too.
Curious how much you can borrow? Use
LoanCheck
to get your maximum loan eligibility from various banks, or
LoanReport
to get a FREE CTOS/CCRIS credit report.