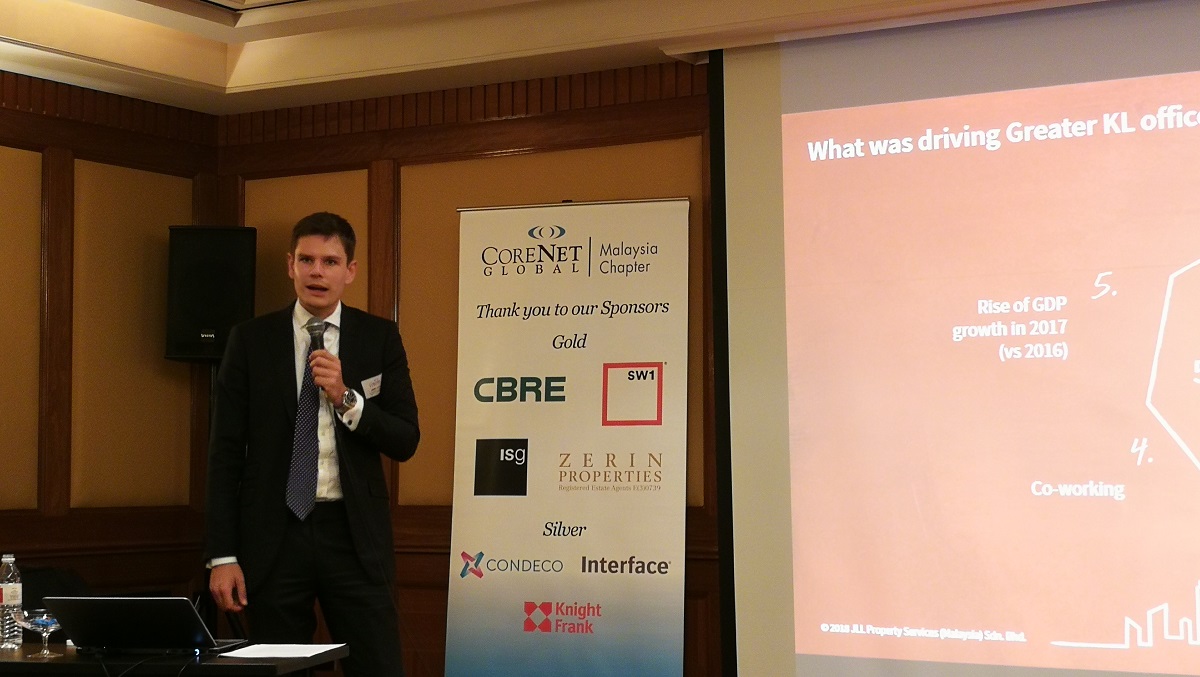 KUALA LUMPUR (March 7): The KL central business district (CBD), KL fringe and decentralised areas within the Greater Kuala Lumpur office market are expected to perform differently this year, as various factors drive demand for certain locations more than others, according to JLL Property Services (Malaysia) Sdn Bhd international real estate agent James Short.
Coupled with companies seeking greater cost efficiency, outsourcing business services and spending wisely on capex, the growing co-working spaces, improving infrastructure, better economic outlook and new high-specification buildings completions are believed to provide support for the office market this year, he said at a briefing organised by real estate association CoreNet Global's Malaysia Chapter today.
* 'Companies should tap soft market to relocate and retain talent'
Thanks to improved connectivity and accessibility, the decentralised areas such as Petaling Jaya, Subang Jaya, Puchong, Shah Alam and Klang are expected to see increase in rentals and lower vacancy rates, he noted.
According to Short, the decentralised areas recorded a vacancy rate of 13.4% and gross rents of RM4.88 psf per month in 2017.
"These decentralised areas have been a real benefit from public transport and all of that investment and infrastructure are really opening up these areas," he said.
He added that besides the upcoming mass rapid transit (MRT) Sungai Buloh-Serdang-Putrajaya line, the existing highways are opening up these cities, which increase their attractiveness to businesses and employees.
On top of that, with companies continuing to outsource their business services, office spaces in the decentralised and KL fringe areas are expected to benefit due to the limited supply of good quality and MSC-status buildings in these regions, thus boosting the rents for office spaces, he said.
Office spaces in the KL fringe areas are expected to see an increase in rents from RM6.23 psf per month in 2017.
However, the vacancy rate is poised to rise from 8.7% recorded last year due to a large influx of supply from building such as Menara Etiqa, Southpoint Tower, Mercu 2 @ KL Eco City, Pavilion Damansara, Tower 1 of KL Eco City and KL Metropolis over the next four years.
Nevertheless, Short believes that the rents in the KL fringe areas will still go up as the upcoming supply is excellent, Grade A new office buildings, which will be sought-after by the market and the vacancy rate is estimated to decline in 2019 as there is no new buildings that will be completed in the year based on current data.
On the KL CBD front, there will also be a large influx of supply coming from The Exhange 106, Equatorial Plaza, Menara Hap Seng 3, Prudential Tower at Tun Razak Exchange, Menara Felcra, PNB 118, Cititower, Lot 91 at KLCC and Lendlease offices.
Hence, the rents for offices in the area are expected to soften from last year's RM6.26 psf per month while the vacancy rate is expected to climb from 14.7% registered in 2017, said Short.