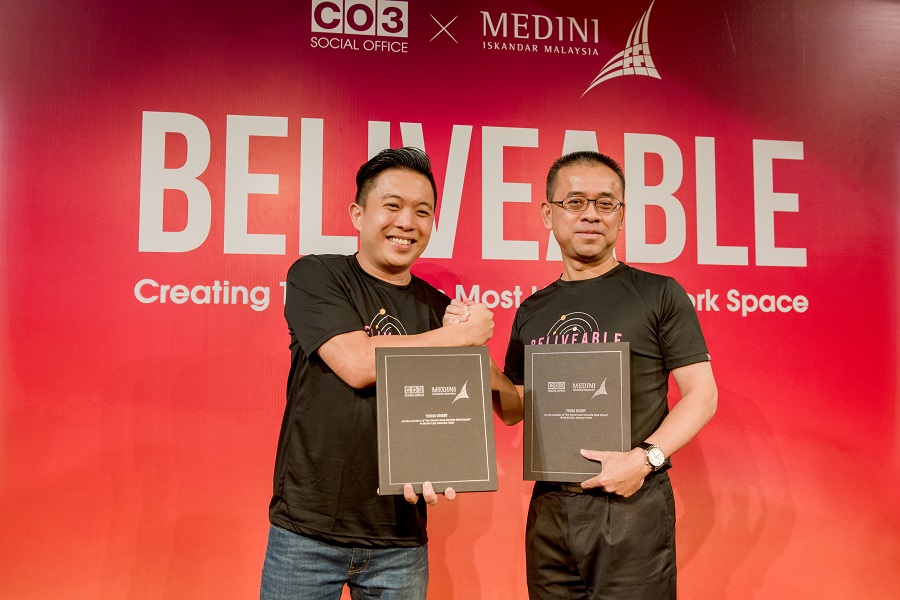 PETALING JAYA (March 19): Co-working space operator CO3 Social Office Sdn Bhd (CO3) is collaborating with master planner and developer Medini Iskandar Malaysia Sdn Bhd (MIM) to build C03 Campus @ Medini 9, a 200,000 sq ft co-working space in Medini City that can accommodate up to 4,000 members.
CO3 and MIM had signed the term sheet in relation to the joint venture and shareholders agreement last Saturday, marking the first stage of collaboration between the two parties, whereby a feasibility study will be carried out, with the definitive agreement expected to be signed in June, said both parties in a statement today.
"Co-working spaces are becoming popular and we are very excited to partner with CO3, a brand name that is synonymous with lifestyle-centric working spaces," said MIM CEO and managing director James Tee.
"Their innovative approach appeals to many as the conducive environment they provide drives productivity, facilitates collaborations and builds communities. We believe our tie-up with CO3 will generate a lot of interest. In the near future, we will be offering office space that caters to all types of businesses, from start-ups right up to large size organisations," he added.
Meanwhile, CO3 co-founder and CEO Yong Chen Hui said Medini City is a great starting point for CO3 Campus, as its role as the central business district of Iskandar Puteri and its strategic location will be able to attract a unique mix of local and international start-ups, small and medium enterprises, and multinational corporations, among other setups.
"CO3 Campus will be a converging point for people, ventures and organisations of various fields and industries, creating a vibrant community and forming the basis of a robust eco-system," said Yong.
The new office will be based on CO3's Liveability Model, which integrates the elements of "work space", "lifestyle", and "ourselves" into everyday life, said the statement.
The new workspace enables members of the CO3 community to gain access to Special Purpose Spaces (SPS), which house a variety of resources.
Some of SPS include a Creative Zone featuring Editing Hubs, Tech Hubs, a Mini Recording Studio, and even Virtual Reality Hub, offering equipment such as iMac Pros and VR development kits among others.
Other SPS include a Designer Resource Centre, Magazine Library, and CO3's upcoming venture, Lens Library, which aims to democratise the photography industry, it said.
Moreover, CO3 is also working with various strategic partners to incorporate more lifestyle elements such as dining, hair care, beauty, entertainment, diving and summer camp.
CO3 also announced the reddotX programme, a RM100 million funding with the goal of incubating 1,000 entrepreneurs and start-ups in the next three years.