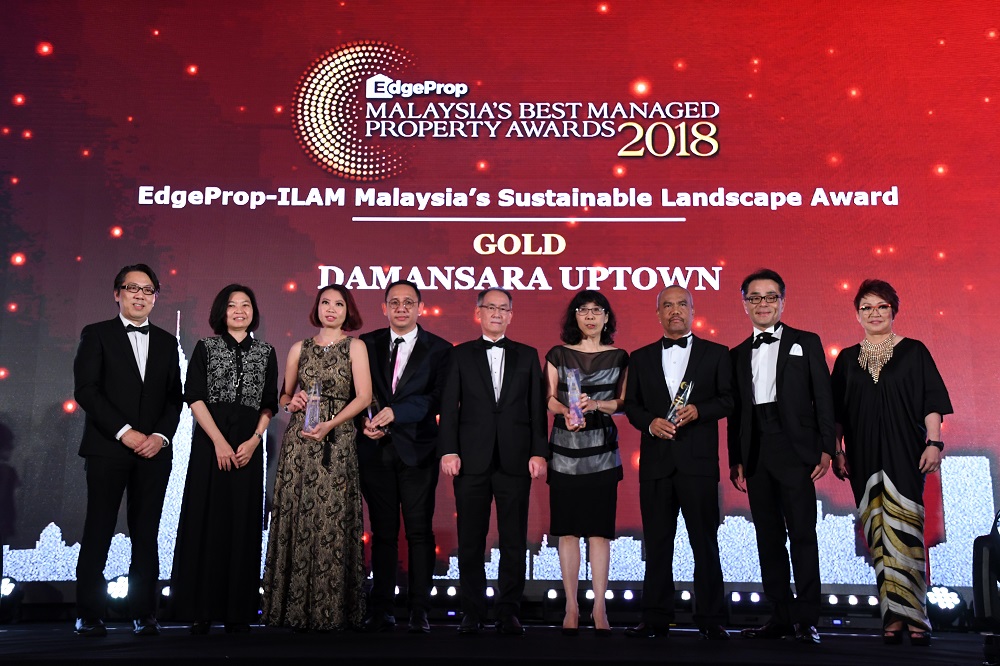 PETALING JAYA (May 7): Damansara Uptown, Petaling Jaya and Jade Hills, Kajang both clinched the Gold award for EdgeProp-ILAM Malaysia's Sustainable Landscape Award 2018 at the EdgeProp Malaysia's Best Managed Property Awards 2018.
The second Awards since 2017, EdgeProp Malaysia's Best Managed Property Awards aims to raise the bar on local property management practices, benchmarking against the best in class globally.
This year, the Awards introduced two new categories: EdgeProp Malaysia's Responsible Developer: Building Sustainable Development Awards 2018 and EdgeProp-ILAM Malaysia's Sustainable Landscape Awards 2018.
EdgeProp-ILAM Malaysia's Sustainable Landscape Awards is a collaboration between EdgeProp.my and Institute of Landscape Architects Malaysia (ILAM). The awards will benchmark local landscaped projects/spaces that are designed, built and maintained for sustainability.
Damansara Uptown by See Hoy Chan Sdn Bhd and Jade Hills by Gamuda Land Sdn Bhd won joint Gold for this award. Twin Arkz @ Bukit Jalil and The Leafz @ Sungai Besi, both developed by Exsim Development Sdn Bhd, took the Silver and Special Mention awards, respectively.
"I would like to extend my gratitude and thankfulness to the team. They did a very good job to make Jade Hills another beautiful township project by Gamuda Land," said Gamuda Land executive director Datuk Abdul Sahak Safi.
Meanwhile, See Hoy Chan CEO Joe Tan was excited to see that the effort of upgrading Damansara Uptown's landscape has finally paid off.
"I must thank the stakeholder to take the initiative to upgrade the long completed project, which is not very common in the industry. The investment has paid off and I'm proud that the team has made such an achievement in this award," Tan noted.
Praxcis Design Sdn Bhd director Yap Nga Tuan was also proud to be the appointed landscape architect of Damansara Uptown landscape upgrading project. "Though I'm confident with the project but I was still pleasantly surprises when Damansara Uptown was announced the joint gold winner. I'm proud to be part of the project and would like to thank See Hoy Chan for the opportunity."
As for Exsim Development head of corporate communications Michelle Siew, she also thanked her team their good work.
"We are truly honoured and this comes as a surprise for us. We see that landscape is one of the key elements [in building homes] today. The awards have inspired us to continue to put in more effort in the landscape and sustainability of our projects," said Siew.
"It is a big surprise for us. Thanks to the judges for recognizing us and also a thank you to the developer - Exsim Group for giving us the opportunity to work together for these projects," said Hoda Design Sdn Bhd principal and landscape architect Ho Peng Ming.
The full details of EdgeProp Malaysia's Best Managed Property Awards 2018 will be published in the May 11, 2018 issue of the EdgeProp.my pullout.