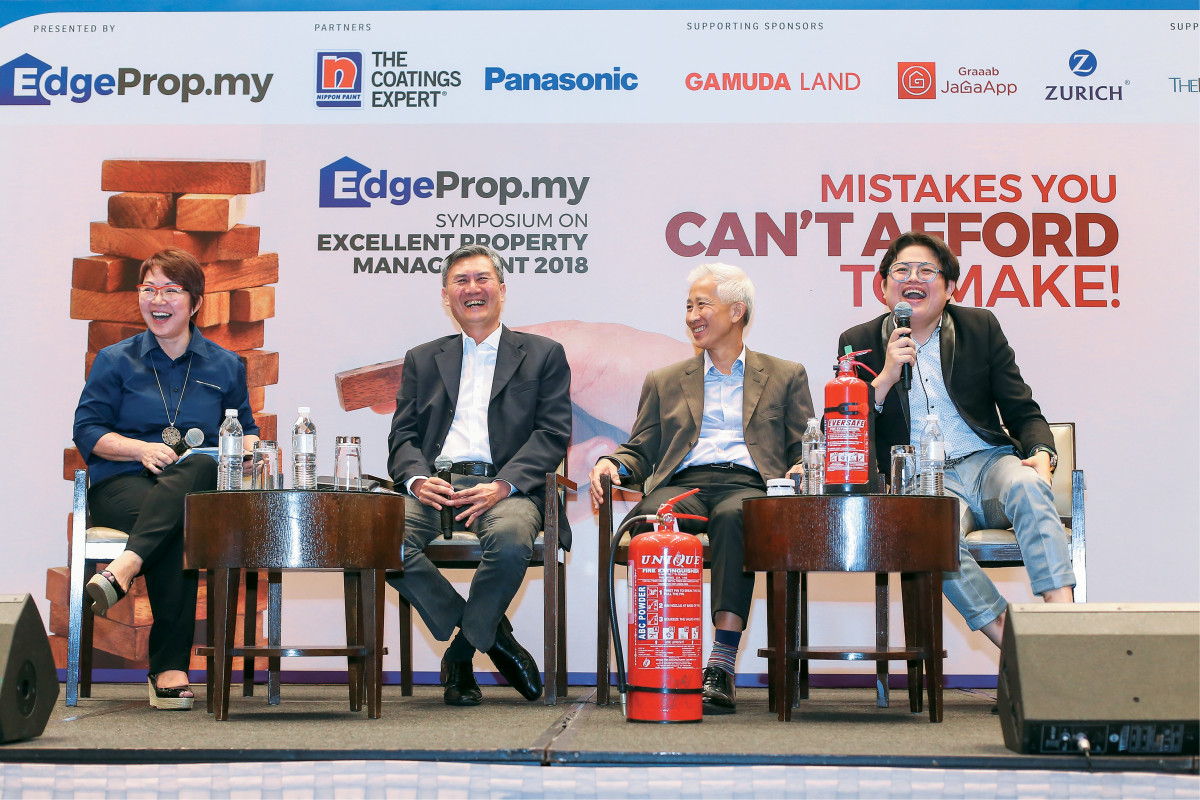 We all make mistakes, but purchasing the "wrong" property is a mistake we cannot afford. Buying a property that is not properly managed can lower the value of the property in the long run and, worse, could even cost the lives of the people living in it.
At a panel discussion themed "Mistakes you CAN'T afford to make!" at EdgeProp.my Symposium on Excellent Property Management 2018 on May 12, three experts in their respective fields took questions from the floor and shared their views on issues related to property management and maintenance, including building safety and communal living disputes.
The panellists were Architect Centre Sdn Bhd accredited building inspector and trainer Anthony Lee Tee, the Real Estate and Housing Developers' Association Malaysia (Rehda) Institute chairman Datuk Jeffrey Ng and Chur Associates founder and managing partner Chris Tan. The session was moderated by EdgeProp.my managing director and editor-in-chief Au Foong Yee.
The symposium was organised by EdgeProp.my with partners Nippon Paint Malaysia and Panasonic Malaysia. Supporting sponsors were Gamuda Land, Red Ideas Sdn Bhd (Graaab JaGaApp) and Zurich General Insurance Malaysia Bhd. The event was also supported by The Edge Malaysia.
Mistake #1: Impulsive buying without due diligence
"In the current buyer's market, purchasers will find themselves overwhelmed by all kinds of rebates and freebies as well as posh designs with various lifestyle facilities, but they may not be aware that the upkeep of the building in future is another issue," said Ng.
He admitted that many architects and property developers care too much about the aesthetics of their building design, hoping to gain lasting impressions, when they should instead be coming up with sustainable designs that make buildings long-lasting and easy to manage.
When buying a property off the plan, it would be impossible for a buyer to know the quality of a building or development before it was built. Hence, Ng advised purchasers to buy from reputable and responsible developers that have good track records.
"Responsible and reputable developers would want to be in business for the long term, so they are willing to put their effort into fixing the defects as well as in constructing a high-quality building, as they would not want to risk their reputation even with one project," he said, adding that responsible developers will give due consideration to the future management and maintenance of a completed project from the moment they begin planning and designing a project.
This is because whether the development will be sustainable or easy to manage in the future very much depends on its design and construction. Buyers can also keep themselves abreast with building assessment guidelines or green building initiatives so they can make the right choice when buying a property, said Ng.
Mistake #2: Procrastination in fixing defects
Certainly, there is no perfect building or house that comes without defects. Every property will have some defects even if they are built by the same contractor. However, it is critical that defects are fixed quickly.
Hence, the panellists stressed that property owners should be actively involved in checking their properties and getting their developers to fix the defects before the defects liability period is over.
"Defects are normal as [a big part of] the construction process relies on human labour. No matter how strict the process is, there will still be defects. However, most defects can be fixed," said Architect Centre's Lee.
In cases where the property owners' request to fix the defects is ignored by the developer, property owners can bring the case to the respective tribunals or seek help from the local authorities or even people's representatives, said Tan of Chur Associates.
Tan said homeowners must equip themselves first with knowledge about their rights as property owners, so that they are able to take the right action when conflict arises with developers or between property owners.
Rehda's Ng added that a responsible developer would not try to delay fixing the problem. He also suggested that property owners who failed to get any help from the developers should keep a record of all the relevant documents and lodge a complaint to professional bodies and industry bodies such as Rehda and the Malaysian Institute of Architects.
Mistake #3: Negligence in maintaining fire-fighting equipment
It takes the collective effort of all stakeholders to ensure that a building is safe for its occupants. One way is to make sure that the building is equipped with functional equipment such as fire-fighting equipment.
Lee advised the management corporations of strata properties to engage with professionals as well as the Fire and Rescue Department to carry out inspections from time to time on the functionality of the fire-fighting equipment in their projects.
"Most of the time, people feel safe just because they have [fire and house owner] insurance, but then they neglect another important thing that can put them at risk in claiming compensation — and that is, the building may not be fire-safety compliant," he stressed, adding that apathy is another reason for the lack of fire prevention measures at home.
One of the easiest and most effective fire-safety equipment to have at home is a fire extinguisher. "There are two different sizes of fire extinguishers — 2kg and 9kg. However, 9kg would be too heavy for most people; hence, the 2kg fire extinguisher will be sufficient for a home with a built-up of around 1,000 sq ft. If you are staying in a double-storey house, it is better to have one upstairs and one downstairs," said Lee. He suggested that owners install fire detectors and alarm systems as well.
This story first appeared in EdgeProp.my pullout on May 17, 2018. Download EdgeProp.my pullout here for free.