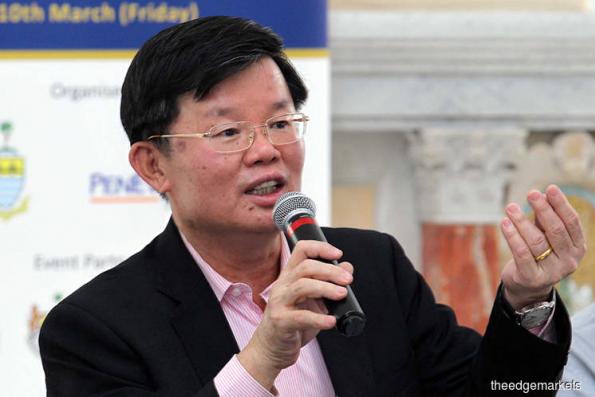 PETALING JAYA (June 1): The Penang government is waiting for the federal government to decide on whether to review the Penang Transport Master Plan (PTMP) project.
Bernama reported that Chief Minister Chow Kon Yeow (pictured) said all project proposals have been submitted to the relevant federal agencies for approval.
He added that the project delivery partner SRS Consortium is willing to engage with the federal agencies to furnish additional details on the project if necessary.
"At the moment, we are waiting for the federal government's decision whether such infrastructure projects have to be reviewed or put on hold for the time being," he said.
He was responding to the Consumer Association of Penang, which urged for a review of the multi-billion-ringgit project.
The state-initiated PTMP has a projected cost of RM46 billion and features an undersea tunnel linking the island to the mainland, highways, light rail transit, monorail, and extensive bus connectivity on the island and the mainland.
Chow said the state government had obtained approval for all three paired roads under the project.
According to him, the project was financed through land reclamation undertaken by the private sector and did not involve federal funds.
"The first one — Air Itam to Tun Dr Lim Chong Eu Expressway — is almost ready, but we have to wait at least one year to address other issues. Hopefully, it will not be reviewed," he said.
He also urged the federal government to review another category of mega projects involving flood mitigation projects so that they can be fast-tracked.
"We have waited for about 18 years for the Sungai Pinang Basin Flood Mitigation project to be implemented —and yes, it should be reviewed, but for immediate implementation, not review to stop," he said.
He added that the new Bukit Dumbar Resevoir 4 (BDR4), which cost RM9.3 million, was built to store more treated water in anticipation of future demand, especially from the south of Penang.
According to him, Penang's water demand has increased by 11% from an average of 774 million litres per day in 2008 to an average of 826 million litres per day in 2017.
"We must always plan ahead to avoid a water crisis because we do not want the people to suffer. The BDR4 will benefit about 315,000 people and thousands of businesses located in the southern part of the island," he said.