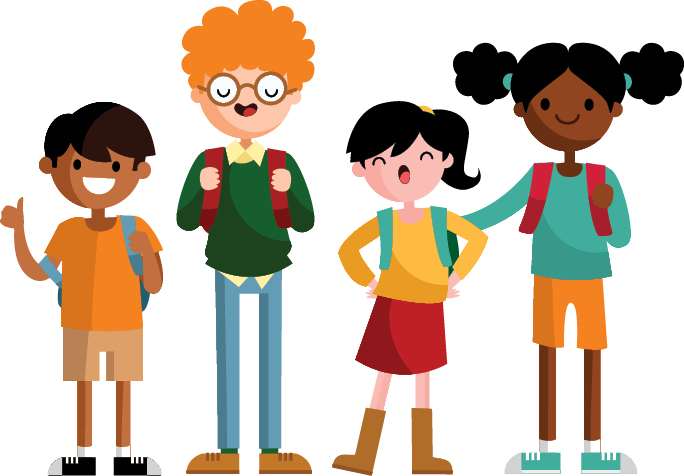 To seek your interest, marketing materials of property projects often highlight nearby amenities in the area. They will mention things like "only 10 minutes' drive to hypermarket" or "less than 3km from the LRT station". And you would have noticed that of late, proximity to international schools have been added to the list too.
So, do schools really raise the appeal of an area among property investors? Do international schools in particular, impact property yields and price growth?
International schools on the rise
Data released in March last year by ISC Research, a provider of English-medium K12 international school intelligence, trends and data, showed Malaysia leading Southeast Asia (SEA) with the highest number of students with 71,589 students enrolled in premium English-medium international schools. In terms of schools, the country recorded the third highest number in SEA with a total of 170 international schools, just behind Indonesia (190 schools) and Thailand (181 schools).
It was also noted that the demand for international schools in the region among middle-income families are on the rise.
ISC field researcher Sam Fraser said in an ISC Research report earlier this year that "the mid-fee international school sector has development potential throughout the [SEA] region, but to date, has remained relatively untapped. Due to the increasing number of expatriates with trimmed benefit packages, and the growing number of local families seeking out international education options, there is a real need for such schools which more people can afford from their own salaries," Fraser had shared.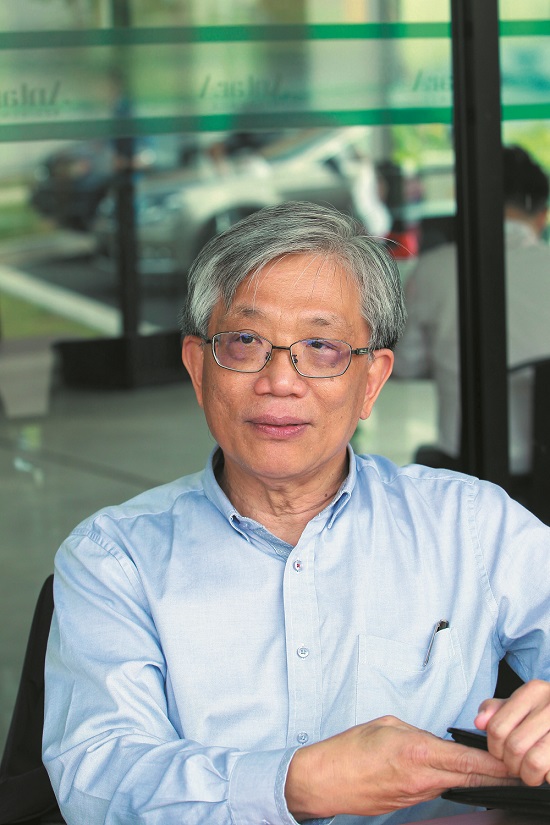 The nearer the better?
With the observed rise in demand for international education in the region including Malaysia, do properties located near international schools fare better than others in terms of demand as well as price and rent growth?
There is no doubt that new townships that are being developed today often include an international school in their overall master plan as one of their amenities.
EdgeProp.my selected five international schools in the Klang Valley and three non-landed homes within a 2km radius of each of the schools to see whether they commanded higher average price psf than those further away from the international school.
The data used is based on the latest average annual transacted price collated by EdgeProp.my.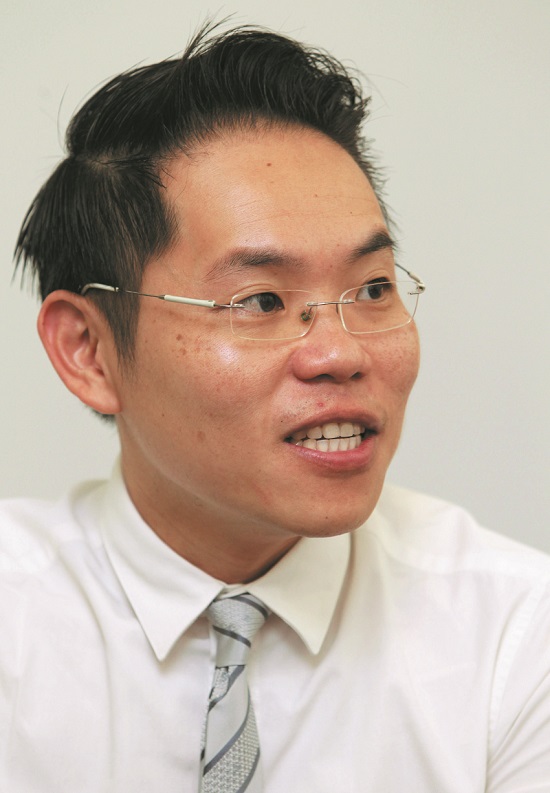 The verdict
So, is proximity to international schools correlated to property prices? The simple answer would be, no. After all, the price of a property depends on many factors and apple to apple comparisons would be difficult.
Laurelcap Sdn Bhd executive director Stanley Toh points out that while having an international school in your township may make the development more marketable, it does not mean a property near an international school will automatically command a higher price than other similar developments without that institution.
"In today's property market, there are many new developments introducing international schools but the pricing remains competitive. Thus, I would say it helps with marketing the project but not so much the value or prices," says Toh.
Henry Butcher Malaysia chief operating officer Tang Chee Meng concurs. According to him, the presence of international schools in a neighbourhood will attract expatriate tenants and in the process, may bring better rentals and higher prices for the property. But there are also other factors that contribute to the value of a property, which must be taken into consideration.
"Factors such as location, accessibility and availability of public transport, design, maintenance, age of building, state of the economy and the overall property market should be looked at in totality. Proximity to international schools alone may not bring about better prices. The student enrolment as well as household income levels of the foreign students will also affect the rental budgets and hence indirectly, the property prices," says Tang.
According to him, private international schools would be located on land approved for commercial use, which means that the developments in the immediate vicinity would probably be commercial in character.
"This means that the apartments located along the same street as the international school would more likely be serviced apartments or Small-office Home-office (SoHos) which are typically smaller in size and quite often though not always, higher in price on a psf basis compared to larger condominium units built on residential land," Tang shares.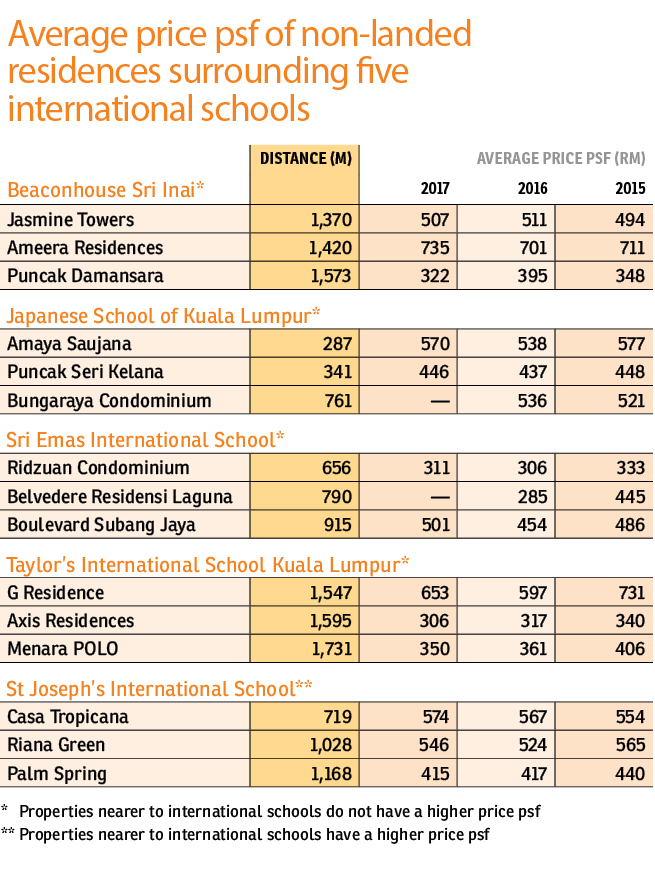 Increased appeal for the neighbourhood
While an international school does not raise property prices, it can raise the appeal of a development, says Laurelcap's Toh.
"I would think that developers would have done some studies before they conceive the idea to introduce an international school in their development. As international schools are associated with expensive school fees, naturally the development has to appeal to the affluent group of people. Hence the properties they offer in the development have to follow in tandem," Toh offers.
He raises the point that not everybody can afford to send their kids to international schools. "As it is, for the majority of the public, the rise in cost of living is still a primary issue. There are alternative options for a child's education. Hence, whether an international school is present or not in the development would be secondary to most homebuyers," says Toh.
Nevertheless, the neighbourhood in which the international school is located plays a big part in influencing the price of properties located there. For example, Tang says that property prices in Mont'Kiara, which has a number of international schools, are higher than those in Subang Jaya as Mont'Kiara is viewed as a more prestigious residential area.
"Secondly, the convenience of being able to walk to school instead of depending on public transport will give a property an edge over those which are located further away. However, other factors will also influence the price of the property, for example, the age and condition of the building and the standard of maintenance. A property which is poorly maintained may fetch a lower price even if it is located closer to an international school.
"Generally foreign expats with school-going children are prepared to pay a bit more for better quality accommodation for their family. As such, properties that they select tend to fetch good rentals," Tang highlights.
On the other hand, Laurelcap's Toh believes that proximity to international schools would help with the letting out of a property but it does not mean the rental will be better.
"For international schools, most of them, if I am not mistaken, have contract foreign teachers which stay for two to three years, and then a new batch would replace them. It is seasonal, so if your unit is not ready to be rented out, or if there is too much competition, you would have missed the boat. Therefore, I don't think there is a direct correlation between proximity and rental yield," Toh explains.
Unquantifiable impact
Toh opines that ultimately, it is the branding that helps promote lifestyle and wholesome living in a particular development.
"Having said that, entry into international schools in this country is not geographically-based. You can live in Damansara Heights and send your kids to school in Subang Jaya as long as you can afford it," he notes.
For Tang, generally the presence of an international school will carve a more positive and prestigious image for an area and hence help to generate better rental yields for property owners there.
"Investors are keen to invest in properties in the area due to the higher rental demand and better rental yields. However, no study has been carried out and it is not possible to quantify the impact international schools have on property values in an area," Tang concludes.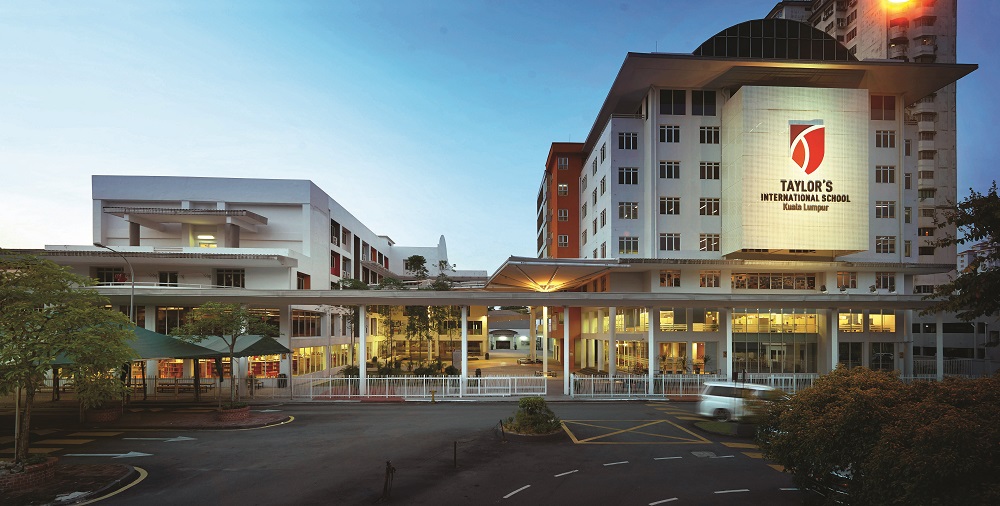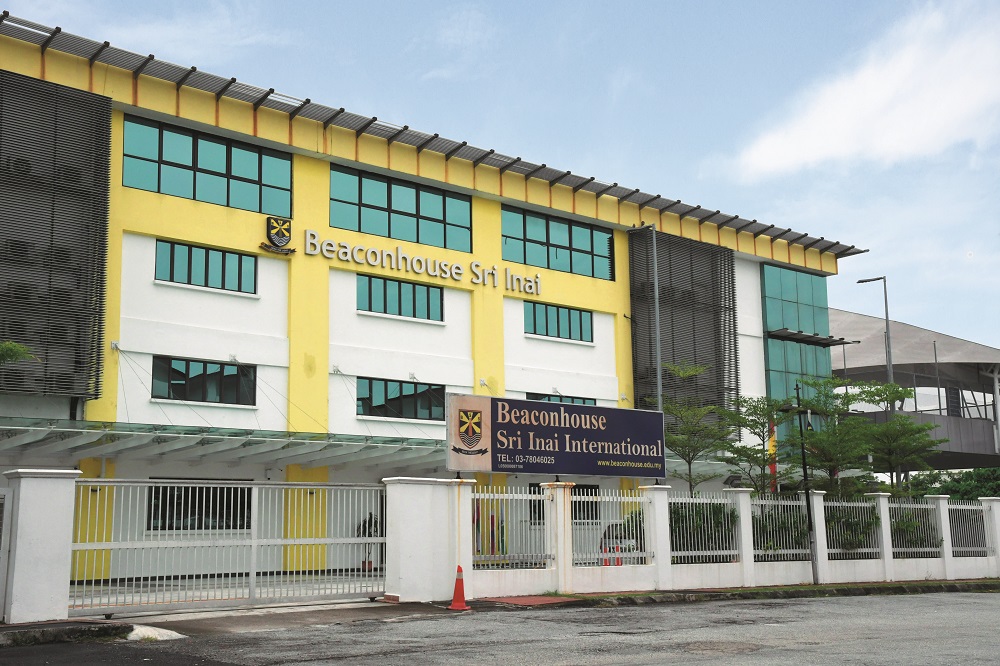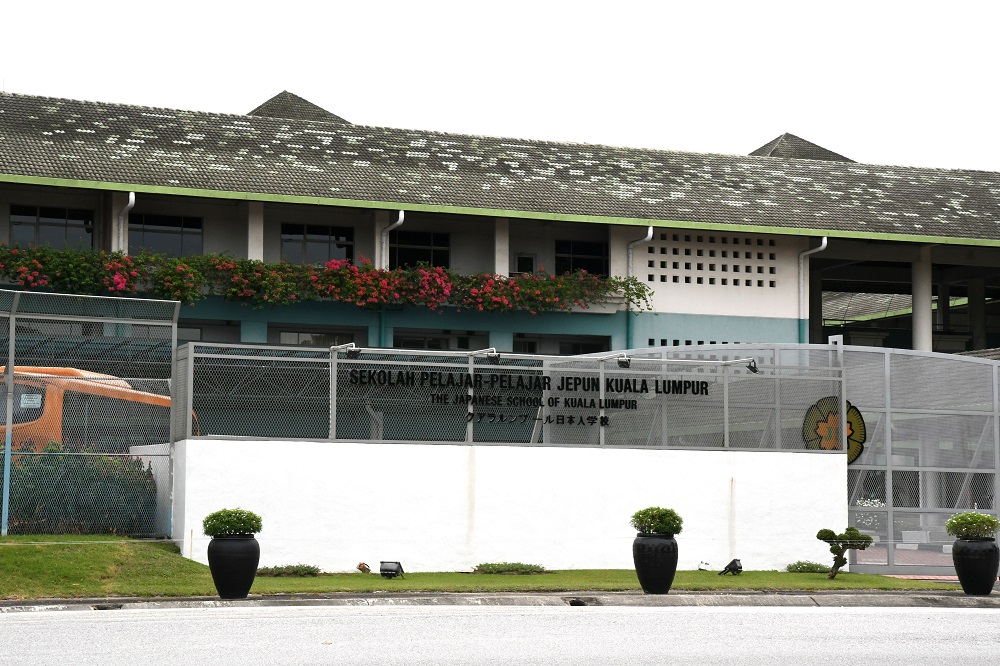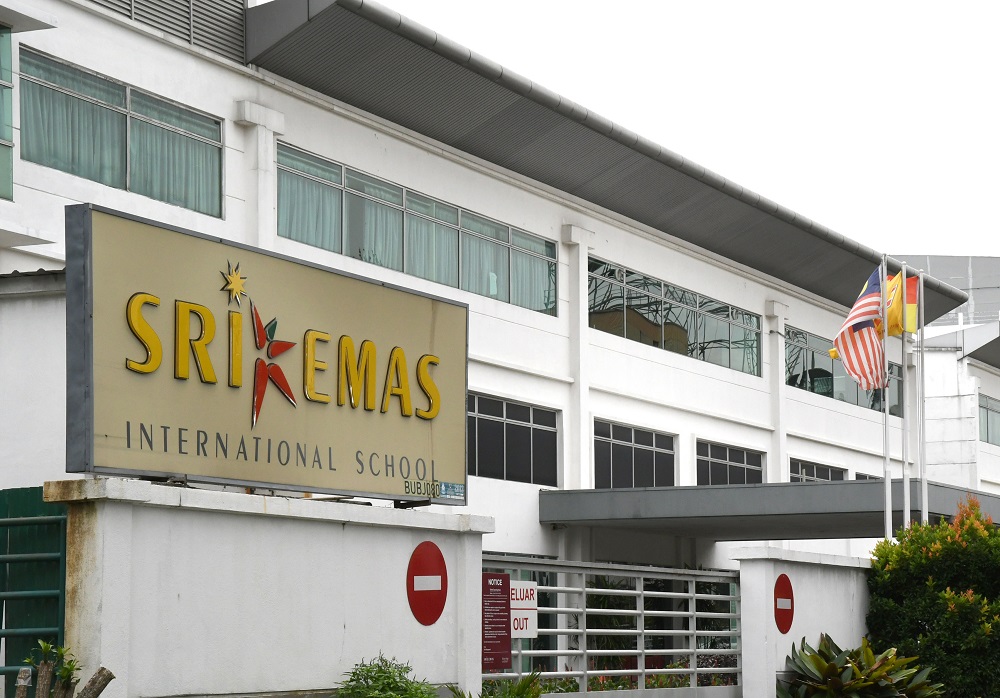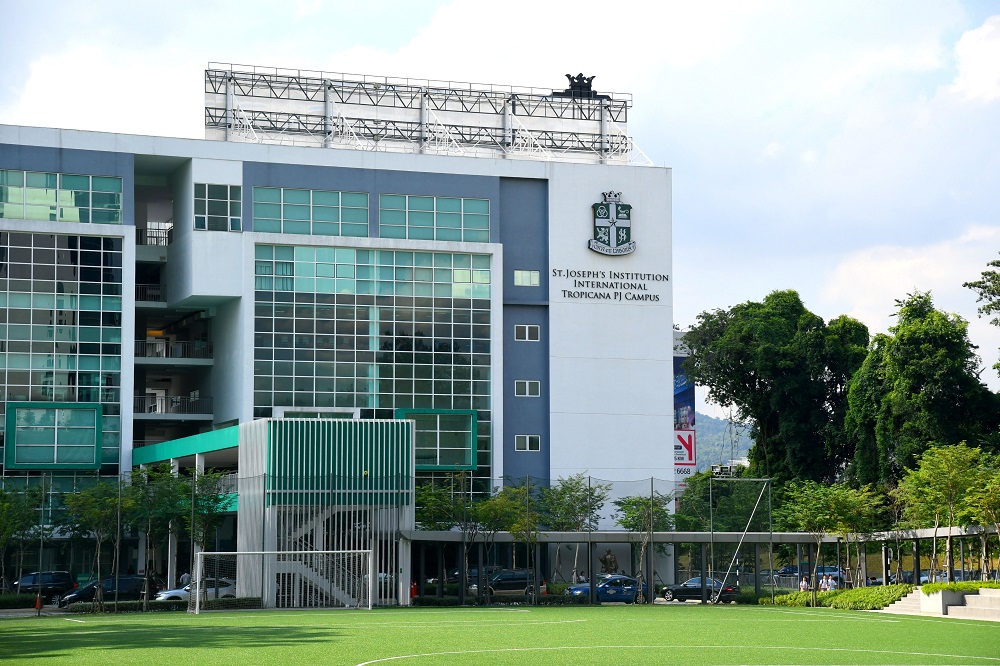 This story first appeared in the EdgeProp.my pullout on Aug 3, 2018. Download EdgeProp.my pullout here for free.