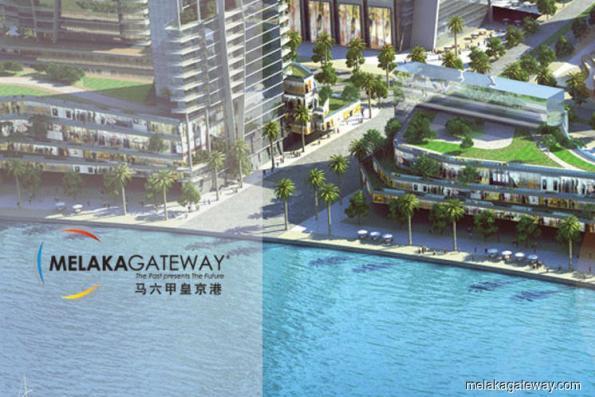 KUALA LUMPUR (Sept 4): Two mega projects are in the local news, lately. One is Forest City in Johor and the other is Melaka Gateway.
Both are attracting a lot of attention, some positive and some NOT SO positive but an article by Bloomberg has a different view about these two developments -- and it is has an ominous tone.
"There seems to be something of a correlation between the construction of artificial islands bejewelled with fancy real estate and an economy that's about to go off the rails," said the Bloomberg report.
"Where is it that we've seen glittering archipelagos like Malaysia's Forest City and Melaka Gateway developments before? … Is it Dubai's World and Palm Jebel Ali developments? Both sit all but deserted a decade after the 2008 financial crisis crashed their dreams of creating exclusive, private-island enclaves for the likes of Michael Schumacher and David and Victoria Beckham. Or the Bridge of the Horns project, which improbably promised to create megacities on opposite sides of the war-torn, pirate-infested Bab el-Mandeb straits?"
The article also said that Melaka Gateway's port and industrial park "carry echoes of Kansai International Airport, the Renzo Piano-designed terminal on an artificial island in Osaka Bay".
The latter still has an 848 billion yen (RM31.5 billion) net debt more than 30 years after work began.
"In a similar vein, Jiang Zemin opened Hong Kong's international airport on reclaimed land in July 1998. At that point, the territory's economy was contracting by 8.3 percent, and the government had suspended land sales to prop up real-estate prices and avert a banking crisis."
But the report is not all gloom and doom for such land reclamations. The article also noted that many megacities today are constructed on swamps and shorelines – "including Tokyo, Hong Kong, Singapore, Chicago, Mumbai, Boston, Jakarta, Manila and Mexico City, not to mention all of Venice, about a quarter of the Netherlands and Macau's glitzy Cotai Strip".
"Still, the mixed history of previous developments should remind investors and potential residents to look beyond the glamour of the scale models and CGI flythroughs and think a little harder about whether the developments are all they're cracked up to be."
The 1,504.9ha Melaka Gateway mixed development is planned on four artificial islands with residential, commercial, cultural, entertainment and lifestyle elements, and was envisioned to be the largest private marina in Southeast Asia by 2025.
In July, it was reported that Transport Minister Anthony Loke said that no sign of work have been seen at the development site near Pulau Melaka, and that the relating approvals for its maiden proposed facility — the Melaka International Cruise Jetty — has lapsed.
The project has also incurred the anger of residents from the Portuguese Settlement in Bandar Hilir.
They are against the reclamation activities for the RM43 billion seafront project.
As for Forest City, Malaysians living in Johor have complained about Chinese nationals buying up properties in the mega development, prompting concerns of environmental damage, a glut in the property market, and the impact of land reclamation on fisheries.
And it got the attention of Malaysian Prime Minister Tun Dr Mahathir Mohamad who announced on Aug 27 that foreigners will not be allowed to buy property at the Forest City mega project in Johor or be granted visas to live there.
"One thing is certain, that city that is going to be built cannot be sold to foreigners.
"Our objection is because it was built for foreigners, not built for Malaysians. Most Malaysians are unable to buy those flats," said Dr Mahathir