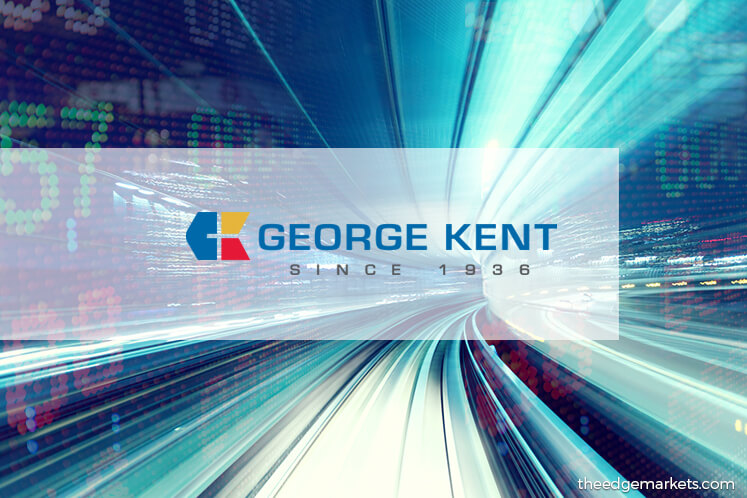 George Kent (Malaysia) Bhd (Sept 28, 1.31)
Downgrade to market perform with a lower target price of RM1.35: We leave a briefing feeling less excited with George Kent (Malaysia) Bhd's near-term prospects as the project cost review on light rail transit 3 (LRT3) took longer than expected, which hindered the group from proceeding with construction work despite not being shelved by the government.
Even though the finance ministry has given the green light for the construction work of LRT3, the project cost review and ongoing negotiations between the George Kent-MRCB joint venture (JV) and the government took longer than expected. Nonetheless, management remains hopeful that it is able to reach a conclusion with the government on its role in LRT3, which is highly likely to be converted from the role of a project delivery partner (PDP) to the role of a main contractor. As for project cost review, management has indicated that it would take eight to nine months for the George Kent-MRCB JV to finalise the reduced project cost and only expect construction work to be back on full swing in second half of calendar year 2019.
As for its metering division, management aims to grow the division's contribution from 20% to 50% in the short term (two to three years) with acquisitions/strategic alliances forming part of its strategy to mitigate risks from the construction sector. That said, its also intends to introduce its proprietary Automated Meter Reading or SMART Metering solution in the market, which we believe would be the next big hit for the sector as it could assist the government in resolving non-revenue water issues in the future given the ability to provide customers with real-time access to water consumption data. We believe that demand will continue to outstrip supply and we maintain our 10% growth assumption for the metering division in financial year 2019 (FY19).
Currently, its outstanding order book is about RM5 billion, of which LRT3 makes up 80%. George Kent-MRCB JV is working closely with the government in bringing down the RM16.6 billion cost for LRT3 closer to its initial cost of RM9 billion. While its near-term prospects seem less exciting arising from the delay in LRT3, we believe that this particular project would be one of George Kent-MRCB JV's strongest testament in the future should it be able to complete the project at a lower cost and within schedule, which would strengthen its foothold in the rail infrastructure scene in the future.
Post briefing, we reduce our FY19 and FY20 earnings estimates by 37% and 36%, respectively, as we remove our FY19 order book replenishment target of RM500 million since we do not expect the group to secure any construction job for the year and also push back our billings assumption for LRT3. — Kenanga Research, Sept 28
This article first appeared in The Edge Financial Daily, on Oct 1, 2018.