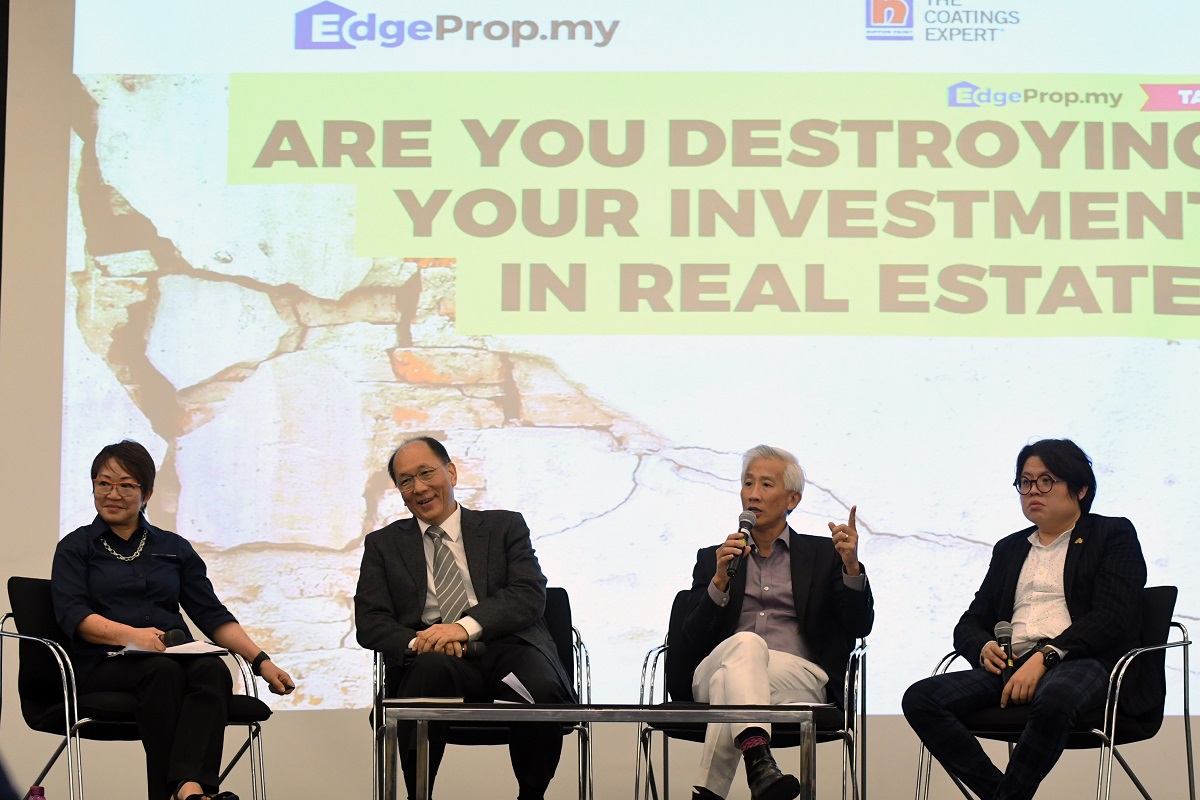 The property investment landscape in Malaysia is no longer what it used to be. Land and property usage and zoning are becoming increasingly complicated while consumer expectations rise by the day.
The traditional formula of buying a house for investment, either by letting it out and earning rental income or by banking on capital appreciation over time, is no longer so simple today.
Today, if a landlord wants to succeed in property investment, he or she will need to be fully committed to the investment and be ready to deal with any issues that arise — just like taking on a full time job.
"Being a landlord is not a part-time job. It is a full time job," Chur Associates founder and managing partner Chris Tan said during a panel discussion entitled "Do landlords still grow rich in their sleep?" at EdgeProp.my's Talk themed "Are you destroying your investment in real estate?" on Oct 20, 2018.
The talk was organised by EdgeProp.my in partnership with Nippon Paint Malaysia.
Moderated by EdgeProp.my managing director and editor-in-chief Au Foong Yee, the panel discussion was also joined by Sri Penaga Management Corp (MC) chairman Khaw Chay Tee and Architect Centre accredited architect and trainer Anthony Lee Tee. The speakers also took questions from the audience.
Tan said a landlord can expect to face many issues when letting out a property, and the most common grievance that he receives from clients are regarding the illegal use of a property and tenants who overstay.
"The illegal use of property is one of the worst nightmares that a landlord can have as the property is being used for illegal activities. Such activities are happening in your property while you could be happily collecting rental every month," Tan said. Under such circumstances, the owner could be arrested as his or her property is involved in the case.
Overstaying tenants pose another headache for landlords as the laws in Malaysia are pro-tenant, making it difficult for landlords to evict a tenant, he added.
"So it is important for landlords to have the right mindset when dealing with tenants. And based on my personal experience, the interaction between landlord and tenant is crucial," he said.
Sri Penaga MC chairman Khaw concurred that landlords can only "sleep soundly only if they work very hard during the day".
"When you want to buy a property and let it out as a landlord, you really have to take an interest in that property. You can't just buy a property, rent it out and leave it hoping to just receive the rent every month," he said.
He advised landlords not to rush into getting a tenant. "When I'm letting out a property, I would interview the tenants personally in order to avoid any nightmarish situations you may come across with them," he offered.
"At the end of the day, the issue is rental and how they look after the property. I prefer to take a lower rent if it is a tenant who will look after my place because I know I will gain in the long run. Don't always go for the highest rent, go for the tenant who will look after your property and take pride in the place," he shared.
On top of that, there will be many situations that a landlord needs to deal with, and the key to resolving an issue with tenants is good communication and personal interaction.
Khaw also believes that the relationship between landlord and tenant can go a long way in preventing or resolving tenancy issues.
"A very important factor in solving problems is personal interaction. Don't leave it to your agent alone. If you are handling a difficult situation with the tenant, deal with the tenant directly yourself," he urged.
Meanwhile, Architect Centre's Lee reminded landlords to pay attention to the maintenance aspect of their property that they have invested in.
"Many properties were designed to attract you. They make [the design] very attractive but hardly any one thinks about whether it can be easily maintained by the owners," he said, adding that it is like buying a nice "dry-clean only" shirt that requires high maintenance.
"So don't buy a 'dry-clean only' [property]. This is not rocket science, and the consumers must drive this and understand the importance of building maintenance. Purchasers today really need to wise-up to ask those difficult questions.
"You must ask questions not only on pricing but also those like 'how do I maintain the building'. Get used to asking those uncomfortable questions," Lee advised.
This story first appeared in the EdgeProp.my pullout on Oct 26, 2018. You can access back issues here.