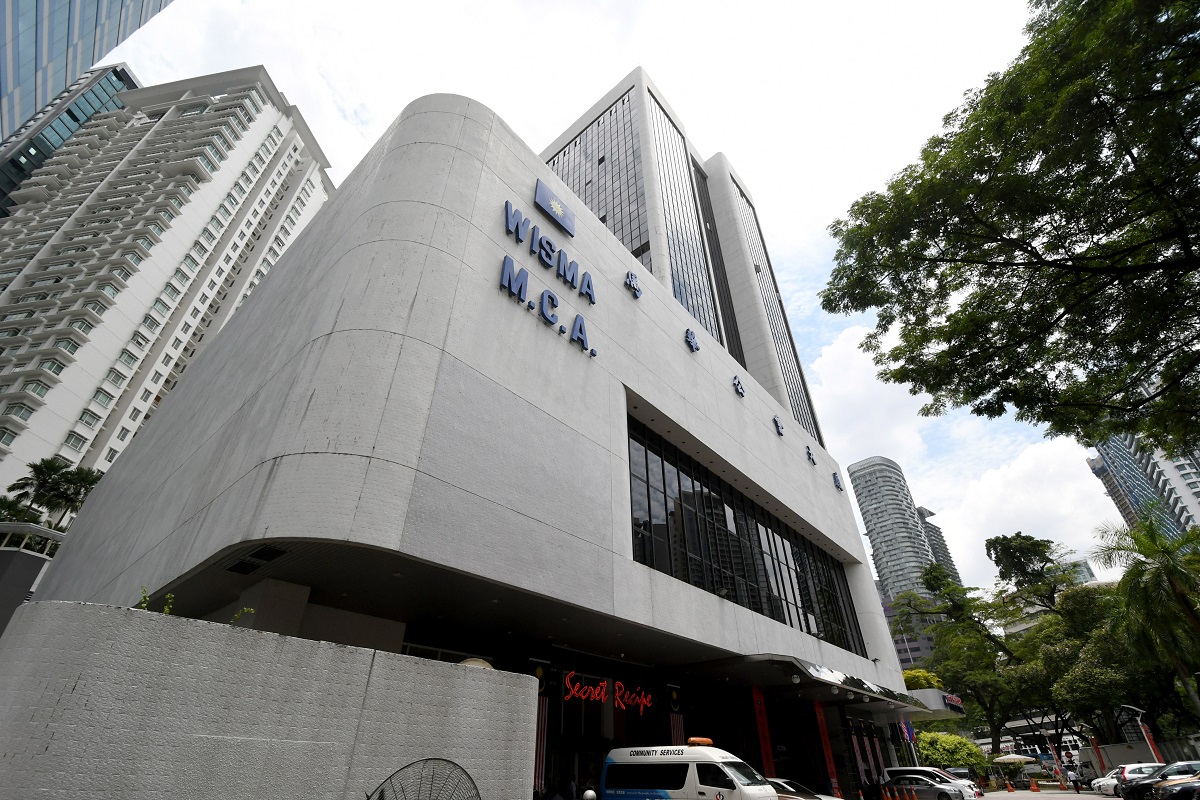 KUALA LUMPUR (Oct 27): The Edge Malaysia business weekly this week took a look at the "business empire" of one of the country's oldest political parties: Malaysian Chinese Association (MCA).
According to former party president (from March 2010 to December 2013) Tan Sri Dr Chua Soi Lek who spoke to the business publication, the value of assets under the party is close to RM2 billion.
As for properties, the party owns Wisma MCA (pictured) in Jalan Ampang, KL, (its headquarters is located here) and the Menara Multi-Purpose office tower in Jalan Munshi Abdullah, which it acquired in 2011 for RM375 million.
Wisma MCA (sitting on a 53,335 sq ft worth of freehold land) is worth about RM1 billion if redeveloped, while Menara Multi-Purpose is valued at about RM400 million, Chua revealed.
It also owns assets and land bought with funds raised by divisions and branches in the states, "some of which can be worth quite a bit", Chua said but he added he does not know their exact value.
Menara Multi-Purpose is probably worth about RM406 million now, CBRE | WTW managing director Foo Gee Jen told the weekly, "going by the estimated RM750 per sq ft rate for such an office building in the Jalan Munshi Abdullah-Jalan Dang Wangi area".
According to reports, Henry Butcher Malaysia Sdn Bhd at the time of the sale back in 2011 valued the property at RM384 million.
As for Wisma MCA, Chua estimates the value of the land at RM213.34 million, based on RM4,000 per sq ft price.
"Going by a more conservative RM2,750 per sq ft", CBRE WTW's Foo said the land should be worth "at least" RM146.67 million.
The report also said that MCA's stake in Star Media is a "cash cow".
The latter is reported to be asset strong. The company's 2017 annual report showed it had assets worth RM1.15 billion, with 18 properties as at end-2017 and also little debt. The list includes Menara Star, "which it recorded at a net book value of RM36.96 million, but is likely worth an estimated RM80.9 million now, according to CGS-CIMB's Oct 26 report" and seven vacant land parcels of 11.06ha with an estimated value of RM141.2 million, "compared with their net book value of RM47.8 million".
MCA also has an 11.986% equity interest in plantation company Matang Bhd as at Dec 6, 2017. The company has RM108 million worth of estate land.
According to reports, it planned to buy two parcels of leasehold agricultural land measuring 1,707.69ha and worth RM180 million in Raub, Pahang, but the purchase was put on hold after an injunction was lodged on the sale of the parcels.
But there seems to be a question mark over MCA's ownership of the educational institutions Universiti Tunku Abdul Rahman (UTAR) and Tunku Abdul Rahman University College (TAR UC).
"MCA does not own UTAR or TAR UC. Their incomes don't go to the party. You can take my word for it. They're overseen by boards of trustees on behalf of the two foundations. MCA only helped establish the institutions," said former party vice-president Tan Sri Fong Chan Onn.
On the other hand, Ngoo Teck Keong one of the contenders for the party presidency and Beruas MCA Youth chief said: "Yes, legally, UTAR and TAR UC belong to the foundations, but it doesn't mean that they are not under MCA's control. Over half of their foundation members are MCA members. They cannot not follow MCA's directives. I don't think they will betray the party. I will set up a committee to look at how we can do it. I know it will not be easy."