Part 1 of this article can be found here.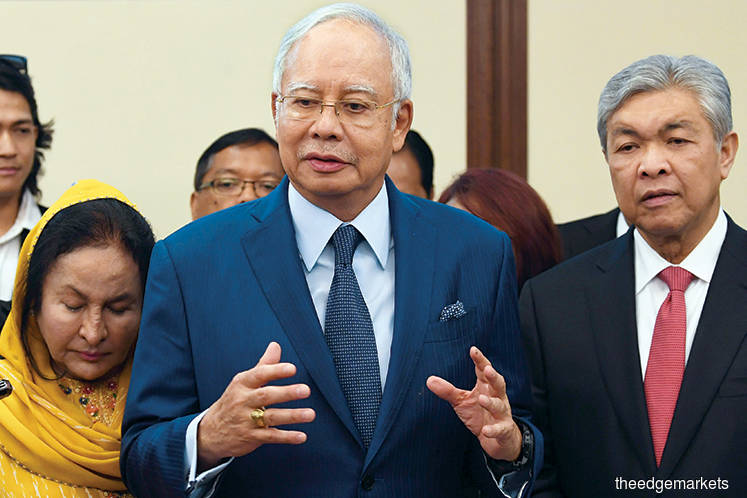 Former Prime Minister Najib Razak, when asked about the Malaysia-China meetings in 2016, issued a statement, stating that tens of thousands of jobs would be created in Malaysia, and that his leadership had spurred nine years of continuous economic growth.
Prime Minister Mahathir Mohamad has since put the Chinese projects on hold, and Najib stands accused of money laundering and breach of trust charges for which he will face trial this year.
The WSJ had in July 2015, reported that funds of some RM2.8 billion, originating from 1MDB had flowed into Najib's personal bank accounts. Najib's office then claimed the money was a gift from a Saudi Arabian that was not identified at the time.
In 2016, unable to repay borrowed money of some RM53 billion, Najib was in a bind.
Enter Jho Low, the alleged mastermind of the multibillion-dollar theft of 1MDB funds, who negotiated with China to resolve the crisis.
Jho Low is facing criminal charges in Malaysia and the U.S. related to 1MDB, and is currently a fugitive, living in China under Beijing's protection, according to Malaysian officials.
The documents that include the minutes of the meetings, which are cited by the WSJ were discovered by Malaysia's current government, from a sweep of Najib's offices. The documents include details of a plan for Chinese state companies to build two large projects with funding from Chinese banks. The East Coast Rail Link and the Trans Sabah Gas Pipeline, both worth billions, was to be built partly on Malaysia's portion of the island of Borneo.
The publication quotes the documents which say that "above market profitability" would be accorded to the Chinese state companies. Malaysian officials have said that an earlier estimate places the actual cost of the rail ink at $7.25 billion, which is less than half of the $16 billion the deal was made for.
"Due to the time sensitive nature" of the 1MDB debts, one meeting detailed within the documents, the Chinese state company that would build the rail link was asked to assume $4.78 billion of 1MDB debt, and it was hoped that China would agree to this quickly.
However, the negotiator is recorded in minutes as being of opinion that the arrangement would be "very noticeable" in the financial statements by China Communications Construction Co.
Meeting minutes from a month later are reported as saying that the Malaysians proposed that the China state companies make payments that would "indirectly be used to repay 1MDB debt."
Malaysia became the second-biggest recipient of One Belt, One Road funding after Pakistan.
Export-Import Bank of China issued the first loans, and soon paid out 80% of the $2.5 billion pledged to state-owned China Petroleum Pipeline Bureau despite the fact that little work had been completed.
The current administration is seeking the renegotiation of the projects, and the return of the fugitive Jho Low.