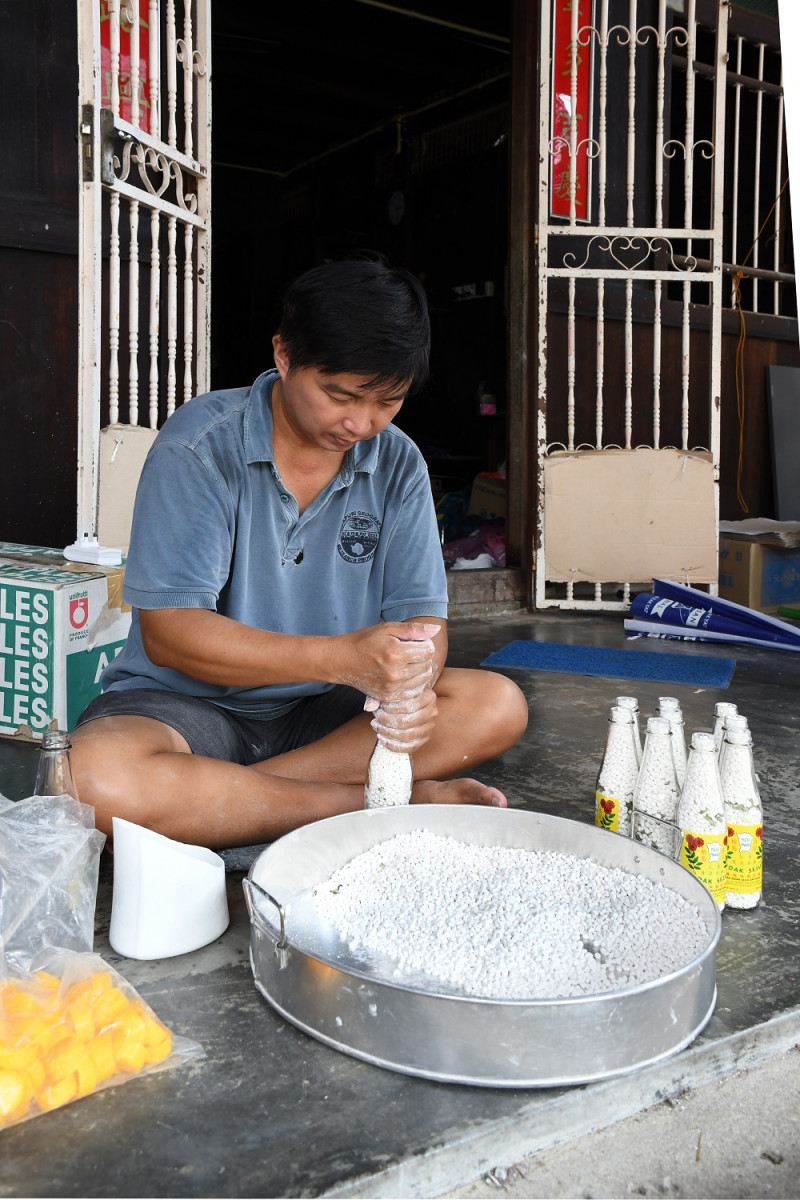 If you had to bring home some souvenirs from Balik Pulau, you cannot go wrong with bedak sejuk and various goods made of nutmeg.
A tried-and-tested beauty remedy
Bedak sejuk is a traditional Peranakan facial product that keeps skin young and refreshed. Its famed for its cooling effect, hence its name.
The best-known brand of bedak sejuk is Lean Seng. A third-generation family business, it is currently run by Yeoh Siong Huat. A singleton who took over the family business four years ago, he has been keeping the business alive ever since.
The manufacturing of the bedak sejuk is still a fairly manual and simple process — first, broken rice is soaked in water for a month until it has fermented. Then, the rice is washed again before it is blended into a paste. After that, the paste is filtered and excess water is squeezed out before it is bagged up and hung to dry. Next, the dried rice is mixed with water again. The resulting paste is then poured on top of a flat sieve which is scraped, producing the white drops that, after drying out in the hot sun for hours, results in bedak sejuk. The end product is bottled with dried jasmine flower buds that impart a mild yet distinctive fragrance.
Yeoh reckons he makes about 20kg of the stuff in a month, on average. However,his output naturally decreases during rainier periods as he cannot make bedak sejuk when it is damp. "If it doesn't fully dry, it gets mouldy," he explains.
There is proof that this Peranakan beauty must-have works. Yeoh routinely applies bedak sejuk to his face to protect it from the hot sun, and while he sports a rich tan, his 41-year-old face barely has a trace of a wrinkle or a sun spot, lending him the looks of a man at least a decade younger.
Lean Seng bedak sejuk is now sold in four other countries — namely Singapore, Taiwan, Hong Kong, and the US — following a chance feature on a Taiwanese travel film, catering for both the Malaysian diaspora and curious people who learned of the product's miraculous age-freezing abilities.
A fruit with 101 uses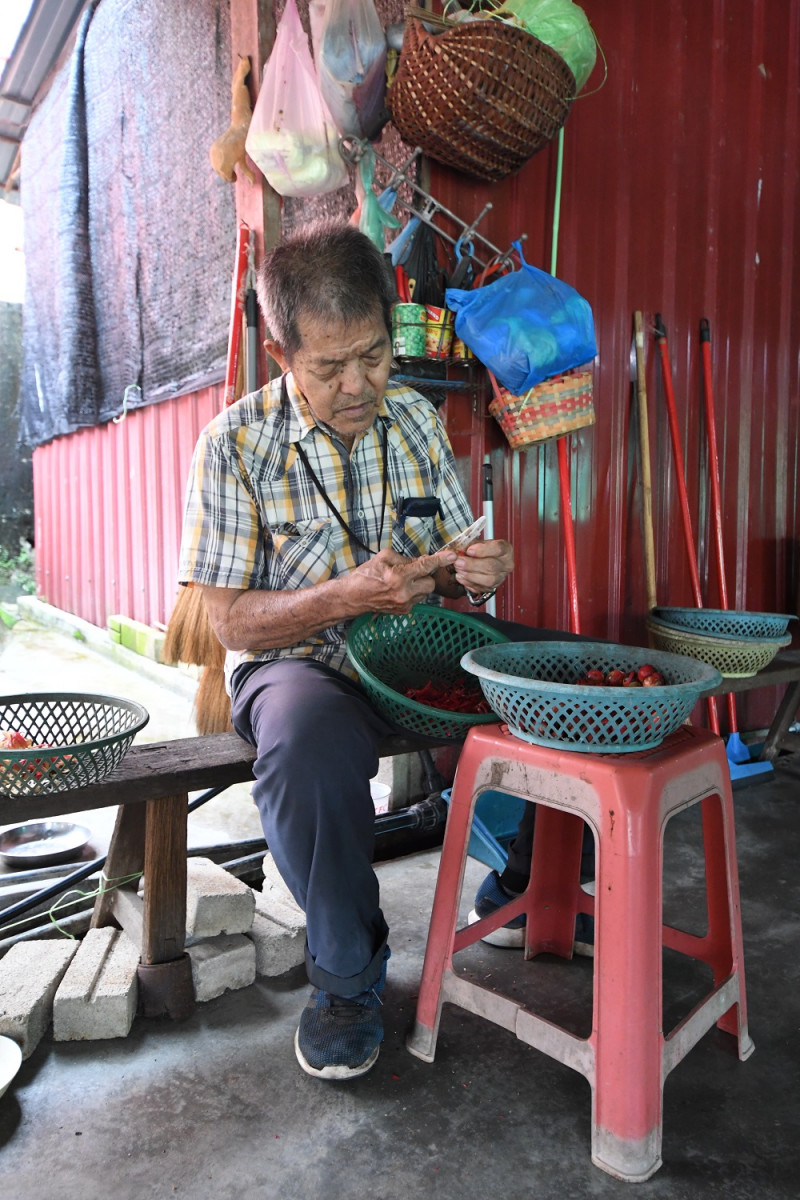 Perhaps you're looking for something more medicinal or multi-functional? Nutmeg is a good choice. It is touted as a cure for headaches, dizziness, pains, high blood pressure, indigestion and itches — a particularly useful tool when visiting the orchards of Balik Pulau. You will find it in the form of balms, oils, syrups, teas and infusions.
And there is no better reservoir of nutmeg-related products and trivia than Ghee Hup. This family-run nutmeg factory produces all manner of nutmeg products. Head there for a demonstration to learn about the small yet mighty fruit. Emily Chang, the fourth-generation member of the family helping out with the business, says almost all parts of the nutmeg plant are useful. But first, an explanation. The nutmeg fruit yields two spices: mace, which is derived from the aril (skin) wrapping the seed, and nutmeg, which is the dried seed of the fruit that is sold either whole or grated. Each is prized for the distinct flavour and aroma it imparts to food. Mace is also infused into oils and balms to relieve aching joints and bloated stomachs.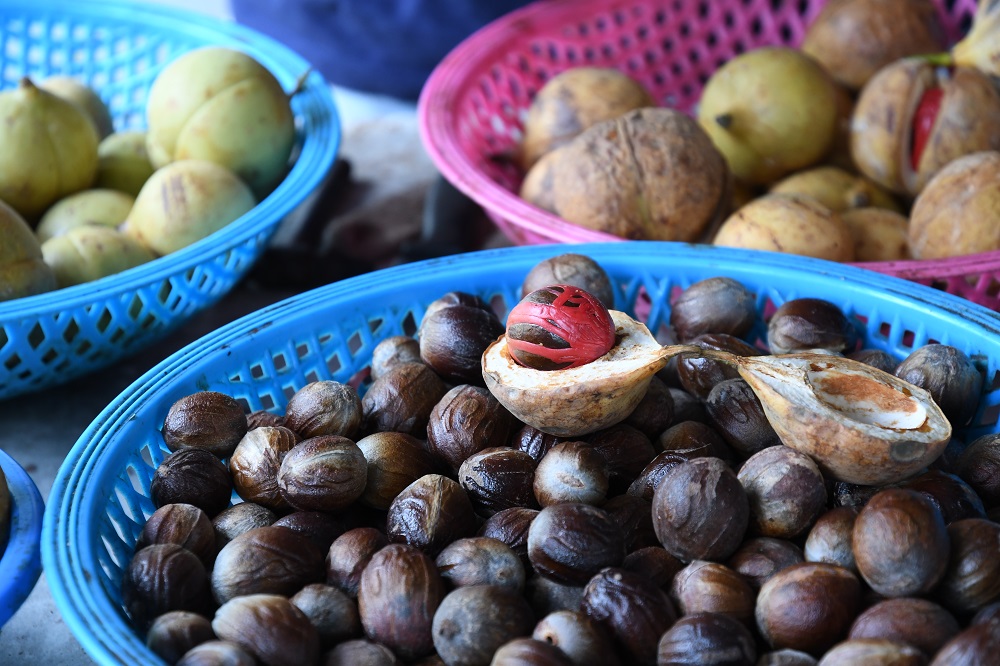 The flesh of the fruit is squeezed and boiled to make the ubiquitous nutmeg juice. Ghee Hup sells them pre-mixed or as bottled syrup. If you prefer a hot beverage though, nothing beats nutmeg-infused brown sugar mixed in warm water. It is touted as the ultimate digestion aid. Last but not the least, are teas made out of the nutmeg plant's dried leaves, which are good for lowering blood pressure. "The only thing you can't really use is the wood of the tree," she explains.
Ghee Hup is famous for its large-scale farming of nutmeg, and has received visitors as illustrious as Prime Minister Tun Dr Mahathir Mohamad and the former Sultanah of Johor, as well as a slew of Taiwanese and Hong Kong celebrities. Don't expect to see a factory running at full steam at the Ghee Hup Nutmeg Factory site though; most of the work is done offsite, by elderly villagers who have worked with Ghee Hup for decades. Meanwhile, the plantations are located far in the hills of Balik Pulau, in a location the family declines to disclose.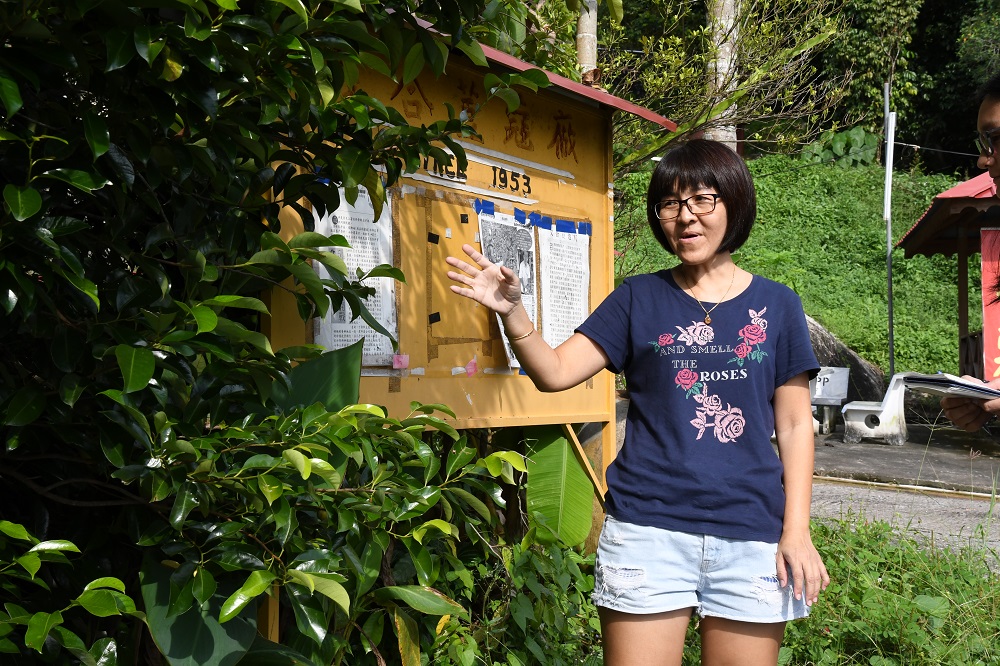 Ghee Hup's future hangs in the balance, however. It is a race against time for the business to find a way to automate its nutmeg-processing operations as fewer and fewer folk from the village take on this task.
Goats' milk: good for you, inside and out
If the above options don't tickle your fancy, fret not. Well, there's another option to explore. Head to Saanen Dairy Goat Farm nearby and experience a lovely afternoon feeding goat kids, learning how to milk goats, feasting on goat's milk pudding, gelato and other goodies before grabbing a few bars of goat's milk soap as souvenirs.
Saanen Dairy Goat Farm was started by Ho Juan Aun 13 years ago. Named after the Saanen goats from Switzerland, the farm currently has about 120 to 140 animals on its premises. He got into goat farming specifically to produce milk, as he spotted a niche in the market for healthy, organic goat's milk, which is purportedly very high in calcium, phosphorus, and other vitamins and nutrients; is easier to digest; less allergenic; good for keeping skin supple and treating a variety of ailments such as high cholesterol levels. The farm does not slaughter goats because his wife made him pledge to operate the farm as a no-kill site, and the Saanen goats are not bred for meat.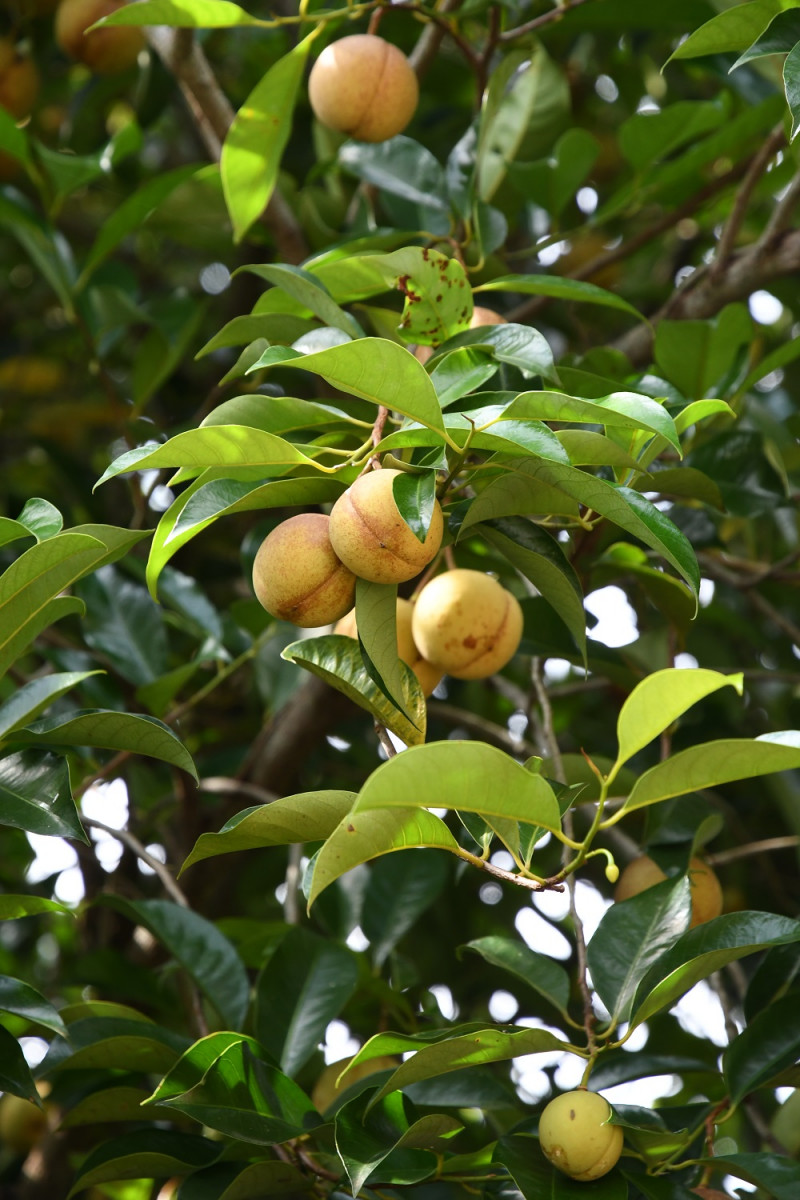 Ho's journey into farming got off to a rocky start. Several members of his initial flock of Australian goats died from tapeworm and lung infections. He then switched to Saanen goats which are prized as a milk-producing breed. Through perseverance and timely government intervention in the form of training and help from the Veterinary Services Department, his flock began to flourish. Yet, he still faced the challenge of marketing his goods as demand for organic goat's milk was limited, sporadic and came mainly from Kuala Lumpur. He had to do something to raise awareness about his farm and the benefits of goat's milk. So, why not open his farm to the public for them to meet and learn about his adorable Saanen goats and the myriad health benefits of their milk? The farm opened its doors to the public in 2009. However, visitors should call ahead when planning to visit.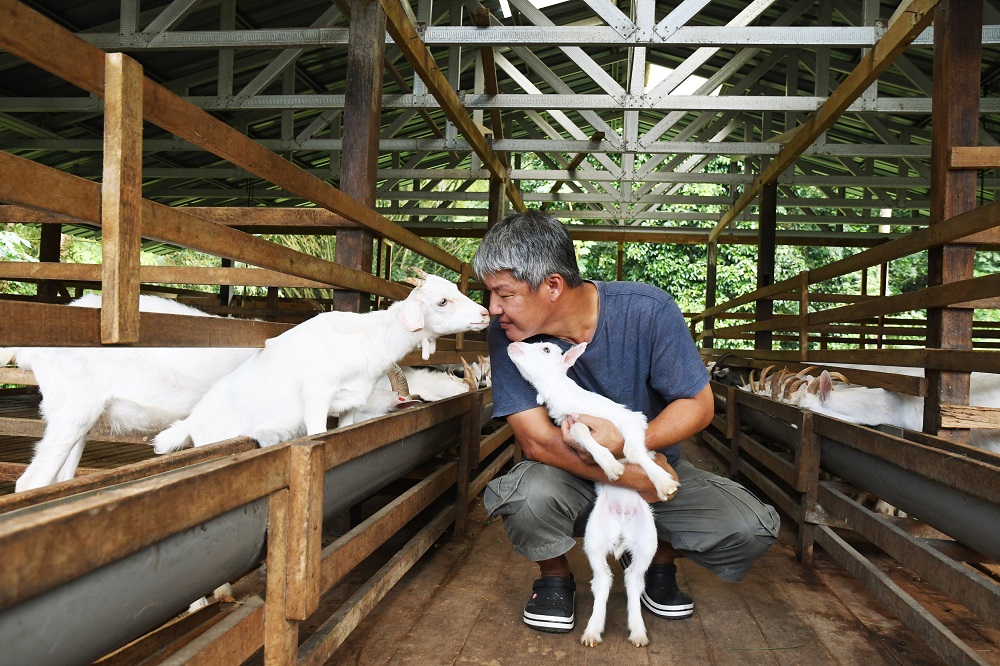 Read other parts of the story here.
This story first appeared in Live! 2019 magazine. Download your copy of the magazine here.