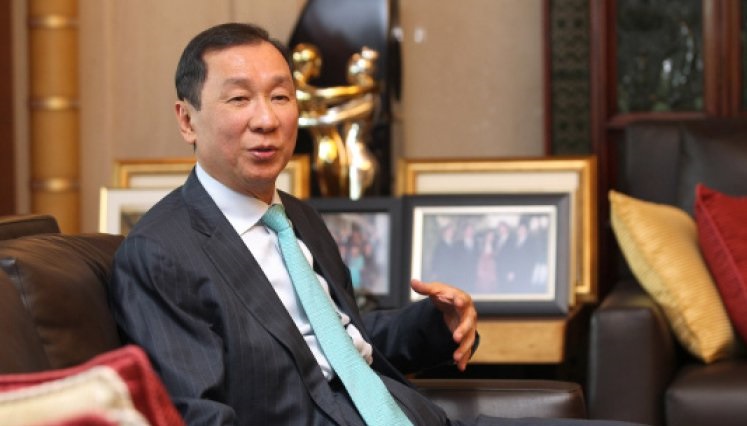 KUALA LUMPUR (Jan 25): Tycoon Tan Sri Danny Tan Chee Sing (pictured), founder and major shareholder of Tropicana Corp Bhd with a 63.56% stake, is back at the helm of the property developer as executive vice chairman after a three-and-a-half-year hiatus.
Chee Sing, 64, had announced his retirement from the day-to-day management of Tropicana, which he founded in 1979, in June 2015.
At the same time, Top Glove Corp Bhd founder and executive chairman Tan Sri Lim Wee Chai, 61, who holds a 10.296% stake in Tropicana, has been redesignated from non-executive deputy chairman to non-executive chairman of the group.
*Tycoon Danny Tan takes back reins of Tropicana
*Tropicana to roll out new launches worth over RM430m
Chee Sing is the father of Datuk Dickson Tan Yong Loong and Dion Tan Yong Chien, who are the deputy group chief executive officer and group managing director of Tropicana respectively.
The appointments come as Chee Sing injects into the group, what is left of his privately-owned land bank worth RM1.85 billion — representing a 17.9% discount as compared to the indicative market value.
The land bank of 1,116.88 acres (451.98ha) under 12 real estate holding companies are located in the Klang Valley and Johor, with the potential gross development value (GDV) of RM24.82 billion.
In a filing with Bursa Malaysia yesterday, Tropicana said under the deal, RM343.7 million of the total RM1.85 billion will be satisfied via the issuance of 286.5 million new redeemable convertible preference shares (RCPS) in Tropicana at an issue price of RM1.20.
The remaining RM1.51 billion for debt settlement will be satisfied via RM247.1 million cash, issuance of 823.7 million RCPS at an issue price of RM1.20 and assumption of Chee Sing's bank borrowings amounting to RM271.8 million.
Tropicana is also proposing to enter into joint ventures (JVs) with Cenang Resort Sdn Bhd, Sinaran Ramah Sdn Bhd, Pantai Kok Resort Development Sdn Bhd, Suci Padu Sdn Bhd and Ibarat Indah Sdn Bhd to jointly develop four plots of land totalling 1,328.76 acres the five companies own in Pulau Langkawi and Pekan Nenas, Johor. The total estimated GDV for the proposed JV developments is RM6.7 billion.
Meanwhile, Tropicana said the proposed acquisitions are expected to facilitate the continuing growth of its core business as a property developer by increasing its existing land bank in Johor and Kuala Lumpur.
"In addition, the proposed acquisitions will mitigate potential conflict of business interests between Tropicana and its major shareholder (Chee Sing)," it added.
Tropicana noted that the strategic locations of the acquired land in Johor and Kuala Lumpur are expected to contribute positively to the group's future earnings in the medium to long term as the group monetises the acquisition land.
The issuance of the RCPS as part of the purchase consideration and the debt settlement amount will enable the group to conserve its cash balance for the operations and expansion while minimising the potential impact on the cashflow and gearing of the group as opposed to full settlement in cash and/or via bank borrowings, it added.
The proposals are expected to be completed by the third quarter of 2019.
In a separate statement, Lim said: "In my role as chairman, I look forward to continuing to assist the group in many initiatives and efforts to deliver value to our shareholders, customers and other stakeholders. I am excited with this latest land injection which was independently valued by professionals."
"Tropicana received a discount of 17.9% from market value on the lands and discount from revalued net asset value of the target companies. With the RCPS structure, the capital structure in the ownership of these strategic assets have been optimised. This will also align the interest of Tan Sri Danny Tan with Tropicana," he added.
Chee Sing said upon completion of the latest corporate exercise will bring Tropicana's total land bank to 2,243.93 acres with a combined GDV potential of RM71.42 billion.
"Additionally, through the JVs, Tropicana will have access to a further 1,328.76 acres with a GDV of RM6.7 billion. Thus, January 2019 will be the right time for me to return and pursue a full time role," he added.
This is not the first time Chee Sing has injected his personal properties into Tropicana. In March 2012, Chee Sing injected 73 of his privately-held properties into the group, then known as Dijaya Corp Bhd, for RM948.7 million, making it one of the largest related-party transactions in Malaysia. The aim then was to turn Tropicana into a property developer comparable to its other large competitors such as Mah Sing Group Bhd and S P Setia Bhd.
The deal was satisfied by RM250 million cash and the issuance of a 10-year redeemable convertible unsecured loan stock.
More recently, on Sept 14 last year, the tycoon injected into the group, two plots of land totalling 329.1 acres in Johor, for RM49.05 million or RM40 per sq ft, representing an 11% discount to the indicative market value of RM45 per sq ft as opined by independent registered valuer Messrs C H Williams Talhar & Wong.
The transaction then saw an increase in Tropicana's net and gross group gearing to 0.34 and 0.66 post-acquisition, from December 2017's 0.27 and 0.56 respectively.
Tropicana shares closed down one sen or 1.13% at 87.5 sen yesterday, bringing a market capitalisation of RM1.29 billion. Over past one year, the stock price has fallen 4.9% from 92 sen.
In comparison, S P Setia's market value stood at RM9.94 billion, while that of Mah Sing was at RM2.26 billion yesterday.
This article first appeared in The Edge Financial Daily, on Jan 25, 2019.