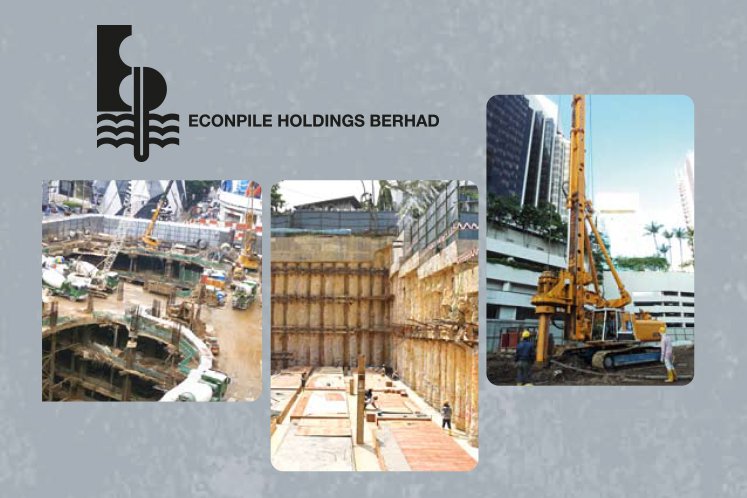 KUALA LUMPUR (Feb 12): Piling and foundation specialist Econpile Holdings Bhd has bagged a RM209.3 million contract to undertake basement and substructure works for Phase 2 of the Pavilion Damansara Heights mixed development in Jalan Damanlela here.
This new contract brings Econpile's total new wins to RM506.7 million in the current financial year to date, which is higher than the RM473.4 million recorded in the financial year ended June 30, 2018 (FY18).
Its orderbook current stands at RM1.1 billion, which will provide earnings visibility till FY21.
*Econpile bags RM34m piling job for Gemas-JB double-track project
*Econpile sees flow of jobs returning to normal in a year
*Econpile bags RM122m bored piling contract
In a statement today, Econpile said its wholly-owned subsidiary Econpile (M) Sdn Bhd has received a letter of award from Domain Resources Sdn Bhd to undertake the proposed works.
Econpile added that the overall duration of the contract is targeted to take 20 months, and is expected to contribute positively to the group in the financial years FY19 to FY21.
The latest award represents the group's third contract won for Phase 2 of Pavilion Damansara Heights, having earlier secured a RM18 million contract to construct contiguous bored pile walls and a RM122.0 million job to undertake bored piling works.
"With this latest contract, we have exceeded our last financial year's total new wins within seven months of FY19. This indicates our competitiveness despite the challenging construction sector," said Econpile executive director and group chief executive officer Raymond Pang.

"Our current orderbook contains a healthy mix of infrastructure projects, as well as private sector-led high-rise property developments in the Klang Valley and Johor," he added.
On the group's future prospects, Pang said: "Sustaining a healthy flow of contract wins is one of our key strategies to achieve optimal machinery utilisation and retain talent, particularly in a competitive
environment."
"Going forward, we will continue taking measures to enhance our operational efficiency, so that we will be ready to ride the construction sector's eventual upturn in the future."
Econpile shares closed unchanged at 48 sen today, with 11.72 million shares traded, bringing a market capitalisation of RM642 million. Econpile's share price has fallen 55.6% over the past one year from RM1.08.