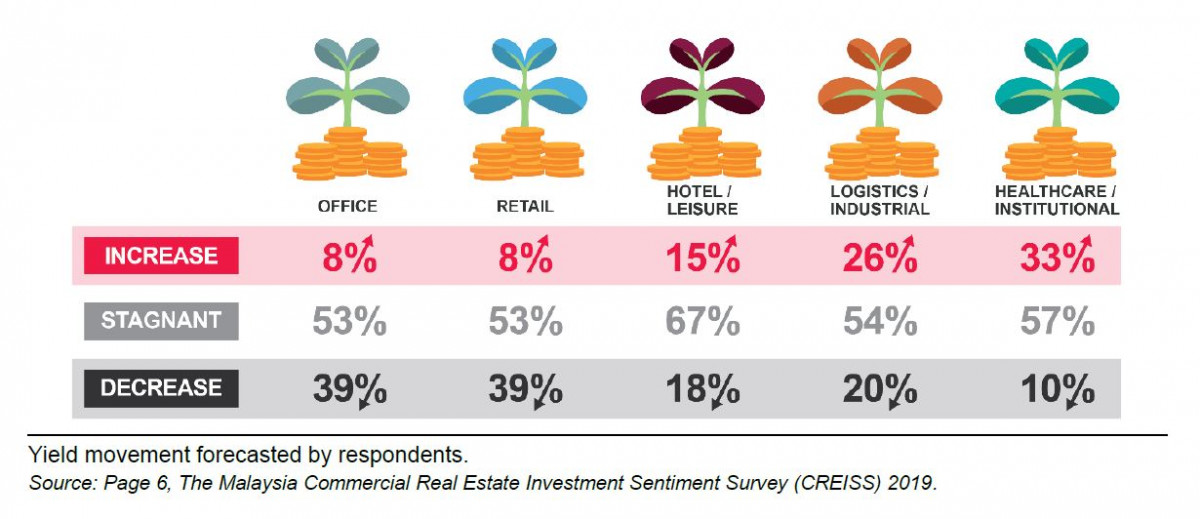 PETALING JAYA (April 2): The healthcare and institutional property sub-sector in 2019 is expected to continue its relatively good performance last year, supported by growing demand and fundamentals, according to Knight Frank Malaysia.
In its Malaysia Commercial Real Estate Investment Sentiment Survey (CREISS) 2019, the property consultancy asked developers, fund or real estate investment trust (REIT) managers and lenders for their views about the commercial property sector this year.
The survey results revealed that the healthcare or institutional sub-sector has a rather optimistic outlook as 33% of respondents anticipate an increase in the yield of such assets this year while between 8% and 26% of them expect the yields to go up in other sub-sectors, namely retail, office, hotel or leisure and logistics or industrial.
"Unlike conventional assets, healthcare and institutional real estate are alternative specialised asset class that is less reliant on the economy. From the investors' point of view, this specialised asset class is attractive as it provides certainty, by offering long-term leases with step-up rental," Knight Frank Malaysia executive director of valuation and advisory Keith Ooi said in a press release today.
While respondents lamented about the increased challenges in raising funds for commercial real estate, particularly conventional assets, the healthcare and institutional assets will be somewhat insulated from this challenge as respondents among the lenders and fund or REIT managers indicated that they may increase their exposure toward the sub-sector in 2019, said Knight Frank.
"The healthcare and institutional sub-sector is truly a hidden gem, as investors become more familiar with this asset class, I foresee there will be more transactions of real estate in this sub-sector in 2019," said Ooi.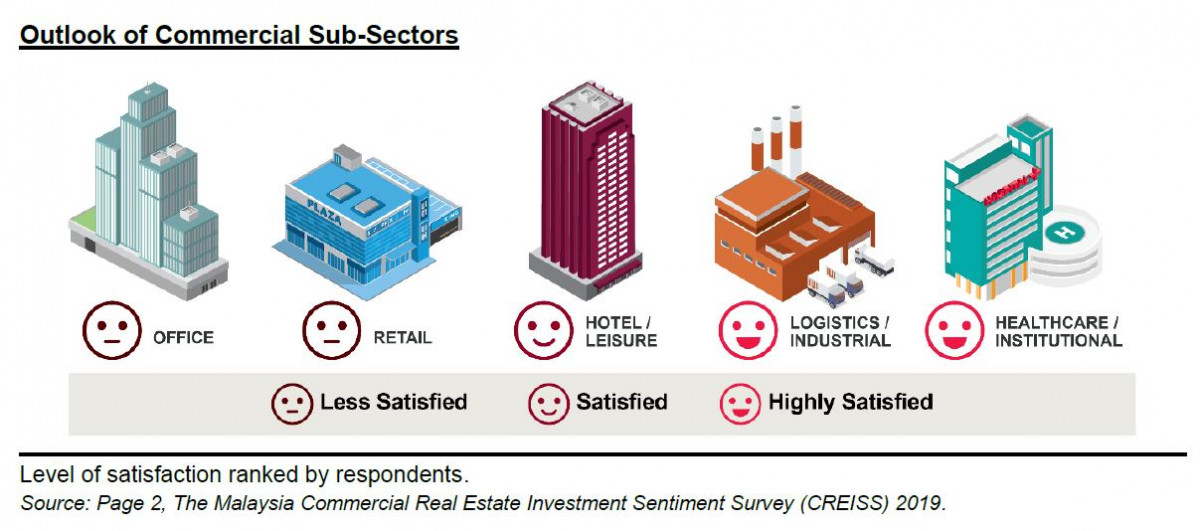 Knight Frank Malaysia executive director of capital markets James Buckley noted that while investing in the healthcare and institutional assets, such as education, is still a fairly new trend in Malaysia, it is possible that more deals will come to fruition from this sub-sector, with investors being attracted by its defensive qualities as it is less reliant on the general state of the economy, offers long leases and often comes with fixed increases in rent throughout the duration of the lease.
Overall, market activity in the commercial property segment, especially in retail and office sub-sectors, had certainly slowed down in 2018, said Buckley.
This is attributable to the more cautious sentiment by investors who are concerned about the extent of the forthcoming new supply, decreasing occupancy and declining rentals, he added.
"In 2019, we have already observed a rise in the number of owners wanting to sell their commercial property assets, but the bid-ask spread will need to narrow before we see more transactions successfully completing," he said.
Nevertheless, commercial properties in Malaysia do provide good yields relative to other markets in Asia Pacific, but higher relative borrowing costs, generally exceeding 5%, has lowered the cash-on-cash yield.
"This reduced the attractiveness of Malaysia's property market in the eyes of international investors who compare the returns they can achieve elsewhere in the region. Owners need to become more realistic about their price expectations given the market situation," he elaborated.