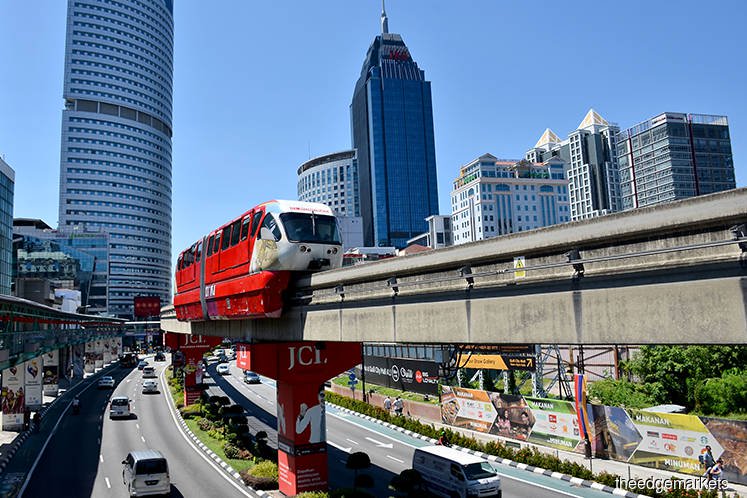 RAWANG (April 4): A years-long dispute between Prasarana Malaysia Bhd and Scomi Engineering Bhd has come to an end with the signing of a new contract worth RM303 million between the two parties today.
The transport infrastructure provider and Scomi Group's wholly-owned subsidiary Scomi Transit Project Sdn Bhd (STP) today entered into a deal for Prasarana to acquire seven new four-car train sets for the Rapid KL Monorail route and STP to repair five sets of four-car trains that have stopped operating since January last year.
Under this agreement, the first three trains will be refurbished within three months of the commencement of restoration works while the remaining two sets will be refurbished within six months of the start date.
The refurbishment contract will cost RM181 million.
Meanwhile, the seven sets of new trains will be built by STP at their factory here and are targeted for delivery within 30 months from signing date.
The cost of the new train sets are RM122 million.
The agreement was signed by Prasarana president and CEO Datuk Mohamed Hazlan Mohamed Hussain and Scomi Group CEO Sammy Tse Kwok Fai, while the signing was witnessed by Transport Minister Loke Siew Fook.
Also present at the signing were Transport Ministry Secretary-General Datuk Mohd Khairul Adib Abd Rahman and IJM Corporation Bhd CEO and MD Datuk Soam Heng Choon.
Loke said the agreement will help address the issue of the monorail's declining ridership, which had fallen significantly by 54.9% to its current daily average of 32,000 passengers from its peak of 71,000 riders per day in 2015, due to fewer trains in operation.
He added that this new agreement will settle the legal disputes between both parties.
The new RM303 million deal supersedes the previous RM494 million contract awarded to Scomi Engineering Bhd in 2010 as part of the Kuala Lumpur Fleet Monorail Expansion Project that was terminated in 2016.
To recap, under the Kuala Lumpur Fleet Monorail Expansion Project which began in 2011, Prasarana and STP had agreed to the acquisition of 12 sets of four-car trains, build a new depot and upgrade facilities at the Monorail stations.
Five of the 12 train sets have been delivered to Prasarana between 2012 and 2013.
Inaugurated on Aug 13, 2003 by Tun Dr Mahathir Mohamad during his first tenure as Prime Minister, the monorail service, operated by Prasarana's subsidiary Rapid Rail Sdn Bhd, operates in Kuala Lumpur's Golden Triangle area.