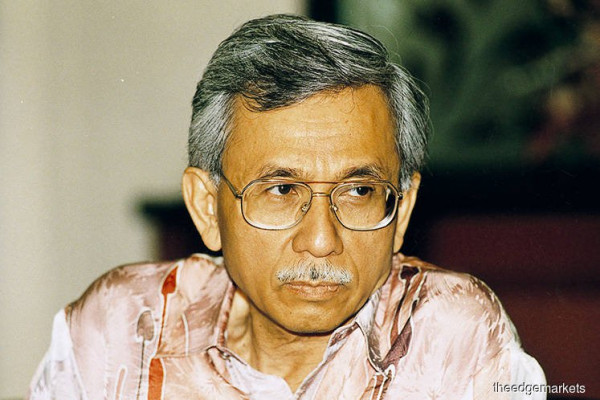 (April 20): Special advisor to the Government Tun Daim Zainuddin wonders whether the Barisan Nasional Cabinet had made a collective decision on the East Coast Rail Link (ECRL) project and whether there was a Cabinet paper on it.
In an interview with Bernama's News Channel that was televised yesterday, Daim asked: "Was a thorough study done? What did the McKinsey report say? What was Land Public Transport Agency's (Spad) recommendation?
"I think you should do an investigative report on this. See whether the EPU approved (the ECRL project) or not. I'm posing this question.
"You go and investigate all these things. I don't want to discuss this in public," said Daim, Malaysiakini reported.
In the interview, Daim hinted that Najib's Cabinet was not aware of the finer details regarding the ECRL project.
Daim said he was unsure why Najib was defending himself following the Pakatan Harapan Government's successful renegotiation of the project with China.
"He's a friend of mine. I don't like to debate with him in the open. I prefer to have the advice of experts.
"In this particular case, I don't understand why is he defending himself unless he is being blamed for (it). If it is the (Barisan Nasional) Cabinet's (decision) then that Cabinet must come and defend him," said Daim, Malaysiakini reported.
On Najib's claim that Malaysia would be exposed to security risks by allowing China Communications Construction Company Ltd (CCCC) to jointly operate the ECRL project, Daim said this was the result of a "wild imagination".
He said as operators, CCCC would now share the burden of making the project profitable and the company had the necessary links to help industrialise the East Coast in order for the ECRL line to haul more cargo.
He said planners during the Najib-era had predicted that 70 percent of ECRL's revenue would come from moving cargo.
"Now, with (CCCC committed to) MOM (management, operations and maintenance), we have put the burden on the Chinese company to bring in these industries. Otherwise, they will lose.
"They have connections. Last time, they were doing construction. Now they also invest. They are very confident that they can bring in investment. In fact, they are looking for land for industrial parks," he said. — theedgemarkets.com