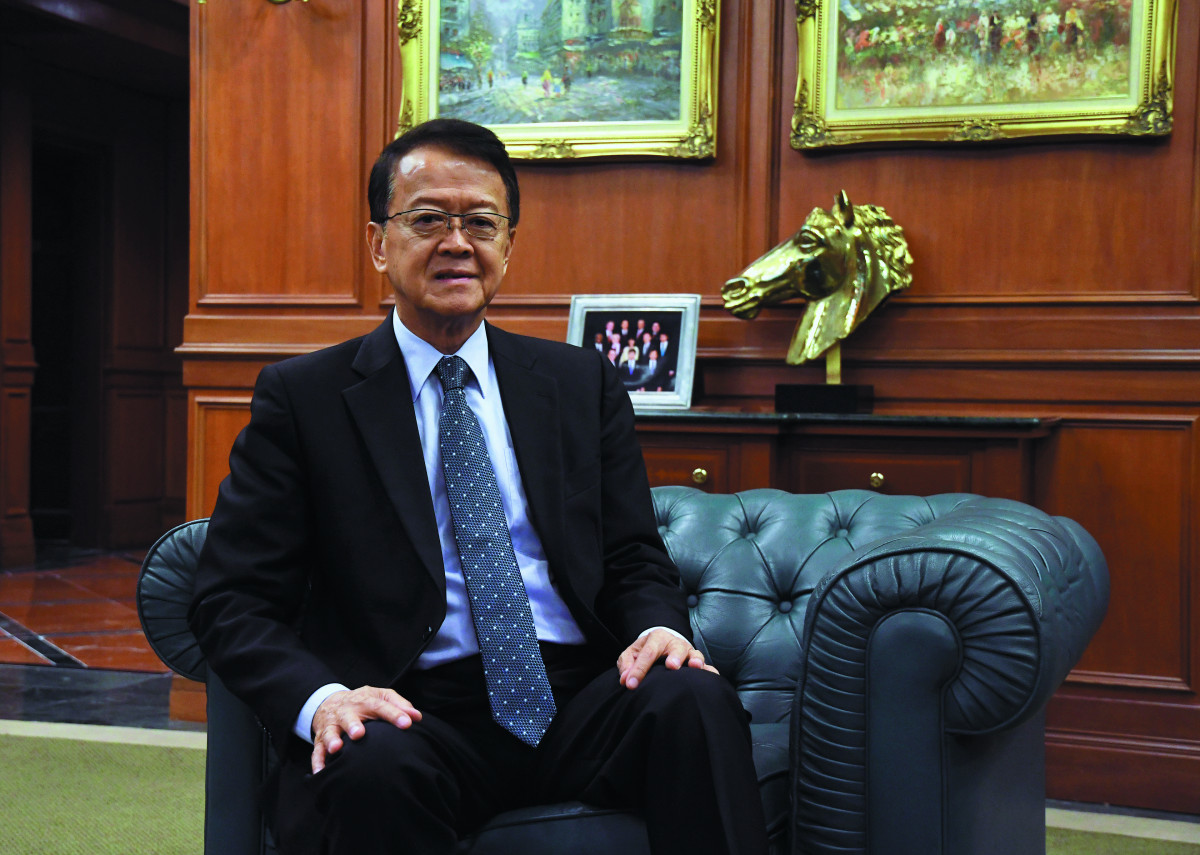 Editor's Choice Award 2019 Malaysia's Exemplary Leader of Sustainable Development
Founder and chairman of Sunway Group, Tan Sri Dr Jeffrey Cheah AO grew up in a former mining town called Pusing in Perak.
In his memory, the place where he was born and raised was once a picturesque town but its natural beauty was destroyed by aggressive tin mining activities. However, the town folk remained poor as they benefitted little from the mining which was monopolised by one company.
"I know what poverty is. Since I was little, I have kept asking myself whether there is any way I can bring the people prosperity," says the 74-year-old.
The worst was when gambling became a problem in the town and many people lost their money, money which could be better spent on their children's education.
"I was really upset when I saw my friends' parents lose all their hard-earned money which was supposed to support their family's needs including my friends' education.
"These were the incidents that made me decide to do the right things that will benefit the community, society and the environment, not merely chasing money or to do things that will hurt others," says Cheah.
That was what drove him and his business to where they are today. Cheah is known as a visionary leader in the property development, construction, health and education sectors. Sunway Bhd is today a listed conglomerate on Bursa Malaysia with a market capital of over RM8 billion. Cheah led Sunway to develop the iconic Sunway City KL, an award-winning integrated township in Selangor that was carved out of former tin mining land. Beyond the business, Cheah is also a philanthropist and a crusader for sustainability.
He has been recognised with an impressive list of awards, both at home and internationally. On April 21, he added another award to his name when he was bestowed the Editor's Choice Award 2019 — Malaysia's Exemplary Leader of Sustainable Development at EdgeProp Malaysia's Best Managed Awards 2019.
Cheah shares his passion for sustainability and his vision to make Sunway City KL a sustainable smart city in an interview with EdgeProp.my.
Q. What do sustainability and sustainable develop-ment mean to you?

Cheah: Being sustainable to me, simply means doing well by doing good. This is particularly relevant for us who have benefitted by using the resources of mother earth. It is also incumbent for us to give back to society and the communities that have helped us prosper.
Sunway is here to build and create healthy and happy communities. For me, a healthy and happy community means people living together where their well-being is looked after — accessible, safe and comfortable living environment. When people are happy, they will appreciate the things around them and be inspired to give back to the community. Hence, together we can build a sustainable community.
How do you share the message of sustainable development?
I believe in leadership by example, hence we do it by walking the talk. This could start from simple actions like picking up rubbish.
Personally, when I walk around Sunway City KL, I would pick up rubbish I see and throw it in the recycle bin or waste bin.
There's no status differentiation in Sunway, whether you are at managerial level or executives, we pick up the trash we see. This is to set an example to the younger generation. It is our responsibility to do so.
To raise awareness on sustainability, we also need to show the efforts taken by the company towards this end. Sunway City KL is the best example to reflect our care and concern for the environment and society.
In our journey of rehabilitating the former tin mining land into a liveable city, we have transplanted 25,000 trees and restored the ecosystem in this washed out wasteland. Today, you can find earthworms in the ground and more than 150 species of flora and fauna in the township. By replanting these 25,000 trees, we could prevent the emission of 400 tonnes of carbon dioxide into the atmosphere.
We also have other green initiatives such as recycling programmes and our water treatment plant project in Sunway South Quay. We target that by 2020, this water treatment plant will be able to supply 56% of the annual water consumption in Sunway-operated buildings in Sunway City KL.
What we want to do is to set an example to inspire others to do good and care for the society. I believe "we have to aspire to inspire before we expire" — this is my take in life.
How can a company or business entity be profitable and yet be sustainable?
It's a matter of choice — whether we take the impact in the long run or ensure that environment is a main consideration in our decision-making process.
For instance, in property development, some companies will choose to cut down all the trees. But that's not necessary. We should keep some of the trees and replant them when the development is completed. Take Sunway City KL for example, the land had been destroyed by mining activities. Most people will just walk away but I thought we have the responsibility to put it back in order.
In the early days of developing Sunway City KL, people said I was crazy and I even went bankrupt twice for this project but I didn't give up; I have proven to them that this project is a successful model which is profitable and yet sustainable.
There are other things we can do. For instance, Sunway Resort Hotel & Spa has worked with the Kechara Soup Kitchen Society in the Zero Food Wastage project. The hotel has donated surplus food from the buffets to feed the homeless and urban poor. I truly believe we can do well by doing good.
What is your vision of a smart sustainable city?
To me, sustainable cities are all about the quality of life enjoyed by the inhabitants in all aspects — economic, environmental, social and well-being.
At Sunway, we have a Sustainable Development Blueprint which is a living document that sets groupwide baselines from which we can continue to innovate and explore new ideas for the greater good. We are continuously implementing these ideas at Sunway City KL to achieve our goal of making it a model of a smart sustainable city. Many initiatives are still works-in-progress. Ideas that are proven are being implemented in Sunway City Ipoh and the upcoming Sunway Iskandar in Johor.
The three main pillars of sustainable development that guide our smart and sustainable city blueprint are economic growth, environmental protection, and social equality and well-being.
Under the economic growth pillar, our focus areas are water treatment, mixed and integrated developments, diversity of opportunities, and innovation. Under the environmental protection pillar, our focus areas include water, waste management, green building and landscapes. Under the social equality pillar, we focus on connectivity, life-long education, healthcare and wellness as well as safety and security. Hopefully with these efforts, we are able to inspire the people: to advance the sustainability agenda in this part of the world.
What message do you have for fellow Malaysians?
I have always believed that one must live a life of purpose in order to have a fulfilled life. My message is simple: Always seek to give back to society. This is particularly incumbent on those of us who are fortunate enough to have benefitted from the resources of nature and the support of our communities.
Besides, I strongly believe that education is the key that will allow many other Sustainable Development Goals to be achieved. When people are able to get quality education, they can break from the cycle of poverty.

Watch the full interview with Cheah here:
The highlights of the Awards:
For an overview of the winners at the Awards: Tan Sri Jeffrey Cheah named Malaysia's Exemplary Leader of Sustainable Development 2019
For more information about the Awards night and the winners, click here.
This story first appeared in the EdgeProp.my pullout on April 26, 2019.You can access back issues here.