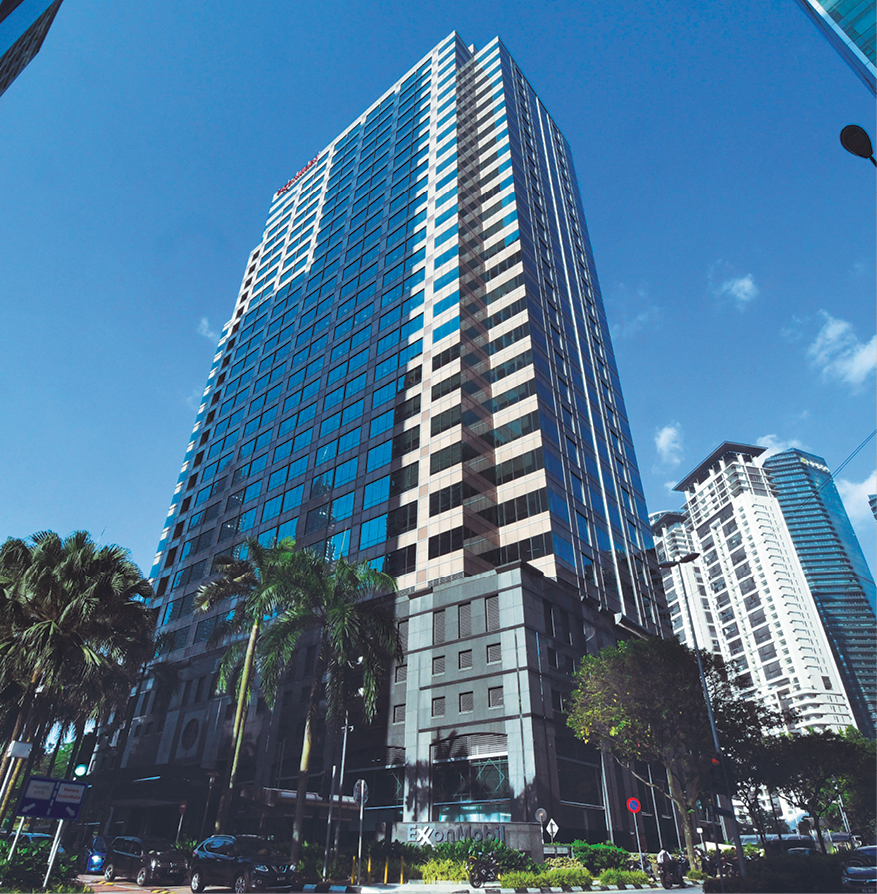 10 Years And Above Non-Strata Office: Bronze: Menara ExxonMobil
Menara ExxonMobil is not just another office building to KLCC Urusharta Sdn Bhd. It holds a special place in the hearts of the facility management arm of KLCC Property Holdings Bhd as the building was planned, designed and built for American multinational oil and gas corporation ExxonMobil as its Malaysian office.
"It was agreed in the early days that ExxonMobil can decide on the building's safety and security system as this building was designed and built for them. The management team has to comply with their security guidelines and standard operating procedure (SOP) as well as the management of the building to meet their standards," says KLCC Property Holdings CEO Datuk Hashim Wahir.
"In the past 20-over years, the building management team and ExxonMobil have been working very closely to manage the building and I am proud to say that Menara ExxonMobil is performing well in terms of occupancy and rental growth today despite the overall economic slowdown," he says.
A Bronze winner in the 10 years and above non-strata office category at EdgeProp Malaysia's Best Managed Property Awards 2019, Menara
ExxonMobil is notably 100% occupied with average rent at RM8.50 psf compared with RM5 psf 23 years ago.
Menara ExxonMobil is owned by KLCC REIT Management Sdn Bhd with Maybank Trustee Bhd as the trustee. It is a 29-storey non-strata office building with 395,851 sq ft of net lettable area and 528 carpark bays. ExxonMobil has been its largest tenant ever since the building was handed over.
"After 20 years of leasing this place, ExxonMobil did an audit and decided that they wanted to take up less space because they wanted to optimise their operations. It was a great encouragement when they signed another long lease agreement with Menara ExxonMobil about two years ago," shares Hashim, who is also CEO of KLCC REIT.
He adds that having ExxonMobil as a tenant in the building is a testimony of the team's capability in maintaining the building at international standards. "Otherwise, ExxonMobil will not want to name the building as Menara ExxonMobil!"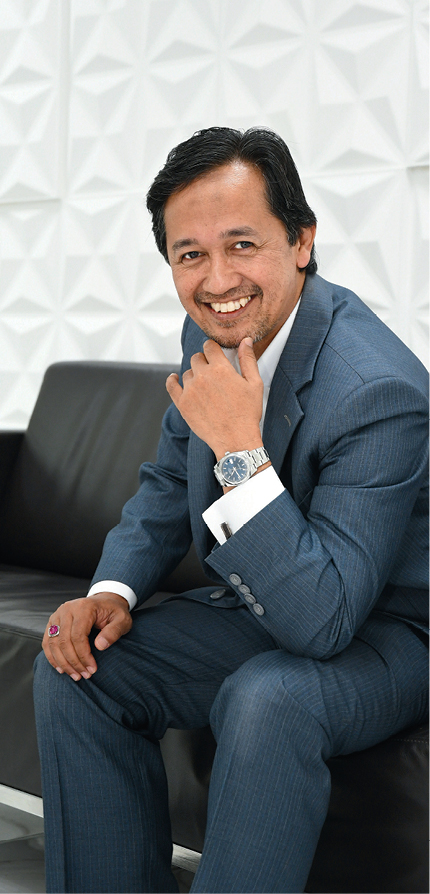 Going green
Situated on the south-eastern portion of Kuala Lumpur City Centre, Menara ExxonMobil lies next to the Kuala Lumpur Convention Centre and fronts the lush KLCC Park. At EdgeProp Malaysia's Best Managed Property Awards 2019, KL Convention Centre was a Gold winner in the 10 years and above specialised category as well as the recipient of the Editor's Choice Award 2019 — Exemplary Convention Centre.
"The building fronts the park while the Petronas Twin Towers lies on the other side of the park. Therefore,
Menara ExxonMobil is one of the few office buildings in town that gets to enjoy an uninterrupted view of both the park and the Twin Towers," Hashim shares.
Safety and security is a priority for the management team because it has been gazetted as a Protected Place by the Chief Government Security Office (CGSO). Menara ExxonMobil features 24-hour security services, 24-hour Emergency Response Team and a 24-hour Building Control Centre. The building is fully equipped with surveillance cameras, CCTV, and security access management system.
"Menara ExxonMobil is an old office building. You may tell it (is old) from the façade design, but you can't tell when you are in here, because we make sure the building is up-to-date in terms of technology and environment-friendly features," Hashim notes.
KLCC Urusharta has recently upgraded all the washrooms, changed the lights to LED tube lighting and installed motion sensors at the car park area and staircases.
Moving forward, there are plans to further enhance the green and sustainable features of Menara
ExxonMobil including installing solar panels and upgrading the water management system.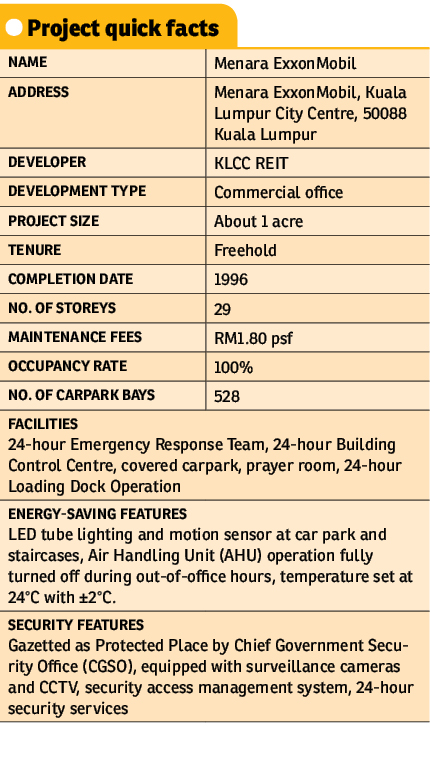 "In fact, KLCC Urusharta is moving in the green direction for all the properties that are managed by us such as Menara 3 and Dayabumi. We are doing it in phases, and building by building.
"We believe by going green, it will help us be more energy efficient and help it evolve into a sustainable building," he shares.
Another green move undertaken by KLCC Urusharta is by making the entire KLCC walkable and connected for pedestrians. From Menara ExxonMobil, there is a covered pedestrian walkway that leads to the KL Convention Centre where an under-ground walkway leads to the Petronas Twin Towers.
"And from Twin Towers there is an elevated walkway to Jalan Bukit Bintang. By connecting buildings and walkways, we hope to encourage a more walkable city," says Hashim.
The highlights of the Awards:
Housing and Local Government Minister Zuraida Kamaruddin on good property management:
For an overview of the winners at the Awards: Tan Sri Jeffrey Cheah named Malaysia's Exemplary Leader of Sustainable Development 2019
For more information about the Awards night and the winners, click here.
This story first appeared in the EdgeProp.my pullout on April 26, 2019. You can access back issues here.