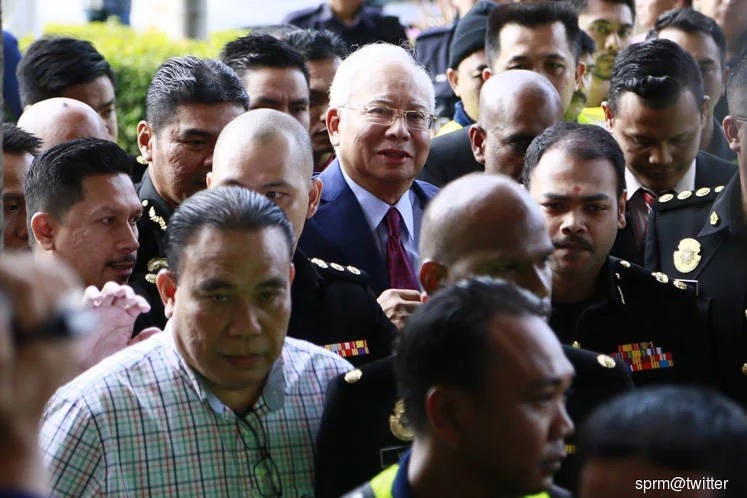 KUALA LUMPUR (May 2): Datuk Seri Najib Razak's SRC International Sdn Bhd trial enters its 12 day today, but the hearing is expected to start late as the former premier must attend another hearing first.
Najib will appear at the court of High Court judge Justice Collin Lawrence Sequerah as the prosecution has submitted a motion to be heard first today.
The motion is for the prosecution to revert on the 1Malaysia Development Bhd (1MDB) trial — or what Attorney General Tommy Thomas calls the Tanore phase — which is scheduled to begin on May 14, to enable the continued hearing of the SRC trial.
Justice Sequerah had earlier this week refused to hear the matter when the prosecution submitted a letter about the matter, but later decided to fix the hearing day today after a formal notice of motion was filed.
After the matter is heard before Justice Sequerah on the fourth floor of the Jalan Duta court complex, the former premier will then proceed to Justice Mohd Nazlan Mohd Ghazali's court to resume the hearing of the SRC case.
Najib is facing 21 charges of money laundering and four abuse of power charges involving US$681 million (RM2.28 billion) in funds purportedly belonging to 1MDB that had allegedly appeared in his accounts.
Besides this, the former top executive of this country is currently on trial for seven charges — namely three counts of criminal breach of trust, three counts of money laundering and one abuse of power — involving RM42 million that allegedly belong to former 1MDB subsidiary SRC.
Today, AmBank remittance manager Wedani Senen will be cross-examined by Najib's lawyers led by Tan Sri Muhammad Shafee Abdullah and Harvinderjit Singh.
There could be other witnesses scheduled to take the stand but this would depend on how long Wedani will be cross-examined.
There are women clad in red tudung believed to be Umno supporters waiting at the pathway outside the court lobby. — theedgemarkets.com